Have you ever found yourself reminiscing about the great times you spent watching Friends? Although, the television show is rumored to be off Netflix soon, as New Yorkers, we are in luck! Grab your closest pals and check out the new Friends 25th Anniversary Pop Up to be immersed in the show like never before!
Take a look inside:
(Tickets are currently SOLD OUT but there is a coffee shop at 503 Broadway that is open to everyone.)
What to expect:
The company that is all about immersive experiences for the public, Superfly, teamed up with Warner Bros to create a pop-up you definitely won't want to miss out on!
This one of a kind experience will be an hour long activity for you and all your FRIENDS (wink wink).
For the 25 year anniversary of the show, you can relive all the times you laughed with Rachel, Monica, Phoebe, Joey, Chandler, and Ross. Experience recreations of iconic sets like Joey and Chandlers apartment, drink some coffee from Central Perk, and even Monica's unrealistic NYC apartment (we're all still jealous of the "rent control" space OKAY).
Get ready to take tons of photos and even gain some tips on how to be as clean and tidy as Monica was, presented by the cleaning supplies brand, Method. There will be an awesome merch section available to purchase stuff after your experience at the pop up, so make sure to save time for that!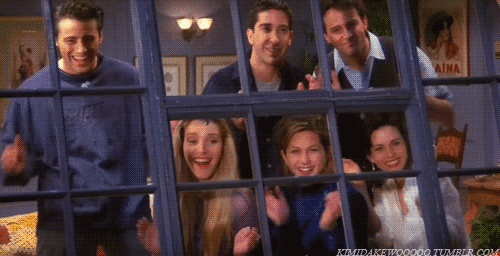 Via Giphy
When:
September 7 - October 6, 2019
Where:
Retail Entry - 503 Broadway - Ticketed Entry - 76 Mercer Street
Tickets:
SOLD OUT
*Tickets are not available at the door; all reservations must be booked online!