For years Seamore's has brought Montauk to the NYC sidewalks – now, they're bringing the classroom. Bucket Listers and Seamore's have partnered to bring the ultimate Oyster Shucking & Wine Pairing to Midtown NYC!

This year, we are partnering with the Billion Oyster Project to give back to New York's Marine Life! All shells from the event will be recycled and restored in New York Harbor by our friends at Billion Oyster Project.
🗓 Every Monday, June 7 - July 26
Every Tuesday, May 25 - July 13
June 28th and July 19th classes will be hosted by representatives from Billion Oyster Project (BOP). A portion of the ticket sales for these classes will be donated to BOP to support their mission!
🕔 6:00 PM - 7:30 PM
📍 Monday Classes are held outdoors at Seamore's Brookfield Place at 250 Vesey St, New York, NY 10281
📍Tuesday Classes are held outdoors at Seamore's Market Bar and Restaurant, 152 W 52nd St, New York, NY 10019
This 1.5 hour class will teach you the techniques and step-by-step process of shucking oysters. Become an oyster aficionado and get ready to break out your new party trick. Our oyster expert will provide a hands-on demonstration, taking participants through a journey of shucking, tasting and pairing 4 types of oysters to learn about the various flavors and textures of each.

Class Specs
$90 (includes gratuity) for one admission to an hour and a half-long expert-led oyster shucking, tasting and wine pairing workshop
4 different types of local, east coast oysters (3 of each)
4 premium select wine pairings + 1 glass at the end of guests choice
1 oyster shucking knife to keep
1 cut-resistant glove to keep
Option to include a donation to the Billion Oyster Project when you purchase your ticket! 100% of the donation will go towards BOP
*Tickets will become unavailable for purchase 24 hours prior to event.
*Due to social distancing requirements, each class is capped at 50 guests.

About the Billion Oyster Project
Restoration without education is temporary. Billion Oyster Project aims to change this by restoring 1 billion oysters in our waters - with New Yorkers, for New Yorkers. Oyster reefs are vital to NYC's ecosystem - filtering water, creating habitat, improving biodiversity, and shielding city shorelines from erratic weather and storms. BOP bridges restoration and education by collaborating with public schools and students to foster lasting environmental stewardship in a concrete jungle. Through oyster-focused STEM programs, BOP partners with New York Harbor School students to work on real restoration projects - right on Governors Island and throughout the harbor. With research stations around NYC, BOP has worked with 6,000 students, seeded 45 million oysters across 12 acres and 15 reef sites, and engaged over 10,000 volunteers and teachers in marine restoration. Before you enjoy your oyster experience, consider donating to Billion Oyster Project. Any contribution puts us one step closer to a future where New York returns to a rich, diverse, abundant estuary for wildlife and for all.
Though the total class time is 1.5 hours, guests are welcome to stay for drinks or dinner afterwards.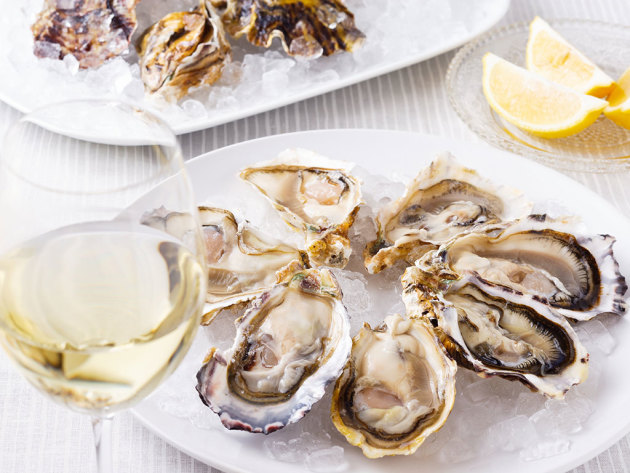 FAQ
Where is the class located?
The class will take place outdoors, at Seamore's Midtown Location

What happens if it rains?
The class will still go on! At the Midtown location, the class will remain in our outdoor setup, but at the Brookfield location it will be moved indoors
Are there refunds?
No, all sales are final.
Do I have to pre-purchase my tickets?
Due to limited capacity, purchases must be bought in advance.
Is there a restroom available?
Yes, guests are allowed to use Seamore's restrooms.
What COVID related safety precautions have been implemented?
To implement social distancing, this class has reduced its capacity to 50 guests.
Guests will be required to wear masks when arriving to/leaving their tables. Masks will not be provided.
Guest tables and space will be sanitized and disinfected based on CDC guidelines for cleaning and disinfecting
Hand sanitizer will be readily available.
Food and drink service will follow NY State and CDC dining guidelines.
Employees are screened, including temperature checks, before the start of each work day.
Is there any other information you need prior to the class?
A Guest Questionnaire will be sent out 24 hours before and must be filled out before the class.
Who do I inform about dietary restrictions?
Please don't forget to mention any food related allergies when you receive your Guest Questionnaire 24hr prior to your class.
Can I attend if I am under 21?
Sorry, this event is 21+ only.