360 CHICAGO is open to the public with enhanced safety measures, offering the best views of the Chicago skyline and Lake Michigan. 360 CHICAGO Observation Deck offers breathtaking panoramic views of Chicago from 1,000 feet above the famed Magnificent Mile. The observation deck is the home of TILT – Chicago's highest thrill ride – and BAR 94, 360 CHICAGO's own modern bar and café, where you can relax, sip on a locally crafted beer or cocktail, and enjoy the best views in the city.
Bucket Listers All-Inclusive Package Includes:
General Admission ­– Entrance to the Observation Deck at over 1,000ft high
TILT Experience – Ticket to experience the thrill of hydraulically leaning outside the John Hancock Center
Upgraded KOVAL Chicago Cocktail – Upgraded drink selection of a hand-crafted, specialty cocktail designed to highlight the individual city neighborhoods and made from Chicago's own KOVAL Distillery spirits
360 CHICAGO tickets are untimed. Once you buy your voucher, you can show up at any time during normal business hours. All tickets are valid for one year from date of purchase.
TILT
Chicago's highest thrill ride - There's nothing like it in the world. 360 CHICAGO's TILT is not only Chicago's highest thrill ride, it's one of the highest thrill rides on the planet. Discover what all the hype is about.
Offers visitors unique, downward facing views from 1,030 feet up
The only one of its kind in the world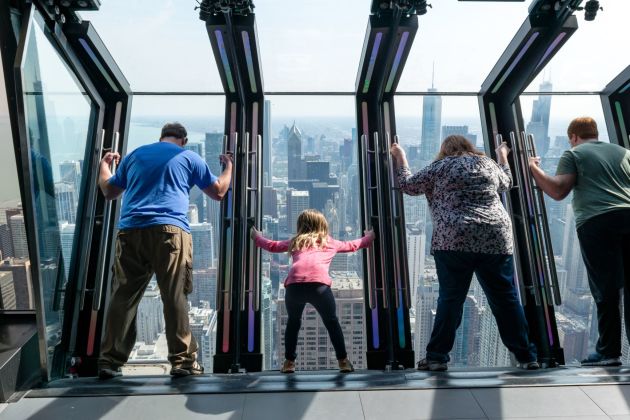 BAR 94
Chicago's highest bar with a full 360-degree view of the city – Located on the north side of 360 CHICAGO Observation Deck, BAR 94 proudly serves local favorites, including beer from Revolution Brewing and custom cocktails from KOVAL Distillery. Drink like a Chicagoan, and take in a view like no other.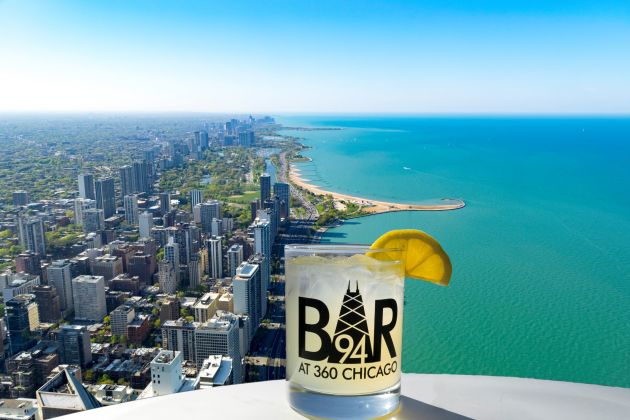 Where: 875 N Michigan Avenue, 94th Floor

Hours: Friday-Monday, 9AM-9PM
Starting March 18th, new hours: Thursday – Monday, 9AM to 9PM with last entry 1 hour before close
Learn more about the extra measures 360 CHICAGO has put in place to ensure guests are safe when visiting 360 CHICAGO: https://360chicago.com/covid-19
FAQ
Do I have to choose a specific time to visit?
Our tickets are untimed. Once you buy your ticket, you can show up at any time during our normal business hours. Please note: Last entry is 30 minutes prior to our listing closing time.
Are tickets refundable?
No.
How long are tickets valid?
All tickets are valid for one year from date of purchase
Does everyone need a ticket?
Yes, everyone needs a ticket to visit 360 CHICAGO. Children under 3 are free.
Where is 360 CHICAGO located?
360 CHICAGO is located on the 94th floor of 875 N Michigan Avenue, formerly the John Hancock Center in the heart of Chicago's famous Magnificent Mile shopping district.
Is there a time limit for my visit?
No. You are welcome to stay as long as you like. Most guests spend about 45 minutes to an hour on the 94th floor.
What is BAR 94?
BAR 94 is 360 CHICAGO's bar on the north side of the observation deck. We have a full bar menu, including local favorites from Revolution Brewing and KOVAL Distillery. Guests can also purchase gelato, coffee, or a variety of small bites to enjoy in the observation deck.
Why do I have to wear a mask to enter?
Because we are in the middle of a global pandemic.
What is TILT?
TILT is a set of eight windows on a moving platform that TILTs 30 degrees downward, 1,030 feet above Chicago.
Is there a height requirement?
Guests must be 42" or taller to ride TILT.