Outdoor dining is one thing. Outdoor dining on a 70-foot yacht with close up views of the Statue of Liberty is another.
This summer, Bucket Listers is bringing an exclusive dinner and sailing series to the Hudson River, aboard the 101-year old Ventura. Guests can enjoy a semi-private, socially distanced bucket list dining experience aboard the historic sailing yacht docked in Downtown Manhattan at North Cove Marina.



💰: $325 per guest inclusive of food, beverage and gratuity
*minimum purchase of 2 tickets
📍: North Cove Marina, New York, NY
📆: Dates Vary
⏰: 6 - 8:30 PM or 9 - 11:30 PM
⛵️: Includes 6 course meal, drink pairings, and a 2.5 hour sail. Gratuity Included
Event Details
Executive Chef Scott Edwards will be curating each night's 6-course chef's tasting menu with top shelf bar pairings.

Sample menu:
*menu is subject to change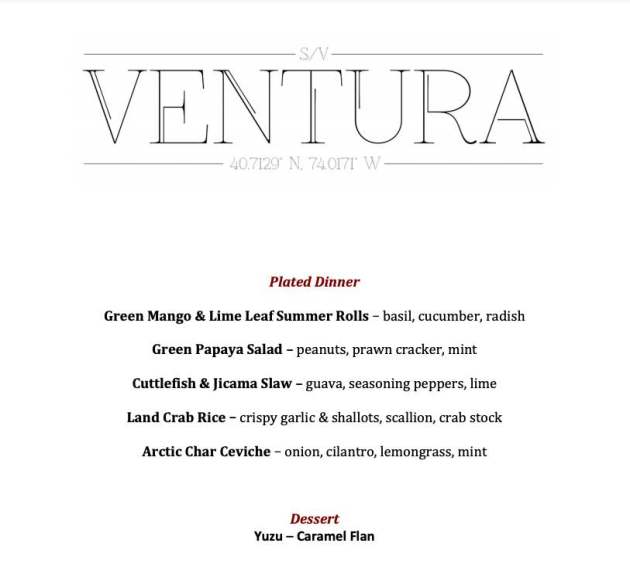 In order to comply with social distancing standards, space will be very limited per seating. While Ventura's normal capacity holds 35 guests, each semi-private charter will be limited to 16 guests to ensure a premium experience with proper social distancing and space to move around.
The Route:
Depart North Cove Marina, sail by Lower Manhattan and into the bay for views of the city skyline in the distance. On its return, Ventura will make a close pass by the Statue of Liberty and then return to North Cove Marina.


Weather Policy
If the weather is too bad to sail (a complete rain out or stormy/hazardous weather), we will work with you to reschedule your sail to another day or time. In some cases, we may delay your sail by up to 90 minutes to wait for a weather system to pass. If we cancel your sail due to weather and you are unable to reschedule your sail due to travel restrictions, you will be credited for a future sail.
We may cancel your sail same-day if the weather is too bad to sail