The Christkindlmarkets are back for 2022 with locations in Downtown Chicago, Wrigleyville, and Aurora. The unique admission-free experience is a wintertime staple in Chicago. With glimmering ornaments, the smell of roasted nuts and hot spiced wine, and the sounds of festive music—a winter in Chicago isn't complete without a visit to this authentic German market.

Starting November 18th, visitors can participate in special events like a lantern parade and caroling, explore vendor products from around the world, and find one-a-kind gifts and treasures. One of those treasures, of course, is the annual Christkindlmarket mug. The souvenir mug tradition has been going strong since the market first opened in 1996, but the design wasn't changed until 1999. Now, Chicagoans have come to expect and anticipate a new mug design every year.
This year's design has dropped and it features the beautiful Chicago skyline set against a Paris blue sky and snowflakes, with an icy blue interior. It also features visitors dancing in a circle with the Christkind, the iconic red and white striped market, and a Christmas tree in the scene as well.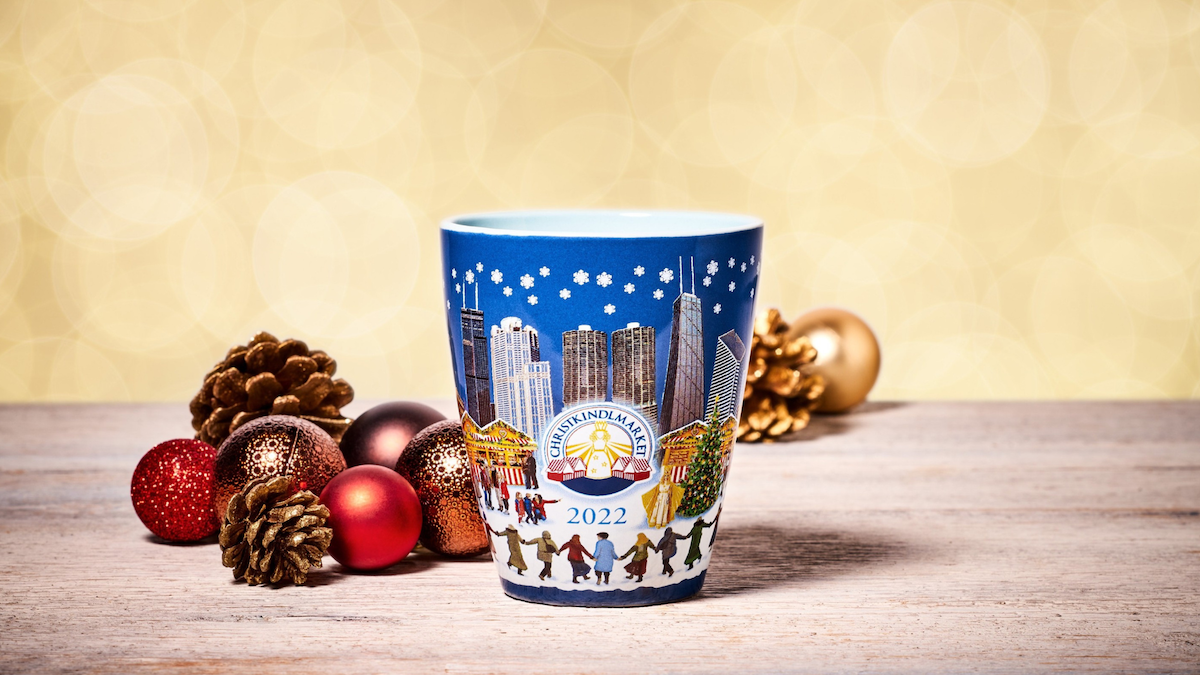 Also available is a penguin mug, and a hand-painted, glass-blown souvenir ornament that looks like a replica of one of the Christkindlmarket booths.
You can grab your very own souvenir mug at one of the market's three locations. The mugs can be purchased empty at the information booths for $8, or with various hot drinks at all vendor booths that sell beverages. For those who prefer to bring the holiday feel to their homes, the Christkindlmarket offers an Online Marketplace where visitors can purchase gift boxes, mugs, ornaments, beanies, scarves, hats, and much more.
Where:
Daley Plaza: 50 W Washington St, Chicago, IL 60602
Wrigleyville: Gallagher Way, 3635 N Clark St, Chicago, IL 60613
Aurora: RiverEdge Park, 360 N. Broadway, Aurora, IL 60505