Bucket Listers is excited to partner with Float Fest to offer you exclusive ticket pricing:

💰Price List:
General Admission Single Day: $115 (originally $157.26)
- Grants access to all music programming on a specific day purchased

GA Weekend 2 Day Pass: $185 (originally $234.23)
- Full weekend pass, grants access to all music programming Saturday and Sunday
- Access to Friday Night Kick-Off Party – limited capacity – first come, first serve


GA Weekend Tubing Bundle 2 Day Pass: $219 (originally $267.21)
- Full weekend pass, grants access to all music programming Saturday and Sunday
- Access to Friday Night Kick-Off Party – limited capacity – first come, first serve
- Weekend Tubing Pass (Saturday and Sunday, valid for 1 trip down the river per day, no exceptions)
🗓️Saturday, July 23rd, and Sunday, July 24th
⏰Schedule:
Saturday: 11:45 AM - 11:30 PM
Sunday: 10:45 AM - 11:30 PM
📍1 County Road 197, Gonzales, TX 78629

About the event:

Float Fest combines two of Texas''s favorite activities, tubing and live music to create a one-of-a-kind festival experience. July 23rd and 24th, 2022.

Conveniently located in Gonzalas, TX, our fest is just an hour from both Austin and San Antonio, with the Guadalupe river waiting for you to come and float it!

Saturday Lineup: Vampire Weekend, deadmau5, Chance the Rapper, Kaytranada, Quinn XCII, 100 gecs, Two Feet, Nane, Aly & AJ, Daisy The Great, Me ND Adam, Doublecamp, Little Image, and Games We Play.

Sunday Lineup: Cage the Elephant, Marshmello, Lord Huron, CHVRCHES, Pusha T, Tove Lo, Hippie Sabotage, Sueco, Cvbz, Sam Austins, Sir Woman, Madeline The Person, and Blossom Aloe.


Located at the hub of the festival site, Float Fest general store will have all your convenience needs in one place. Beer, ice, cold drinks, snacks, and more!

Tickets will be available the day of at will-call for pick up!
All sales are final, no refunds or exchanges.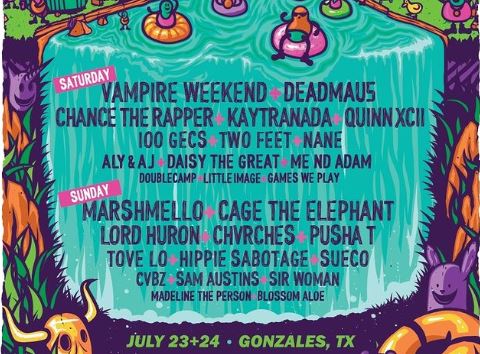 FAQ:

Float fest huh? So how does it work?
Do you float the river while listening to music? No. Those two activities happen separately. You float the river in the morning or afternoon, then when you're done tubing on the Guadalupe River, you head over to the concert to enjoy the music! We recommend you float early!

Can I bring my own drinks for the river?
Of course! However, you'll have to leave whatever you have left in your car before entering the festival grounds for the concert. We will have cases of beer and ice for sale in our general store so bring your cooler and stock up at the ranch!

Can I park my car next to my tent?
Yes, please see our camping page and parking page for more information. You will need a camping pass to park your car by your tent.

Can I bring my own tube? and if I bring my own tube, do I still have to pay to float?
Yes, you can bring your own tube, but you will still have to pay for a floating pass.

Are restrooms available?
Of course, available to all campers 24hrs a day.

But I don't really want to float, you're not going to make me, are you?
No, of course not! Tubing is first come first serve. Feel free to just come to enjoy the shows!

Can I bring a grill or bbq cooker?
Yes, grills are allowed. Just no open fires.

Sure, this whole thing sounds amazing, but what are you doing to keep the river clean?
Well, first of all, we love the Guadalupe River and are committed to leaving it in better condition than we found it. To that end, we've hired professionals to clean up whatever mess is left. Together we can make this both a fun and an environmentally responsible event!

What time does the show start?
Live music starts at 2 pm!

Does my child have to buy a ticket?
Kids under 10 are free.

What are the prohibited or banned items?
NO Weapons of any Kind (Including Firearms, Pocket Knives, Pepper Spray, etc).

NO fireworks

NO open fires

NO full-size propane pits of any kind, small camping stones ok

NO glass of any kind

NO glass lighting

NO large sound systems – respect your neighbors in the campgrounds

NO gas-powered generators

NO bicycles, scooters, or personal motorized vehicles (including, but not limited to: golf carts, ATVs, motor scooters, powered skateboards).

NO Drones or Unmanned Aerial Vehicles (UAVs).

NO box trucks or buses or trailers (a camping trailer is OK, but it is considered an RV which requires an RV pass).

NO handing out promo items such as stickers or flyers

NO Markers, Pens, or Spray Paint

NO logo wrapped canopy tents or branded vehicles

NO lasers or pointer devices

NO tanks of compressed air, helium, nitrous, etc.

NO Illegal Substances

NO Drugs or Drug Paraphernalia

NO Unsealed Over the Counter Medications or Vitamins

NO Vicks Inhaler, VapoInhalers

NO Animals (except service animals)

NO Massagers

NO Laser Pointers

NO Pacifiers

NO Gas Masks

NO Native American Headdresses

NO Glass, Cans, Cups, or Coolers. Cans, cups, and coolers (allowed in the campgrounds only)

NO Open Containers

NO Large Chains or Spiked Jewelry

NO Stuffed Animals or Dolls

NO Tents, Umbrellas, Hammocks, or Chairs (except in authorized camping areas)

NO Hydration Backpacks that contain non-removable and/or opaque bladders, which impede inspection of contents.

NO Backpacks, Purses, or Bags larger than 12″ x 12″ (except in campgrounds)

NO Multi-Pocket Bags (except in campgrounds)

NO Luggage (except in campgrounds)

NO Unsealed Cigarette Packs.

NO Pre-Filled Refillable Vape Devices (Chambers must arrive empty).

NO Unsealed Tampons, Liquid Makeup, Aerosol Sunscreen or unsealed toiletry items (allowed in campgrounds only)

NO Outside Food, Beverages, or Candy, (except in campgrounds)

NO Musical Instruments (including Whistles, etc).

NO Tactical Gear, Walkie Talkies, etc.

NO Fireworks, Flammable Products, Projectiles, or Explosives.

NO Chinese Lanterns.

NO Professional Recording Equipment – Photo, Video, or Audio (Including Detachable Lenses, Tripods, Big Zooms, Monopods, Go-Pro Sticks, etc).

NO Vending Without Permit.

NO Totems which contain metal or wooden pieces, sharpened elements, or are capable of being pounded into the ground or hurting others. Totems and flags without these pieces are deemed safe and adhering to these guidelines will be allowed.

NO Items deemed as posing a threat to the safe enjoyment of the concert by management.