Wonka Wonderland New Year's Party
Butch McGuire's, 20 W Division St, Chicago, IL 60610...
music & nightlife
What you will experience
Bucket Listers is excited to partner with Butch McGuire's to offer you exclusive ticket pricing:

💰Early Bird GA: $80 per person
🗓️Saturday, December 31st
⏰8:00 PM - 2:00 AM
📍Butch McGuire's: 20 W. Division Street, Chicago

Your exclusive ticket is good for:

- A cocktail hour early entry 8 pm - 9 pm
- Access to the "Chocolate Factory @ Butch McGuire's", enjoy our Wonka-themed decor
- Open bar 9 pm - 12am
- Champagne toast at midnight
- Passed hors d'oeuvres and light buffet
- One "Butch Bar", just like a Wonka Bar, a Butch Bar is a chocolate treat that may contain a golden ticket to St. Patrick's day celebrations at Butch McGuire's 2023! (about 1 in 10)

Add-ons available: 

- Upgrade champagne at the bar (Moet Chandon Brut 45/BTL or Cristal 650/BTL [highly limited please reserve your Cristal in advance by emailing events@butchmcguires])
- Top-shelf cocktails and shots are available for cash at the bar


About the event:

"A little nonsense, now and then, is relished by the wisest men." - Willy

Just like Willy Wonka, our Butch McGuire was a merry prankster, a dreamer of dreams, and a consummate showman. He may have even licked the wallpaper from time to time, and everyone knows that Leprechauns and Umpalumpas are very closely related. 

For the first time in history this New Year's Eve, Butch McGuire opens up the "chocolate factory" to guests! Colorful Wonka decorations will tickle your eyeballs, and dandy spirits and ale will liven your passage through the mysterious tunnel of time. 

Grab your Charlie Buckets and Veruca Salts and get here early for the 8 pm to 9 pm reception and cocktail hour, the best time to secure the best spot. The "Fizzy Lifting Bar" will be open to ticket holders with draft beer, and call cocktails from 9 pm to 12 am, at which time we ring in 2023 with a sweet champagne toast! Bubbles, bubbles everywhere, and plenty of drops to drink! 

All throughout a smattering of treats, and scrumptious hors d'oeuvres will be passed and a light buffet will fill your jelly belly. 

Because we like to do things backward (If the good lord intended us to walk, he never would've invented roller skates), guests will be given a chocolate "Butch Bar" upon exiting. Each bar has about a 1 in 10 chance to contain a Golden Ticket, which will grant access to TWO of the best St. Patrick's Day parties in Chicago (Parade Day, March 11th and St. Pat's propper, March 17th, 2023) no line, no cover, and good luck finding that deal anywhere else in the City! 

Don't be a bad egg… do something a little different this year. Because who knows when the gates will be open again?!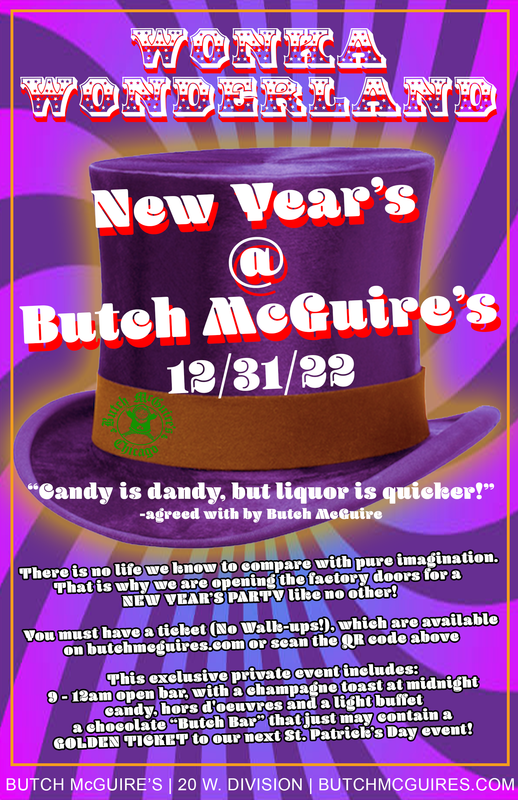 This event is 21+.
All sales are final. No refunds or exchanges.
Sales for this experience have ended
Add to your Bucket List to be the first to hear when more tickets become available!
Stay tuned for more dates!