fitness & wellness · food & drink · arts & culture · music & nightlife · outdoor activities ·
Published January 19, 2023
Austin's Ultimate 2022 Winter Bucket List
From drive-thru light shows to holiday bazaars, here's everything to do in Texas's weirdest city this winter. 🎄✨
by Austin Bucket List
Austin's holiday scene is coming back to life after subdued, socially distant activities of Christmases past. This year, immerse yourself in the community at full force with events ranging from spectacular light shows to yummy treats and drinks to keep you warm throughout the winter. Here's our list of the can't-miss activities to experience the Austin holiday season.
Go Ice Skating at Chaparral Ice
Chaparral ice is open year-round, but there's no better time to lace up your skates and go for a spin than the holiday season—it's just a quintessential winter activity! The facility offers special holiday programming like The Nutcracker on Ice on December 10 and 11, and a winter break kids camp to keep the family busy while the kids are out of school.
Where: 2525 W Anderson Ln., Austin, TX 78757
For more information on Chaparral Ice.
Experience the Field of Light at the Wildflower Center
Support the Wildflower Center and immerse yourself in a unique light experience at British artist Bruce Munro's Field of Light installation. From September through December 2022, 16 acres in the Texas Arboretum will be illuminated with 28,000 solar-powered, fiber-optic light pods. that showcase the intersection of art, technology, and nature. The installation celebrates the intersection of nature, art, and technology, and it's a creative way to get you in the holiday spirit. Be sure to stop by Wildflower Café for snacks and beverages.
Where: 4801 La Crosse Ave, Austin, TX 78739
For more information on Field of Lights at the Wildflower Center.
Drive through Peppermint Parkway
If you're seeking the perfect holiday treat for your kiddos, Peppermint Parkway has you covered from November 25 to December 30. The drive-thru experience features one mile of holiday displays — and two new display villages — over one million lights, and even live dancing elves. The Holiday Plaza will have plenty of food and activities.
Where: 9201 Circuit of The Americas Blvd, Austin, TX, 78617
For more information on Peppermint Parkway.
Take a Downtown Holiday Stroll
See Downtown transform for the season with the 2022 Holiday Stroll & Sing Along. Connect with your community by shopping local, and even be rewarded by getting to stamp your free holiday passport. There will also be local entertainment, festive cocktails, holiday caroling, crafts, and a free screening of The Grinch.
Where: Austin, TX 78701
For more information on Downtown Holiday Stroll.
Stop by a local Christmas Tree Farm
If you're in need of a Christmas tree, look no further than local tree farms. Elgin Christmas Tree Farm has been serving central Texas for 35 years and offers choose-n-cut Virginia Pines. Evergreen Farms offers pre-cut Noble firs and Fraser Firs, or choose and cut your own Virginia Pine or Leyland Cypress trees.
Where: 242 Monkey Rd, Elgin, TX 78621 (Evergreen Farms), 120 Natures Way, Elgin, TX 78621 (Elgin Christmas Tree Farm)
For more information on Elgin Christmas Tree Farm and Evergreen Farms.
Visit the Armadillo Christmas Bazaar
Stock up on holiday gifts — or 'tis the season to treat yourself — at the Armadillo Christmas Bazaar. From December 17 to 23, you can expect local art and live music along with a variety of shopping options. This holiday staple is a fine art shopping destination with a festive atmosphere you're not going to want to miss out on.
Where: 900 Barton Springs Rd, Austin, TX 78704
For more information on Armadillo Christmas Bazaar.
Get your holiday shopping done at the German-Texan Heritage Society Christmas Market
Texas's most authentic German Christmas Market is back for one day only. On December 3rd, join over 3,000 visitors to shop until you drop. The market offers Christmas decorations imported from East Germany's Erzgebirge. The German Glühwein, or hot spice wine, is a must-try.
Where: 507 E 10th St, Austin, TX 78701
For more information on the German-Texan Heritage Society Christmas Market.
Bar Crawl Your Way Through New Year's Eve
Why choose one New year's Eve party to go to, when you can party your way through all of Austin's best bars. Barcrawlerz is a Bar Crawl like no other. $20 gets you into any of the participating bars with no cover, plus gets you drink specials all night. Just make sure to check in between 6 PM and 11 PM!
Where: TBA
For more information on Crawl 'Til the Ball Falls.
Watch Mozart's Light Show at Mozart's Coffee Roasters
We don't know what's more exciting — the thought of watching Hot Cocoa Bombs melt into chocolatey goodness in our mugs, or the fact Mozart's was able to bring back their beloved light show. Now bigger and brighter than ever, the show will run from November 10 through January 6. Reserve a lakeside table, grab a hot drink and enjoy some amazing performances.
Where: 3825 Lake Austin Blvd, Austin, TX 78703
For more information on Mozart's Light Show at Mozart's Coffee Roasters.
Donate to a worthy cause like the Central Texas Food Bank
The holidays look different this year for Central Texas families affected by COVID-19. Contribute your time, food, or money to help our neighbors stay nourished this holiday season.
Where: 6500 Metropolis Dr, Austin, TX 78744
For more information on Central Texas Food Bank.
Watch "A Christmas Carole" and "Holiday Heroes" at ZACH Theatre
ZACH Theatre has two festive shows for you to enjoy this winter. Its adaptation of "A Christmas Carol" features new music and surprises in the classic family-friendly show. Holiday Heroes is a humorous sing-a-long back by popular demand.
Where: 202 S Lamar, Austin, TX 78704
For more information on ZACH Theatre.
Witness a Miracle on 5th Street at The Eleanor
The gorgeously festive pop-up bar is coming to town November 17. The ticketed event offers seats on a first-come, first-served basis or reservations for groups of at least 10 — or skip the general admission line with a limited Dasher Pass. Enjoy Christmapolitan or a Snowball Old Fashioned among stunning walls of holiday decor in one of Austin's most elevated venues.
Where: 307 W 5th St, Austin, TX 78701
For more information on Miracle on 5th Street.
See drive-in holiday movies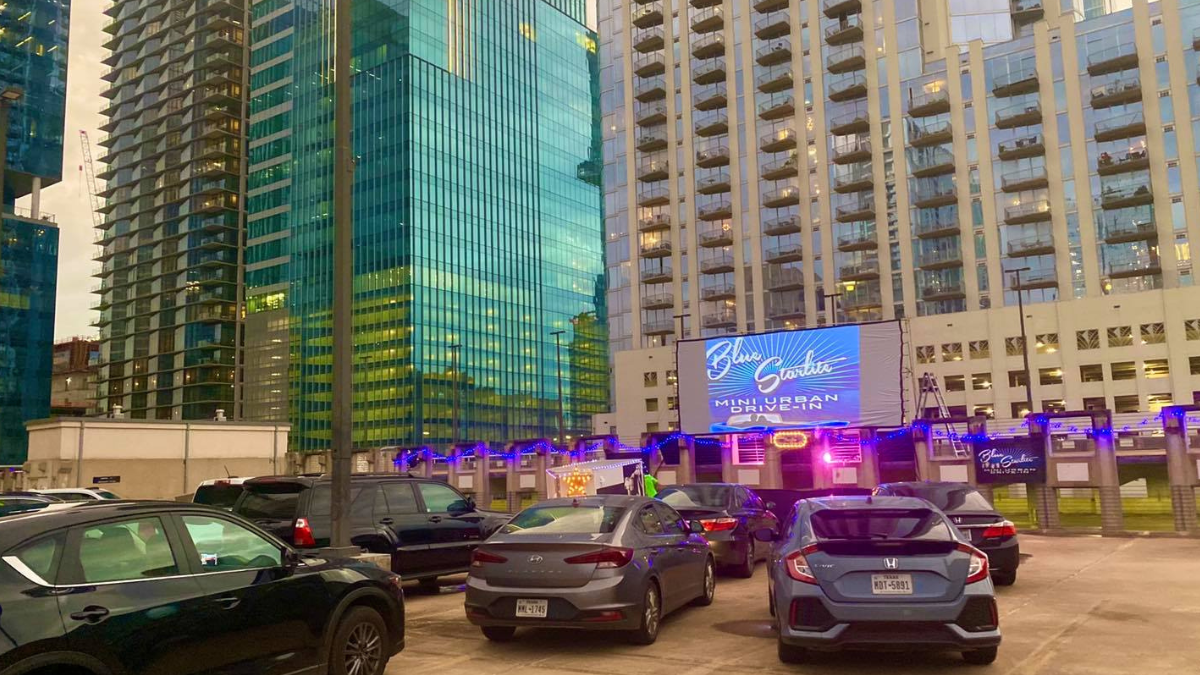 Drive-Ins are making a national comeback — but Austin did it first. Self-described as the world's "one and only mini urban boutique drive-in movie theater," each of Blue Starlite's venues accepts a very limited number of cars at a time and focuses on childhood favorites, classics, and indie films to create a nostalgic "campfire" vibe.
Doc's Drive-In Theatre is "Austin's most magical drive-in movie experience," and after your movie, you can head to Mama Merlot's, an underground speakeasy, or even stay the night in one of its tiny home rentals.
Where: 2015 E M. Franklin Ave, Austin, TX 78723 (Blue Starlite), 1540 Satterwhite Rd, Buda, Texas 78610 (Doc's Drive-In)
For more information on Blue Starlite Mini Urban Drive-in and Doc's Drive-In Theatre.
Get festive at Lala's Little Nugget
It's Christmas all year round at Lala's Little Nugget. What better way to celebrate the holiday season at an establishment that does it best? Cold beers, tasty cocktails, food, and dancing are some of its offerings — alongside festive decor that makes you feel like you've entered the North Pole.
Where: 2207 Justin Ln, Austin, TX 78757
For more information on Lala's Little Nugget.
Walk through the Trail of Lights
This year, the Austin Trail of Lights will return to its traditional, in-person format as an outdoor walking trail at Zilker Park. Experience the magic at the 58th annual event from December 8 - 23 (closed Mondays). The Trail of Lights will provide a route of 2 million glittering lights illuminating the park, 90 lighted holiday trees, and more than 70 other holiday displays and lighted tunnels.
Where: 2100 Barton Springs Rd, Austin, TX 78704
For more information on Trail of Lights.
Spread holiday cheer at Donn's Depot
This favored bar transforms for the season with themed decorations. Experience the live entertainment you know and love in front of a backdrop of Santa hats and twinkling lights. Plus, their assortment of hats, glassware, tees, and koozies make the perfect holiday gift for your loved ones.
Where: 1600 W 5th St, Austin, TX 78703
For more information on Donn's Depot.
Visit a Sippin' Santa pop-up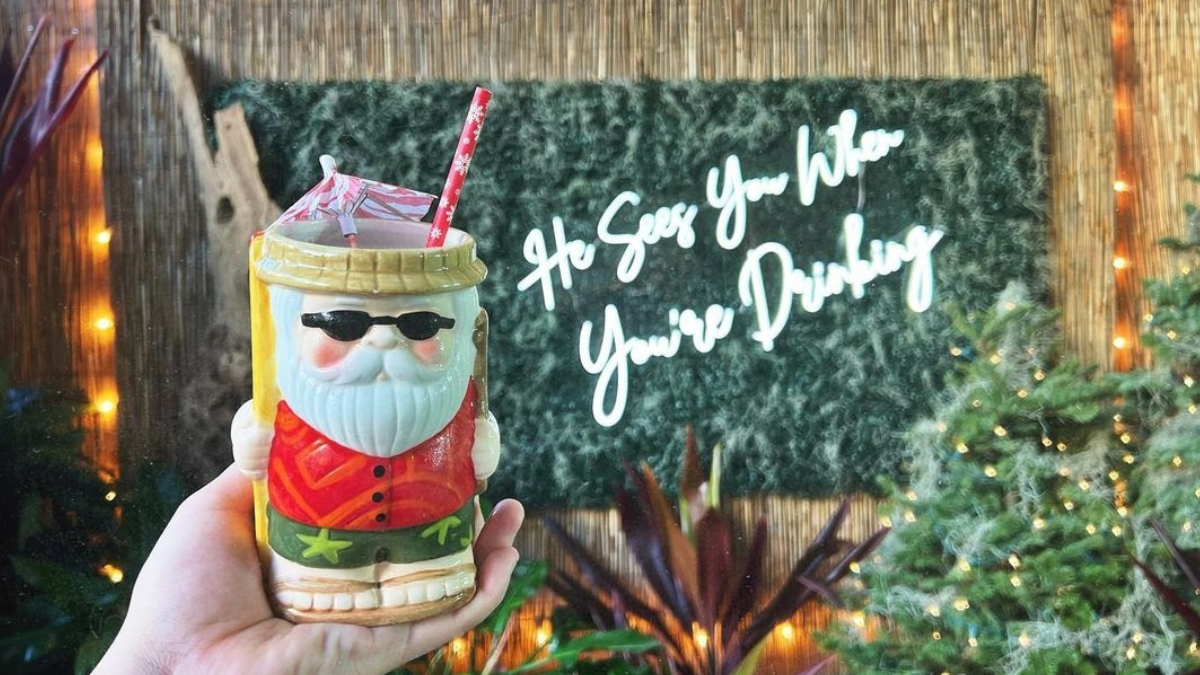 Originally the companion to Miracle, Sippin' Santa puts a tropical twist on Christmas. The festive love of tiki is coming to Nickel City this winter for an experience like no other. On the menu this year you can find the Kris Kringle Colada and the Christmas Eve of Destruction.
Where: 1133 E 11th, Austin, TX 78702
For more information on Sippin' Santa.
Immerse yourself in Wonder Bar
Wonder Bar is a truly unique venue that knows how to throw a party. The imaginative and interactive bar has themed lights, art installations, drinks, and attractions. You can expect Wonder Bar to deck its halls with plenty of Christmas decor and Insta-worthy photo spots.
Where: 11500 Rock Rose Ave, Austin, TX 78758
For more information on Wonder Bar.
See Ballet Austin's "The Nutcracker" and Ventana Ballet's "The Watchmaker's Song"
Support local ballet and watch two incredible holiday performances. The 60th annual production of "The Nutcracker" will grace the stages of Ballet Austin. See an immersive reimagination of the classic show in Ventana Ballet's rendition, "The Watchmaker's Song."
Where: 501 W 3rd St, Austin, TX 78701 (Ballet Austin), 731 High St, Comfort, TX 78013 (Ventana Ballet)
For more information on Ballet Austin and Ventana Ballet.
Immerse Yourself In Holiday Cheer At The Tinseltown Pop-Up Bar
It's time to make every day cheery again, and Tinseltown is doing just that. This holiday pop-up bar's halls are more than fully decked with baubles, bows, hanging trees, wreaths, and just about every festive goodie you can imagine!
You can also expect Santa, elves, presents, tinsel, festive tunes, and lots of winter warmer drinks, including a fabulous Christmas cocktail menu! Tickets include entry to the themed bar and a themed drink on arrival. No Grinches allowed!
Where: Wanderlust Wine Co. 610 N Interstate Hwy 35, Austin, Texas, United States, 78701
For more information on Tinseltown Pop-Up Bar.
Observe the Zilker Holiday Tree Lighting
The Zilker Holiday Tree is a sight to behold. Towering at 155 feet, this isn't your average Christmas tree — it's made of streamers that hold over 3,300 colorful light bulbs. The first tree was lit in 1967, and the beloved tradition continues today. The 2022 lighting ceremony will take place on November 27 with plenty of local entertainment, food, and novelties to welcome in the holiday cheer.
Where: 2100 Barton Springs Rd, Austin, TX 78704
For more information on Zilker Holiday Tree Lighting.
LIKE WHAT YOU'VE READ?
Never miss out on a new experience!
Create a Bucket Listers account to access exclusive offers and the latest news in your city