Published Invalid Date
The Best Places to Watch the World Cup in NYC
From hole-in-the-wall bars to major watch parties, here's where to catch the 2022 World Cup! ⚽️🏆
by New York Bucket List
New York City may go hard for football and baseball, but soccer is still the most popular sport in the world. That means there's no shortage of places in the city to catch the FIFA World Cup as it unfolds in Qatar from November 20 to December 18.
From rowdy biergartens to packed Irish bars to unique watch party experiences, we've got all the best spots to catch the many games of the World Cup in 2022!
Westfield World Trade Center | FiDi
For a truly unique viewing experience, head to the Shops at the Oculus at the World Trade Center, where the Port of Authority of New York & New Jersey are hosting a viewing of the 2022 World Cup outside the iconic Oculus on two large screens beginning with the knockout rounds on December 3 through the final game on December 18. Stop by for intense soccer matches, and enjoy games, music, special guest appearances, drinks and snacks from the Oculus Beer Garden, and much more!
Where: Outside the Oculus on Fulton St. between Church and Greenwich St.
For more information on World Cup Screenings at Westfield World Trade Center.
The Red Lion | Greenwich Village
You know when you go to a sports bar, and there are three different football, basketball, and baseball games on? Well, that isn't the case at the Red Lion. This Greenwich Village spot is known for airing soccer games all year round. Swing by for small plates and classic bar food and watch your favorite team compete in the World Cup.
Where: 151 Bleecker St, New York, NY, United States, New York
For more information on the Red Lion.
Football Factory | Midtown
Every soccer fan in NYC knows about The Football Factory. This Manhattan staple plays more than 100 matches per week across 20 big-screen TVs, and has the most extensive collection of football memorabilia in the entire country. So, yeah, if you can watch one of the World Cup games here, you probably should.
Address: 6 W. 33rd Street, New York, NY 10001
For more information on Football Factory.
McHale's Pub | Times Square
This big bar near Times Square has projectors, flatscreens, and award-winning Bloody Marys — everything you need to enjoy every game of the World Cup. Make sure you go early because this iconic spot can get crazy crowded.
Address: 251 W 51st St, New York, NY 10019
For more information on McHale's Pub.
Sláinte | NoHo
You'll want to make reservations to watch the best games at this Bowery mainstay. They'll be offering up their legendary Irish breakfast for morning games, plus their incredible selection of beers, wines, craft cocktails, and more delicious handmade grub.
Address: 304 Bowery, New York, NY, 10012
For more information on Slainte.
Smithfield Hall | Chelsea
This popular sports bar near Madison Square Garden has no shortage of TVs, draft brews, and good vibes. This is the perfect place to catch the afternoon and evening games since they don't open till noon — but reservations are already flooding in, so if you want to watch any of the World Cup here, act fast!
Address: 138 West 25th Street, New York, NY 10001
For more information on Smithfield Hall.
Soccer Tavern | Sunset Park BK
An Irish bar called The Soccer Tavern? You know it will be an excellent place to watch the games. As a matter of fact, this Brooklyn Chinatown haunt plans to show every single one — yes, even the 5 am matches!
Address: 6004 8th Avenue, Brooklyn, NY 11220
For more information on Soccer Tavern.
Lead image photo credit: History of Soccer.
The Rookery | Bushwick BK
With spacious booths, a unique U-shaped bar, and a huge projector alongside tons of TVs, you won't miss a second of the action at this Brooklyn bar. Not only are they opening at 8am throughout the series, but they're also serving a free continental breakfast while supplies last!
Address: 425 Troutman St. Brooklyn, NY 11237
For more information on The Rookery.
Iona Bar | Williamsburg BK
This quaint Scottish bar in Williamsburg will give you an authentic European football experience during the World Cup. Stop by their rowdy taproom or biergarten to catch any of the games from 10am on, plus enjoy international treats like meat pies, jumbo sausage rolls, and crisps. They don't take reservations, so get there early to claim your spot!
Address: 180 Grand Street, Brooklyn, NY, 11211, USA
For more information on Iona Bar.
Banter Bar | Williamsburg BK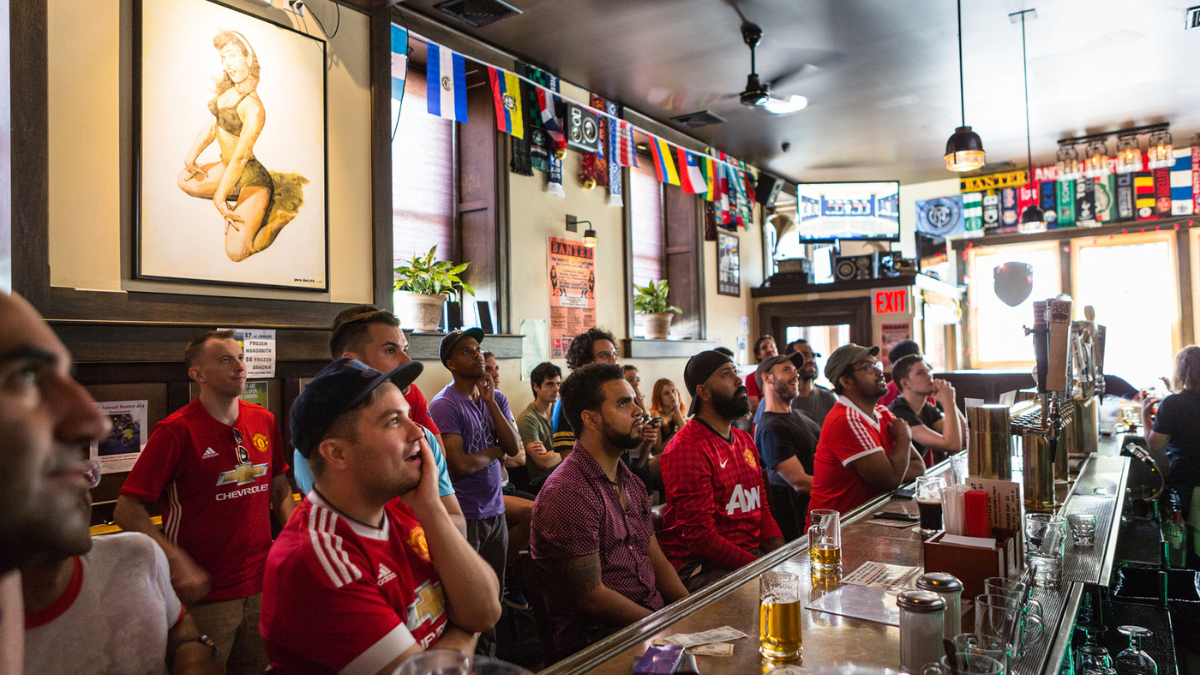 This Brooklyn bar goes hard for FIFA. Not only do they show every game and offer a special breakfast menu for the early morning ones, but they also offer a unique beer passport. If you're one of the first 20 people to watch 20 games at Banter and try 20 different beers, you'll automatically get a seat and three free drinks during the final! Plus, they donate a lot of the money they make from the games to local soccer organizations.
Address: 132 Havemeyer St. Brooklyn NY 11211
For more information on Banter Bar.
Standings | NoHo
Standings is a legendary sports bar in Manhattan. It may be tiny, but its memorabilia-lined walls and passionate energy make it the perfect place to catch a game. You can bring your own food and cram in for the rowdiest watch party of your life.
Address: 43 E 7th St, New York, NY 10003
For more information on Standings.