Published Invalid Date
LA's Ultimate Game Day Guide: Can't-Miss Football Events
No matter your team, these events will get you in the right spirit for the big game. 🏈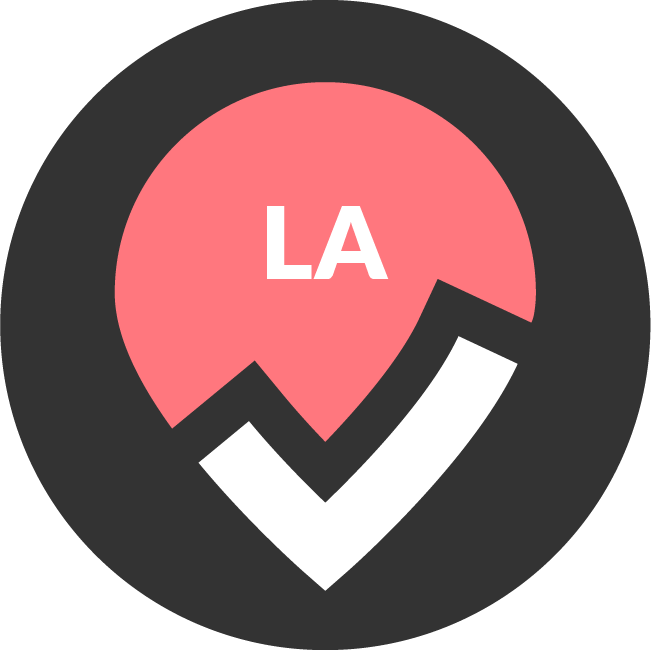 by Los Angeles Bucket List
Super Bowl madness is about to descend on Los Angeles as fans get ready for the showdown at SoFi Stadium on February 13. If you haven't snagged tickets to the big game, there are still plenty of ways to get in on the action, whether you want to watch every play in excruciating detail on the big screen, or just vibe to Dr. Dre, Snoop Dogg, Eminem, Mary J. Blige, and Kendrick Lamar during the halftime show.
If you're watching at home, Super Bowl LVI will air live on NBC and Peacock starting at 3:30 p.m. PT. If you want to get out and enjoy the festivities with fellow fans, read on for a list of events in all of LA's major neighborhoods:
Sports Illustrated The Party X Palm Tree Crew (Kygo, Jack Harlow, & More)
Join us in Century Park for Sports Illustrated The Party x Palm Tree Crew! With musical performances from The Palm Tree Crew - Kygo, Jack Harlow, & more - and curated one-of-a-kind experiences. The Party will deliver celebrity star power, countless photo opportunities, and buzzworthy moments making it the most sought-after experience outside of the game itself.
When: February 12
Where: Century Park: 2000 Avenue Of The Stars, Los Angeles, CA 90067
Party With Lil Jon and NFL Hall of Famers for Charity - Hollywood
Kick off Super Bowl weekend by dancing to some beats spun by none other than iconic rapper Lil Jon! NFL legends Terrell Davis, Warren Moon, and Derrick Brooks will be hosting this night to remember at the massive Academy LA. Plus, the LA Rams' cheerleaders will be making an appearance, and all proceeds go to two awesome charities — Hounds & Heroes and Scholastic Sports America.
When: February 10 from 8:00 p.m. to 2 a.m.
Where: Academy LA 6021 Hollywood Blvd
Get Wild at The Abbey - West Hollywood
Whether you're into football or dancing, The Abbey's Super Bowl watch party has something for everyone. The West Hollywood institution will also be hosting a special halftime show at their sister venue, The Chapel.
When: February 13 starting at 3 p.m.
Where: The Abbey 692 N Robertson Blvd
Angel City's Super Bowl LVI Market - South Bay
Angel City Market is going H.A.M. for Super Bowl LVI! With more than 60 vendors, a big game photo op, yard games, giveaways, a DJ, and drink specials, it's sure to be an event to remember. The best part? This one is kid and pet friendly, too!
When: February 13 starting at 12 p.m.
Where: Angel City Market 10903 S. Inglewood Ave
Make New Friends at Jalapeno Pete's - Sherman Oaks / Studio City
The games are always on at Jalapeno Pete's, and Super Bowl Sunday will be no different! With tons of TVs, delicious food, and new drink specials all the time, there's no better spot to hunker down for the big game.
When: February 12 at 3:30
Where: Jalapeno Pete's 11618 Ventura Blvd
Get Some Laughs in Before the Big Game - Culver City
Comedian Sean Leary will get you in the mood for #SportsBall with his Super Bowl pre-party and comedy show at The Garage on Motor. Complete with shots, prizes, and lots of laughs, this event is going down on February 10, and you can come back the following Sunday to catch the big game.
When: February 10 starting at 9 p.m.
Where: The Garage on Motor 3387 Motor Ave
Have Fun in the Sun at The Victorian Beach Club - Santa Monica / Venice
If you prefer to take an upscale approach to Super Bowl Sunday, look no further than the watch party at The Victorian's Beach Club. This seaside venue boasts three levels of action with more than 20 HD televisions, food and drink specials, and awesome giveaways.
When: February 13 starting at 2 p.m.
Where: The Victorian 2640 Main Street, Santa Monica
Tailgate Like a Pro With Celebrity Chefs - Inglewood
Just because you couldn't snag tickets to the big game doesn't mean you have to miss the tailgate, too! Not only is the 2022 Player's Tailgate at Hollywood Park Casino located right next to SoFi stadium, but a ticket also gets you shoulder to shoulder with dozens of NFL players, a live performance by DJ Irie, an open bar with premium liquor, and and all-you-can-eat food from celebrity chefs including Guy Fieri, Todd English, and many more. After you're done partying, head inside the casino to watch the main event.
When: February 13 from 11 a.m. until kickoff.
Where: The Hollywood Park Casino grounds
Sing Along With Some of Hollywood's Hottest Music Artists - DTLA
The Super Bowl Music Fest will make you feel like you're smack dab in the middle of your very own halftime show. This year's event at the Crypto.com Arena will feature Halsey and Machine Gun Kelly on February 10, Gwen Stefani, Blake Shelton, and Mickey Guyton on February 11, and Green Day and Miley Cyrus on February 12.
When: February 10 - 12
Where: Crypto.com Arena 1111 S Figueroa St
Open Bar at Panama Joe's - Long Beach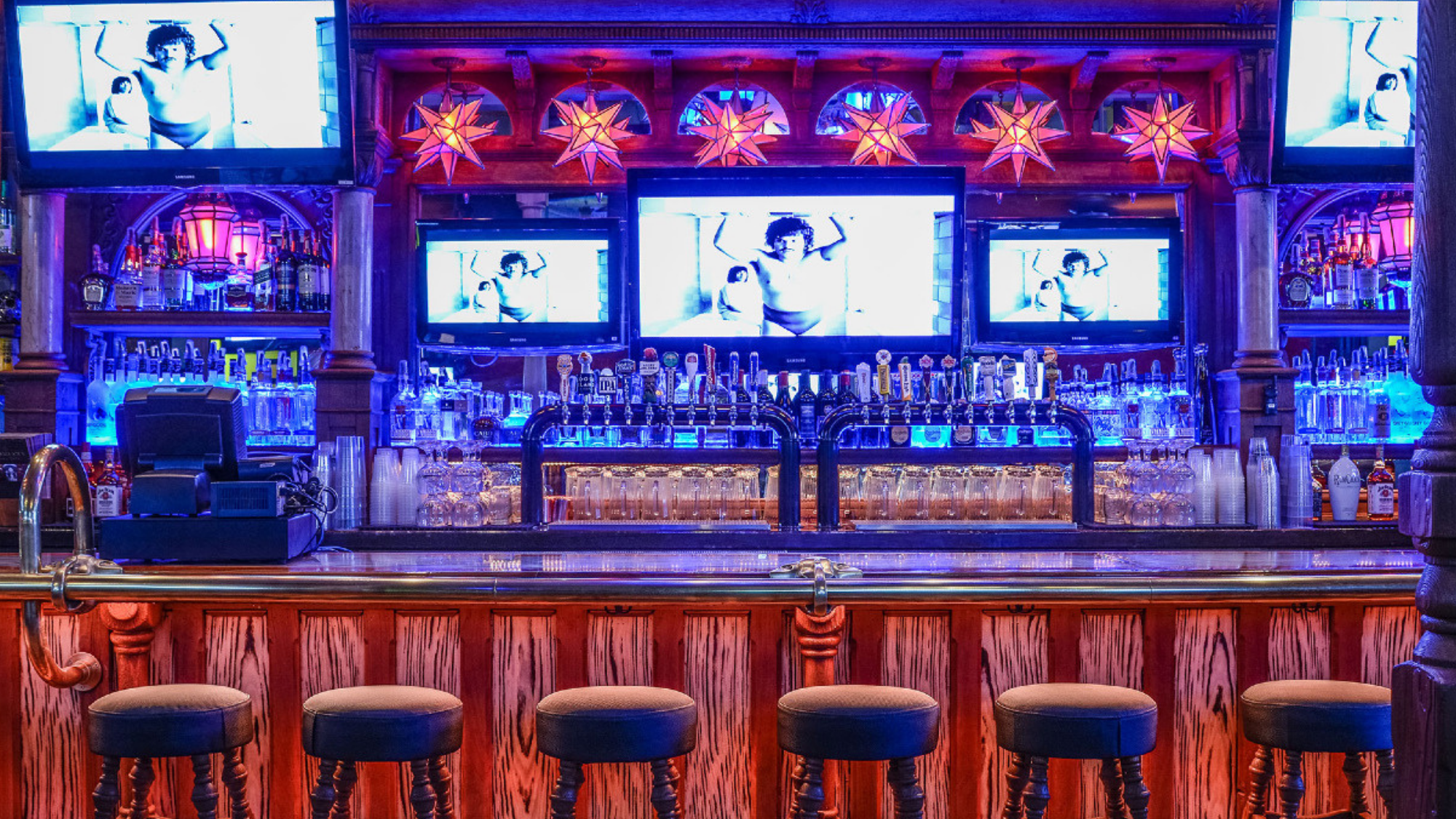 Panama Joe's in Long Beach will be hosting a killer watch party with tons of TVs, crystal clear surround sound, and a next-level raffle with Baja Sharkeez merch — but the main draw is the $39.99 open bar that lasts from kickoff until the end of the third quarter!
When: Open bar starting at 3:30 p.m.
Where: Panama Joe's 5100 E. 2nd Street, Long Beach
Rooftop Viewing Party With DJ - Hollywood
Come watch the Big Game at I|O Rooftop at the Godfrey Hotel Hollywood! The rooftop will feature a 70-foot projector as well as other TVs for ultimate viewing. There will also be passed hors d'oeuvres from 4:00 PM - 6:00 PM, a special Big Game drink and food menu, and a live DJ before and after the football game.
When: February 13 starting at 12 p.m.
Where: Godfrey Hotel Hollywood 1400 Cahuenga Blvd
To book your table at the IO Godfrey Rooftop Lounge.
Find Something for Everyone at the NFL Super Bowl Experience by Lowe's
The NFL Super Bowl Experience by Lowe's describes itself as an "interactive football theme park," and that couldn't be more spot-on. The LA Convention Center is turning into a haven for all football lovers with NFL legends signing autographs, exhibits with memorabilia and trophies, fun football-themed games and challenges, and even arts and crafts for the little ones!
When: February 5, 6, 10, 11, and 12.
Where: LA Convention Center 1201 S Figueroa St
Celebrate in First Draft DTLA's Beer Garden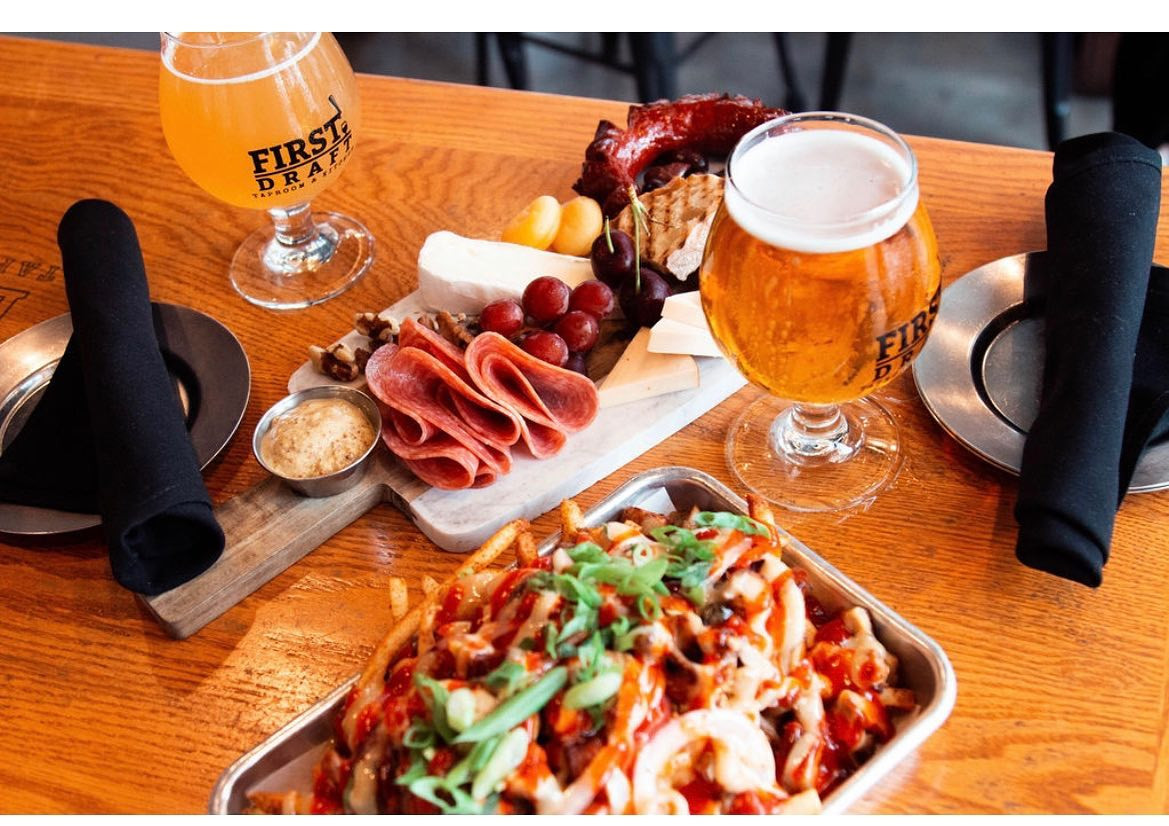 If you're a beer fan, there's no better place to take in the game — and some killer brews — than First Draft DTLA. With more than 70 taps of craft beer, wine, and cider sitting beneath massive flat screens, we've found a beer-lover's big game paradise.
When: February 13
Where: First Draft DTLA 1230 S Olive St.
Connect With Fellow Fans at Barney's Beanery
Sports fans in L.A. know that Barney's Beanery is a go-to spot for all things sports. There are locations all over the city, and every single one has the same fun, rowdy vibe, delicious menu, tons of TVs, amazing drink deals, and hyper-passionate fans, so you really can't go wrong!
When: February 13
Where: Barney's Beanery (multiple locations).