Closing November 6th!

Bucket Listers is excited to present an exclusive new dining experience: The Golden Girls Kitchen.
💰Price list:
Off Peak Hours: $39 per person
Normal Hours: $49 per person
Peak Hours: $55 per person
Drag brunch: $79 per person
🗓️ Starting July 30th - November 6th
⏰ Multiple times per day
📍369 N Bedford Dr, Beverly Hills, CA 90210

What Your Ticket Includes

Each ticket includes a 90-minute reservation as well as your choice of a Golden Main + Slice of Cheesecake (of course!). There will be additional sides, desserts, beverages, and even exclusive The Golden Girls Kitchen merchandise to add on arrival.

About The Event

Picture it... The Golden Girls Kitchen is opening in Beverly Hills on National Golden Girls Day, July 30th!
Pull up a chair to The Golden Girls Kitchen. This custom, detailed dining experience is inspired by the girls' favorite iconic Miami hangout, as well as other memorable moments from the beloved franchise. Expect to be completely immersed in the world of The Golden Girls!
The menu was created by Executive Chef Royce Burke, of Dino's Famous Chicken, Secret Lasagna and Wyldefire Hot Sauce.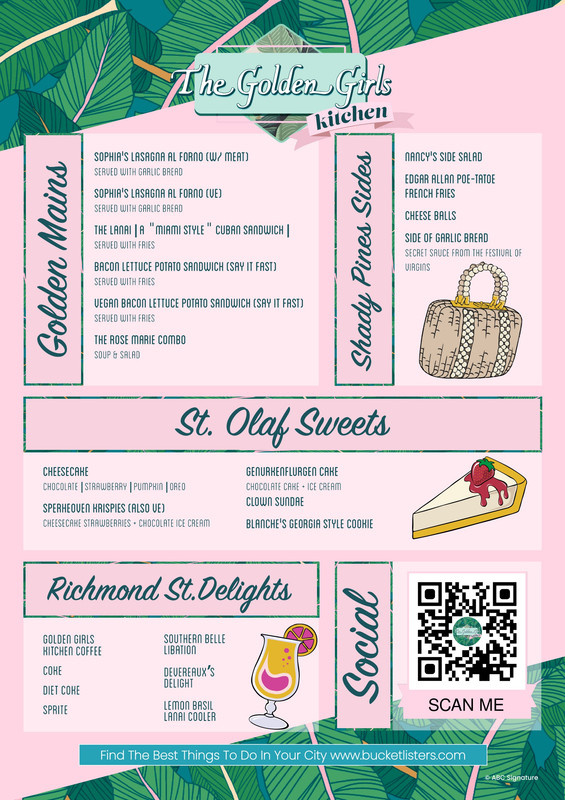 There will be a full kitchen to order:

GOLDEN MAINS

-Sophia's Lasagna Al Forno (with meat) with garlic bread
-Sophia's Lasagna Al Forno (Can be ordered gluten-free on site) with garlic bread
-The Lanai (A "Miami Style" Cuban Sandwich) with fries
-Bacon Lettuce Potato Sandwich (Say It Fast) with fries
-Vegan Bacon Lettuce Potato Sandwich (Say It Fast) with fries
-The Rose Marie Soup and Salad Combo
SHADY PINES SIDES

-Nancy's Side Salad
-Edgar Allan Poe-tatoe French Fries
-Side of Sisley Garlic Bread (secret sauce from the Festival of the Dancing Virgins)
-Cheeseballs

ST. OLAF SWEETS

-Cheesecake
-Sperheoven Krispies (also available vegan)
-Genurkenflurgen Cake
-Clown Sundae
-Blanche's Georgia Style Cookies

Plus The Golden Girls Kitchen Coffee, Southern Belle Libations, mocktails, and more!


Tip is not included in your ticket. Please tip your lovely Shady Pines waitstaff!


Follow us for updates, special events, and more:
@GoldenGirlsKitchen on Instagram, TikTok, Facebook, and Twitter

Thank you for being a friend!


Seating

Single Seats: Purchasing a single seat guarantees a place at The Shady Pines Bar in The Golden Girls Kitchen and can be seated as groups depending on availability.

Large Groups: Our largest table accommodates parties of 4. Due to high demand, unfortunately, we cannot seat larger groups, or guarantee that tables purchased together will be seated next to one another.


Special Occasions
The Golden Girls Kitchen is available for full venue buyouts. Please email us at [email protected] to find out more.
Press
For press inquiries, please email [email protected]

Opening soon, select your city for more info!
New York - Fall 2022
Miami - Winter 2022
San Francisco Winter 2022
Chicago - Spring 2023

All sales are final. No refunds, cancellations or reschedules.
Suggested Parking: 461 N Bedford Dr Parking Garage. First 2 hours are free. Parking garage closed on Sundays.