Strong New York Fitness and Wellness Festival
Chelsea Piers Fitness, 60 Chelsea Piers, New York, N...
fitness & wellness
What you will experience
Bucketlisers is excited to partner with Strong New York to offer you the biggest fitness and wellness event NYC has ever seen!:

💰Price List:
Early General Admission: $75 per person
General Admission: $100 per person
Early VIP: $325 per person
VIP: $350 per person
🗓️Saturday, October 1st
⏰9:00 AM - 5:00 PM
📍Pier 60, Chelsea Piers Fitness, New York

About the event:

Strong New York is an immersive day of hands-on workshops, panel discussions, workouts, and inspiring conversations with the best-in-class wellness professionals, industry leaders, and change-makers who are sharing their expertise on today's hottest wellness trends and first-hand experiences on how to optimize your overall health and life.

We want to build the STRONGEST version of you.


Confirmed Speakers and Trainers include: 
Gunnar Peterson,
Don Saladino, Dr. Gabrielle Lyon, Zion Clark, Sadik Hadzovic, Quianna Lashea, Kelsey Heenan, Jacqueline Kasen,
Gabby David,
Michael Chernow, Jason Phillips,
Keoni Hudoba,
Carmen Del Mastro, Dr. Jaime Schehr,
Luka Hocevar,
Kara Kilian, Judith McCarty, Michelle Norris, Sarah Brooks, Dr. Nick Nwabueze, Darius Gilbert, Jemini Powell, Pat Davidson, Andrews Coates,
David Otey, 
Joseph D, Eliah Clarke, Tonehouse, AKT Fitness, Bredwinners Boxing
GA Tickets Include:
- A jam-packed day of panels and workshops with the best doctors, trainers, nutritionists, mental health experts, relationship experts, and other thought-leaders in the industry
- Access to a full day of workouts, lifting, boxing, yoga, and movement with the top trainers from across the country
- Explore your favorite wellness brands, discover new products, and get exclusive deals in our Vendor Village
- Happy hour with live music sponsored by Michelob ULTRA, Tito's, and Kawama USA
- Fuel up with healthy food and refreshments available throughout the day
- Endless networking opportunities and chances to connect with like-minded people


VIP Tickets Include, GA plus:
- Private VIP Lounge: mingle with the speakers and trainers, and access exclusive experiences such as IV drips, refreshments, and lounge seating throughout the day 
- Complimentary Event t-shirt
- Gift bag with goodies from our sponsors and partners
- Early access to sign up for the workouts of your choice with all of your favorite trainers
- A Complimentary Initial Consultation with Dr. Kristin McKitish from ES Health ($750 value)
- A Complimentary personalized IV vitamin infusion at ES Health ($550 value)
- A Chelsea Piers Fitness guest pass ($60 value) and an UnderArmour x Chelsea Piers backpack ($75 value)
- Happy hour with live music sponsored by Michelob ULTRA, Tito's, and Kawama USA


Event Sponsors Include:


Bub's Naturals, Athletic Greens, 
HigherDOSE,
Slate,
ES Health,
Curaleaf,
Kreatures of Habit,
Nocco,
Michelob ULTRA, Tito's Vodka, Kawama USA, Gainsapp, Goodcell, Lightning Fit, MiCacao, Move Celer, The Few Will Hunt, Biosteel, NCI Certifications, Total Nutrition, XfitLab & Naghedi NYC.
About the Venue:


Chelsea Piers has been a leader in sports and fitness for over 25 years. Chelsea Piers Fitness is a community made of athletes and fitness enthusiasts of all levels. At our clubs, all are welcome, and there are endless ways to reach your goals, work hard and relax. 
With 150,000 square feet, our flagship Chelsea Club is conveniently located at 20th Street and Hudson River Park. With facilities and amenities for nearly every interest, Chelsea Piers Fitness offers unsurpassed opportunities for getting in your favorite workout, sport-specific training, cross-training, recreation, and socializing. We invite you to come to see why Chelsea Piers Fitness is recognized as New York City's most inspiring gym!
For more information:
strongnewyork.com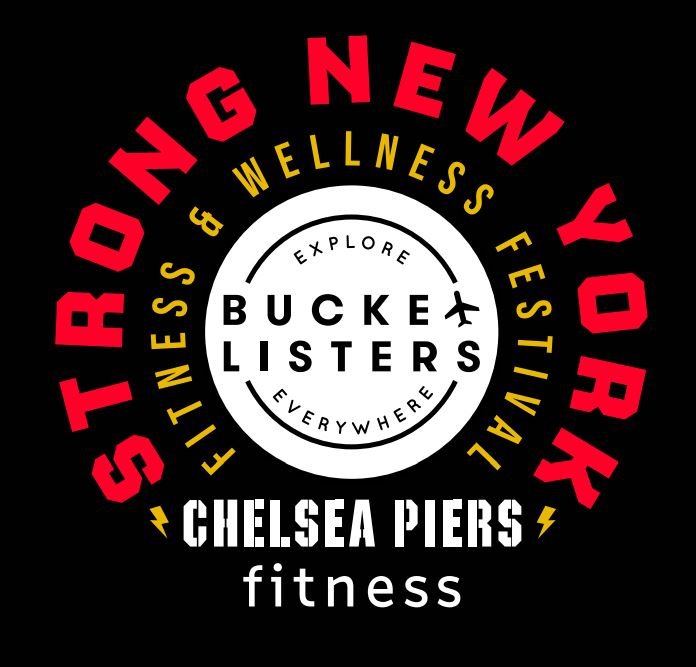 All ages are welcome. No pets allowed.
All sales are final, no refunds or exchanges.
Ticket types
General Admission
Ticket is per person
Starting at $125
VIP
Ticket is per person
Starting at $375
Sales for this experience have ended
Add to your Bucket List to be the first to hear when more tickets become available!
Stay tuned for more dates!