food & drink · arts & culture · music & nightlife · attractions & tours · outdoor activities ·
Published September 15, 2023
San Francisco's Ultimate 2023 Fall Bucket List
Pumpkin ice cream, Fleet Week, and sand castles. Fall in San Francisco has arrived. 🎃🍁
by San Francisco Bucket List
While the rest of the country is prepping for sweater weather—chilly mornings, blustery afternoon walks, and evenings around a bonfire—in San Francisco, we're just hitting our warm weather stride. Fall in SF means sunny days and a comfortable breeze, with golden hues and crisp, clear evenings.
And while we might not be pulling out our scarves and hats just yet (no complaints here), there are still plenty of seasonal events and spooky season fun happening in the city. Mitchell's pumpkin ice cream is back in season, the always amazing Fleet Week is approaching, and Oktoberfest and themed bars are calling! Check out our favorite attractions for autumn in San Francisco this year.

27 Things to Add to Your SF Fall Bucket List
Jam Out at Hardly Strictly Bluegrass Festival
The annual (and amazingly free) bluegrass music festival returns to Golden Gate Park this fall! The lineup features a mix of up-and-coming indie artists along with fan-favorite hall-of-famers (Emmylou Harris is back!). With over 70 artists and three days of performances, the Hardly Strictly Bluegrass Festival will be redefining what defines American music once again. Catch it on September 29, 30, and October 1!
Where: Hellman Hollow, Lindley & Marx meadows in Golden Gate Park, San Francisco, CA
More information
Pick Out a Pumpkin at Arata's Pumpkin Patch
Trick or treat yourself to a day of fun at the Arata Pumpkin Farm in Half Moon Bay. Find the perfect pumpkin, get lost in the two-acre Minotaur's Labyrinth hay maze, explore the six-acre corn field, get spooked in the haunted barn, or simply relax in one of the picnic areas throughout the farm.
Can't get enough? Check out our guide to the best pumpkin patches, farms, and fall festivals in the Bay Area!
Where: 185 Verde Rd, Half Moon Bay, CA
More information
Visit the New Nightmare Before Christmas-Inspired Bar
Take a visit to the Burton Underworld at this immersive Halloween/Christmas bar! Alongside the town's most famed characters—Jack Skellington, the Pumpkin King, and Beetlejuice—guests will be greeted with a complimentary beverage, spooky treats, fantastic themed decor.
PS: If you come costumed, you might just score extra free drinks and snacks!
Where: 1123 Folsom St, San Francisco, CA
More information
Attend the Chinatown Autumn Moon Festival

Immerse yourself in Chinatown's vibrant autumnal celebration on September 23 and 24—the official fall equinox! Vendors line the streets from California to Broadway on Grant Ave, and there's nonstop entertainment, delicious food, mooncakes, kids activities, lion dancing, and much more! This year will also feature a Barbie and Ken look-alike contest, so dress up in your best Malibu fit for a chance to be crowned the winner!
Where: 716 Grant Ave, San Francisco, CA
More information
Take in the Fall Foliage
Sipping warm tea in a garden surrounded by autumn leaves and changing colors is pretty much our fall dreamland. Before the weather gets too cold, stroll through the Japanese Tea Garden and follow up your foliage tour with meditative cup in the tea house overlooking the picturesque landscape and south-facing koi pond. Or head to the SF Botanical Garden and see the changing leaves at over 55 acres of both landscaped gardens and open spaces.
Where: Tea Garden: 75 Hagiwara Tea Garden Drive | Botanical Garden: 1199 9th Ave
More information
Watch the Blue Angels During Fleet Week
Held annually between the GG Bridge and Alcatraz, the Naval Air Show attracts spectators from around the globe. The waterfront event is headlined by the Blue Angels and is the only air show in the US with a commercial airliner—the United 777—to perform a fully choreographed act. The show is free to watch, but ticketed seating options are available if you want a guaranteed prime waterfront spot and hospitality.
Where: Marina Green 200 Marina Blvd., San Francisco, CA
More information
Enjoy Fall Treats at Embarcadero Center's New Pop-Up Shops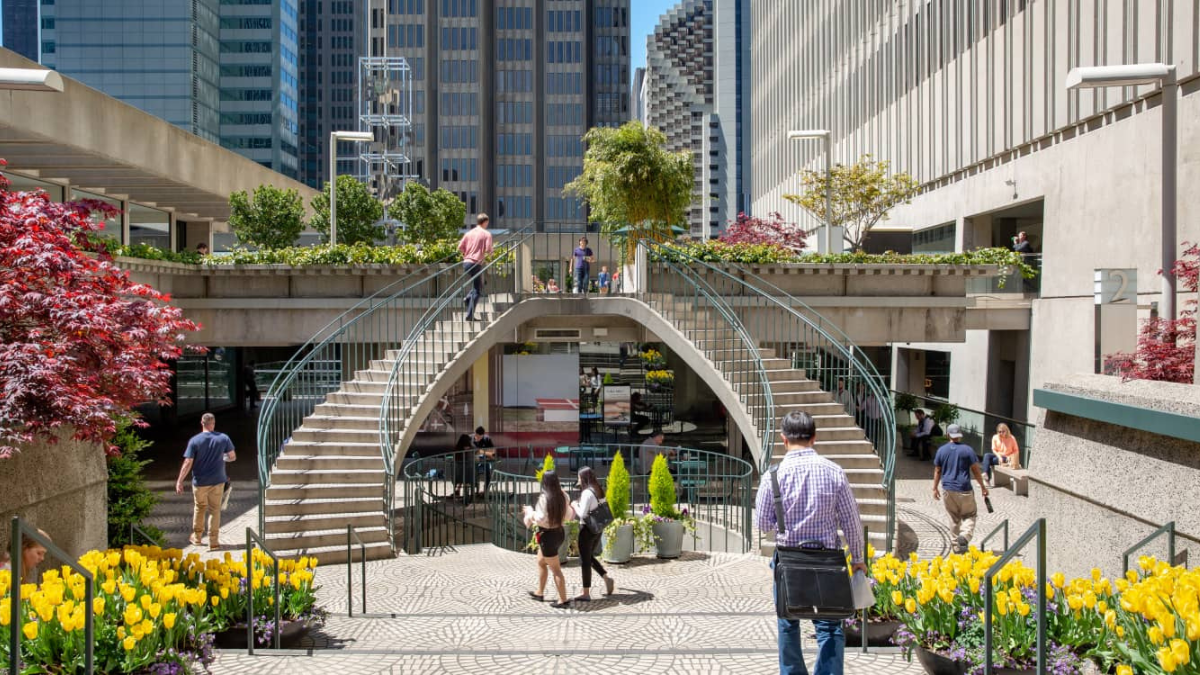 Embarcadero Center is home to new pop-up eateries this fall, starting early October! Grab a breakfast sandwich at
Devil's Teeth Bakery
and wash it down with a refreshing baobab drink from
Teranga Foods.
You can also try the newest fall-flavored treats at
Whack Donuts & York Street Coffee
or pick up a loaf of sourdough at
Rosalind Bakery
.
The new pop-ups will all be located at street level, so you can pop in to refuel when shopping downtown or swing by on your way into the office!
Where: Embarcadero Center, Street Level
More information.
Celebrate Oktoberfest by the Beach
Experience the 5th Annual Oktoberfest by the Beach at SF's United Irish Cultural Center on September 30! Revel in a lively atmosphere with music, dancing, and fun contests in their spacious beer hall and outdoor beer garden. Your ticket includes exclusive perks like table reservations and the chance to enjoy authentic Bavarian culture with the Golden Gate Bavarian Club for anyone over 21.
Where: 2700 45th Ave, San Francisco, CA
More information

Explore the Musem of 3D Illusions
We love a good museum, and the mind-bending Museum of 3D Illusions is one you don't want to sleep on. With over 40 interactive illusions, this immersive experience has something for everyone. Get ready to challenge your perception and be amazed, puzzled, and delighted as you explore the space where reality merges with the extraordinary.
Where: 55-61 Jefferson St, San Francisco, CA
More information
Take a Tour of Alcatraz
Spooky season is here, and if you're jonesing for some ghost stories, Alcatraz is calling your name. For 80 years, Alcatraz Island held the first US fortress and notorious military prison. Now, the historic facilities offer a Day and Night Tour, or if you have a good amount of time, a chilling Behind The Scenes Tour, where you can see newly revealed areas including a secret escape tunnel, the underground jail, and more.
Where: Alcatraz City Cruises Ferry: 31 San Francisco Pier 33
More information
Sample Brews at the SF Coffee Festival
Coffee aficionados: enjoy the best specialty roasters, unique beans, delicious eats, live music, and more during this immersive coffee experience on November 11 and 12! You can also chat with baristas and experts, attend panel discussions, and more.
Where: 2 Marina Blvd, San Francisco, CA
More information
See a Live Comedy Show
Check out the most talented rising comedy stars at live shows every week! The top performers in SF as well as traveling headliners from LA will be showcasing their funniest material. The series takes place at the Palace Theater, and its elegant decor and prohibition-style cocktails kick this comedy night up a notch.
Where: The Palace Theater: 644 Broadway, San Francisco, CA
More information
Tour Local Artists' Workspaces During Open Studios
Artspan's SF Open Studios (SFOS) program will kick off its 49th season with its famous ArtLaunch event on Oct 19, featuring an expansive art show with over 300 pieces available to purchase under one roof. The event is followed up by four weekends of artist-hosted studio events that are all free to attend. Explore hundreds of art studios across the city—each weekend will focus on a different region of SF—plus, attend special events and programming.
Where: Kickoff event is at SOMArts Cultural Center. For a full schedule and map, visit the SFOS website.
More information
Play Games at Thriller's Princess Peach Pop-Up
Thrillers Social Club is a massive bar, restaurant and arcade—and now the host of an incredible Princess Peach Palace pop-up! Join Peach, Mario, Yoshi and so many more dazzling characters for games, photo-ops, nostalgia activities like walking the rainbow bridge, and themed drinks like the Piranha Plant. Let's-a-go! 🍄
Where: Thriller Social Club: 508 4th St, San Francisco, CA
More information
Grab a Mitchell's Pumpkin Ice Cream Cone
Mitchell's highest quality ice cream and excellent customer service has endeared them a spot as a treasured SF landmark for over 60 years. Enjoy their award-winning, super-premium ice cream, vegan ice cream and sorbets in any of their wide ranging flavors, including Avocado, Buko, and Mango. Most importantly though, don't miss a scoop (or two) of their famed Pumpkin flavor before October ends.
Where: 688 San Jose Ave., San Francisco, CA
More information
Trick or Drink Through Halloweekend
What's the adult version of trick or treating? Trick or drinking, of course. Join the fun at this SF bar crawl offering drink specials and free entry into bars across the famous Powell Street. Grab your costumes and check in at NorthStar Cafe to get your wristband and map to start!
Where: NorthStar Cafe, 1560 Powell St,
More information
Visit the Renegade Craft Fair
Get a jump on holiday shopping while also supporting over 250+ fantastic artists at the Renegade SF Craft Fair! Find the best artist-made gifts, creative small business goods, and handmade treasures at the scenic Fort Mason location on November 4 and 5.
Where: Fort Mason Center Festival Pavilion, 2 Marina Blvd., San Francisco, CA
More information
Chow Down at Themed Food Truck Parties
Off the Grid is making its return to Fort Mason Center with eight themed Friday night food fests like Noodle Night Fights on September 15 and the Mid-Autumn Moon Festival on September 29. In addition to Off the Grid serving the best foodie pop-ups in the Bay Area, they also serve drinks and have an entertainment stage of live music.
Where: 2 Marina Blvd, San Francisco, CA
More information
Join the Fun at the Castro Street Fair
Don't miss this LGBTQ community street celebration founded by Harvey Milk in 1974, supporting multiple local non-profits. The fair is always on the first Sunday of October, which means it will fall on October 1 this year. Join in for a day of costumes, performances, vendors, and more!
Where: Market Street and Castro St, San Francisco, CA
More information
Catch a Fall Concert
Living in SF means there's almost always a variety of concerts and live shows to check out. This fall, you can catch The All-American Rejects, Boys Like Girls, Ne-Yo, and Måneskin, just to name a few. No matter your musical tastes, there's something for you. And seeing your favorite band perform songs live is a true bucket list experience.
Where: Various locations.
More information.
Go to a Morning Dance Party
Good music and dancing isn't strictly a nighttime activity. For a truly unique experience, check out this dance party at The Conservatory at One Sansome on november 5. Kicking off at 11am, attendees have the option of yoga and dance or a dance party only experience with a DJ, live musician, free coffee, kombucha, and breakfast treats, and a host of surprise performances.
Where: The Conservatory at One Sansome: One Sansome St, San Francisco, CA
More information
Visit the Exploratorium After Dark
Every Thursday night, the Exploratorium opens after dark for adults only to enjoy over 600 interactive exhibits alongside music and drinks! No kids allowed, but you can still act like one as you paint at the soap film painting wall, journey through the Tactile Dome in the dark, and see the Great Animal Orchestra made visible with real-time spectrograms.
Where: 15 Embarcadero at Green St
More information
Check Out the Creations at the Leap Sandcastle Classic
Head to Ocean beach to see Northern California's biggest sandcastle competition on October 28. The theme this year is Halloween Haunts, and we can't wait to see the creative haunted sand castles this invites! Bonus: the event helps raise funds for Bay Area arts education!
Where: Ocean Beach (Sloat Blvd and Great Hwy)
More information
Chill Out with a Live Concert Inside a Plant Shop
Step into The Mellow Haight, a magical space that transitions from a daytime houseplant store to an intimate evening venue. Immerse yourself in live music, interact with the performers, and enjoy a unique blend of concert hall and bar ambiance. Guests are welcome to BYOB, as long as you "pack in, pack out" and take all trash with you.
Where: The Mellow Haight: 1401 Haight Street, San Francisco, CA
More information
See the Autumn Light Festival at Lake Merritt
Discover Oakland's lakeside garden jewel, named as one of California's top five Gardens by VIA Magazine. During the Autumn Light Festival, prepare to be dazzled by 60+ locally-produced illuminated art displays sparkling and beaming throughout the eight-acre municipal gardens.
Where: 666 Bellevue Avenue, Oakland, CA
More information
See a Giants Game for 30% Off
Check out the final games of the 2023 season as the Giants chase another MLB Playoff run! There are few live sports events quite like a San Francisco Giants game. Oracle Park is one of the country's most beautiful and unique ballparks, with stunning views of the San Francisco Bay and the Bay Bridge, and the stadium is packed with amenities like garlic fries and craft beer. As one of the oldest teams in the MLB, seeing the Giants play is definitely a bucket list experience.
Where: Oracle Park: 24 Willie Mays Plaza, San Francisco, CA
More information
See Murakami's "Monsterized" Exhibit at the Asian Art Museum
Explore the captivating world of internationally renowned artist Takashi Murakami this fall in a new exhibit at the Asian Art Museum. Murakami's larger-than-life artworks use monsters as a central motif, blurring the line between fear and fun and embodying the forces and behaviors that threaten and haunt us. You'll recognize some famous figures in Japanese folklore (including Godzilla) and wizened beings with strange features, bulging eyes, and bared teeth—an apt exhibit for spooky season.
Where: 200 Larkin Street, San Francisco, CA
More information
EXPLORE MORE
Everything to Know About This Year's Hardly Strictly Bluegrass Festival
The Best Farms, Pumpkin Patches, and Fall Festivals in the Bay Area
The Best Unexpected Date Ideas in San Francisco
LIKE WHAT YOU'VE READ?
Never miss out on a new experience!
Create a Bucket Listers account to access exclusive offers and the latest news in your city