7174 Melrose Avenue, Los Angeles, CA 90046, USA
food & drink
music & nightlife
What you will experience
An immersive Blockbuster Pop-Up Bar is headed to Los Angeles this October! Closing night is February 19th, get your tickets now! 

Bucket Listers and New Gold Empire are excited to present an exclusive experience: Make It a Blockbuster Night!

💰Price list:
Blockbuster Bar General Admission: Starting at $29 per person - includes 1 throwback cocktail!
Blockbuster Brunch: $55 per person - includes one entree and one throwback cocktail
🗓️ Schedule:
Starting Monday, October 31st
90's Halloween Party on Monday, October 31st: 6:00 PM  Sold Out!
Blockbuster Brunch: Saturdays and Sundays starting December 10th
⏰ Multiple times per day
📍Blockbuster Pop Up Bar: 7174 Melrose Ave, Los Angeles, CA 90046

About The Event

Join Bucket Listers and New Gold Empire as we throw it back to the 90s & Y2K!

"Be kind, please rewind."

We're bringing back Blockbuster in this one-of-a-kind immersive Blockbuster drinking experience. It's completely inspired by those days in the 90s when roaming Blockbuster's aisles without aim was actually considered a pretty cool thing to do.

This new Blockbuster Speakeasy takes everything you remember about choosing a movie pre-streaming, but includes a full bar serving up delicious cocktails and more! Best of all? You won't have to worry about returning any "rentals."

When you enter the speakeasy, you'll be greeted at the door with your very own membership card. However, in this reimagined setting, it will actually act as your drink ticket.

You can roam around for your libation of choice. Instead of genres, aisles will be sectioned off by different kinds of cocktails and beers. And instead of grainy VHS tapes, you can choose from themed cocktails inspired by popular 90s and 2000s movies.

Make sure to check the "synopsis" on the back before bringing your VHS to the checkout counter. There, one of our Blockbuster bartenders will whip up your drink of choice.

As with any Blockbuster experience, you can expect a ton of snacks in stock including popcorn and a large candy selection.

Blockbuster Brunch 

Make it a Blockbuster brunch! Don't miss out on special brunch events starting Saturday, December 10th and Sunday, December 11th. The space will turn into the ultimate breakfast club with a special brunch menu, music, surprises, and more. Tickets include one entree and one welcome throwback cocktail. The dates are sure to sell out with limited capacity available, so reserve your seat now.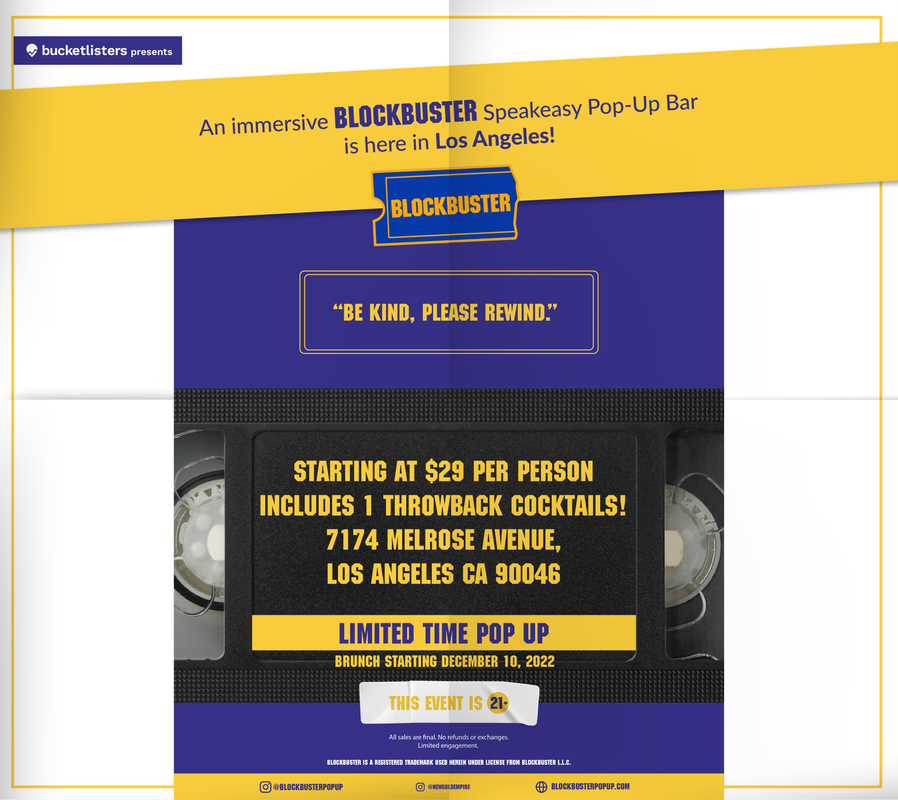 This event is 21+.
Seating is first-come, first-serve to ticket holders.
Additional food and drinks will be available to purchase.
All sales are final, no refunds or exchanges.
Blockbuster is a registered trademark used herein under license from Blockbuster L.L.C.

Ticket types
General Admission
Price is per person
Starting at $10
Single Bar Seat
Price is per person
Starting at $55
Last Call GA
Price is per person
Starting at $89
Table for 2
Price is for 2 guests
Starting at $110
Table for 3 or 4
Price is for 3 or 4 guests
Starting at $165
Sales for this experience have ended
Add to your Bucket List to be the first to hear when more tickets become available!
Where is the experience
7174 Melrose Avenue, Los Angeles, CA 90046, USA