Goldfish Presents Oktoberfest at The Williamsburg Hotel
The Williamsburg Hotel, 96 Wythe Ave, Brooklyn, NY 1...
music & nightlife
What you will experience
Bucket Listers is excited to partner with Venue House to offer you exclusive ticket pricing:

💰Price List:
General Admission: Starting at $45 per person (Add-On a welcome drink from Samuel Adams or Truly)
Bucket Listers VIP Lounge: $150 per person
🗓️Saturday, October 15th
⏰2:00 PM - 11:00 PM
📍The Williamsburg Hotel: 96 Wythe Ave, Brooklyn, NY 11249

About the event:

Enjoy a Day at our German Inspired Biergarten Experience with sounds by GoldFish at The Williamsburg Hotel in Brooklyn, NY on Saturday, October 15th. Support DJ's to be announced!

VIP Admission:

Maximize your event experience with Bucket Listers VIP Lounge Access! VIP Admission includes full access to the main event area and private access to the Water Tower lounge featuring a private bar, special guest DJ performances, direct views overlooking the main stage artist (GoldFish), and breathtaking views of New York City's Skyline!

About the artist:

Before changing the Electronic Music game in South Africa as GoldFish, Dominic Peters and David Poole were mild-mannered students by day - that blew the roof off house parties by night.

Their trail-blazing live show, which mixed tireless house beats with multiple live instrumental performances earned the attention of a swelling house and electronic music fan base.

As their fame grew, so did their scope, scouring obscure sources for unique and cheeky samples that they twisted into endlessly fun hooks and choruses. Stirring African rhythms and Sax melodies into the mix helped GoldFish evolve a truly unique house sound. Their burnished grooves are rooted in pure pop pleasure, hooking even the most cautious listener onto the dance floor(without next-day regret).

After seven years of basing themselves between Cape Town and Ibiza, Dom and Dave have settled in San Diego to concentrate on the burgeoning US Market. A consistent string of chart-topping hits — and a live show that has seen countless festival appearances from Coachella to Glastonbury — has helped GoldFish become one of the most enduring and influential groups in live electronic music.

Arrive at the entrance of The Williamsburg Hotel. Follow signs for the event entrance. Doors open promptly at 2:00 PM. Please ensure to arrive prior to 6:00 PM to maximize your event experience and attend the headliner's performance. Tickets or reservations are required. The event is 21+.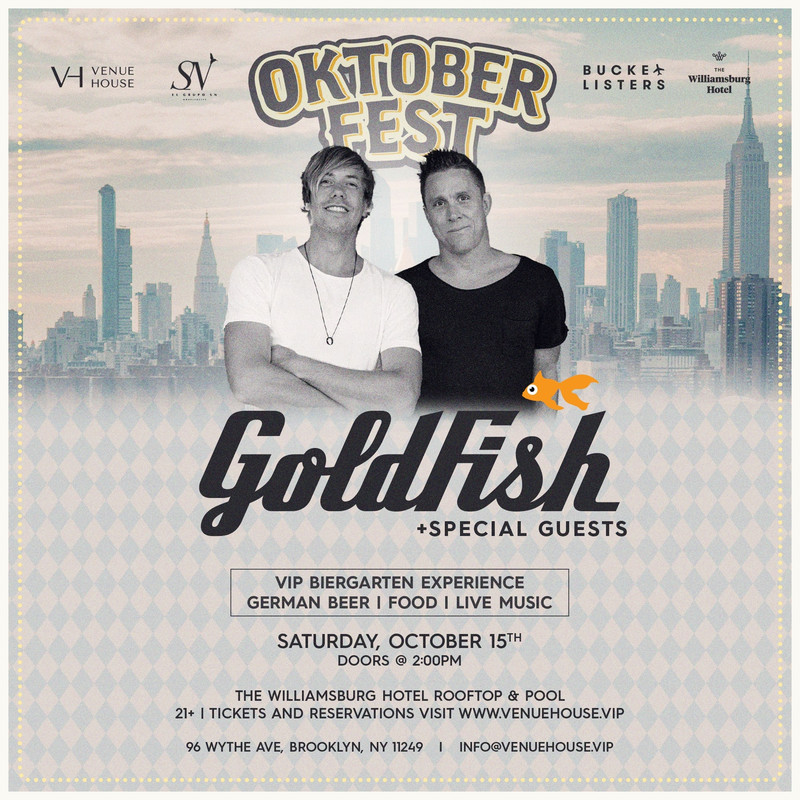 By purchasing a ticket, you are confirming that you received this policy and are agreeing to abide by the clauses within. This Event Policy is a binding contract between you and Venue House.
All sales are FINAL. Except as set forth herein, there are NO REFUNDS, NO CANCELLATIONS, no credits, no exchanges, and no transfers after the purchase of a ticket.
Ticket types
Early Bird
Ticket is per person
Starting at $45
GA Tier 1
Ticket is per person
Starting at $55
GA Tier 2
Ticket is per person
Starting at $75
Bucket Listers VIP Lounge
Ticket is per person
Starting at $100
Sales for this experience have ended
Add to your Bucket List to be the first to hear when more tickets become available!
Stay tuned for more dates!