St. Patrick's Day LES Bar Crawl
music & nightlife

BEST PRICE
What you will experience
Bucket Listers is excited to partner with Rose Gold Entertainment to offer you exclusive ticket pricing:

💰General Admission: $21.25 per person (originally $25)
🗓️Saturday, March 18th
⏰12:00 PM - 8:00 PM
📍Multiple Locations:
- The DL: 95 Delancey St, New York, NY 10002, United States
- Hotel Chantelle: 92 Ludlow St, New York, NY 10002, United States
- Orchard Room: 120 Orchard St, New York, NY 10002, United States
- Grey Lady: 77 Delancey St, New York, NY 10002, United States
- SET: 127 Ludlow St, New York, NY 10002, United States
- The Delancey: 168 Delancey St, New York, NY 10002, United States
- Eastpoint: 25 Avenue B, New York, NY 10009, United States
- Writing on the Wall: 244 East Houston Street, New York, NY, USA

About the event:

Get ready to raise a pint to the luck of the Irish at our St. Patrick's Day Gold Rush Bar Crawl in the Lower East Side! Join us as we hit up some of the best bars in the area, including The DL, Hotel Chantelle, Grey Lady, Writing on the Wall, Downtime, The Delancey, SET, and Orchard Room. With your ticket, you'll get exclusive drink deals and free admission to all venues. Be sure to wear your best green attire and get ready for a night of fun as we cheer to the holiday with a pint of Guinness or your favorite Irish whiskey.

Participating venues:

- Writing On The Wall (check-in until 3pm, crawl until 8pm)
- The DL (check-in until 3pm, crawl until 8pm)
- Hotel Chantelle (check-in until 3pm, crawl until 8pm)
- SET (check-in until 3pm, crawl until 8pm)
- Grey Lady (check-in until 3pm, crawl until 8pm)
- The Delancey (check-in until 3pm, crawl until 8pm)
- Downtime (check-in until 3pm, crawl until 8pm)
- Orchard Room (check-in until 3pm, crawl until 8pm)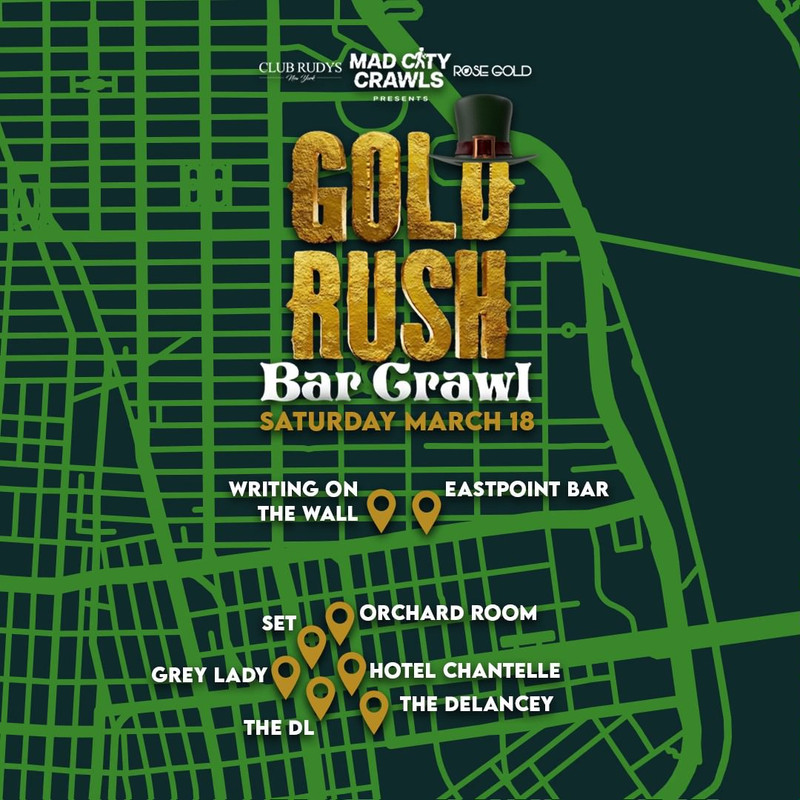 - Ticket prices rise as each venue approaches sell-out. One (1) ticket is required per person.
- Ticket does not guarantee entry to bars that are over capacity. Each bar has the right to refuse entry to any patron. Bars are subject to change. 
- This event is 21+.
All sales are final. No refunds or exchanges.
Ticket types
General Admission
Ticket is per person
Starting at $21
Sales for this experience have ended
Add to your Bucket List to be the first to hear when more tickets become available!
Where is the experience
The DL | Best Rooftop Lounge NYC, 95 Delancey St, New York, NY 10002, United States
The Orchard Room, 120 Orchard St, New York, NY 10002, United States
Grey Lady, 77 Delancey St, New York, NY 10002, United States
Set L.E.S., 127 Ludlow St, New York, NY 10002, United States
The Delancey | Best Downtown NYC Rooftop, 168 Delancey St, New York, NY 10002, United States
25 Avenue B, New York, NY 10009, United States
Writing On The Wall, 244 East Houston Street, New York, NY, USA
Frequently asked questions