Published January 19, 2023
LA's Best Cafés
An article best paired with a cup of coffee.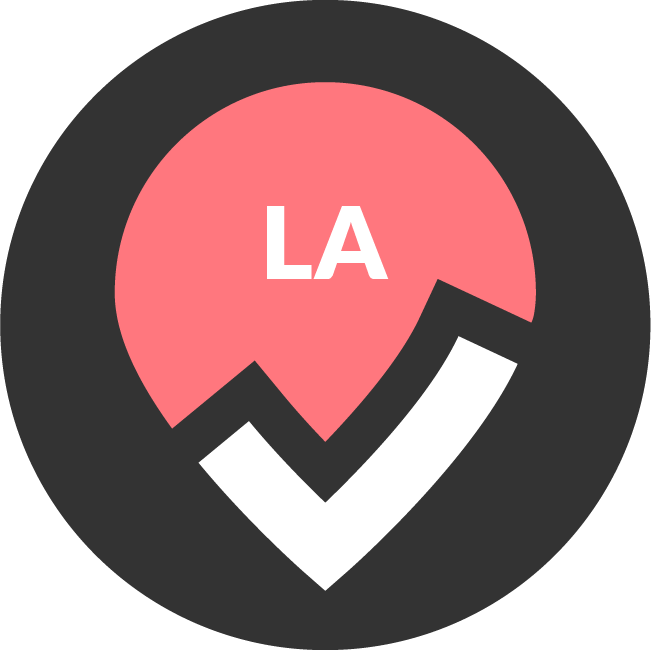 by Los Angeles Bucket List
Café culture is universal, but no city does it with as much flair and flamboyance as Los Angeles. Whether you're looking for cozy, chic, classic, or above all, just plain caffeine, we've rounded up some of our favorite coffee shops worth a visit in LA.
Cafe On 27
Cafe On 27 is definitely not your average-looking cafe. This place is perched atop the Topanga Hills and will make you feel like you're in a treehouse. If you're looking to disconnect from the city and get outdoors, look no further.
Where: 1861 N Topanga Canyon Blvd, Topanga, CA 90290
Wifi: No
Cafe Nido
This new spot in Silver Lake is a throwback to an old-school coffee house. With all the staples of a good cafe—great coffee, books, and music—Cafe Nido encourages people to make new connections, strengthen old ones, and exchange ideas, experiences, and more.
Where: 2810 Hyperion Ave, Silver Lake, NY
Wifi: No
Civil Coffee
Civil Coffee, a colorful tile connoisseur's fantasy, looks as though it's been plucked straight from a West Elm catalogue. Divulge in some slow drip coffee or take a bag of your favorite beans home with you. But with the sweeping, stylish space and sweet potato-filled breakfast burritos, what's the point in ever leaving?
Where: 5629 N Figueroa Street, Los Angeles, CA 90042
Wifi: No
Eightfold Coffee
Eightfold Coffee occupies a bright, open space with welcoming white brick walls, instantly creating a place you'll want to sip the hours away at. They have strong coffee and WiFi, but the latter is less of a match for their wooden bookshelves lined with a curated book and zine collection. Sit back, sip back and enjoy not having to pick up your phone for a while.
Where: 1294 W Sunset Blvd, Los Angeles, CA 90026
Wifi: Yes
Beachwood Cafe
Beachwood Cafe serves up modern American cuisine with Asian, Scandinavian, and Mediterranean influences. Farm-to-table fare can be enjoyed in a space designed by architect Barbara Bestor, who earned the cafe a 2012 AIA Restaurant Design award. It's nearby the famous Hollywood sign, making it the perfect pitstop if you're playing tourist for the day.
Where: 2695 N Beachwood Dr, Los Angeles, CA 90068
WiFi: Yes
Verve Coffee Roasters
Regardless of which Verve location you step into, you'll be welcomed by a lush green sea of wall plants and standing trees. This Santa Cruz transplant brings its earthy vibes in the form of craft coffee from Kenya, Ethiopia, Honduras, Guatemala and more. Each location has varying seasonal food offerings, with the Spring St. location even collabing with Café Gratitude.
Where: Various locations
Wi-Fi: Yes
Little Lunch Coffee
This Australian-inspired coffee shop offers quality coffee and small bites. "Little Lunch" is actually Aussie slang for "recess." The cafe is "inspired by the simple joys of childhood." Add one of their organic house syrups to your drink for an extra sweet treat.
Where: 50 Brooks Ave, Venice, CA 90291
WiFi: Yes
Espresso Profeta
Tucked between rust colored bricks and tangled green vines, Espresso Profetta is a hidden gem in the heart of Westwood. You'll find UCLA students sipping classic espressos while studying for their Classics 10 midterm on the back patio and CorePower yogis popping in for a post-class energizer. Though there is free WiFi, beware of the nonexistent outlets.
Where: 1129 Glendon Ave, Los Angeles, CA 90024
WiFi: Yes
Neighborhood
Contrary to what the name may suggest, this isn't your average neighborhood joint – with its Spanish tiled steps, marble countertops, rose gold accents, pale blush walls, and vegan ice cream, it's a millennial dream. The ideal shop spot is at the street-facing bar, where the large windows open out when the sun is shining (read: most LA days). Even the bathroom – with its green-tiled walls – is mirror-selfie approved.
Where: 133 South La Brea Ave, Los Angeles, CA 90036
WiFi: No
Flowerboy Project
Does anything beat coffee shops and flower shops? Answer: A coffee shop that doubles as a flower shop. At Flowerboy Project, you can have your cake flowers and eat them too – literally. In addition to coffee staples, their menu includes floral delicacies like toast topped with lavender peanut butter and a matcha bowl infused with hibiscus powder. Plus, their eight types of toast will put plain toast to shame.
Where: DTLA (614 W 8th St Los Angeles, CA 90014)
Venice (824 Lincoln Blvd Venice, CA 90291)
Wifi: Yes
Dinosaur Coffee
Dinosaur is the quintessential Los Angeles coffee shop - cozy and chic. With minimal decor enriched with wooden accents and coffee drinks made from Four Barrel espresso, the Silver Lake indie shop will invite you in and make it hard to leave. Though there isn't any WiFi here, just repeat the mantra of their neon wall sign in your head: Things will be fine.
Where: 4334 W Sunset Blvd, Los Angeles, CA
WiFi: No
Farm Cup Coffee
Farm Cup embodies the idea of farm-to-table and prides itself on serving organic single origin coffee directly sourced from farm owners, so you always know where your cup of coffee comes from. Serving up delicious blends and specialty lattes (think: cinnamon-spiced and rose syrup-infused), along with small plates and fresh menu items like Morning Hash, this sunny spot is not-to-be-missed!
Where:
Echo Park: 10250 Constellation Blvd Suite 175, Los Angeles, CA 90067
West Hollywood: 7748 Santa Monica Blvd, West Hollywood, CA 90046
Wifi: Yes

For more information.
Rubies + Diamonds
Though you may not be able to frost yourself with rubies or diamonds at this Hollywood spot, you can refuel with a selection of flavored cold brews. Adorned with millennial pink chevron walls and elaborate chandeliers, the decor of this fashion-forward coffee shop is only half of its appeal. Even more alluring are its nitro drinks; try the nitro flight for tastes of hibiscus, turmeric lemonade, ginger ale green tea, creamy matcha green tea, and cold brew. In addition to teas and coffees, R+D also has an array of veggie-friendly burritos, rice bowls, sandwiches, sweets, as well as wine and beer.
Where: 6115 Sunset Blvd #150, Los Angeles, CA 90028
WiFi: Yes
G&B Coffee
Serving up coffees, espresso drinks and teas from the world's top roasters and farms, G&B is a must-stop stall in downtown LA's open-air Grand Central Market. With a menu featuring specialty drinks like the coffee milkshake and hop-infused carbonated ice tea, you may be confused by someone ordering a simple iced latte; however, that iced latte happens to be declared the best one in America by the New York Times.
Where: 317 S Broadway, Ste C19, Los Angeles, CA 90013, and other various locations
WiFi: Yes
Cofax
Small and simple with a no-frills aesthetic, Cofax's focus is not on creating the most Instagrammable coffee shop, but rather on crafting the best food and drinks for its customers. Pull up to the counter and order a sea salt and honey glazed donut with an iced horchata latte or take one of their breakfast burritos (with slow cooked potatoes and your choice of meat) to go. There's no WiFi to connect to but trust us when we say you will have a spiritual connection to those breakfast burritos.
Where: 440 N Fairfax Ave, Los Angeles, CA 90036
WiFi: No
Menotti's Coffee Stop
Menotti's a local beachside favorite in the heart of Venice. Upon entering, you're met with curated tunes filling the space from the cafe's record player. They serve up creativity with every drink they make, from chai to Spanish latte. The best just may be the patio where you can bask in the sun and enjoy some outdoor sipping. Menottie's also has a location in Culver City.
Where: 56 Windward Ave Venice, CA 90291
WiFi: No
The Boy & The Bear
There's only one word to describe this place: cozy. The Boy & The Bear serves some of the city's best espresso drinks in a laid-back environment. With locations across the city, in Redondo Beach and Culver City, it's easy to pull up a seat nearby you–indoor or outdoor. They roast everything on-site at the Redondo location for the ultimate local, fresh coffee experience.
Where: 350 N Pacific Coast Hwy Redondo Beach, CA 90277
WiFi: Yes
Hilltop Coffee + Kitchen
This South LA gem has been a locally-loved favorite since its doors opened. They keep a simple menu, but it's executed well and with care that's easy to taste. Hilltop serves everything from Lavender Lattes to fresh juices. Pull up a seat inside here for lots of greenery, motivational wall art, and an open-air feel.
Where: Various locations (Original: 427 W Slauson Ave Los Angeles, CA 90043)
WiFi: Yes
La La Land Kind Cafe
La La Land aims to bring a dreamy world to live with delicious coffees, matchas, teas and bites. They're a self-proclaimed "kind cafe" that aims to "normalize kindness". The cafe hires foster youth who have aged out of the system through their 8-week internship program.
Where:
The Grove: 189 The Grove Dr., Los Angeles, CA 90036
Santa Monica: 1426 Montana Ave #1, Santa Monica, CA 90403
WiFi: Yes
Intelligentsia Coffee
Though Intelligentsia actually got its start in Chicago, the hipster haven you'll find on Sunset Blvd fits perfectly with the LA scene. We can't argue with those who say Intelligentsia started LA's craft coffee scene. Walkthrough the rusted clay archway, grab some coffee steeped to order, step on the blue-tiled patio, and people watch on the Silver Lake Sunset Junction.
Where: 3922 Sunset Blvd, Los Angeles, CA
WiFi: Free
Deus Café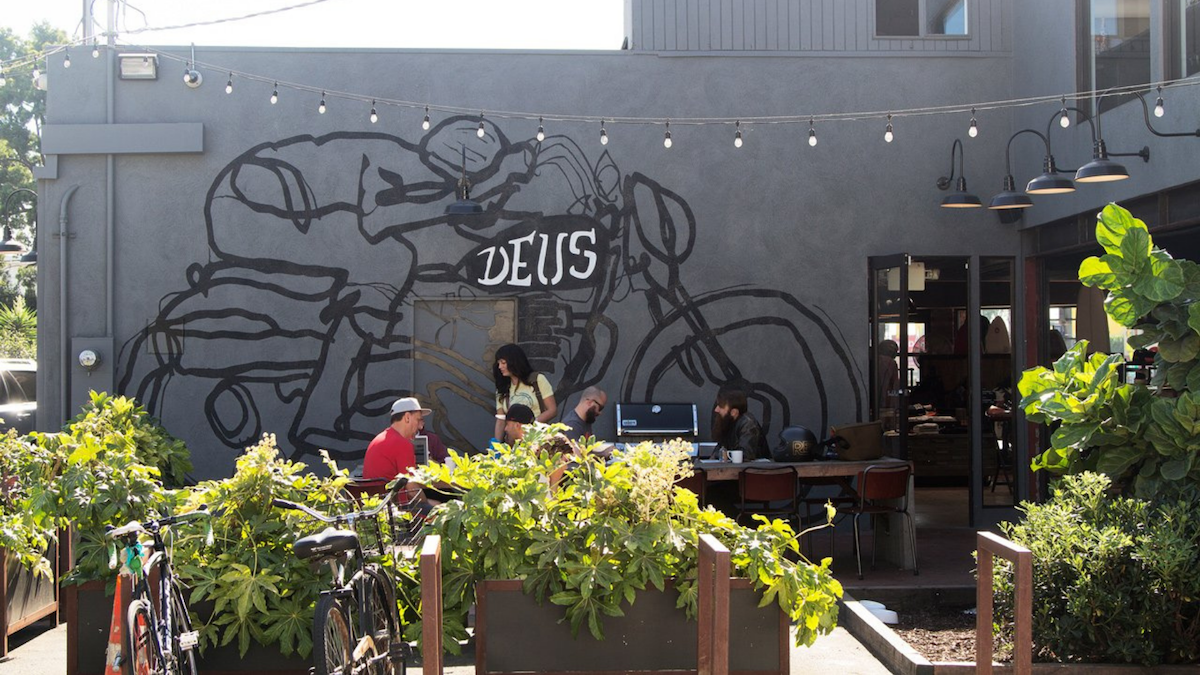 Deus Ex Machina, described as an "emporium of postmodern activities," is a hub of surf, bike, and motorcycle culture. Head to the back of this gas station turned flower shop turned Deus Ex Machina to find Deus Café, a cozy coffee shop with communal tables and, most importantly, Toasted Levain bread. Though the open indoor/outdoor space is WiFi-friendly, there are no power outlets; just charge up with some espresso instead.
Where: 1001 Venice Blvd, Venice, CA 90291
Wifi: Yes
Great White
The only great white we'd like to encounter in Venice isn't in the Pacific ocean but instead on Pacific Avenue. Its plush, earth-toned benches and hanging wicker lights create an atmosphere of true Californian coastal living at this all-day cafe. Whether you opt for the breakfast sandwich with gouda and tomato jam or salmon tartine with housemade ricotta, take it outside for a view of the 'Venice' string lights straight from the terrace.
Where: 1604 Pacific Ave, Venice, 90291
Wifi: No
Blueys Santa Monica
Step into Sydney at this Aussie-born coffee shop, inspired by the Bondi Beach lifestyle and stacked with healthy menu items. Start your day with some sweet squash pancakes or opt for an ancient grain midday pick me up; regardless of the time, lounge back on their outdoor patio, close your eyes, transport yourself to the ocean, and imagine you don't have to head back to the office for your 3 PM touch base with Susan.
Where: 1814 Berkeley St, Santa Monica, CA 90404
WiFi: Yes
Good Boy Bob
Retreat to this hidden coffee oasis the next time you're in need of a little R&R. Its no frills menu makes for simple ordering, while the indoor seating situation will instantly transport you to the well furnished living room of your Pinterest dreams. If sitting back in a slightly worn-in caramel chaise of luxury doesn't interest you, first of all how dare you? But second of all, just head outside to their wooden table lined patio to sip in some sunshine and your housemade almond milk latte. There are also locations in Mahattan Beach and Culver City.
Where: 2058 Broadway, Santa Monica, CA 90404
Wifi: Yes
LIKE WHAT YOU'VE READ?
Never miss out on a new experience!
Create a Bucket Listers account to access exclusive offers and the latest news in your city