food & drink · arts & culture · music & nightlife · attractions & tours ·
Published February 2, 2023
16 Fun Things to Do on a Rainy Day in NYC
The best indoor activities to do in NYC on a rainy day. 🌧
by New York Bucket List
As much as we all love a clear, sunny day, there's something to be said for a moody afternoon in New York City when the skies are gray and the rain drizzles outside your window. While it may not be the ideal time to go boating in Central Park or grab a drink on one of the city's many rooftops, there are still plenty of ways to enjoy New York when the weather outside isn't all sunshine and rainbows.
From cozying up with a latte in one of the city's best cafes to exploring the hidden gems in Grand Central Station, we've put together the ultimate list of indoor activities in NYC, so you'll never run out of things to do in NYC on a rainy day.
16 Rainy Day Activities in NYC
Explore Grand Central Station
Of course, you've been to Grand Central before, but have you ever really explored it? It's one of New York's most defining landmarks, and there's so much to do and see besides catching a train. The stellar zodiac ceiling is breathtaking (it's painted backward, so viewers see it from a divine perspective rather than a human one) and contains over 2500 stars. And the iconic information booth clock (valued at over 20 million dollars) is worth taking an up-close look at.
Grand Central is also home to dozens of restaurants and bars—including the only Danish food hall in New York and a secret sushi den—along with a fresh food market, museum gallery, tennis court, and the largest example of Tiffany glass in the world. In other words, it's the perfect spot to go exploring on a rainy day—you never know what other hidden gems you might stumble across.
Where: 89 East 42nd Street, New York, NY
More information on Grand Central Station.
Cozy up in a Café
New York is the city that never sleeps, and it's no coincidence that there's a cafe on just about every street corner in Manhattan. We'll take a caffeine boost anytime, but few things are more picturesque than sipping a hot latte inside a cheerful café while listening to the rain outside. Check out our guide to the best cafés in NYC to find a coffee shop to cozy up in near you.
Where: Various locations.
More information on NYC Cafés.
Check out the House of Cannabis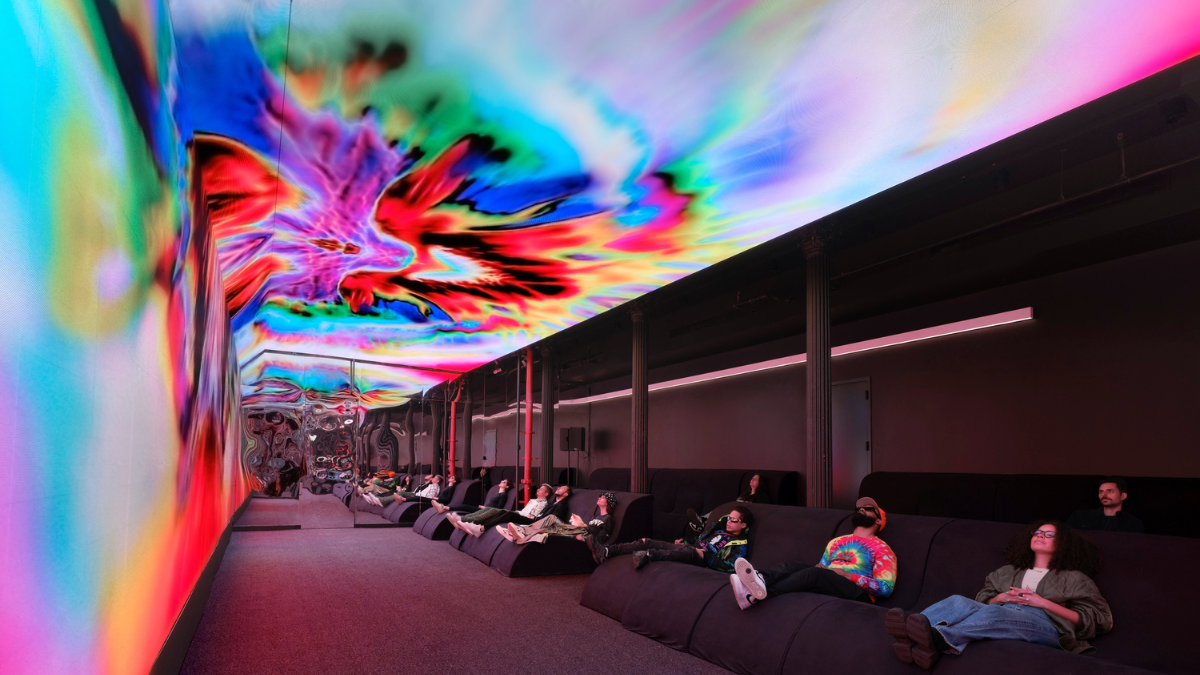 Step out of the rain and into THC NYC, The House of Cannabis, for a captivating and immersive journey through the diverse aspects of cannabis. Located in SoHo, this vibrant space offers a range of experiences, including music, art, fashion, psychedelia, cultivation, and reform.
Among the ten unique encounters are the first-ever living urban grow, a sensory celebration of cannabis' impact on music, a mesmerizing LED-wrapped psychedelic journey, and much more. The venue also boasts a community gathering space, café, corner store, live glassblowing, and a thoughtfully curated collection of cannabis-inspired lifestyle products.
Where: 427 Broadway, New York, NY
More information on House of Cannabis.
See a Broadway Show
Yes, you'll have to deal with the crowds in the theater district, but it's a small price to pay to see world-class performances. Broadway is a staple of NYC culture, and seeing a show is a good excuse to escape the gray, soggy streets and enjoy a few (dry) hours inside.
Where: Various locations.
More information on Broadway Shows.

Duck Into a Hidden Speakeasy
Nothing feels quite as exhilarating as escaping the city (and the weather), and finding yourself in a secret plush lounge, sipping cocktails. From 1920s-style lounges to laid-back bars to glitzy venues offering jazz and burlesque shows, spending some time hidden away in a speakeasy is a great way to pass the time on a rainy day.
Where: Various locations.
More information on NYC's Hidden Speakeasies.
Visit the New York Public Library's Main Branch
There are libraries all over the city (and all of them are worth visiting on a rainy day), but if you've never taken the time to visit the main branch, here's your sign to go. Located at the south end of Bryant Park, the Stephen A Schwarzman Building is free and open to the public and offers daily tours, stunning architecture, impressive exhibits, quiet study spots, and more. Make sure to check out the Rose Main Reading Room—the elaborate ceiling design and murals are reason enough to visit.
Where: Fifth Avenue and 42nd Street, New York, NY
More information on the NYPL Main Branch.
Learn to Tattoo
If you've ever wanted to see if you have what it takes to be a tattoo artist, now's your chance. Get your creative juices flowing at this learn-how-to-tattoo experience in Brooklyn. You'll design and plaster your own original tattoo and apply it to synthetic skin or a melon. When you're done, you can kick back and celebrate your accomplishments with a cold beer.
Where: FIB Tattoo Bar: 1051 Flatbush Ave, Brooklyn, NY
More information on Learn How to Tattoo Experience.
Go Rock Climbing
The rain may make climbing outdoors less than ideal, but you can climb all the walls you want at places like Central Rock Gym, Manhattan Plaza Health Club, and Brooklyn Boulders. Each spot offers thousands of square feet to climb, lessons for beginners and experienced climbers, comprehensive fitness classes, and more. In other words, it's the perfect way to get active when you're stuck indoors.
Where: Various locations.

Explore the Turnstyle Underground Market
When you can't enjoy the outdoors, go underground. Beneath 8th Avenue, at the Columbus Circle station, there's a sprawling market with 39 unique eateries, pop-ups, and retail shops. Shop everything from fresh flowers and handmade soaps to statement jewelry and baked goods. Plus, enjoy an array of delicious food options like dumplings, empanadas, paella, and more.
Where: Beneath 8th Avenue, between 57th and 58th Street. There are seven street-level entrances to the market.
More information on the Turnstyle Underground Market.

See the Knicks Play
Visiting the historic Madison Square Garden is an experience in and of itself, and catching a Knicks game is a must-do NYC activity, whether you're visiting or have lived here for years. It's also a great way to stay dry when the weather is less than ideal. Grab some concessions, sit back, and soak up the energy in the arena.
Where: Madison Square Garden: 4 Pennsylvania Plaza, New York, NY
More information on the Knicks.
Book a Cooking Class
Instead of sitting inside going stir-crazy, up your culinary game and sign up for a cooking class. In this fun, hands-on, interactive class, you'll learn how to make a classic potato dough from scratch. Your chef instructor will demonstrate how to make a basic red sauce and brown garlic, onion, and herb sauce to enjoy with your handmade gnocchi.
Where: Bat House Brooklyn: 459 Grand St, Brooklyn, NY
More information on Handmade Gnocchi Making Classes.

Dueling Pianos at Green Fig
Have you ever been to a dueling piano bar? It's definitely a bucket list experience and a rainy New York night is the perfect excuse to check it out. Sing along at Green Fig in Times Square as three of NY's finest musicians and vocalists take you through the catalogs of your favorite artists. Featuring music by Elton John, Billy Joel, Queen, The Beatles, Michael Jackson, Billie Eilish, Lizzo, and more, it's sure to be a riot rain or shine. With games and varying themed nights, you'll never get the same experience twice.
Where: Green Fig: 570 Tenth Avenue, W 42nd St At, New York, NY
More information.
Spend a Day at the Spa
A rainy day is a perfect excuse to relax and rejuvenate at one of NYC's luxurious spas. The Peninsula on Fifth Avenue offers an intimate, indulgent experience featuring innovative spa treatments from facials to full-body Swedish and deep tissue massages. They also offer a unique Sleep Support Therapy treatment designed to balance emotions and reduce stress and anxiety.
Where: 700 Fifth Avenue at 55th Street
More information on The Peninsula Spa.
Check Out a Museum You've Never Visited Before
Everyone knows New York is home to world-class museums, and more than likely, you've spent some time at the MET, MoMA, and the American Museum of Natural History. But have you ever explored the Skyscraper Museum, the Museum of Food and Drink, or the Houdini Museum of New York? With dozens of niche and out-of-the-ordinary museums across the city, there's a spot to explore for every hobbyist and enthusiast out there.
Where: Various locations.

Visit Madame Tussauds
Speaking of unusual museums, there's nothing quite like Madame Tussauds. The famed wax museum is the greatest of its kind, and if you've never stepped inside, it's high time you check it out. Perfect for meandering through on a rainy day, this indoor activity is full of hyper-realistic wax replicas of your favorite celebrities and characters, from Marvel superheroes to POTUS himself.
Where: 234 W 42nd St, New York, NY
More information on Madame Tussauds.

Get Lost in a Bookstore
Few things are better than curling up with a good book on a rainy day, but one thing that might beat it is getting lost in a bookstore. As one of the most literary cities in America, New Yorkers have access to some pretty great bookstores like Argosy and Strand—New York's two oldest bookstores—to newer favorites like Books are Magic and Greenlight Bookstore in Brooklyn.
There are even specialty shops like Albertine Books on the Upper East Side, devoted primarily to French literature, or Rizzoli in Flatiron, known for its vast collection of large, illustrated coffee table books.
Where: Various locations.
EXPLORE MORE:
The Best Broadway Shows to See in New York Right Now
30 Fun Activities In NYC That Don't Involve Alcohol or Food
The Best Places to Work Remotely in NYC
LIKE WHAT YOU'VE READ?
Never miss out on a new experience!
Create a Bucket Listers account to access exclusive offers and the latest news in your city