Published January 19, 2023
San Francisco's Best Hidden Speakeasies
Step inside San Francisco's best kept secrets. 🥂
by San Francisco Bucket List
A vintage, elegant cocktail in a quiet bar may seem like a unicorn in San Francisco — but you just have to know where to look. Speakeasy-style bars, ranging in definition from unmarked entrances to authentic 1920's-inspired prohibition-era basements, can offer the exclusive and decadent feel that you're searching for.
But San Francisco doesn't just offer a few dimly lit lounges. Across the small but mighty 7x7, you'll find futuristic and international designs as commonly as you find authentic Prohibition-era house rules and underground cocktail bars. For whatever you seek, check out Bucket Listers' favorites below.
The Pawn Shop
A speakeasy isn't often described as brightly lit, or likely to contain a full restaurant menu and tapas selection, but The Pawn Shop has it all. It's situated behind a literal pawn shop — you'll simply need to exchange a small belonging to be let in. Once you're in, take a seat at the balcony table, select one of the signature flowery "Uno," "Dos," or "Tres" cocktails, and enjoy the fruits of your labor.
How to get in: Dial the golden phone at the door. You'll be let in to see the surly Pawn master, and only after pawning a small trinket (like a sticker or stick of gum) will they let you into the behind-the-scenes bar and restaurant.
Where: 993 Mission St.
For more information on The Pawn Shop.
Bourbon & Branch Bars
It's impossible to talk about the SF speakeasy scene without mentioning the renowned and elaborately layered Bourbon & Branch. Despite house rules that outlaw using your cell phone or taking photos, this traditional Prohibition-era bar became so popular in the city that it developed several overflow secret bars within itself. Another house rule reminds patrons to "not even think of ordering a Cosmo," as the establishment's goal is to broaden horizons with their personally crafted drink menu.
How to get in:
Bourbon & Branch Main Bar: Buzz the unmarked door at Jones and ask to be put on the waitlist.
Library: Open

Wednesday to Saturday

,

this bar can be found through

the unmarked door around the corner of the Jones entrance on O'Farrell

Street. Once there,

use the password "books."

Note that this bar is

standing room only.

Ipswitch: Ipswitch takes the speakeasy cake. This super-secret bar is hidden in a dark basement under a trap door in the floor

— really — of

Russell's

Room

, Bourbon & Branch's large

event room. Inside you'll find a two-seat bar and lockers filled with booze,

authentically

designed

to look exactly like

a real speakeasy that was located there during Prohibition. To get your chance

at this room

, you'll need to book a large event and hope to be invited by the staff.
Where: 501 Jones St.
For more information on Bourbon & Branch Bars.
Smuggler's Cove
The nation's largest, award-winning rum collection lies right inside this little pirate-themed bar. The staff will even provide you with their menu books while you wait in line so you can get a head start on deciphering their extensive options. Step inside the tiki tower interior and weave through the nautical decor and scenic water features. Exchange pleasantries with the Hawaiian-shirted bartenders and feel instantly transported to a rum-drenched island vacation — while still inside the heart of the city.
How to get in: Line up to the side of the unmarked door at the address, signified only by a red overhead bulb.
Where: 650 Gough St.
For more information on Smuggler's Cove.
The Hideout
The Hideout is a bar within a bar — ideal for when the narrow Dalva gets a little too bustling. If you're looking to relax and actually hear your friends, head to the back of Dalva to grab a table in the low-lit, no-frills Hideout, with a personal cocktail bar at your service. Great for those over the endless themed-this or gimmick-that city bar scene. Still a little packed? Head upstairs to the secondary lounge for more seating.
While Dalva is currently up and running, the Hideout is planning a reopening in March, and you're not going to want to miss it.
How to get in: Through the Dalva entrance, straight back through a dark hallway.
Where: 3121 16th St.
For more information on The Hideout.
Marianne's
A rose-colored cocktail lounge is secretly tucked behind a bookcase of The Cavalier Restaurant. Named for the ex-lover of Mick Jagger, Marianne's maintains glamorous throwback vibes to create a decadent feel for its patrons. Slip into a plush leather couch in a semi-private booth, with low romantic lighting and antique accessories, and select a drink with style and substance to match (may we suggest: The Dark Side of Hemingway).
How to get in: Earlier in the night, enter through The Cavalier and ask the waitress; from 10pm on, enter through the pink door in the Jessie Street alley.
Where: 360 Jessie St.
For more information on Marianne's.
Cold Drinks
Located inside China Live, this Scotch-forward new bar is a modern day take on the Shanghai jazz era. Incredibly sleek Cold Drinks sports silver velvety couches, white-tuxedo-clad bartenders, and an elite whiskey selection. Its inventive cocktail menu is a pricey treat, so go big. We recommend the "Sometimes Old Fashioned," with Peking Duck Fat-INFUSED Speyburn for a wild choice.
How to get in: Head to the second floor of the China Live complex, then enter a discreet door marked with bats.
Where: 644 Broadway St.
For more information on Cold Drinks.
The Remedie Room
This private bar is hidden away in the basement of The Devil's Acre, which pays tribute to the "Barbary Coast era" during the California Gold Rush, when lines were blurred between medicine and spirits. The Remedie Room continues the apothecary-inspired theme in the cavernous space with historic accessories and warm, wooden furniture. Drinks, or "prescriptions," are period-specific classics. One house favorite, "Call a Treuse," was reportedly developed by a 1700s monastery apothecary as a mix of "local herbs, plants, spices, and other ingredients" that — with complex compounding directions — led to an elixir of long life.
How to get in: This room is used exclusively for private events, so be sure to book your visit for up to 30 people.
Where: 256 Columbus Ave St.
For more information on The Remedie Room.
The Linden Room
The Nightbird restaurant has been considered one of San Fran's most romantic restaurants — but did you know there's a speakeasy tucked inside of it? The eight-seat Linden Room serves seasonal and evergreen selections that celebrate the American craft cocktail. The bar team's attention to detail is noticeable from the fruit and herb infusions to the vintage glassware each drink is served in. The offerings are curated by Nightbird chef Kim Alter and prioritize locally sourced ingredients. The Linden Room's atmosphere is refined and cozy, and you can enjoy it during a dining experience at the Nightbird or on its own. The room doesn't take reservations and is available on a first-come-first-served basis.
How to get in: The room is situated at the back of the Nightbird restaurant and is accessible on Linden Street, right after turning onto the alley from Gough Street.
Where: 330 Gough St.
For more information on The Linden Room.
Last Rites
Nicknamed the San Francisco Adventure Bar, Last Rites offers a darker take on your typical Tiki bar. When sitting on authentic airplane seats at the bar, you can get lost in the fantasy of this space, which is even built from the body of an aircraft. Giant skulls and tropical plants fill the bar to add to its "Polynesian Noir" vibe. The tantalizing cocktails offer no shortage of options, with over 150 bottles to pick between from the rum menu. For a must-try drink, order the eponymous Last Rites cocktail, crafted with an overproof rum blend, lime, passion fruit, salted molasses, and the Last Rites secret mix. Note that this hot commodity is limited to 2 per person.
How to get in: Situated off a street in Duboce Triangle, this bar is more accessible than the rest — just don't be deterred by the blacked-out window front.
Where: 718 14th St.
For more information on Last Rites.
Obscenity Bar & Lounge
Playing into the rebellion of the Prohibition era, Obscenity Bar & Lounge is dedicated to the obscenity law that suppressed many literary greats' freedom of expression. The edgy dive inside of boutique Hotel Emblem celebrates the First Amendment and encourages conversation while sipping on classic cocktails and local beer. The jazz-inspired speakeasy offers author-inspired nightcaps, poetry slam nights, and subtle references to anti-censorship. The dark and intimate atmosphere provides a refined feeling where you can be free to express yourself while indulging in its unique spirits.
How to get in: Once inside Hotel Emblem, you'll find this lounge situated just off the lobby.
Where: 562 Sutter St.
For more information on Obscenity Bar & Lounge.
Green Room
The Green Room at August Hall is the perfect complement to a music-filled night. The music venue in Union Square's hidden bar is only open while shows are taking place. The classy lounge doesn't lose sight of what you're there for — a musical theme is embodied by vintage instruments and records, while an upright piano suggests an air of elegance. Its velvet banquettes make for a comfortable and luxurious place to hang out during a trip to see your favorite artists.
How to get in: Head up to the second floor of August Hall while shows are running.
Where: 420 Mason St.
For more information on Green Room.
Elements Bar & Lounge
Elements Bar & Lounge is one of SF's few upper-floor bars — and it's not one you want to miss. The sophisticated space offers an extensive menu of fine wines, cocktails, whiskies, and small bites specially designed to complement the lounge. Patrons have called the atmosphere intimate and sexy, made all the better considering its secretive location above ONE65, a French-inspired culinary hotspot. The multi-level dining experience is curated by award-winning chef Claude Le Tohic, and this one is no different, so you know you won't be disappointed.
How to get in: Enter through the ground-floor bakery. Once you're there, a host will check your COVID-19 vaccination status and guide you up an elevator to the fourth floor.
Where: 165 O'Farrell St.
For more information on Elements Bar & Lounge.
Horsies Saloon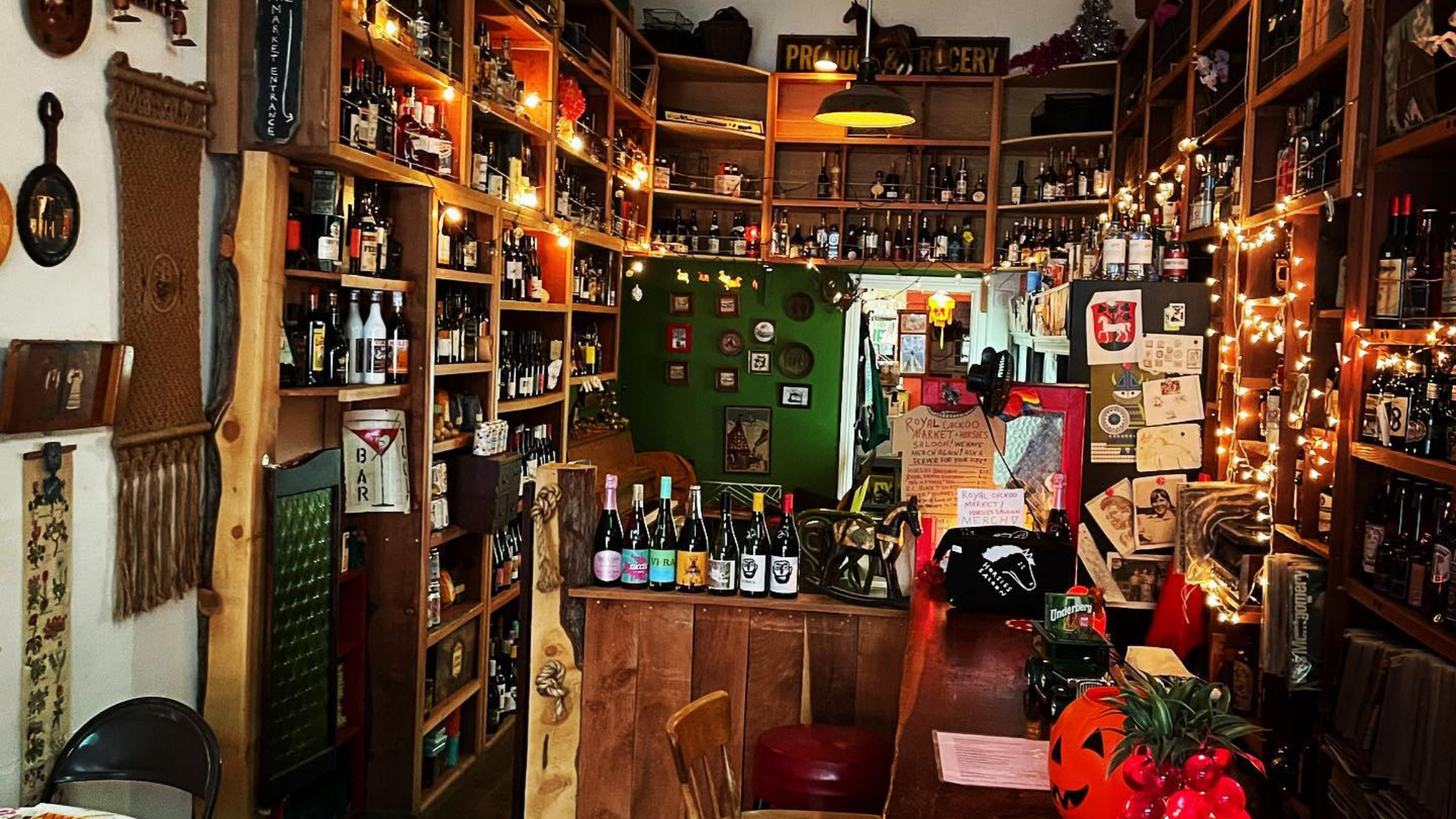 With seating for just 8 people, this cozy gem provides hope for cheap drinks in SF, many falling under $10. Open inside the Royal Cuckoo Market, a liquor store in the Mission district, the charmingly simple spot serves beer on tap and quirky wine cocktails with obscure ingredients made up by the owner himself. Plus, a small selection of bites from the Market kitchen provides an easy meal.
How to get in: Look for the Royal Cuckoo Market sign and baskets of produce on the sidewalk, then walk in and turn right to find the casual spot.
Where: 3368 19th St.
LIKE WHAT YOU'VE READ?
Never miss out on a new experience!
Create a Bucket Listers account to access exclusive offers and the latest news in your city