food & drink · music & nightlife ·
Published January 19, 2023
Boston's Best Hidden Speakeasies
Discover old-school glam and cutting-edge cocktails tucked away in Boston's hidden corners. 🍸🤫

by Boston Bucket List
It's been quite some time since the prohibition era in America, and although we can legally drink again, there's something intriguing about sneaking into a hidden bar and feeling like you're breaking the law. Luckily, Boston is full of these hidden gems and we've rounded up the top must-visit speakeasies in town.
GrandTen Bar
GrandTen Distillery has a bar open Fridays through Sundays. Pass through the garage door and sip creative cocktails and locally-made whiskey in a casual setting, where oak barrels line the walls, string lights twinkle throughout the space, and high-top tables, leather couches, and bench seating are available for hanging. You'll also find a foosball table, shuffleboard, and classic board games, so bring the crew and make a night of it.
How to get in: Pass through the garage door within the distillery.
Where: 383 Dorchester Avenue, Boston, MA | Southie
For more information on GrandTen Bar.
Saloon
Whiskey lovers rejoice. This pre-prohibition era bar has over 150 whiskeys and light bites. The hideaway is located in the basement of The Rockwell, a small performing arts theater, making it the perfect place to grab a drink pre or post-show.
How to get in: Look for The Rockwell's sign. Go inside and head downstairs.
Where: 255 Elm St, Somerville, MA | Davis Square
For more information on Saloon.
Backbar
If you're looking for something a bit more laidback, head to Backbar in Union Square. Tucked inside of an alley, this speakeasy cocktail bar prides itself on modesty, focusing on stellar cocktails and bites—without the pretentiousness. Pinkies down, folks!
How to get in: Good luck. Walk down an alleyway off of Sunburn Court until you see an unmarked red door. Once in, walk down the hallway.
Where: 7 Sanborn Ct, Somerville, MA | Union Square
For more information on Backbar.
Bogie's Place
This hidden gem is so exclusive that photos are hard to come by. Why? The bar keeps it as authentic as possible with a no cell phone policy. During prohibition, if photos of a speakeasy were found, they risked being shut down by police. This 20's-themed steakhouse is nestled inside another restaurant called JM Curley. Bogie's is so well hidden that very few know about it and those that do, usually stumble upon it by accident…while searching for the restroom at Curley's.
How to get in: Enter at JM Curley and head towards the back. Walk behind the curtain next to the "Adults only, please no cell phone use" sign.
Where: 21 Temple Place Boston, MA | Downtown Crossing
For more information on Bogie's Place.
Modern Underground
Located in Boston's historic North End, Modern Pastry has some of the best cannolis in town. But, after (or before...we're not judging) your cannoli, sneak downstairs to Modern Underground—a restaurant and bar with pub-style food. Its numerous flat-screen TVs make it an ideal (and less crowded) place to watch the game, and you can even have a cannoli delivered to you from upstairs! Every Bostonian's dream: cannolis and Pats, all in one place.
How to get in: Walk into the Modern Pastry storefront and down the unmarked stairs.
Where: 257 Hanover St, Boston, MA | The North End
For more information on Modern Underground.
Offsuit
This small, nondescript bar in Boston's Leather District has a back door entrance and ensures an intimate experience. The no-frills spot offers unique cocktails and drinks, and no password or dress code is required. Most of the seating is saved for walk-ins, so feel free to swing by for post-dinner cocktails, or a late night outing.
How to get in: Walk down the alleyway along Utica Street. When you find the door, call, don't knock.
Where: 5 Utica St, Boston, MA | Leather District
For more information on Offsuit.
Tasting Room At Bully Boy Distillery
As Boston's first true distillery, you can be sure the cocktails are good and strong at Bully Boy. Owned by two brothers, the distillery makes a number of spirits, including vodka, rum, gin, and whiskey. Lesser known is its tasting room, a still-to-glass cocktail bar that uses seasonal ingredients, homemade tinctures and syrups, and more. Try their rotating barrel-aged cocktail for a neat night.
How to get in: You've found the Tasting Room when you come upon a door stamped with 44 and an interior door marked with C6H12O6 → 2 C2H5OH + 2 CO, the chemical formula for turning sugar into alcohol!
Where: 44 Cedric St, Boston, MA | Roxbury
For more information on Bully Boy Distillery.
Lucky's Lounge
Step into the decade of The Jitterbug at this retro Sinatra-themed lounge that will have you feeling like the Rat Pack is about to walk in. While they open at 11:30 am and offer a full menu, Lucky's really comes alive at night. With more of a bar/club vibe than restaurant, this hotspot has live music every night of the week, making it the perfect place to end your night with a bourbon and Boogie Woogie.
How to get in: Keep your eyes peeled, because Lucky's is easy to miss. They will typically (but not always) place a small sign on the sidewalk, but much like Drink, the line outside is the best way to find it.
Where: 355 Congress St, Boston, MA | Seaport
For more information on Lucky's Lounge.
Carrie Nation
Located just a stone's throw away from the state house in Beacon Hill, Carrie Nation is Boston's original speakeasy. Make your way through the inviting dining room and slip into a corridor just past the bar. You'll come to a velvet curtain where you'll need a password or secret handshake to pass through. Once in, you'll find classic prohibition era vibes in a sultry cocktail lounge with plush leather booths, sleek polished wood, an expansive bar, and pool tables—all set to the tunes of lively ragtime and jazz.
How to get in: Enter through the front door of the main restaurant. Walk along the bar, and past the shoe shining station until you find a small hallway. Walk until you see the velvet curtain. Make sure you know the password or handshake to get in.
Where: 11 Beacon St., Boston, MA | Beacon Hill
For more information on Carrie Nation.
Supper Club at Capo
A Southie staple, Capo offers delicious Italian food (stop by on Wednesdays for all-you-can-eat pasta) and craft cocktails. However, the lesser-known Supper Club will instantly take you back in time. They have live music almost every night, so stop by for Sinatra Sundays to get the full Supper Club experience. Our go-to drink? The Paesano—a delicious medley of gin, prosecco, basil, and lemon.
How to get in: Walk into the restaurant and walk down a flight of stairs behind the hostess stand.
Where: 443 West Broadway Boston, MA | Southie
For more information on Supper Club at Capo.
A4cade
Take a step back into your childhood. This secret arcade bar is the brainchild of Roxy's Grilled Cheese and Area Four, two local foodie spots. The bar is a blast from the past featuring all of your faves. From pinball and Tetris to Skeeball and Mario Kart, you'll feel like you're 12 years old again…except with a little more of a buzz. Oh, and be sure to get there on the earlier side—A4cade is first come, first served, and does not accept reservations.
How to get in: Look for the "Roxy's Grilled Cheese & Burgers" sign and enter. Head towards the double swinging doors that look like they're for staff only. Pull on the handle that looks like a walk-in freezer, and get your game face on.
Where: 292 Massachusetts Avenue Cambridge, MA 02139 | Central Square
For more information on A4cade.
Drink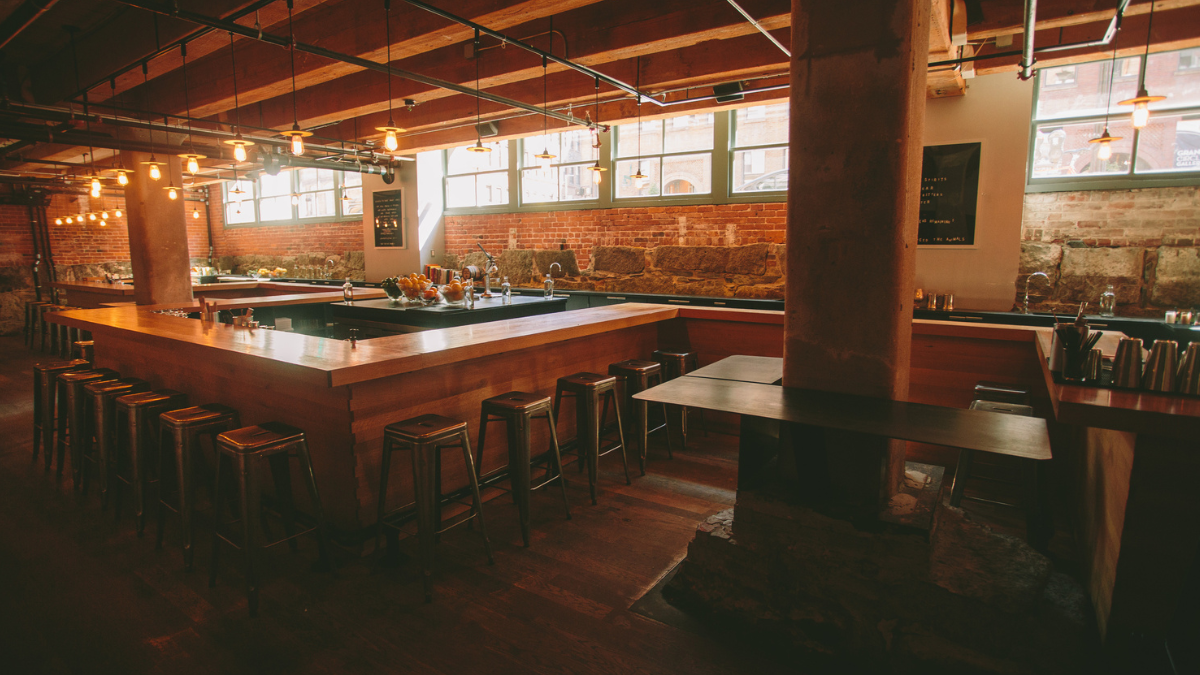 In true speakeasy fashion, you'll never notice this place unless you know to notice it (though the line out of the door usually gives it away). Don't bother asking for a drink menu at this underground bar—they don't have one. This bar is for the adventurous. Let your mixologist know what type of drink you fancy, and watch them skillfully whip one up for you. Stop by the second Sunday of every month for Tiki Sundays complete with classic tiki cocktails and tropical-inspired cuisine.
How to get in: Walk into a door marked "Sportello" (an upstairs Italian eatery), and walk down the stairs.
Where: 348 Congress St. Boston, MA
For more information on Drink.
LIKE WHAT YOU'VE READ?
Never miss out on a new experience!
Create a Bucket Listers account to access exclusive offers and the latest news in your city