food & drink · attractions & tours ·
Published September 5, 2023
Houston's Best Hidden Speakeasies
Sip your way through Houston's secret speakeasies—from laidback tiki bars to swanky cocktail lounges. 🤫🥃
by Houston Bucket List
Ever wonder why the clothing store off Main Street seems to be packed with people every time you pass by? Or why some guests are asking the hostess of the restaurant for a password and not a table?
Intrigued with mystery, you follow the crowds into the underground, hidden world of speakeasies. With endless drink menus and tucked away doors, these hidden hot spots are sure to give "a night on the town" a whole new meaning. See our roundrup of the best hidden speakeasies in Houston below.
10 Secret Speakeasy Bars Hidden in Houston
Notsouh
Discrete with a name spelling Houston backwards (pronounced Not-So-Uh), the low-lit venue contains much more than what's on the surface. Notsouh's quirky collection of cocktails and chatty bartenders is one unlike anything else in the city. Meet your new favorite dive bar with live poetry readings, an overflow of chess boards and strong drinks that will ensure a good time.
Pro-tip: Cash only - so plan ahead.
How to get in: Next door to Dean's Credit Clothing. Look for the wooden sign that says "notsuoH" and head on in.
Where: 314 Main St. Houston, TX
More information.
Lei Low
Let's take a quick trip to the tropics. Enjoy a drink and Lei Low at one of the Heights most secret tiki bars. Whether you're a straight shooter or a Mai Thai lover, there is something for everyone in this hidden paradise. So throw on the hawaiian shirt from college and grab your 5 o'clock mentality because this tropical hotspot will have you begging for more.
How to get in: Find Joe's Food Store and look for a sign saying "Rum" next to a graffiti Aloha.
Where: 6412 N. Main St. Ste C, Houston, TX
More information.
Mijo Mezcal Bar
Looking for a great selection of mezcal to wash your tacos down with? Look no further than Mijo Mezcal Bar. Located in a modest shipping container within the patio area of Cantina Barba, this bar boasts an impressive selection of mezcal that will impress even the most discerning mezcal aficionados. Seating is incredibly limited, so we recommend getting there right when they open at 8pm for your best chance at snagging a spot.
How to get in: Head inside Cantina Barba. Walk to their back patio and look for the small shipping container surrounded by two palm trees.
Where: 3701 Main St, Houston, TX
More information.
Bandista
Located inside the Four Seasons Houston, Bandista offers a dazzling array of cocktails in a speakeasy-style setting. Each drink is crafted using premium spirits, meaning the prices are higher than average for Houston ($23-$45), but it's certainly worth it for a special occasion. There are only 18 seats inside, so reservations are a must and can be easily made through their website.
How to get in: Head up to the second floor of the hotel, and look for the bookcase behind Toro Toro. Enter the secret code on the pinpad to unlock the door, and push to enter.
Where: 1300 Lamar St., Houston, TX
More information.
Last Concert Cafe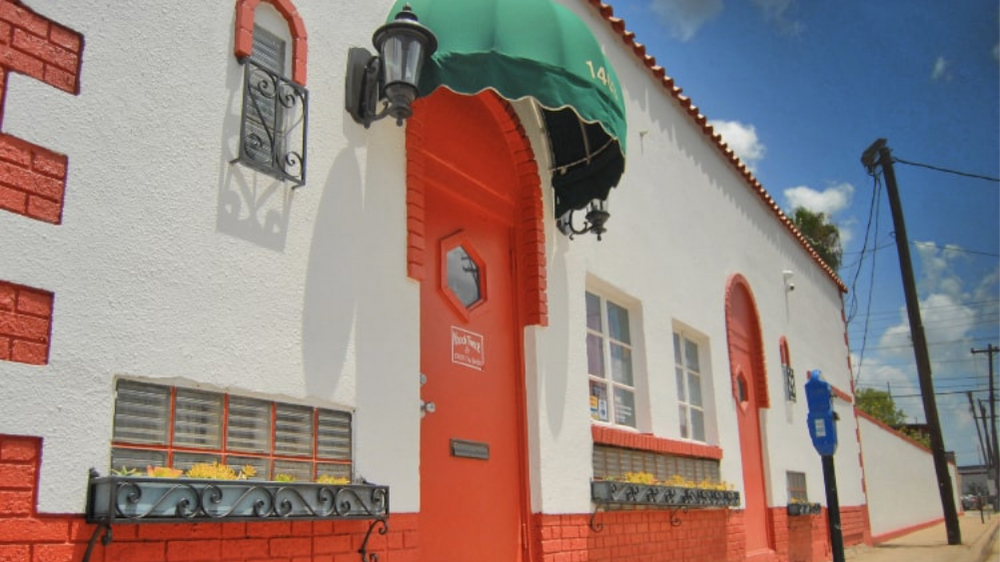 What happens when a tex-mex restaurant turns into a secret concert venue at night? Behind two double red doors is Houston's oldest live concert venue, Last Concert Cafe. From the flaming fajitas to a music filled atmosphere, this outdoor secret spot gives you the feeling of being in your own backyard. So grab some friends and check it out because this place is worth the trip.
How to get in: Find the double red doors and knock twice.
Where: 1403 Nance St. Houston, TX
More information.
The Noble Experiment
Imagine you're waiting for a table at your favorite Italian restaurant when you overhear someone ask the hostess for the secret password. That's right. In the heart of South Houston, you can find a secret speakeasy behind the kitchen doors of Grazia Italian Kitchen. From smoking champagne glasses to world class bartenders, for one night you can transport yourself back to the era of Gatsby.
How to get in: Call ahead and get the secret, changing password from the hostess stand. Find the restaurant behind the Emergency Room. Tell the hostess the password at the front and follow. (Extra brownie points if you find the red phone booth.)
Where: 9415 Broadway St #103, Pearland, TX
More information.
Capt. Foxheart's Bad News Bar & Spirits Lodge
Among the other Main Street secret spots, the upstairs Bad News Bar joins the list. Hidden above a string of law offices, Capt. Foxheart offers a new definition to the all American style bar. Not only does the double decker bar have a killer drink menu, it also has a rooftop with a view. Impress your date by following the wooden walls upstairs at night to get a stunning overlook of the city lights.
How to get in: Enter through the main door at 308 W. Main St., (, climb the staircase and open the wooden door on your left.
Where: 308 Main St. Houston, TX
More information.


Marfreless
If there was ever an authentic speakeasy to exist, it's this one. Decked out with leather couches, red rooms and lighting so dark you almost need night vision goggles, Marfreless has been a speakeasy staple since the early 1970s. The River Oaks lounge shows off their prohibition decor alongside its grand oak bar. Follow the staircase for a bird's eye view of the chandelier lit crowds below as you enjoy one of their snazzy signature cocktails.
How to get in: Find the unmarked blue door underneath a white staircase on the side of the building.
Where: 2006 Peden St. Houston, TX
More information.
The Sugar Room
A nod to speakeasies of the past, The Sugar Room is a clandestine bar tucked in the back of a bakery. Walk through a nondescript door in the back and you'll enter a swanky lounge, complete with plush leather couches and gold-trimmed bar carts. The cocktail menu features a range of drinks that are equally as eye-catching as they are tasty, but our favorite was the Gunsmoke, a smoky, rich house take on the classic margarita.
How to get in: Enter through the front of the building and walk past the pantry room to find the unmarked door.
Where: 5120 Washington Ave, Houston, TX
More information.
Tongue-Cut Sparrow
Feel like royalty as you relax in style at the hottest upscale after-hours bar in Houston. Draped with deep oak walls and comfy leather couches, Tongue-Cut Sparrow is the hidden home you never knew you needed. The intimate venue is decked out with not only top-notch service, but also an elite Japanese-inspired drink menu. Enjoy the exclusive experience amongst your new best friends as you settle into the rustic building in the heart of Houston. Order us a Japanese Highball, we'll see you in a few.
How to get in: Look for Anvil Bar & Refuge, then walk around to the back to find the entrance.
Where: 1424 Westheimer Rd, Houston, TX
More information.
LIKE WHAT YOU'VE READ?
Never miss out on a new experience!
Create a Bucket Listers account to access exclusive offers and the latest news in your city