Published May 23, 2023
19 Unique Date Night Spots in Philadelphia
Say no to boring dates! 🙅 Spice things up at these memorable date night spots. 🔥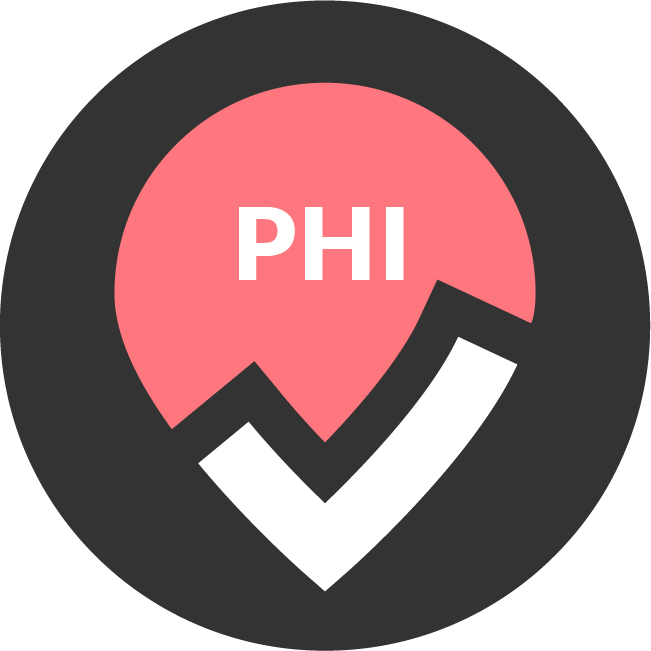 by Philadelphia Bucket List
Whether you're meeting a new date on the apps and want to make a lasting impression (in a good way), or you're looking to shake up the usual Netflix and chill routine with your long-term partner, date nights are one of our favorite ways to enjoy the city.
From breezy rooftop dinners to rousing ping pong battles, Philadelphia is filled with plenty of spots to stir up a love connection. Here are our top picks for some of the most memorable date night spots in Philly.
19 Unique Date Ideas in Philadelphia
Umai Umai Sushi
Looking for an intimate, affordable date night spot? Look no further than Umai. Located in Fairmount, Umai is a 38-seat, contemporary sushi restaurant serving up your favorite Japanese meal in a not-so-traditional way. Some of the non-conventional rolls include ingredients such as mango, cashew bits, strawberry, and honey.
Pro-tip: Grab the bottles of wine, Umai Umai is BYOB.
Where: 533 N 22nd St, Philadelphia, PA 19130
For more information on Umai Umai Sushi.
Double Knot
Looking for something a smidge trendier to impress your date? Double Knot is the spot for you! This bi-level hot spot is known for scrumptious sushi, robatayaki, and classy cocktails. Double Knot's upstairs is typically packed with a lively crowd and smaller tables that serve a happy hour with apps ranging from $6-$12.
For a more exclusive experience, make a reservation downstairs. You'll find yourself vibing in a cave-like, dungeonesque hideaway, which makes for an ideal date night destination for those with experimental palettes.
Where: 120 S 13th St, Philadelphia, PA 19107
For more information on Double Knot.
Shofuso
Shofuso is a traditional Japanese House and Garden located in Philly's West Fairmount Park. Swap out the bustling city for some peace and serenity, and enjoy a quiet and romantic conversation as you stroll through the gardens. Adult admission costs $12.
Where: Lansdowne Dr & Horticultural Dr, Philadelphia, PA 19131
For more information on Shofuso.
Fabrika
PSA: ordering takeout and bingeing reruns doesn't equate to dinner and a show. For a truly unforgettable night out, check out Fabrika in Fishtown. This cabaret and dinner theater showcases circus arts, fire acts, musical talent, burlesque, drag, and more. Spice things up with a burlesque show accompanied by a full dinner menu and drinks list.
Where: 1108 Frankford Ave, Philadelphia, PA
For more information on Fabrika.
Little Nonna's
Little Nonna's is a quaint, romantic Italian restaurant serving food bound to grow your date's heart and stomach. Located in the heart of Center City, its convenient location is not all this joint has to offer. With fan favorites such as cacio e pepe, rigatoni alla vodka, and a goat cheese and apple bruschetta, Little Nonna's is a must-visit date night spot for that taste of Italy right in Philadelphia.
Where: 1234 Locust St, Philadelphia, PA 19107
For more information on Little Nonna's.
Barcelona Wine Bar
No need to leave the country for a cozy wine and tapas bar that's perfect for a date. With its intimate yet laid-back atmosphere, Barcelona is a great place to grab a sangria and chat the night away as if you were a Spaniard. The menu boasts over 400 wines and offers cuisines inspired by Spain, the Mediterranean, and South America. Salud!
Where: 1709 E Passyunk Ave, Philadelphia, PA
For more information on the Barcelona Wine Bar.
Hook and Master
Philly is a pizza town (we rose tomato-style pies to fame). That's why no date night in Philadelphia list is complete without a place to grab a slice, and Hook and Master is that place. Choose from "tavern style," "Chicago pan" and "Brooklyn style" pies, plus a full beer, wine, and cocktail list for drinks. Happy hour is Wednesday to Sunday, from 4-6 PM, with $4-$5 slices and $8 drink specials.
Where: 1361 N 2nd Street, Philadelphia, PA
For more information on Hook and Master.
Dolce Italian
There's no cuisine as romantic as Italian. For a sit-down dinner to impress, come to Dolce Italian and share their handcrafted pasta, Neapolitan pizzas, and Tiramisu.
Where: 1437 Chestnut St, Philadelphia, PA
For more information on Dolce Italian.
Mission Taqueria
Come for the food, stay for the ambiance. Mission Taco is a trendy Center City taqueria with delicious food and playful decor. With menu items such as Mahi Mahi, short rib asado tacos, and happy hour deals like $6 margaritas, Mission Taco has a social vibe with an inviting character, making those awkward first moments of meeting someone *semi* comfortable.
Where: 1516 Sansom St, 2nd Floor, Philadelphia, PA
For More Information on Mission Taqueria.
Suraya
Fishtown's Suraya makes for a lovely date spot with plenty of versatility. Visit the market for a pastry and some coffee, come to the restaurant for a delicious Lebanese-inspired meal, or step outside into the blissful oasis that is the backyard garden.
Where: 1528 Frankford Ave, Philadelphia, PA
For more information on Suraya.
SPIN Philadelphia
Add some flirty competition to your date night with SPIN Philly, a bar dedicated solely to ping pong. For $39 an hour Tuesday—Thursday and $49 an hour Friday—Saturday, you'll be on your way to impressing your partner with your table tennis talents. There are even dedicated ball boys/girls to pick up after those missed shots, so you can focus on crushing (and crushing on) your partner.
Where: 211 S 15th St, Philadelphia, PA
For more information on SPIN Philadelphia.
Comedy Shows at Punch Line
Sorry to break it to you, but you're not the only one that's going to make your date laugh tonight. Punch Line is a comedy club that's part of the bustling Fishtown entertainment scene, featuring over 300 seats, an outdoor patio, full food and bar menu, and VIP seating. Punch Line has hosted an impressive lineup of comics, including Nikki Glaser, Rachel Feinstein, and Kurt Metzger. If it's a new relationship, claim a front-row spot and see how well your date handles being heckled.
Pro-tip: There's a two-drink minimum, so plan ahead.
Where: 33 E Laurel St, Philadelphia, PA
For more information on Punch Line.
LMNOPhilly
Don't skip LMNOPhilly in Fishtown. It's a restaurant, book store, art gallery, and listening room all at once—so there's something for all tastes. The menu is especially exciting, with asada fries, a full cevicheria and raw bar, and house-made crispy tacos.
Where: 1749 North Front St., Philadelphia, PA
For more information on LMNOphilly.
The Grove at Assembly Rooftop Lounge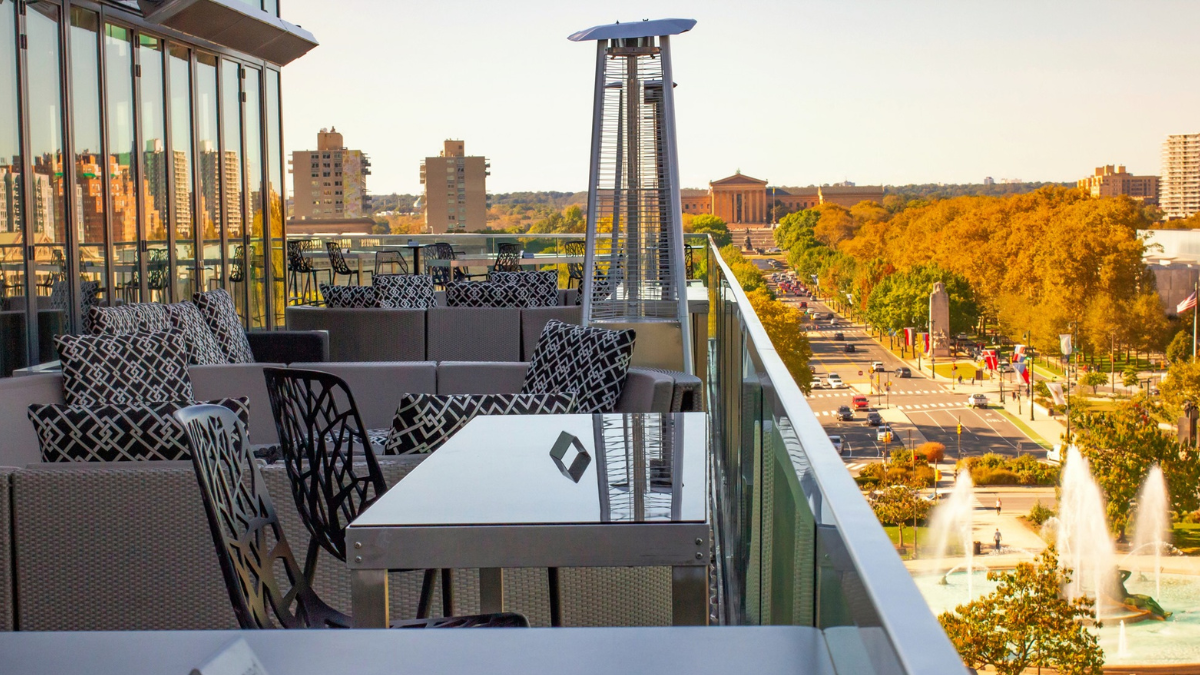 For a sweeping, romantic view of the city skyline, cozy up in some outdoor seats by one of the fire pits at The Grove at Assembly Rooftop Lounge. The lounge is tropical bungalow themed, with island cocktails on tap and seafood bites to share.
Where: 1840 Benjamin Franklin Pkwy, Philadelphia, PA
For more information on The Grove at Assembly.
Wilder
Enter this stunning, chandelier-strung, and "wildly" decorated dining room in Rittenhouse for delicious New American eats and drinks. Wilder's vibrant decor, plus happy hour $2/pc oysters and $8 wines (Monday–Friday 4:30–6 PM), will set the scene for a fun night out.
Where: 2009 Sansom St., Philadelphia, PA
For more information on Wilder Philadelphia.
Leda and the Swan
A self-proclaimed hideaway for couples, Leda and the Swan boasts artistic live music and DJs, a bar lined with neon purple lights, a floral ceiling, and sushi and mythical-themed cocktails to share over candlelight.
Where: 1224 Chestnut Street, Philadelphia, PA
For more information on Leda and the Swan.
Wm. Mulherin's Sons
Grab a leather seat by the fire or pull up a chair in the garden patio at this 1990s whiskey distillery-turned-Italian restaurant. Located in the boutique Mulherin's Hotel, the entire place is a stunning combination of vintage rugs, exposed brick, and cacti. The seasonal-driven menu won't break the bank, and the wood-fired pizza will keep you coming back for more.
Where: 1355 N. Front St., Philadelphia, PA
For more information on Wm. Mulherin's Sons.
Rouge
Rouge is a classic for a reason. Take your partner out at the Rittenhouse Square bistro, loved by locals and newcomers alike, for park-side dining and people-watching. You can order from a menu of classic American staples (burgers, half a roasted chicken, NY Strip Steak), or keep it light and split a charcuterie plate.
Where: 205 S 18th St., Philadelphia, PA
For more information on Rouge.
Condesa
Dine together on authentic, scrumptious Mexican dishes at this upscale spot in the lobby of the Pod Hotel. You and your beau could stick to dinner here in its gorgeous dining room with a vaulted ceiling or visit the hotel's rooftop bar: El Techo, which features a great range of mezcal and tequila-infused cocktails.
Where: 1830 Ludlow Street, Rittenhouse, Philadelphia, PA
For more information on Condesa.
LIKE WHAT YOU'VE READ?
Never miss out on a new experience!
Create a Bucket Listers account to access exclusive offers and the latest news in your city