food & drink · arts & culture · music & nightlife · outdoor activities ·
Published July 5, 2023
22 Unique Date Ideas in Houston
Say no to boring dates! It's time to spice things up. ❤️‍🔥
by Houston Bucket List
So, you've successfully made a connection, and now it's time to plan the perfect date that will leave a lasting impression. Or maybe you and your long-term partner are in a Netflix and chill rut and need a new date idea to spice things up. Whether you're in the early stages of a blossoming relationship or seeking a romantic evening away from parental duties, finding the right date idea can be a challenge.
Luckily, we're here to help! We did the brainstorming for you and created a curated list of actually fun date ideas, so all you have to do is pick a spot! These out-of-the-ordinary dates will lift you out of the monotonous dinner-and-a-movie routine and have you laughing, trying new things, and of course, igniting some sparks. ✨
Fun Date Ideas in Houston That Aren't Just Dinner and a Movie
Attend a Drunk Shakespeare Performance
What do you get when you combine classical theater, drinking, and improv comedy? A really fun night out to put it simply. Drunk Shakespeare is a play that intertwines classic literature with improvisational comedy and a healthy pour of alcohol. You and your date can expect an unforgettable night filled with laughter, quick-witted performances, and a delightfully unrestrained display of theatricality.
Where: The Emerald Theatre: 412 Travis St, Houston, TX
More information

Jump and Play at a Trampoline Park
Embrace your inner child at a massive trampoline park! Nothing brings you closer than some good old-fashioned play time, so dive into the foam pit, bounce through the trampoline courts, race through the ninja course, and play a game of dodgeball or basketball.
Where: Sky Sports Trampoline Park: 14409 Parkhollow Dr., Houston, TX
More information
Go Horseback Riding on Galveston Island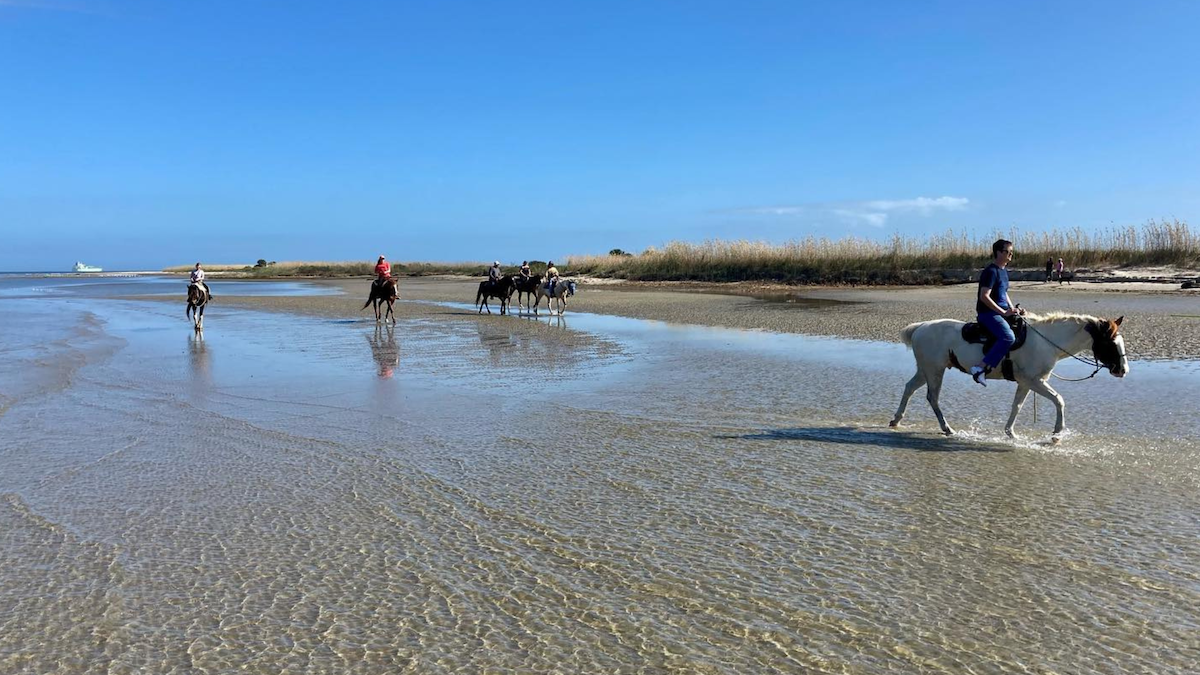 Long walks rides on the beach, anyone? Ride off into the sunset with Galveston Island Horse and Pony Rides. Take a trip a little south for a full afternoon of tours, horse rides on the beach, and so much more! Though it's about an hour from Houston, this is the perfect spot if you're looking to escape the bustle of the city. Plus, road trips can teach you a lot about a prospective boo — good things only, we hope.
Where: 1929 Boddeker Rd, Galveston, TX
More information
Spend an Evening at POST
Culture, food, and recreation blend effortlessly at POST in downtown Houston. Pop over for dinner or a show, or spend a whole day exploring the space. From events like flea markets and sneaker conventions to country music concerts and refined eats, POST has something for every couple's vibe.
Where: 401 Franklin St. Houston, TX
More information
Grab Drinks on a Rooftop
There's just something about a city rooftop that can elevate any date from good to great. Watch Houston's skyline come to life at one of the most glamorous rooftops in the heart of downtown! Whether you're looking to mingle and meet new friends or dine and date with a loved one, Z on 23 is the perfect spot to top off a great night with that special someone.
Where: 1121 Walker St, 23rd Floor, Houston, TX
More information
See a Drive-In Movie
Anyone up for a double feature? Here's a little twist to the classic dinner and a show duo. Pull in, park, and pile on the blankets, because this drive-in is a great way to get more bang for your buck! This casual, cute date idea can be the perfect way to swoon your movie star date.
Where: 22422 Farm to Market 2920, Hockley, TX
More information
Take a Cooking Class Together
You know what they say: the couple that cooks together stays together...or something like that. Regardless, taking a cooking class makes for a good time and a great date. You get dinner and an activity rolled into one, plus you'll learn a new skill. Try your hand at making perfect fresh sushi rolls, or try making some comforting handmade dumplings. Finish the night with a drink or two!
Where:
Dumpling classes: AC Hotel by Marriott Houston Downtown: 723 Main Street, Houston, TX
Sushi Classes: Yellow Rose Distilling: 1224 N Post Oak Road #100 Houston, TX
More information on sushi classes and dumpling classes.
Sing at Pete's Dueling Piano Bar
Whether this is your first date or your 100th date, a night at Pete's is guaranteed to break down inhibitions and show you a new side of your date. Every night, Pete's transports guests to an electrifying, music-making party driven by battling pianos. Watch as two talented pianists go head-to-head performing hits from every era on two baby grands and culminating in full-blown renditions of your favorite tunes. It's nearly impossible not to dance, scream, and sing your heart out.
Where: 1201 Fannin St., Suite 310, Houston, TX
More information
Square Off at Bumpy Pickle
You know what's better than dinner and a movie? Dinner and Pickleball (or volleyball). For anyone looking to get active and enjoy some delicious bites and drinks, Bumpy Pickle is the place to go. Pick up a paddle and challenge your date to a game of pickleball, or head to the sand pits for a game of beach volleyball. Loser buys drinks.
Where: 554 Lockwood Dr, Houston, TX
More information
Share Charcuterie and Fondue at 13 Celsius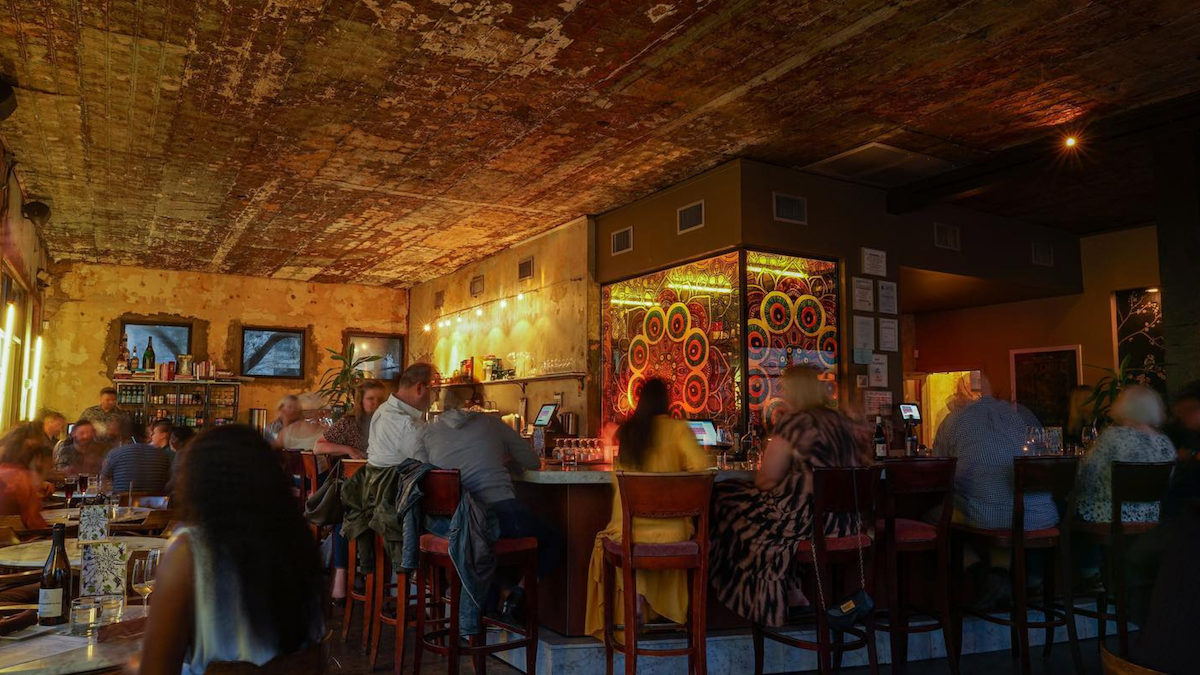 Charcuterie lovers unite! This is not your average dinner date. If you love wine, cheese, and fondue in all its glory, then 13 Celsius is the perfect spot for you and your date. This Insta-worthy spot stacks an incredible lineup of simple appetizers and an even better atmosphere for that perfect date moment!
Where: 3000 Caroline St, Houston, TX
More information
Switch Things Up at Axelrad
You've been to all the restaurants, rooftops, and classes Houston has to offer. Now it's time to explore the hidden fun of the city as a couple, starting with the expansive Axelrad venue. This fan favorite highlights Houston's laid-back, good-time vibes for couples looking to relax and enjoy a fun evening in the heart of the city. Whether it's beer, games, or gazing at the glowing LED tree, this date spot will switch things up for the better!
Where: 1517 Alabama St, Houston, TX
More information
Sip Coffee and Cocktails at Secret Garden Bar
Grab a drink with your date at this charming and floral-inspired bar. A modern greenhouse is a unique backdrop that will give you and your significant other lots to talk about. Even with the amazing locale, the craft coffee and cocktails dreamt up by head chef Jonathan Gallardo take the spotlight.
Where: In Bravery Chef Hall, 409 Travis St, Houston, TX
More information
Catch a Rooftop Movie (With Wine)
Houston's skyline is already so romantic, but settling in to watch one of your favorite flicks with the skyline as your backdrop? That's priceless. This venue will elevate the traditional movie date to a whole new level. Swing by on Wednesday nights and get a complimentary glass of wine with your ticket!
Where: 1700 Post Oak Blvd, Houston, TX
More information
Play Games at Cidercade
Would you believe us if we said $10 admission gets you unlimited play on almost 300 arcade games? Find out for yourself at Cidercade. This boozy arcade is a place for you and your partner's inner child to run wild, and the venue is 21+ after 8 p.m. Treat yourself to nearly 50 taps of hard ciders, kombuchas, seltzers, and smoothies.
Where: 2320 Canal St, Suite 100, Houston, TX
More information
Indulge in Hidden Omakase
When you and your beau are getting serious, this intimate experience is perfect for foodies with refined palettes. Hidden Omakase's ultra-exclusive curated event offers only two seatings per night. At $175 per person, this spot is perfect to celebrate an anniversary or indulge in something out of the ordinary. Come with an open mind (and mouth) and prepare for a Japanese-inspired tasting menu like no other.
Where: 5353 W. Alabama St, #102, Houston, TX
More information
Hit a Grand Slam at Homerun Dugout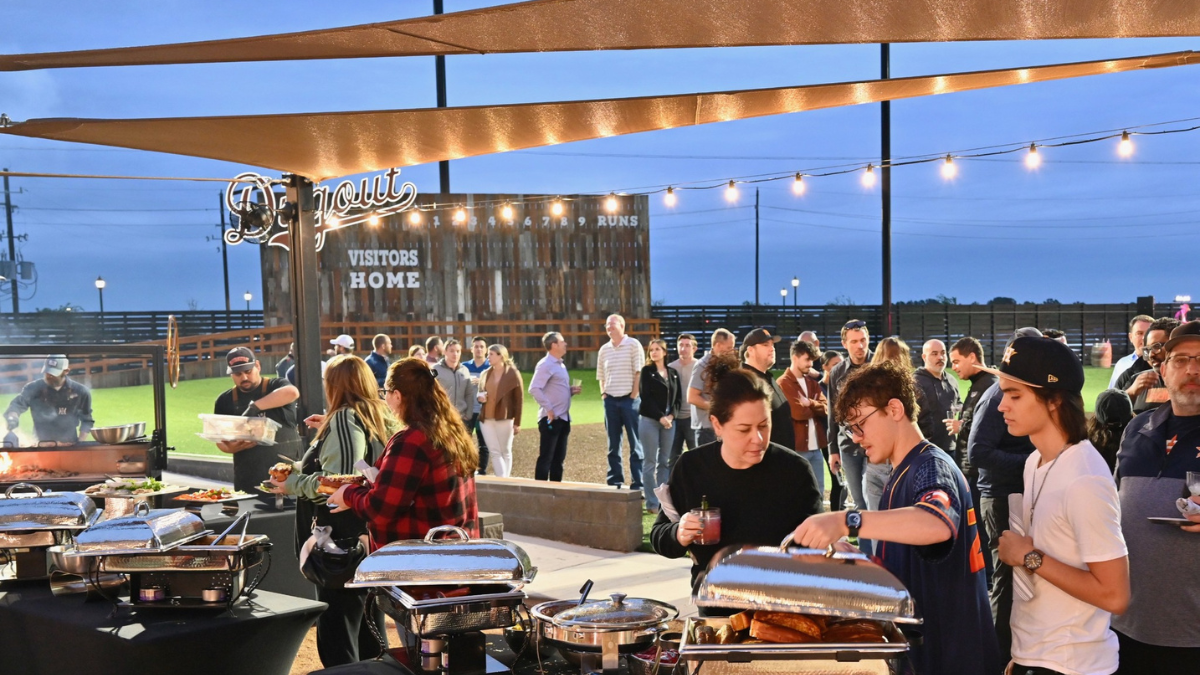 Head out to Katy and channel your inner Astro at Homerun Dugout. Whether you've never picked up a bat in your life or you're the star of your company's softball team, it'll be a good time. Then, fuel up with some bites and settle in for a night of live music. If you're in the mood to make it a late night, starting at 10 pm, the space becomes an exclusive spot for those aged 21 and over on Thursday through Saturday, and a special drinks menu rolls out.
Where: 1220 Grand West Blvd Katy, TX
More information
Wander Through Hermann Park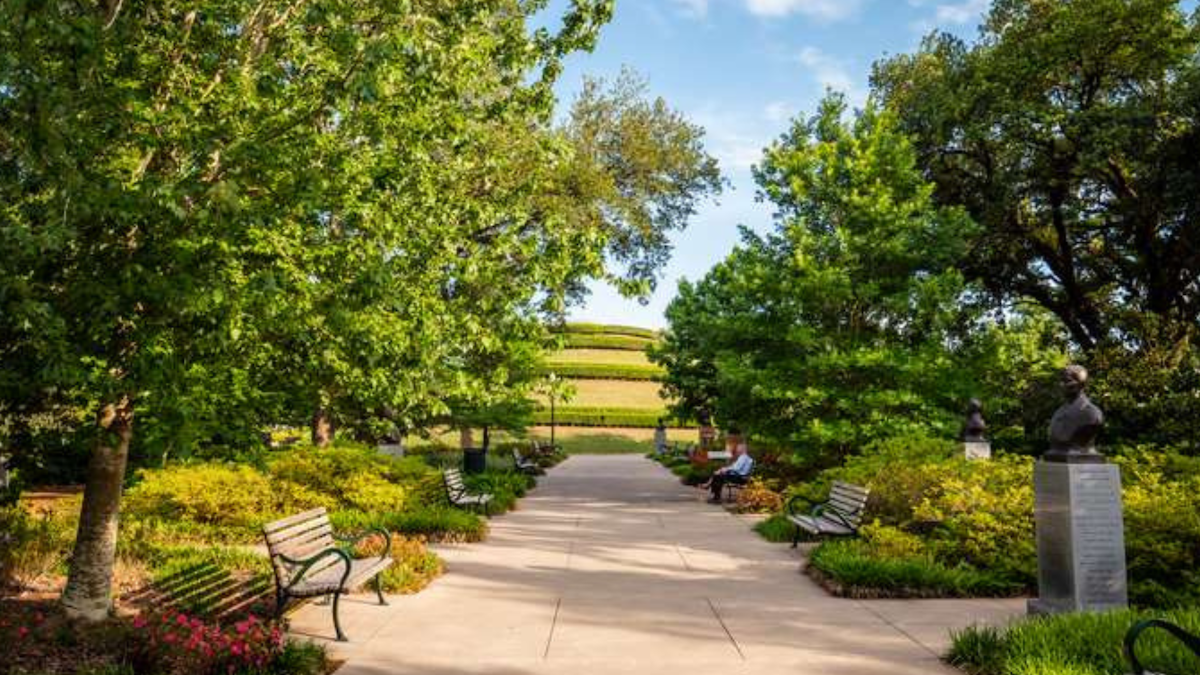 Texas weather can be a scorcher, but Hermann Park can be a perfect place to explore with your lover on cooler evenings or early mornings. Take a stroll around the grounds admiring everything the park offers, from sprawling flora to unique art installations. With over 445 acres, there's plenty of beauty to behold.
Where: 1700 Hermann Drive, Houston, TX
More information
Catch a Live Performance at Miller Outdoor Theatre
After your stroll through Hermann Park, stop by this outdoor theater for Houston's performing arts. Bring your sweetheart to experience some of the city's finest musical and dance acts live in the park.
Where: 6000 Hermann Park Dr, Houston, TX
More information
Check Out James Turrell's Twilight Epiphany Skyspace
When the sun goes down, it's prime time for date night. But it's also prime time to watch the Sunset light sequence at the Twilight Epiphany Skyspace. Starting about 10 minutes before sunset, the 40-minute sequence is a science-meets-art-lovers fantasy, where an LED light show projects onto the structure. If you and your date have been up all night, you can also visit their morning sequence about an hour before sunrise.
Where: Suzanne Deal Booth Centennial Pavilion, Houston, TX
More information
Discover Buffalo Bayou Park Cistern
What once was a water reservoir is now an underground experience unlike any other. If you and your date are history buffs, be sure to take a guided or independent tour where you'll learn about the unique architecture and use of Houston's water system. Music lovers can be entertained with Underground Sounds, the location's unique music series organized by Houston-based artists. If you're a couple looking to destress together, try one of the sound healing meditation classes offered in the cistern.
Where: 105b Sabine St, Houston, TX 77007
More information
Float Marriott Marquis' Texas-Shaped Lazy River
In the mood for a lazy day? Those can be romantic, too! Spice it up by heading over to the Marriott Marquis. On their rooftop, you'll find a one-of-a-kind lazy river shaped like the Lone Star State itself. After floating for a bit, take a dip in the infinity pool and whirlpool, and grab a drink from the outside bar.
Where: 1777 Walker St, Houston, TX
More information
Have a Romantic Dinner at Brenner's Steakhouse on the Bayou
Talk about dinner with a view. Enjoy an evening under the trees and by the water at Brenner's Steakhouse on the Bayou. This summer night atmosphere is the perfect way to impress your date. With a stacked selection of surf, turf, and great wine, you're sure to feed your appetite while getting a little taste of the great outdoors.
Where: 1 Birdsall St, Houston, TX
More information
EXPLORE MORE:
Houston's Best Hidden Speakeasies
11 of the Best Museums in Houston to Visit Right Now
The Best Brunch Spots In Houston
LIKE WHAT YOU'VE READ?
Never miss out on a new experience!
Create a Bucket Listers account to access exclusive offers and the latest news in your city