Published Invalid Date
San Francisco's Best Cafes
A curated list of our favorite SF spots for hot bean juice ☕️.
by San Francisco Bucket List
You can hardly go a block in San Francisco without finding some sort of coffee joint. With everything from hole-in-the-walls serving fastidious pour-overs, warehouse work spaces serving chain roasts, and rustic joints that ban the use of laptops—the range is epic.
Below we've listed cafes that will inspire your creative side and provide full-bodied, high quality and unique flavors. While some are brand new to the scene, sporting nitro-powered brews or a complete matcha focus, others have earned their prominence with consistent quality over time. Pour yourself a cup and take a look:
Stanza Coffee
View this post on Instagram
Stanza is just so vibrantly cool. The interior may technically be small, but there's ample seating overall with a front and back patio for patrons to enjoy. The cafe is a multi-roaster with a global theme, specializing in beans imported from around the country and world (we love the Turkish brew), and it has the rarer inclusion of flat whites. The inside walls are painted with splashy floor to ceiling murals, and the back terrace is block painted in pastels for a calmer vibe.
Disclaimer:

The coffee shop on Haight street by the same name has no relation.
Where: 3126 16th St.
Wi-Fi: Yes.
The Interval at Long Now
View this post on Instagram
This combination cocktail bar-cafe may be one of the most elegant cafes in San Francisco. Located in Fort Mason, overlooking the bay, the Interval contains walls lined with bookshelves, clear glass community tables, and a working planetary art installation. Even their beans are unique, being pulled in from Heart Roasters, a Portland-based roastery that aims for "uncompromising" quality.
Where: Landmark Building A, 2 Marina Boulevard
Wi-Fi: Yes.
La Bande Coffee Shop & Cafe
View this post on Instagram
La Bande is an alligator green revelation. Located at the bottom of the Proper Hotel, the space combines swirling marble with green tiles for a stunning visual effect. Serving craft beer, wine and simple breakfast bites, like overnight oats and breakfast burritos, along with plenty of coffee.
Where: 1100 Market Street (in San Francisco Proper Hotel)
Wi-Fi: Yes.
Flywheel Coffee Roaster
View this post on Instagram
Owner Aquiles Guerrero brings his personal origin story of coffee to Flywheel. Today Guerrero's Haight street cafe serves exotic brews sourced from Ethiopia, Hondorus, Kenya and Guatemala in trendy mason jars. Matching their stripped-down, clean and wooden aesthetic, Flywheel doesn't do flavored lattes, it's straight drip coffees.
Where: 672 Stanyan St
Wi-Fi: Yes, 2 hours free.
Sightglass Coffee
View this post on Instagram
Beloved Sightglass has popped up an impressive five locations in San Francisco alone, including its flagship SoMa location that triples as a production roastery and HQ. The industrial, bi-level space also offers tastings and brewing classes in addition to its usual servings. The sweetest treat though? The top level hosts a Salt & Straw-partnered affogato bar, which pairs your espresso with a flavor-complimenting ice cream.
Where: 270 7th St
Wi-Fi: Yes.
Beacon Coffee and Pantry
View this post on Instagram
The white-bricked, brightly lit Beacon Coffee & Pantry in North Beach boosts your mood on entry. Plenty of counter seats and tables line the shop, in addition to a long reclaimed wooden table in the center for enjoying their Sightglass coffee line with a flaky pastry or salad. But, since you'll be steps away from the well-trafficked Coit Tower and Washington Sq. park, we recommend a seat by the window for prime people watching.
Where: 805 Columbus Ave
Wi-Fi: Yes.
Ritual Coffee Roasters (At Flora Grubb Gardens)
View this post on Instagram
Ritual has six locations in SF and Napa, having grown to fame for its sommelier approach to coffee, personal relationships with growers, and on-site bean roasting. Visitors can expect highly specific tasting notes and five pour-over flavors daily at any of the locations—but we love the one nestled within the Flora Grubb Gardens nursery. The open air garden shop is the perfect place to stroll with a cappuccino and pastry in hand.
Where: 1634 Jerrold Ave
Wi-Fi: No.
The Mill
View this post on Instagram
Ah The Mill, where San Franciscans gladly pay $6 for toast. To be fair, by toast we mean thick, cake-sized slabs of freshly in-house baked bread topped with seasonal ingredients, like orchard almond butter or chocolate hazelnut spread—all well worth the hype and the cash. The joint venture by Four Barrel Coffee and Josey Baker Bread serves a delicious and direct brew menu, with a few surprises like "Hemp Mylk" and Nitro brew, along with pizza pies each weeknight from 6:00-9:00 PM.
Where: 736 Divisadero
Wi-Fi: No.
Trouble Coffee Co. (Ocean Beach location)
View this post on Instagram
This teeny Outer Sunset joint may be decorated in a chaotic fashion, but its coffee is sharp quality goodness. As the first of three locations, this Trouble Coffee is designed to evoke the memory of the owner's earnest roots, put together with eclectic decor and various wood found on Ocean Beach. It's best known for selling strong espresso drinks, fresh coconuts and its super popular artisanal cinnamon toast. With your order in tow, head to their back patio to enjoy, or walk 5 minutes to reach Ocean Beach itself.
Where: 4033 Judah St
Wi-Fi: No.
Alfred Coffee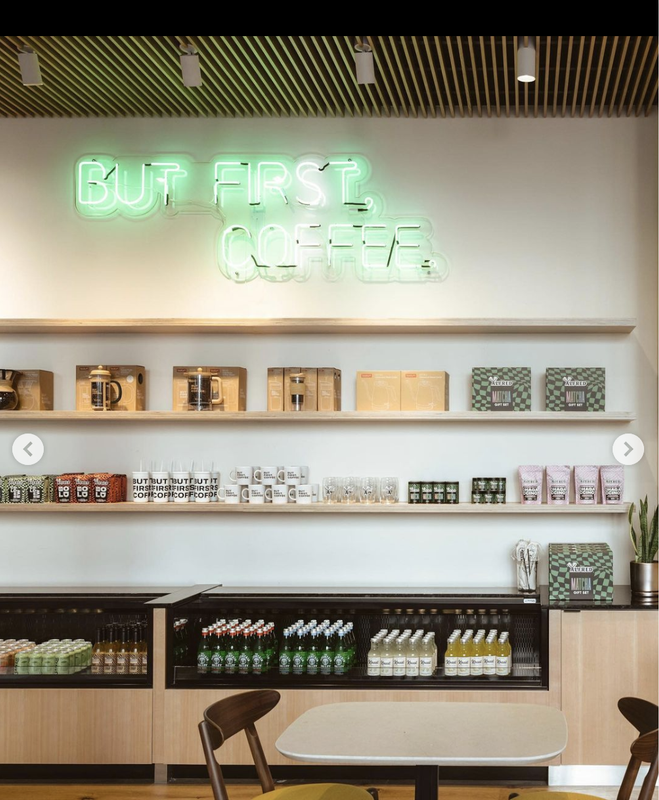 The beloved LA coffee spot has opened its first Bay Area location in the Line Hotel San Francisco. Come in for a quick cup of joe on your way to the office, or stay and take advantage of the ample seating and free wifi. Sample delicious pastries and small plates from the breakfast menu, and order the world-famous Iced Vanilla Latte to get the full Alfred experience.
Where: 33 Turk St.
Wifi: Yes.
Stonemill Matcha
View this post on Instagram
This serene, beautiful space is a homage to the Japanese ingredient appearing more and more frequently on American menus: matcha. For the uninitiated, matcha is high-grade green tea ground into powder, then whisked into hot water to form a frothy drink. Stonemill Matcha—which is curated by a master blender from a traditional teahouse in Kyoto— provides an entire line of matcha-infused pastries and drinks, including Matchacanos and Mizudashi (Cold Brew), along with a "slow bar" in the center of the cafe where guests can watch their drinks be whisked by hand.
Where: 561 Valencia Street
Wi-Fi: No.
Jane on Fillmore
View this post on Instagram
The posh and printed Jane on Fillmore prefers their drinks on the dark side. They brew just so to bring out a signature rich, chocolatey flavor in each cup, while still staying approachably sweet. They also religiously blend their beans and teas in-house, leading to a signature beverage menu alongside their all-day breakfast pastries and hearty paninis. The full-bodied, fresh menu is complemented perfectly by their detailed digs, featuring cushioned seats against various patterned wallpaper—and an always bustling crowd.
Where: 2123 Fillmore St.
Wi-Fi: Yes.
SPRO Coffee Lab
View this post on Instagram
An unassuming food truck in Spark Social SF may make the most interesting lattes in San Francisco. SPRO serves decorative and experimental coffee and mocktails—with exceedingly clever concoctions like the Fifty Shades of Gray (black tea, rare silver tips white tea, bergamot infusion) and the Cold Fashioned (cold brew, orange bitters, gum syrup, flamed orange twist, luxardo cherry). But we recommend the charcoal-infused "Black Swan" espresso off their secret menu. For obvious reasons 🦢.
Where: 601 Mission Bay Blvd North
Wi-Fi: No.
(Cover Photo Courtesy of The Mill)
LIKE WHAT YOU'VE READ?
Never miss out on a new experience!
Create a Bucket Listers account to access exclusive offers and the latest news in your city