food & drink ·
Published January 19, 2023
New York's Best Hidden Speakeasies
Old school glam and cutting-edge cocktails tucked into New York's secret corners. 🍸
by New York Bucket List
With its glamorous nightlife and endless going-out options, New York City is known as a place to see and be seen. But some of the city's most exclusive spots are hidden away, just waiting to be discovered by an adventurous soul. If you're looking to experience a side of New York City most people never see, you have to check out this list of must-visit speakeasies—if you can find them.
From prohibition-era decor and live jazz to cutting-edge cocktails and decadent cuisine, these hidden gems offer experiences you won't find anywhere else. Put on your best outfit and head out into the night. You never know what kind of hidden fun you might find! And don't worry—we've got the inside scoop on how to get in the door.
The Woo Woo
The Woo Woo is a one-of-a-kind hybrid bar and sex shop, serving up craft cocktails with a heavy pour of seduction. This speakeasy pays homage to the sexual promiscuity of 1980s Times Square while honoring the sex positivity of today. Anyone can enter, but guests may be asked for a password, which can be found in a clandestine spot on their website.
Where: 266 W 47th St, New York, NY 10036
How to get in: Ring the doorbell located at the front door of The Mean Fiddler.
More information.
Speakeasy Mixology Class at Sincerely Ophelia
Take a mixology class in an intimate speakeasy-style bar in the East Village. Led by some of the most experienced bartenders in New York City, you can craft two flavorful cocktails and learn what makes a superb drink. You'll also get to enjoy a Pretty Boy sandwich—fried chicken with pickled red onion, cole slaw, and pickles on a potato roll—along with your handcrafted cocktails.
Where: Sincerely, Ophelia: 221 2nd Ave Suite B, New York, NY 10003
More information.
Jewel Thief
NoMad
Jewel Thief takes the label "hidden gem" quite seriously. Located beneath Spritz in NoMad, the exotic hideaway offers artisanal cocktails with seasonally themed ingredients. With its opulent decor, you'll feel transported to a new world, or perhaps the inside of a jewelry box.
To call a waiter to your table you press a call button that lights up behind the bar.
Grab your partner in crime and order a Pink Panther (Codigo 1530 Rose tequila, sparkling rose, shiso, lemon, ginger) and One In A Billion (Smith and Cross rum, Curaçao, chinola liqueur, pineapple, lime).
Where: 30 W 30th St, New York, NY 1000
How to get in: Hidden beneath Spritz Nomad. Reservations accepted.
Nothing Really Matters
Midtown
Nothing Really Matters is a hidden subway bar located before the turnstiles at the downtown -bound 1 train at 50th Street station. It's the perfect place to grab a drink before or after a commute, and is out of the box and unique enough to make your Instagram feed.
The name is a homage to Queen's "Bohemian Rhapsody" lyric. No reservations are accepted
Where: W 50th St
How to get in: 50th St subway station, down the stairs on the downtown 1 line. Enter next to Duane Reade.
Bo Peep Cocktail & Highball Store
Midtown
Stop by Rag Trader and enter Bo Peep Cocktail & Highball Store, a subterranean cocktail bar with live music. Try the Blue Parriot (butterfly pea flower-infused gin, lavender, lemon, Fever-Tree soda) or the Midnight in the Garden (small batch Irish whiskey/apple brandy, citrus, demerara, blackberry).
The bar is open on Tuesdays through Saturday from 6pm to 12am. Piano starts at 7pm.
Where: 70 W 36th St, New York, NY 10018
How to get in: Reservations recommended. All reservations are for two hours.
Employees Only
West Village
This Prohibition-style speakeasy is open seven days a week. It was established in 2004 and has become a staple in the upscale, New York City cocktail bar world since. The bar's decor has subtle Eastern European touches that pay homage to Croatian heritage, which is where the executive chef is from. Try Employees Only's famous Manhattan with a twist, the Ginger Smash, or the Amelia.
Where: 510 Hudson St, New York, NY 10014
How to get in: Reservations for dinner only. Tucked behind a fortune teller's booth. Round the corner and you'll enter the bar.
Garret West
West Village
Let's cut to the chase: The Garret West sits above a Five Guys. This hidden but much-loved speakeasy offers a cozy environment, and the perfect place to sip on a cocktail. With a massive skylight and living room ambiance, it's the kind of place you can spend all night at. We'd opt for a burger as a night cap.
Where: 296 Bleecker St, New York, NY 10014
How to get in: On the corner of 7th Ave and Barrow Street. Find a hidden staircase in the back of the Five Guys. Second Floor. Accepting walk-ins and taking reservations.
Angel's Share
East Village
On the second story of an East Village Japanese restaurant, you'll find Angel's Share– one of the city's first "new wave" speakeasies, open since 1993.
This bar does cozy and classy right, with flickering candles and jazz music setting the scene for an intimate evening. Try to snag a seat by the picture window to watch the world go by as you enjoy a cocktail (or three).
On the menu, you'll find unique, award-winning libations incorporating elements of Japanese cuisine like shiso leaves, yuzu juice, and plum salt. Don't skip the Flirtibird – this whimsical citrusy drink, finished with a plum salt rim and served in a coconut cup, is a fan favorite.
Where: 8 Stuyvesant St, New York, NY 10003
How to get in: When you arrive, head upstairs to the second floor to the Village Yokocho restaurant. Look to your left and you'll find a wooden door with a golden doorknob. Beyond that lies Angel's Share!
Apothéke
Chinatown
Sophistication reigns supreme at Apothéke, where mixologists donning lab coats use fresh seasonal herbs and botanicals to whip up complex medicinal-themed cocktails.
This speakeasy's eclectic design takes inspiration from a blend of traditional European apothecaries and 19th-century Parisian absinthe dens. Thursdays through Sundays, patrons can enjoy live music ranging from New Orleans brass to jazz to burlesque.
Where: 9 Doyers St, New York, NY 10013
How to get in: At the bend in Doyers Street, look for the door with the red light and the "Chemist" sign hanging above it.
Attaboy
Lower East Side
Put some respect on 134 Eldridge Street - this address has housed not one but two legendary New York speakeasies. The space was originally home to one of the original NYC neo-speakeasies, Milk & Honey before they moved uptown.
After that, Attaboy was opened by two veteran M&H bartenders carrying on the tradition. These days, they're dishing out killer cocktails with a laid-back, lively ambiance.
There's no drink menu here. Instead, you simply tell the bartender what you like, and they create a bespoke concoction just for you. Drinks come served in everything from classic coups to whimsical tiki mugs – even a shark!.
Where: 134 Eldridge St, New York, NY 10002
How to get in: Once you've arrived, ring the doorbell or knock to enter. You'll know you're in the right spot when you see the M&H Alterations sign on the window!
Bathtub Gin
Chelsea
Inside Stone Street Coffee on 9th Ave, you'll find Bathtub Gin: a dark and fabulously ornate speakeasy in Chelsea. The exquisite gin-centric cocktails here build on classic drink recipes from the 1920s while adding a modern twist.
Stepping into the bar will have you feeling like you've stepped straight back to the roaring '20s. The decor features gleaming copper ceilings, fringe-covered lamps, and a funky clawfoot bathtub that makes for a great photo op.
The party never stops at Bathtub Gin, with live entertainment including burlesque, disco night, and live DJs happening nightly.
Where: 132 9th Ave, New York, NY 10011
How to get in: Locate the Stone Street Standard sign in the back of the shop - it's actually a secret door leading into the club.
Dear Irving Gramercy
Gramercy
Prepare to go on a journey through time when you arrive at Dear Irving. With decor inspired by Woody Allen's Midnight in Paris film, this speakeasy's rooms are reminiscent of four historical eras.
Gaze upon sparkling chandeliers as you sip elegant cocktails on a settee in the Marie Antoinette parlor, relax in a luxurious leather chair in the JFK room, channel your inner Gatsby in the F. Scott Fitzgerald room, or sidle up to the dark wood bar in the Abraham Lincoln room.
Each table even comes equipped with its own buzzer to summon your waiter for an extra touch of luxury.
Where: 55 Irving Place, New York, NY 10003
How to get in: You'll find a nondescript maroon awning over a short staircase when you arrive.Head up the stairs and through the unmarked doors to enter.
Coby Club
Chelsea
Coby Club is a speakeasy that pays homage to Miss Coby Yee, a famous burlesque dancer in San Francisco's Chinatown from the 1960s.
Cocktails with fresh fruit purees, craft beers, and chilled champagne are all offered as well as a small plates menu. The speakeasy on 7th Avenue lies underground and is full of dark velvet and silk decor, offering an alluring and mysterious environment for your next night out.
Where: 156 1/2 7th Ave, New York, NY 10011
How to get in: Reservations accepted.
UnPublished
Midtown
Serafina is a staple in the New York restaurant scene. They've partnered with Karim Amatullah to open up UnPublished, a new speakeasy tucked behind Serafina in the Sky in the Pod Hotel's lobby. Luckily you can order off the Serafina in the Sky's food menu, but if you're just at UnPublished for sips there are plenty of drink options available, from wine and beer, to cocktails.
There's even a terrace with a retractable roof and a disco ball. Who's ready to party?
Where: 400 West 42nd Street
How to get in: Open Tuesday through Sunday from 6pm to 2am. To make reservations you need to obtain and call a secret "ghost number". You can also try your luck at the door or try gettin information from your server.
Ninety Nine Franklin
Greenpoint
Make your way to Brooklyn's Greenpoint neighborhood to visit a cafe that turns into a cocktail lounge at night. Ninety Nine Franklin is located behind 99 Franklin, which serves as an unassuming espresso shop during the day.
The bar is open starting from 6:30pm on all days except Sundays and Mondays. It's open until about 2am on Fridays and Saturdays and until midnight on Tuesdays through Thursdays).
Where: 99 Franklin St, Brooklyn, NY 11222
How to get in: Located behind the 99 Franklin espresso bar. Reservations accepted. Walk into the coffee shop and head to the back, you'll see an open door and can walk in.
La Noxe
West Village
Looking for something to look forward to before or after your commute? Enter: La Noxe. This speakeasy is hidden in the 28th Street uptown-bound 1 train station, tucked behind a black door. The food is mostly Latin with a menu of delicious tapas, and the wines lean natural. Maybe you'll never want to go above ground again?
Where: 315 7th Ave Entrance at, 162 W 28th St, New York, NY 10001
How to get in: Go to the entrance, it's inside the 28th street subway station.
Le Boudoir
Brooklyn Heights
Indulge like the royalty you are at this Marie Antoinette-inspired cocktail lounge.
To get to the bar, you'll actually go on a journey through the remnants of the oldest tunnel in North America – the former Atlantic Avenue railroad tunnel.
Once inside, immerse yourself in the indulgent atmosphere of this ornate bar, featuring plush tufted red velvet and gilded mirrors designed to emulate the queen's parlor in Versailles.
Where: 135 Atlantic Ave, Brooklyn, NY 11201
How to get in: Inside the Chez Moi bistro, you'll find a hidden bookshelf that will take you to Le Boudoir.
Patent Pending
Nomad
Patent Pending is a trendy coffee shop by day and an innovative cocktail bar by night. This speakeasy is housed in the historic Radio Wave building, where famed inventor Nikola Tesla performed his radio wave experiments. The bar pays homage to Tesla with thoughtful touches throughout the space.
The electricity-inspired menu delivers inventive cocktails and tasty small plates. Edison bulbs and vintage leather accents set the tone for the buzzing atmosphere within the space.
Look around and you'll also find several birdcages scattered throughout – a callback to Tesla's love of pigeons.
Where: 49 W 27th St, New York, NY 10001
How to get in: Dial 4-9-2-7-# on the security pad to prompt the hostess to unlock the door.
Please Don't Tell (PDT)
East Village
A hot dog joint might be the last place you'd expect to find a cooler-than-cool cocktail lounge, but concealed behind a phone booth in an East Village hot dog shop hides Please Don't Tell – one of NYC's most iconic speakeasies.
The decor features quirky taxidermy decor and wood paneling to create a cozy, low-key atmosphere. But don't let the relaxed vibe fool you – the cocktails here are serious business. With a sprawling menu featuring page after page of innovative libations, you'll be sure to find your new favorite.
They even have their own exclusive hot dog menu served by Crif's, with 'dogs named for legendary NYC chefs. If you're feeling decadent, order up a side of tater tots topped with caviar to keep it classy.
Where: 113 St Marks Pl, New York, NY 10009
How to get in: Head down the stairs into Crif Dogs and find the phone booth. Pick up the red phone to reach the hostess – but make sure to only ring once!
Peachy's
Chinatown
At Peachy's, almost everything goes. There are just two rules: no photos, no fighting. But the bar's wow-worthy decor, featuring an eclectic mix of glowing lanterns, hanging peach blossoms, and Gucci wallpaper makes that a tough order to follow.
The menu features a creative array of cocktails for a more health-conscious crowd, with botanicals and adaptogen-infused drinks making frequent appearances.
Where: 5 Doyers St, New York, NY 10013
How to get in: Find the glowing neon-pink sign next to Chinese Tuxedo, then head down the stairs and into the whimsical wonderland that is Peachy's!
Seamore's DUMBO
DUMBO
Nestled just under the Manhattan Bridge, Seamore's DUMBO calls the iconic Water Street home. Just off the cobblestone-lined street, you'll find a bright and airy restaurant bringing Montauk seafood shack vibes to the BK.
However, you'll want to make sure you head "below deck" to The Hull, Seamore's chic underground bar, for an exciting speakeasy experience.
The Hull is currently open for Seamore's Mixology with the Masters Class. In this class, you'll learn how to make three craft cocktails, differing in flavor and spirits. The menu changes each week, so you can return more than once and continue expanding your mixology mastery! You can also take an oyster shucking and wine workshop.
Where: 66 Water Street, Brooklyn, New York 11201
How to get in: Purchase tickets to an exclusive Mixology with the Masters experience here.
Storage Room at UES.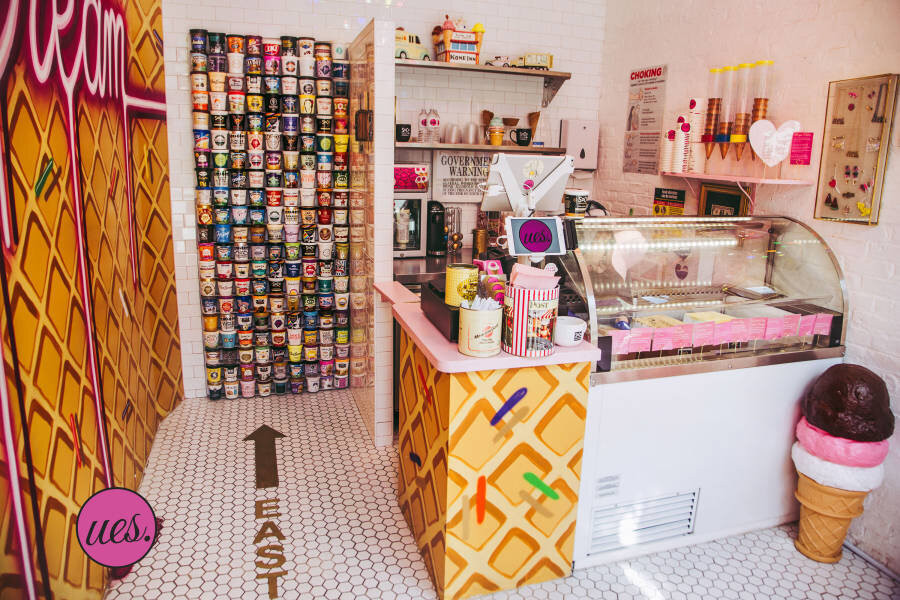 Upper East Side
Visitors to UES. Scoop Shop are in for an unexpected treat - hidden behind the shop's sweet pink exterior lies a glamorous speakeasy space, the Storage Room.
Here's the scoop: the Storage Room is a chic neighborhood spot serving up UES-inspired drinks like "The East is B-A-N-A-N-A-S" or "Girls Gossip on the East" served in kitschy-fun vessels like sippy-cups – and of course, ceramic waffle cones.
While the atmosphere is whimsical, don't forget to dress to impress - cocktail attire is strictly required here.
Where: 1707 2nd Ave, New York, NY 10128
How to get in: Once inside the shop, ask the staff if you can check out the "storage room" to gain access.
The Back Room
Lower East Side
The Back Bar is as OG as OG gets. It's one of only two remaining speakeasies that actually operated in New York during Prohibition.
In keeping with the theme, drinks are served in teacups and bottles of beer come in paper bags. A sliding bookcase hides another surprise - a VIP-only lounge hidden away from the rest of the space.
Where: 102 Norfolk St, New York, NY 10002
How to get in: You'll use the same entrance used in the '20s. Look for the Lower East Side Toy Company sign, then head through the gate, down the alley, and up the steps.
Thyme Bar
Flatiron
Located steps away from Madison Square Park, this once-secret Prohibition-era gambling hall now transports guests to an underground hideaway where whimsy reigns supreme.
Thyme Bar's floriography-inspired libations are more than just cocktails. Bartenders here push the limits of mixology, incorporating visual elements and botanical flavors to create seriously insta-worthy presentations.
For a truly indulgent experience, try the prix fixe menu, which pairs extravagant cocktails from the Le Jardin and Floriography menus with thoughtfully prepared small plates and decadent desserts.
Where: 20 W 23rd St, New York, NY 10010
How to get in: Find Thyme Bar in the cellar hidden underneath Patisserie Chanson on W 23rd Street.
Little Branch (LB)
West Village
If you're seeking a classic speakeasy experience hearkening back to the 1920s, Little Branch is the place to go. With its nondescript entrance and old-school house rules (no raised voices or bad behavior here), you'll feel like you stepped right back into Prohibition times.
The menu is straightforward, offering a generous selection of quintessential cocktails done exactingly well, plus complimentary snacks. There are plenty of cozy booths for a romantic date night, but for true cocktail aficionados, the bar is the place to be. There you'll watch suspender-clad bartenders whip up cocktails, served to patrons over freshly chipped ice straight from the block.
On some nights, you can even catch a groovy live jazz performance featuring the bar's upright piano.
Where: 20 7th Ave S, New York, NY 10014
How to get in: Keep your eyes peeled for the unmarked brown door on the corner of Leroy and 7th Avenue.
Basement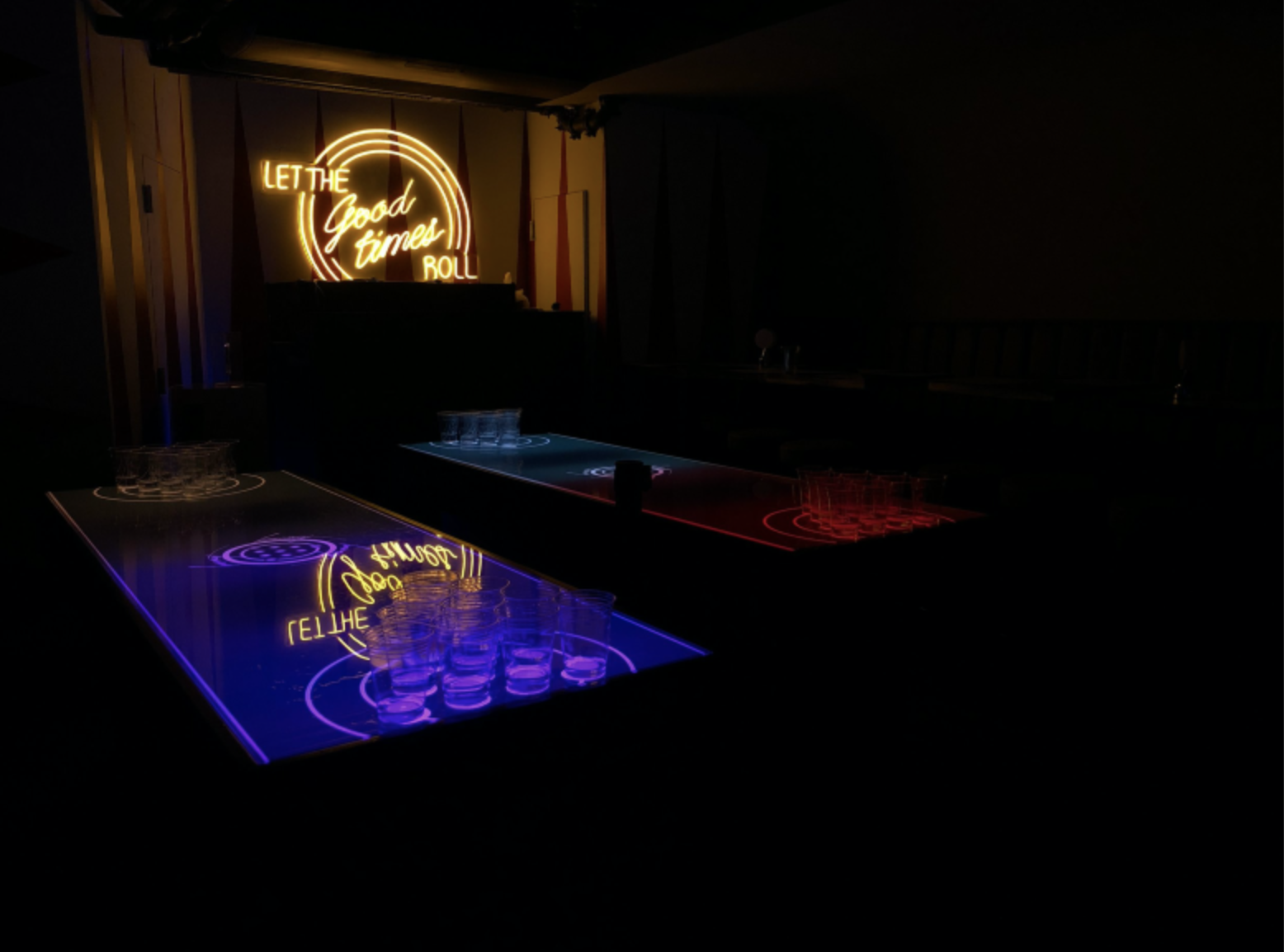 Chinatown
Slide into Basement in Chinatown. This speakeasy was inspired by Hong Kong game bars and is hidden behind an old Coca Cola fridge. The place is decked out with carnival-themed decor and there are plenty of actual games to play, too. It's the kind of place you can stay with your crew all night.
Don't forget to try their Shangai Mule, it's their take on a Moscow Mule.
You can make a request for a reservation, but only bottle service reservations are accepted after 10pm on Fridays and Saturdays.
Where: 45 Mott St, New York, NY 1001
How to get in: You enter by going down one flight of stairs and opening a fridge door.
Tanner Smith's
Midtown
Tanner Smith, the bar's namesake, was a 20th century New York City gangster, infamous for running a social club with the Gopher gang's Owney Madden. The cocktail bar oozes with prohibition-era vibes. Try their teapot cocktails for two, like the "Tipsy Tea Paloma," which consists of Blanco tequila, lime, and grapefruit soda. It's all served in a cute vintage-style teacup and teapot!
Where: 204 W 55th St, New York, NY 10019
How to get in: Reservations and walk ins accepted
Chez Zou
Chelsea
Eastern Mediterranean restaurant Zou Zou's has a secret they're hiding right above the main restaurant: the Chez Zou speakeasy. The midtown cocktail lounge opened in 2022. In the spring you can take advantage of their outdoor terrace.
Where: 385 9th Ave Suite 85, New York, NY 10001
How to get in: Head to the Manhattan West Plaza at 385 Ninth Avenue. Enter Zou Zou's and take the elevator behind the host stand to the fourth floor.
The Little Shop
Seaport
Located in the South Street Seaport, The Little Shop is tucked away behind a bodega. Their cocktail list includes concoctions like the Purple Vesper (Empress Gin, Lillet Blanc, shop-made lavender bitters) and Sour Candy (Suntory Whiskey, pear brandy, honey, lemon). You're able to purchase small bites from their shop and the speakeasy's staff will plate them for you. Just keep in mind that it's closed on Mondays.
Where: 252 Front St, New York, NY 10038
How to get in: Enter the store and head towards the back. Enter what looks like a back-of-the-store storage room. You'll see a sliding door that leads you to the speakeasy.
LIKE WHAT YOU'VE READ?
Never miss out on a new experience!
Create a Bucket Listers account to access exclusive offers and the latest news in your city