outdoor activities ·
Published March 27, 2023
The Best Places to See Spring Blossoms in NYC This Season
Stop and smell the cherry blossoms at these 10 picturesque locations this spring. 🌸
by New York Bucket List
As much as we love New York, by the time we hit March and are still donning our winter coats, Los Angeles and Miami are starting to look pretty good. But then the day comes when you're making your way to the subway or grabbing your morning bagel, and you see it: the first signs of spring.
Seemingly out of nowhere, cherry blossoms, pink magnolias, tulips, and azaleas start cropping up across the city from Central park to SoHo, and you remember why you stuck it out all winter long—because few things are better than Spring in New York.
We've rounded up a list of all the best places to catch the city in bloom, including hidden gems in Central Park, dreamy outdoor patios, and when to see the blossoms in peak bloom.


10 Dreamy Spots in New York to See Spring Blooms
Central Park
Obviously, Central Park is a must-visit destination in NYC during springtime. The park is home to over 26,000 trees, including cherry blossoms, magnolias, and dogwoods. You really can't go wrong choosing a path and wandering the park, but there are a few places worth checking out for maximum blossom viewing.
Pilgrim Hill
Located on the East side of the park near 73rd street, Pilgrim Hill pays homage to the landing of the pilgrims at Pilgrim Rock. You'll find the memorial in the middle of a forest of Yoshina cherry trees, and during spring months, it's like you've stepped into a snow globe full of floating pink petals.
Conservatory Garden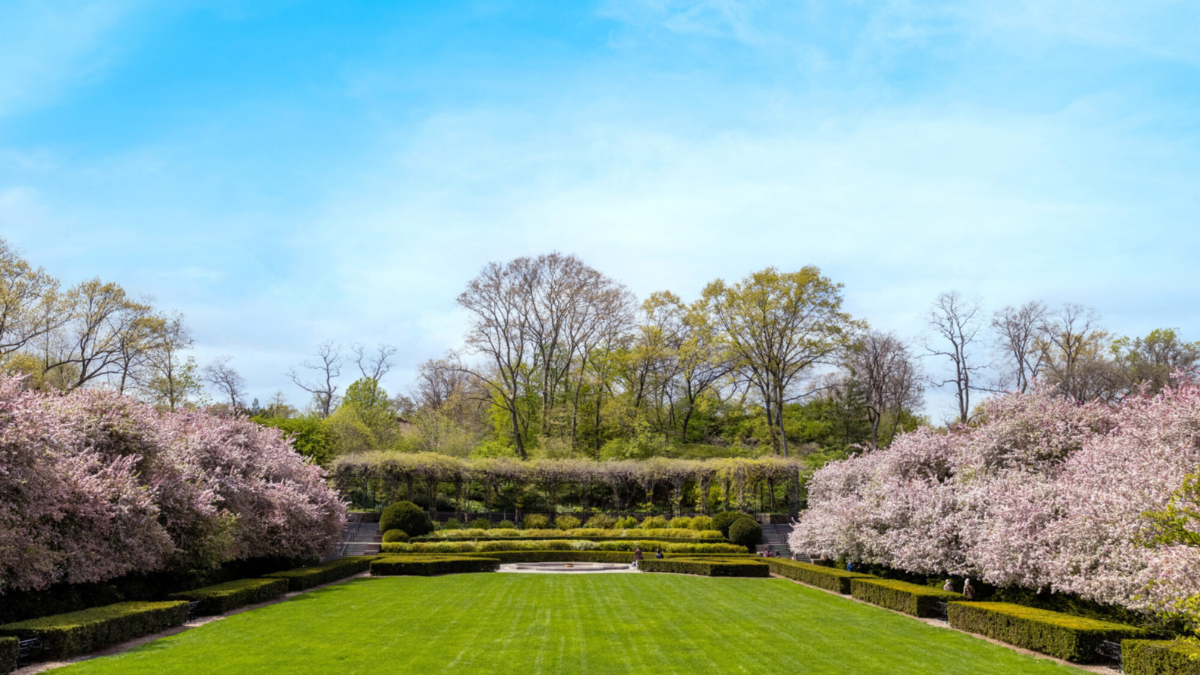 If you don't get uptown much, you may not know about this gem. Tucked away on Fifth Avenue and 105th Street, you'll find a fountain surrounded by the city's only formal garden. Beautiful any time of year, the Conservatory Garden is especially pretty in the spring with tulips, lilacs, and summer perennials.
Bridle Path on the West Side
The Bridle Path is a soft dirt track spanning nearly the length of Central Park and makes for a great running trail or a scenic walk. The area along the west of the reservoir, however, comes alive with two types of cherry trees—Kwanzan and Okame—in the spring, and you don't want to miss it. The Okames reach peak bloom mid to late March, while the Kwanzans peak in April!
Cherry Hill
Located mid-park at about 72nd street, Cherry Hill is a gem, with views of the Lake and the iconic Bow Bridge nearby. You might have guessed by its name that it's also home to dozens of cherry trees. You'll find pale pink and white blossoms here, along with a sloping lawn perfect for picnicking. Peak bloom for these trees is early-mid April.
See a complete guide to Central Park's blossoms with updated peak times here.
Brooklyn Botanic Garden
Brooklyn Botanic garden is home to hundreds of magnolias, tulips, and daffodils and is said to have the second-largest cherry blossom bloom in the US. The garden also hosts a Sakura Matsuri festival, celebrating Japanese culture and cherry blossoms. The vibrant pink blossoms are expected to begin blooming in late March, with peak bloom times in April.
Pro Tip: If you're planning on heading to BK for a blossom rendezvous, check their website to see which parts of the gardens have blossomed!
Roosevelt Island
Grab your subway pass and take the Roosevelt Island Tramway over from the Upper East Side at 59th street. The small island between Manhattan and Queens boasts a stunning cherry blossom grove, with over 600 trees in bloom during the spring, set against the backdrop of the Manhattan skyline.
Union Square
You may know Union Square for its year-round Green Market, but the pedestrian plaza also boasts corridors of cherry blossom trees to wander through, making it a great spot to load up on fresh fruit and veggies or artisan breads and cheese, and enjoy them on a park bench under the shade of the fragrant blooms.
Ladurée Courtyard
Ladurée in SoHo sells Parisian chocolates and goodies like macarons, along with a delicious Paris-inspired menu if you're in the mood to dine in. But it also has a beautiful patio that's especially dreamy in the spring. With cherry blossoms surrounding you as you eat, the photo ops are endless in this land of pastels.
The High Line
A walk on the High Line is one of the best ways to soak up warm spring weather, and you'll get a nice view of the Hudson River along with blooming plants like cherry blossoms, magnolias, and tulips. Open daily from 7 am to 7 pm and until 10 pm starting April 1.
Riverside Park

Riverside Park is a sprawling park right on the Hudson with stunning views of the water and the George Washington Bridge. Spanning from 72nd up to 153rd street, the park offers over 330 acres to explore, where you'll come across a plethora of blooming trees and flowers, from dogwoods and cherry trees to daffodils and tulips.
LIKE WHAT YOU'VE READ?
Never miss out on a new experience!
Create a Bucket Listers account to access exclusive offers and the latest news in your city