arts & culture · attractions & tours ·
Published August 3, 2023
12 of New York's Most Iconic Museums
An essential list of the coolest must-visit museums in New York. 🏛🎨🐋
by New York Bucket List
The sheer amount of museums and art in New York City is a masterpiece in and of itself. Whether you're looking to change up your date night routine, need something to do on a rainy day, or just want to see a giant blue whale up close, spending an afternoon wandering through galleries and exhibits is always a good idea.
From iconic, world-renowned institutions like The Met and Natural History Museum to cutting-edge contemporary galleries focused on things like Cannabis and ice cream, New York City has no shortage of cool museums and interesting exhibits to get lost in. We rounded up some of our favorite must-sees below.


The Ultimate Guide to NYC's Best Museums
The Metropolitan Museum of Art
Open Thursday–Tuesday
As the largest art museum in the US, The Met tops our list. It will take a few (dozen) visits to see everything at the expansive museum on the Upper East Side, and even then, you'll still manage to stumble on previously unexplored areas. A few can't-miss pieces include Washington Crossing the Delaware, Van Gogh's Self Portrait with a Straw Hat, Monet's Bridge Over a Pond of Water Lilies, and a collection of Vermeer paintings on the lower level (the largest of any museum in the world).
For some hidden gems, check out the Frank Lloyd Wright Room, a meticulous recreation of one of the grandest prairie homes by the famed architect, a 360-degree panoramic painting of the Palace and Gardens of Versailles, and the Astor Chinese Garden Court, a tranquil courtyard modeled after a Ming dynasty-style, Chinese garden.
Where: The Met Fifth Avenue: 1000 Fifth Avenue, New York, NY
More information.
The Met Cloisters
Open Thursday–Tuesday
For a Met experience a little more off the beaten path, head uptown. Nestled in gorgeous Fort Tryon Park and overlooking the Hudson River in Washington Heights, this branch of the Met is home to 5,000 individual pieces of Medieval art. Modeled after the tranquil cloisters of the Middle Ages—historically, a place to reflect and recharge—this museum will make you feel like you've been swept out of Manhattan and dropped into a centuries-old castle. You'll find that the Dark Ages were actually a pretty great time for art.
Where: 99 Margaret Corbin Drive, Fort Tryon Park, New York, NY
More information.
Museum of Ice Cream
Open Wednesday–Monday
New York's MOIC transforms 13 rooms into immersive and dreamy escapes for all frozen treat lovers. Ever-changing with seasonal themes, current fan favorites include the Celestial Subway, a re-imagination of the NYC subway, and the Rainbow Tunnel, a tribute to the city's gay pride. Our favorite part, though, is the after-hours Scoops and Sips, where adults 21+ can enjoy a cocktail and unlimited ice cream. Date night, anyone
Where: 558 Broadway, New York, NY
More information.
The Guggenheim
Open Sunday–Saturday
Frank Lloyd Wright's world-renowned spiraling architecture of The Guggenheim continues to thrill visitors and provide a unique forum for the presentation of contemporary art. Founded on a collection of early modern masterpieces, the Guggenheim Museum today is an ever-evolving institution devoted to the art of the 20th century and beyond.
The ongoing exhibition features a collection of Impressionist, Post-Impressionist, and modern French masterpieces, with works by Cézanne, Kandinsky, Monet, and more, including over 30 works by Pablo Picasso.
Where: 1071 Fifth Avenue (Between 88th and 89th Streets
More information.
Museum of Modern Art
Open daily
Situated in the heart of Manhattan, MoMA is a renowned haven for contemporary and modern art enthusiasts. As you step inside, be prepared to immerse yourself in a diverse collection of masterpieces, ranging from mesmerizing paintings and sculptures to avant-garde installations and multimedia art.
Not-to-miss pieces include Van Gogh's The Starry Night, Monet's Water Lillies, Picasso's Les Demoiselles d'Avignon, splatter works by Jackson Pollock, and Rothko's large-scale chromatic canvases. Make sure to also check out James Turrell's Meeting, a room-sized installation that offers views of the sky through the roof of the building installed with a lighting feature that programs the lights to synchronize with the sunrise and sunset.
Where: MoMA: 11 West 53 Street, Manhattan | MoMA PS1: 22-25 Jackson Avenue, Queens
More information.

Whitney Museum of American Art
Open Wednesday–Monday
The innovative Whitney was the first museum dedicated to the work of living American artists and the first New York museum to present a major exhibition of a video artist (Nam June Paik, in 1982). Its signature focus on American artists (a lofty goal at the time of its 1931 inception) sets it apart from its modern museum counterparts today.
Two pieces not-to-miss are Edward Hopper's Early Sunday Morning, showing storefronts on Seventh Avenue, and The Seasons, a massive work of art measuring nearly 17 feet in length by Lee Krasner, wife of Jackson Pollock.
Pro-Tip: Start at the top floor, and enjoy incredible views of the city from the museum's terrace. You can also grab a coffee, pastry, lunch, or even a glass of wine before embarking on your tour of American art.
Where: 99 Gansevoort Street, New York, NY
More information.
9/11 Museum & Memorial
Open Wednesday–Monday
One of the most moving experiences in New York is the 9/11 Museum & Memorial. An event that changed the landscape of New York, along with the country, the museum invites visitors to learn about the history of the 9/11 attacks and the 1993 World Trade Center bombing at the site where the Twin Towers once stood. The Museum's dynamic blend of architecture, archaeology, and history creates an unforgettable encounter with the story of the attacks, their aftermath, and the people who experienced these events.
Along with photographs and artifacts that tell the story of the people and events of 9/11, make sure to spend some time listening to the oral histories that tell the story of 9/11 through recorded interviews conducted from different perspectives, offering the immediacy of first-person testimony of lived experiences.
Where: 180 Greenwich Street, New York, NY
More information.
The Morgan Library & Museum
Open Tuesday–Sunday
Fulfilling all our Beauty and the Beast dreams is The Morgan Library & Museum. Once the personal collection of JP Morgan, the museum was gifted to the city by the Gilded Age financier, along with his collection of artwork and rare books ranging from Egyptian art to Renaissance paintings to Chinese porcelains.
Taking in the architecture throughout the museum is an experience in and of itself, but some not-to-miss pieces include three copies of the Gutenberg Bible, one of the first books ever printed using movable type, and a collection of master drawings from renowned artists such as Leonardo da Vinci, Michelangelo, and Rembrandt.
Where: 225 Madison Avenue, New York NY
More information.
The American Kennel Club Museum of the Dog
Open Wednesday–Sunday
A full museum dedicated to mankind's best friend? Sign us UP. The AKC Museum of the Dog houses a collection of dog-themed drawings, paintings, ceramics, and bronzes, making this an animal lover's paradise. In addition to the world-class collection of dog-related art, the museum boasts a number of digital interactive displays where you can learn about each unique breed of dog and even see what type of pup is your best match.
Where: 101 Park Ave, New York, NY
More information.
American Museum of Natural History
Open daily
One of New York's most iconic museums got a brand new wing in 2023, complete with an insectarium, butterfly vivarium, floor-to-ceiling collections displays, and more. The expansive museum is full of treasures, and as one of the largest natural history museums in the world, you'll probably need to come back to see everything.
Some bucket-list-worthy exhibits include The Halls of Gems and Minerals, with two amethyst geodes standing 12 feet and 9 feet tall, the Willemette Meteorite (the largest meteorite ever found in the US and the sixth largest in the world), and Lucy, one of the most complete skeletons found from the early hominids—she's 3.18 million years old! Of course, no visit is complete without a look at the Great Blue Whale and The Titanosaur, a 122-foot cast of one of the largest dinosaurs ever discovered.
Pro-Tip: Head to the roof on a hot summer day, where you'll find secret sprinklers to play in, along with a nice stretch of green grass to relax on. No tickets required!
Where: 200 Central Park West, New York, NY
More information.
Brooklyn Museum

Open Wednesday–Sunday
The Brooklyn Museum, housed in a massive 560,000-sq. foot, Beaux-Arts building is one of the oldest and largest art museums in the country. Its famed collections range from ancient Egyptian artifacts to contemporary masterpieces and represent a wide range of cultures. Plus, it's known for creating courageous conversations around different cultures as well as civil and human rights.
Check out a collection of Mid-Century decorative arts and design displayed in a soaring tower, featuring different functional objects primarily created between World War II (1939–45) and 1960. Also not to miss is an exhibit focusing on the life of Tutankhamun and the Amarna Period, which introduced naturalistic imagery previously unparalleled in Egyptian art.
Where: 200 Eastern Pkwy Brooklyn, NY
More information.


The House of Cannabis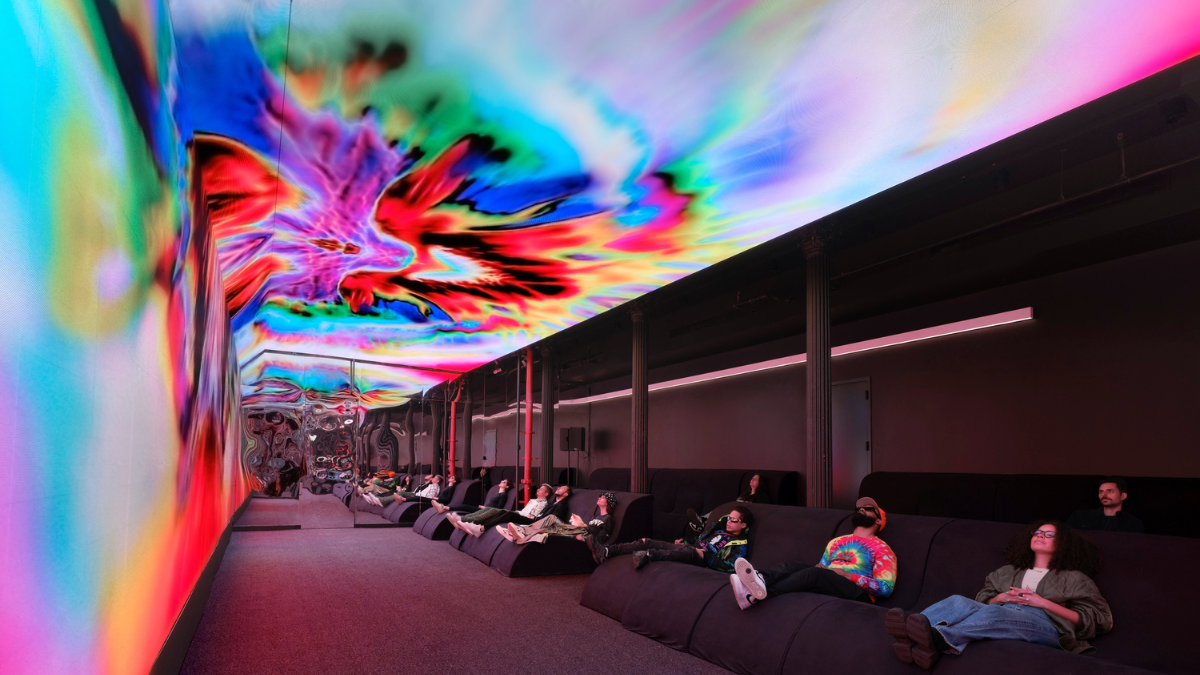 Open daily
One of the city's newest museums offers a captivating and immersive journey through the diverse aspects of cannabis. Located in SoHo, this vibrant space offers a range of experiences, including music, art, fashion, psychedelia, cultivation, and reform.
Among the ten unique encounters are the first-ever living urban grow, a sensory celebration of cannabis' impact on music, a mesmerizing LED-wrapped psychedelic journey, and much more. The venue also boasts a community gathering space, café, corner store, live glassblowing, and a thoughtfully curated collection of cannabis-inspired lifestyle products.
Where: 427 Broadway, New York, NY
More information on House of Cannabis.
EXPLORE MORE:
30 Fun Activities In NYC That Don't Involve Alcohol or Food
The Best Unexpected Date Ideas in NYC
The Best Broadway Shows to See in New York Right Now
LIKE WHAT YOU'VE READ?
Never miss out on a new experience!
Create a Bucket Listers account to access exclusive offers and the latest news in your city