Published August 3, 2023
NYC's Ultimate 2023 Summer Bucket List
The best activities to get you into a New York state of mind this summer. ☀️🗽
by New York Bucket List
Summer in the city is quickly approaching, and we're here to tell you to start planning early! With all of the incredible events and activities happening around New York this summer, you're going to need every weekend possible to make sure you don't miss anything.
From days at the pool and on the water to summer street festivals and outdoor concerts, here's everything you should add to your 2023 summer bucket list.
The Ultimate Guide to Summer in New York
Shop Local at Union Square's Green Market
We look forward to our local farmers market every single week, and summer is no different. Step outside of your comfort zone and discover locally-grown and unique produce you can't find in grocery stores. Union Square also hosts Summer in the Square with family activities, live jazz, and special events all summer long.
Where: Union Square W &, E 17th St, New York, NY 10003
More information.
Visit the Malibu Barbie Cafe
Catch west coast summer vibes without leaving NYC! Step into a dreamy pink oasis at the Malibu Barbie Café, where nostalgia and glamorous collide. Indulge in a delightful menu of themed treats and colorful cocktails, surrounded by iconic Barbie-inspired décor.
Where: Malibu Barbie Cafe: 19 Fulton St., New York, NY
More information.
Explore Hell Gate Path on Randall's Island
Have you heard of Hell Gate Path? Located on Randall's Island, this unique bike and pedestrian path threads its way beneath the Amtrak trestle that runs the length of the Eastern shore. Grab your bike or comfiest walking shoes and spend an afternoon exploring the path, which takes you through shady wooded areas, flowering meadows, ballparks, wetlands, and of course, the impressive arches supporting the tracks overhead. You can also stop and take in views of the Queensboro and Hellgate Bridges, along with New York's scenic waterfront and skyline.
Where: 1 Randalls Island, New York, NY
More information.
Attend a Themed Boat Party
Dance the day away to top-notch live music and DJ sets while sipping on crisp rosé and cruising around the city. This event offers a variety of themes, from early-2k to Jersey Shore to Christmas in July! No matter your vibe, there's a boat party for everyone.
Where: Skyport Marina, 2430 FDR Dr, New York, NY
More information.
Watch Outdoor Movies at Rooftop Reds
Elevate your movie night experience at Rooftop Reds Vineyard, where stunning views and fine wines meet the magic of cinema. Relax under the stars with a glass of delectable wine in hand as you enjoy an unforgettable screening of your favorite films. And don't miss their National Rosé Day celebration on June 10!
Where: Rooftop Reds: 63 Flushing Ave Building 275, Brooklyn, NY
More information.
Spend a Day at One of NYC's Pools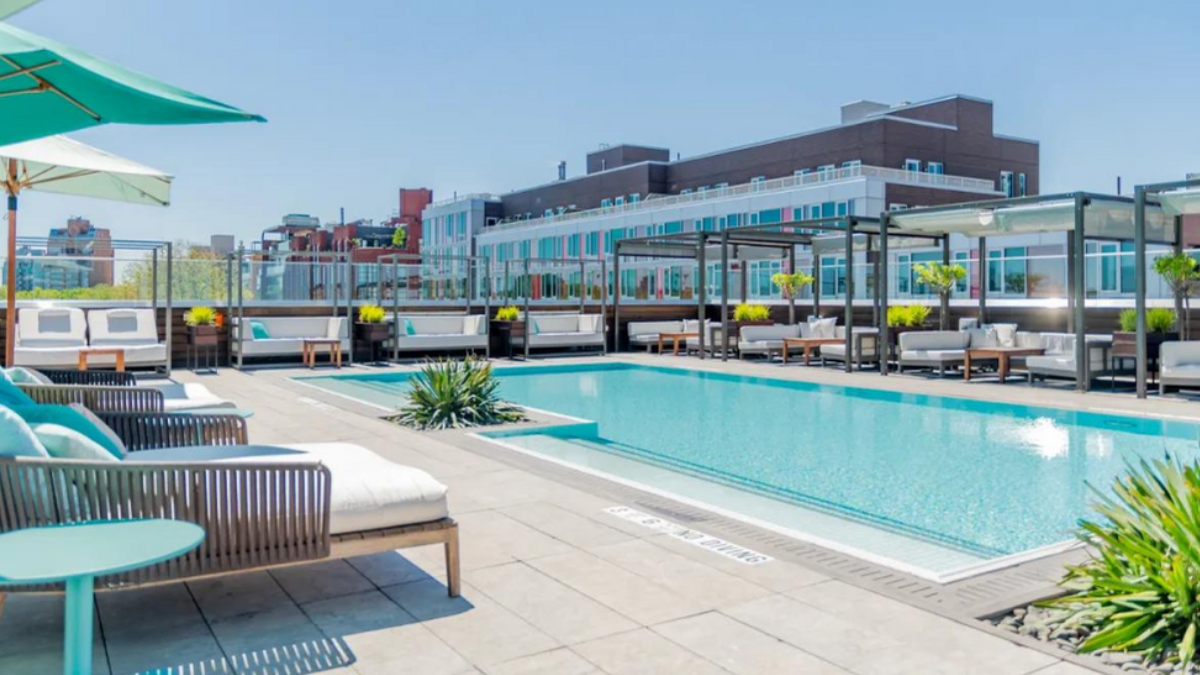 For days when it's just too hot to enjoy a meal outside or a nice walk in the park, take things poolside. There's no shortage of places to cool off when it gets a little too warm in the city. From free public pools to swanky rooftop beach clubs, we've put together the ultimate list of spots to relax by the pool this summer in NYC.
Where: Various locations.
More information.
Eat Lobster on a Boat
Want to go to Maine but don't have the PTO? This unique boating experience will have you feeling like you're spending an afternoon along the Maine coastline without actually having to leave Manhattan. Chow down on delicious lobster rolls from North River Lobster Company while enjoying drinks and skyline views from the boat's huge outdoor deck.
Where: Pier 81, West 41st Street and 12th Avenue, New York, NY
More information.
Sip Cocktails at cloudM Rooftop Bar
Nothing takes your breath away quite like the New York City skyline at sunset, and the best place to enjoy it (while sipping a refreshing cocktail, no less) is at cloudM atop the citizenM Hotel. Towering 20 stories above the Lower East Side, this rooftop bar is a hidden gem if we've ever seen one. Choose from cloudM's outdoor deck with benches and couches or opt for the indoor bar to cool down, which offers equally incredible views thanks to the floor-to-ceiling windows. With 360-degree views of the cityscape, this rooftop lounge is the perfect place to enjoy golden hour this summer.
Where: 189 Bowery, New York, NY
More information.

Visit Coney Island and Grab a Nathan's Hot Dog
It's Nathan's Famous for a reason. And what better backdrop than the whimsical atmosphere at Coney Island? Grab a bite and spend the day riding coasters, winning prizes, and splashing in the water. This pairing goes together like ketchup and mustard.
Where: 1205 Riegelmann Boardwalk, 1205 Riegelmann Boardwalk, Brooklyn, NY
More information.
Take a Relaxing Brunch Cruise
Experience the epitome of summer bliss as you sail around NYC on a brunch cruise, enjoying a delectable meal, sipping free-flowing champagne, and dancing to live DJ tunes. This unforgettable adventure combines stunning skyline views with luxurious indulgence, making it a must-try.
Where: Chelsea Piers (Pier 62): W. 22nd and Hudson River
More information.
Picnic in Central Park's Sheep Meadow
Don't underestimate this classic outing. Grab a picnic basket loaded with your favorite snacks, a plush blanket, and your favorite card games to spend the day basking in the sun at Sheep Meadow.
Where: 1802 65th Street Transverse, New York, NY 10065
More information.
Go Surfing at Rockaway Beach
A cool hang to beat the heat, Rockaway is a great beach to opt into during hot summer days. Pro tip: Take the ferry there instead of a train for a picturesque journey — and an early one to beat the crowds.
Where: Beach 3 St. to Beach 153 St. and Boardwalk to Atlantic Ocean, Queens, NY
More information.
Explore Brookfield Place
For a chill summer day, take things inside and spend a few hours shopping at Brookfield Place. Located right on the water in downtown Manhattan, you'll find great shopping and dining options, views of the Hudson, and a mix of happenings and events all summer long.
Starting in June, Brookfield Place is kicking off summer with one of the largest Pride flags in NYC in celebration of Pride Month. The nautical oasis, Portside, will also return this June with cocktails and curated events. For a full list of events, see the schedule here.
Where: 230 Vesey St, New York, NY
More information.
Attend Free Outdoor Concerts Across the City
Catch jazz, Broadway, DJs, and more live performances throughout the city this summer—all for free. At outdoorsy venues from Bryant Park to Little Island, you can grab a blanket, pack a picnic and settle in for an evening of entertainment. And don't miss movies under the stars, where public parks across all five boroughs will screen outdoor movies for free!
Where: Various locations.
More information.
Take an Adventurous (or Chill) Day Trip
For a more active day out, go for a day trip. Try a fast-paced river rafting trip and end the day at an award-winning brewery. If you'd rather stay on land, no worries—this Long Island winery tour has just what you need. Or, really get your adrenaline pumping with a day of go-karting and arcade games. Burges, sandwiches, and wings are included!
Catch a Yankees Game
Nothing beats a leisurely day at the ballpark. Snag a seat and treat yourself to a cold beer while you watch a game at iconic Yankee Stadium. A classic summer activity for good reason!
Where: 1 E 161 St Bronx, NY 10451 (Yankee Stadium); 41 Seaver Wy, Queens, NY 11368 (Citi Field)
More information.
Escape the Heat at RiseNY
If you're looking for a fun indoor activity to escape the sun and heat, check out RiseNY. This world-class flying theater gives visitors a unique bird's-eye view of the Big Apple. You'll take in the splendor of NYC while suspended inside a 180-degree, 40-foot projection dome featuring 8K aerial footage that creates the sensation of flight.
They also have exhibits and galleries that explore pop culture and the history of New York. Guests can step outside onto a re-creation of the Statue of Liberty Torch on RiseNY's marquee and have an unmatched view of Times Square.
Where: 160 W 45th St, New York, NY (at Broadway)
More information.
Take an Oyster Shucking Class (With Wine)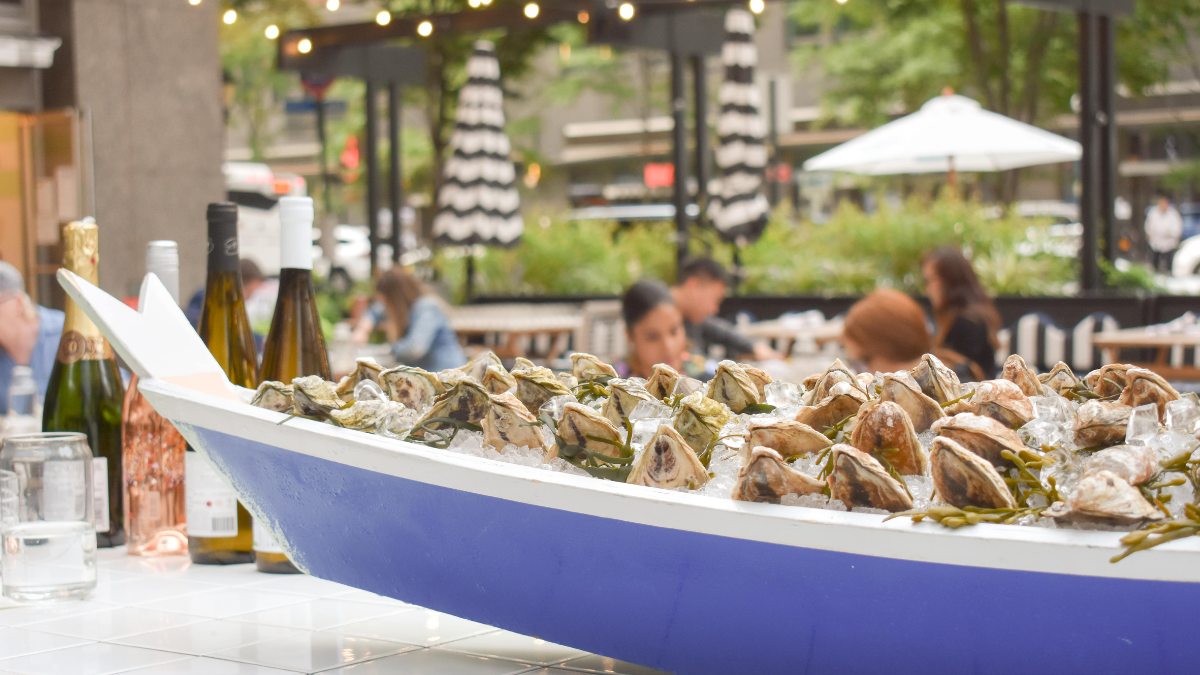 Become an oyster aficionado and get ready to break out your new party trick after taking this oyster shucking class. Instructors will provide a hands-on demonstration, taking participants through a journey of shucking, tasting, and pairing four types of oysters to learn about the various flavors and textures of each. Enjoy wine pairings along the way, and take home the skills and tools you need to prepare a platter of oysters on the half shell at home.
Where: Seamore's Market Bar & Restaurant: West 52nd Street, New York, NY
More information.
Grill Along the River with Epic City Views
It's not summer until someone fires up the grill, and cooking some burgers along the river isn't a bad start. Set up camp at the Picnic Peninsula Barbeque Area's public grills. There's also a "beach" and an OddFellows Ice Cream shop nearby when you're ready to enjoy something sweet after your meal.
Where: Pier 5, Brooklyn Bridge Park Greenway, Brooklyn, NY
More information.
Take a Private Sunset Sail Around NYC
Book a two or three-hour cruise for up to six people, and bring your own snacks, drinks, or dinner on board. Perfect for special occasions, wowing out-of-towners, and small gatherings with your closest crew, you'll enjoy close encounters with the Statue of Liberty and, of course, amazing sunset views of the city. Ice and water bottles are provided on board.
Where: Pier 25, 10013 New York, NY
More information.
Cool Off with a New Flavor at the Viral Chinatown Ice Cream Factory
Try some of the most delicious and unusual ice cream flavors you've ever had at this Instagram-worthy spot beloved by New Yorkers and celebs alike. With flavors like banana durian, lychee rose, and black sesame, you'll need a few trips to try them all. They even have special toppings, like boba!
Where: 65 Bayard St, New York, NY 10013
More information.
Sip a Cocktail and Bask in the Sun at Island Oyster
This outing is running on island time. Located on Governors Island, this one-of-a-kind summer destination features a tropical menu, cocktails that taste like summer, and 360-degree views of New York Harbor and downtown Manhattan.
Where: To get to this sunny spot from Manhattan, navigate to Battery Maritime Building at 10 South Street — the building is just to the northeast of the Staten Island Ferry Terminal. Walk inside, purchase a $2 ferry ticket, and the staff will direct you to board the ferry.
More information.
Sip Unlimited Mimosas on the Water
Set sail aboard the classic sailing yacht Ventura on Sundays for a bottomless mimosa brunch! Ventura departs from North Cove Marina in lower Manhattan and cruises into the harbor for great views of the city. Enjoy bottomless mimosas and bloody marys, plus small-bites brunch items like bagels, pastries, and fruit while escaping the heat of the city.
Where: North Cove Marina: Vesey St, New York, NY
More information.
Stargaze at the High Line
Every Tuesday, New Yorkers have the rare opportunity to gaze up at the stars through a high-powered telescope. Members of the Amateur Astronomers Association will help you find and identify some of the galaxy's greatest treasuries—all for free!
Where: On the High Line at 13th Street
More information.
Go to a Summer Music Festival
There are so many great concerts and shows coming to the Tri-State area this season. Check out Hot Summer Nights featuring Shaggy and TLC in June, or relive your emo days at Sad Summer Fest, headlined by Taking Back Sunday in July. And, of course, don't miss Gov Ball June 9–11 (and its amazing afterparties).
Where: Various locations.
More information.
Celebrate NYC Pride
Show your colors at NYC Pride! Hit the streets of New York for the historic and annual Pride March on June 25. Throughout Pride Month and Pride Weekend, other celebratory events will also take place, including the Pride Island music festival and PrideFest street fair on June 25 and The Brunch, a culinary experience, and a celebration for Youth Pride on June 24.
Taste Different Rums at New York's Rum Fest
Immerse yourself in the spirited world of rum on June 10 at the highly anticipated New York Rum Festival! Sample some of the best rums from around the globe, enjoy a masterclass led by industry experts, and savor some incredible food pairings while learning about the rich history, flavors, and techniques that make rum so special.
Where: Metropolitan Pavilion: 125 W 18th St, New York, NY
More information.
Party at the July 4th Waterfront Block Party
Celebrate Independence Day in style at the 4th of July Waterfront Block Party, an event that guarantees an unforgettable summer night! Enjoy mouth-watering food, vibrant live music, and thrilling games—all culminating in a spectacular fireworks display over the water and city skyline.
Where: Skyline Drive-In NYC: 1 Oak St, Brooklyn, NY
More information.
Attend Free Events at Manhattan West
Manhattan West—New York's newest dynamic destination for food, culture, retail, and hospitality, located steps away from Moynihan Train Hall and MSG—will offer a full calendar of FREE events that are open to the public this summer. On Wednesdays in July, Works & Process brings a four-part music and dance series to Manhattan West Plaza that celebrates street dance and the 50th anniversary of hip-hop. Experience an event, grab a bite to eat, and enjoy some shopping! See the full schedule here.
Where: Manhattan West, 385 9th Avenue, New York, NY
More Information.
Go to a Hard Seltzer Festival
Quench your thirst for adventure at Seltzerland NYC, the ultimate celebration of all things fizzy and refreshing. Your flavor-filled journey will have you sampling some of the best hard seltzers the nation has to offer, paired with delicious bites, on July 22.
Where: The Noble Lot at Greenpoint Terminal: 2 Noble Street, Brooklyn, NY
More information.
LIKE WHAT YOU'VE READ?
Never miss out on a new experience!
Create a Bucket Listers account to access exclusive offers and the latest news in your city