Published April 4, 2023
The Best Day Trips from Chicago
Escape the windy city for brews and views.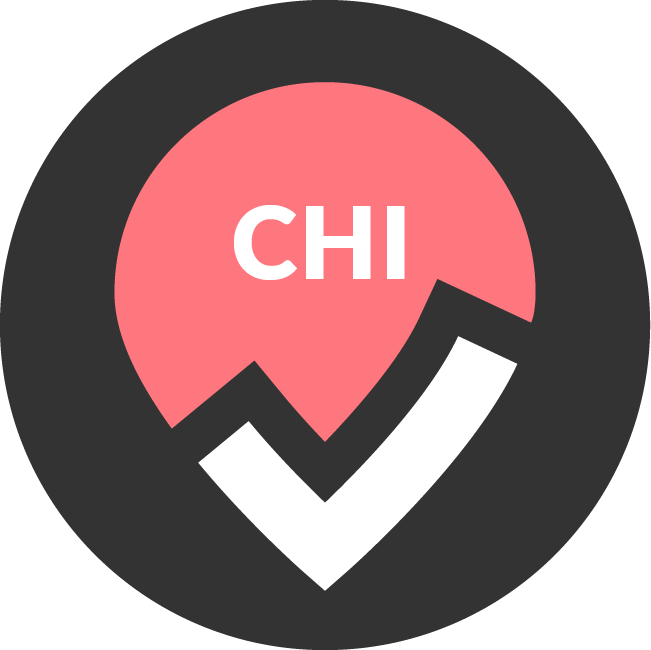 by Chicago Bucket List
Living in or visitng Chicago is nothing short of magical. But sometimes, even the most loyal city dwellers need to get out of town. Luckily, Chicago is surrounded by nature, art, breweries, and more– perfect for a day trip all year round.
Aurora, IL
If you want a change of scenery but not necessarily a change of pace, check out Illinois' second-most-populous city, Aurora. There's something for everyone in this major city, from museums to water parks to some pretty incredible shopping, but one of the most unique attractions is Blackberry Farm, which provides a fun step back in time for the whole family.
Activity Highlight: You can easily spend a whole afternoon at the historic Blackberry Farm, where you'll find wagon rides, pedal boats, adorable animals, and delicious eats.
Distance from Chicago: 1 Hour 15 Minutes
Monticello, IN
This little town is big on fun! Monticello, Indiana is a major tourist hotspot for its huge lakeside amusement park, Indiana Beach. The massive boardwalk attraction has all the coasters, fair food, and games you need for a blood-pumping weekend away from Chicago. If you're looking for something a little more relaxing, check out one of the many lakefront wineries!
Activity Highlight: After you're all screamed out from a day at the theme park, hop aboard the Madam Caroll, a dinner cruise on Lake Freeman that just so happens to be the largest registered boat in all of Indiana!
Distance from Chicago: 2 Hours 15 Minutes
Rockford, IL
Rockford is the fourth largest city in Illinois, and it feels like a big little city. Bursting with things to do, daytrippers should be sure to explore the Anderson Japanese Gardens, an urban oasis full of breathtaking blossoms. For families, the Discovery Center Museum is a must-visit for 300 art exhibits to explore. Spend the afternoon at Prairie Street Brewing Company for a unique twist on usual bar food (Hello Korean street tacos), and of course, local brews.
Activity Highlight: If you're looking for more art adventures following the Discovery Center Museum, head to Rockford Art Museum to look at their century-old art collection. And just south of downtown, more nature walks await at the Klehm Arboretum and Botanic Garden.
Distance from Chicago: 1 Hour 30 Minutes
Madison, WI
One of the best day trips from Chicago is Madison, Wisconsin. It's a great place to visit all year round, but the summers are extra magical. With five lakes, the city seems to have an endless supply of watersports and waterfront dining. Beer lovers should tap into the many breweries and delicious restaurants in Madison.
Activity Highlight: While exploring Madison's waterfront, be sure to make a pit stop at Olbrich Botanical Gardens, where exotic foliage is always in bloom.
Distance from Chicago: 2 hr 20 minutes
Highwood, IL
This small Illinois town is big on festivals! Just a short drive north of Chicago, Highwood is a charming town with festivals of all kinds nearly every month. From foodie festivals like their taco fest to more obscure ones like the Garlic Festival, there's truly something for everyone here. To get an authentic feel of Highwood's culture, visit during October when their most iconic festival, The Great Highwood Pumpkin Festival, kicks off.
Activity Highlight: Coming during Pumpkin Fest season is a must. For the best experience, we recommend planning your trip for the entire festival weekend.
Distance from Chicago: 40 Minutes
Lake Geneva, WI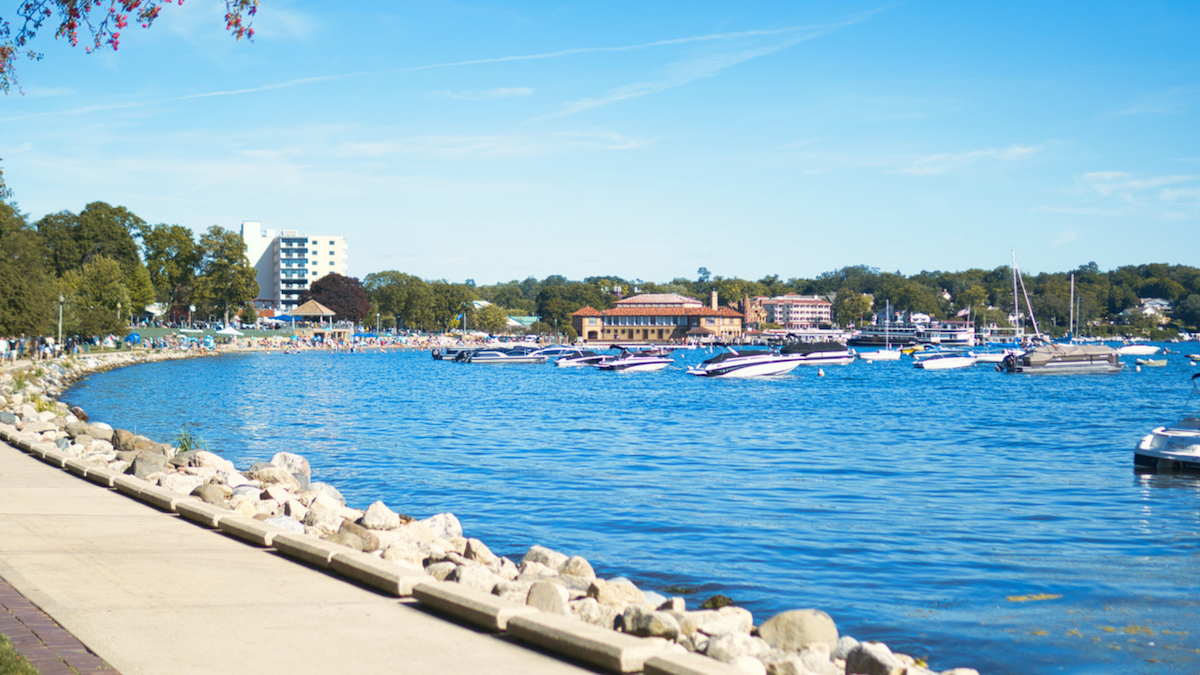 Resting on Geneva Lake, this is an ideal vacation spot for many Chicagoans. Lake Geneva, Wisconsin, was made for summer with endless water sports like kayaking and wake surfing. For the few moments when you're not on the water, the town center has simple local fare and even a popular waterfront champagne brunch in a 19th century mansion-style hotel.
Activity Highlight: Head to downtown Lake Geneva for Flat Iron Park, antique shopping, and cocktails at Fat Cats.
Distance from Chicago: 1 Hour 35 Minutes
Oglesby, IL
Nature lovers will adore this break from Chicago. Oglesby, Illinois is home to two state parks, and they surely don't disappoint. Spend the day getting freshair at Starved Rock State Park (the views are endless), or head to the less famous – but equally beautiful – Matthiessen State Park, where you'll find pristine hiking trails and waterfalls.
Activity Highlight: At Starved Rock, hop on a river cruise or choose from 13 miles of hiking trails. And at Matthiessen, choose from 5 miles of well-marked pathsranging from relaxed to more challenging.
Distance from Chicago: 1 Hour 40 Minutes
Cedarburg, WI
Need to decompress from city life? Wind down in Cedarburg. The locals take things slow in this small town. You'll spend your days wandering exhibitions at the Cedarburg Art Museum or sipping wine at the beautiful Cedar Creek Winery – whatever you do, take it easy here.
Activity Highlight: Cedarburg's downtown is quaint and perfect for afternoon strolling. Go shopping at the many boutiques along Washington Avenue.
Distance from Chicago: 2 Hours
Monroe, WI
Get in, we're going to the Swiss Cheese Capital of America! Monroe is a cozy town where cheese lovers can indulge in the many cheese-related activities offered here. There are many cheese shops to explore, but the best place to get up to speed on cheese history is the National Historic Cheesemaking Center. After, spend the evening strolling before heading to Minhas, a local brewery for a beer and cheese pairing.
Activity Highlight: For more cheese-tivities, head to Wisconsin's oldest cheese store, Baumgartner's, to sample delicious Wisconsin cheese and have the delectable treat in its second-best form – grilled cheese.
Distance from Chicago: 2 Hours 30 Minutes
Indiana Dunes National Park, IN
Often considered one of the coolest national parks in the midwest, Indiana Dunes is worth the trip from Chicago no matter the time of year. A true nature lover's paradise, there are over 15,000 acres of beaches, hiking trails, prairies, and more. It's easy (and highly recommended) to spend all day here.
Activity Highlight: While exploring Indiana Dunes, you shouldn't skip over Pinhook Bog, a unique wetland covered in rare flora and fauna. Don't forget to make a reservation for this ranger-guided experience, as it's a restricted trail not open to the public.
Distance from Chicago: 50 minutes
Michigan City, IN
Michigan City is the perfect day trip from Chicago for car-less city dwellers. Just a quick Amtrak ride and you'll be sitting seaside on Indiana's South Shore Line. You can also hop over into Michigan City proper to explore its best offerings like Washington Park or Old Light – one of the oldest lighthouses along Lake Michigan. Of course, there are also great breweries (check out Shoreline Brewery) and comfort food here, too.
Activity Highlight: Washington Park is one of the most Instagrammable spots in town. Head here for an IG-worthy photo shoot and spend time relaxing beachside.
Distance from Chicago: 1 Hour 20 Minutes
Holland, MI
No passport is needed to visit this Holland-inspired Illinois town! Named after the Dutch who settled here, Holland is a charming small town that feels cozy. There are antique windmills, unique shops, and even a Tulip Festival each spring. The Big Red Lighthouse in Holland is one of the most impressive in the state, sitting gorgeously in contrast to the blue hues of Lake Michigan.
Activity Highlight: For a close-up look at the windmills, spend the day at Windmill Island Gardens. Traditional Dutch performances (clogs and all!) happen here in the summer and 100% shouldn't be missed.
Distance from Chicago: 40 Minutes
Saugatuck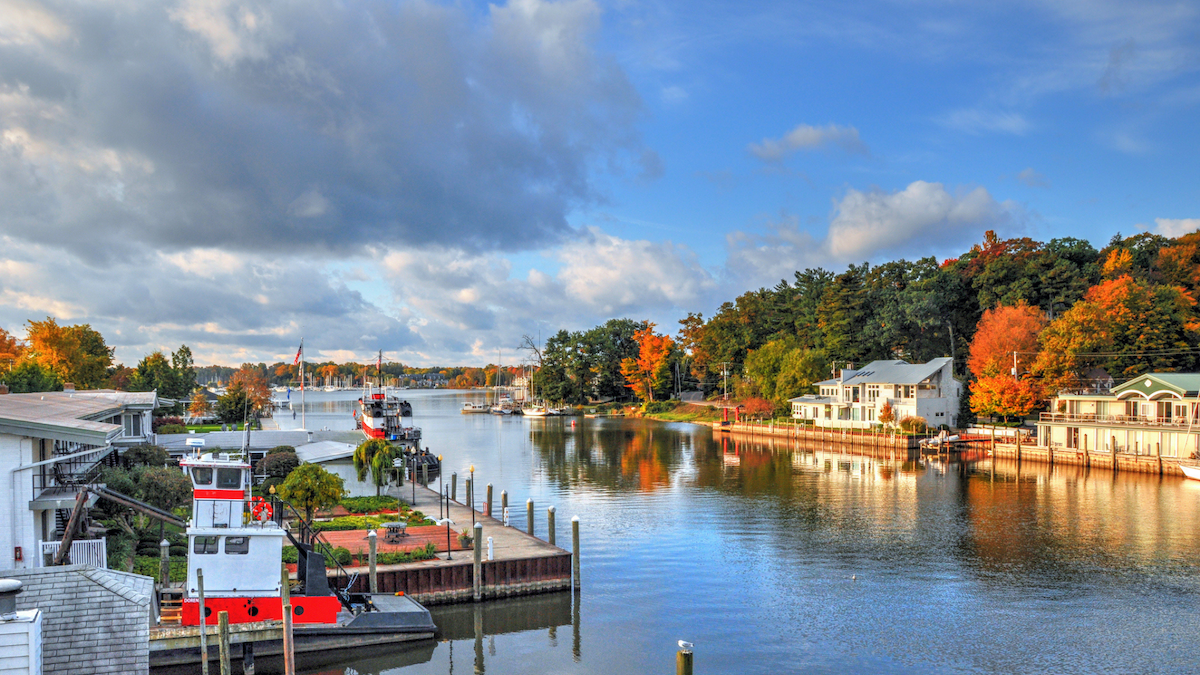 If you're unable to take a trip to The Hamptons this summer, Saugatuck is a great alternative. Located approximately three hours away from Chicago, this city offers stunning beaches, a thriving art scene, and great restaurants. Perfect for a family trip or girl's weekend.
Activity Highlights: Saugatuck Dune Rides, Star of Saugatuck Ferry Rides, Roan & Black Art Gallery
Distance from Chicago: 3 Hours
Grand Rapids, MI
Known as Beer City USA, Grand Rapids Michigan is the place not only for brew lovers but also for art and food enthusiasts. Brewery-hopping is the name of the game in Grand Rapids and at Brewery Vivant, a microbrewery with European-inspired beers housed in a historic former funeral home. Each year the city hosts ArtPrize, an international art competition where art can be found all around the city, from museums to public parks.
Activity Highlight: Create your own brewery-hopping tour by starting at Brewery Vivant in East Hill before wandering to Canal Park, where you'll find City Built Brewing. We highly recommend indulging in their Puerto Rican eats paired with local Michigan beers.
Distance from Chicago: 3 Hours
Milwaukee, WI
If you want to get out of Chicago but still need metropolis vibes, Milwaukee, Wisconsin is your answer. The city has a little bit of everything, from its famed bratwurst and beer to many riverside views. Milwaukee's undeniable charm can be experienced through its various shops (check out BC Modern for unique home decor,) galleries, and restaurants. Don't leave without eating your way through the Milwaukee Public Market or taking a stroll along Lakeshore State Park – 22 acres of urban bliss.
Activity Highlights: Hike the 14-mile long east-to-west Hank Aaron Trail. Along the way, make sure to stop at the prairie at Three Bridges Park to snap photos at the nearby domes of Mitchell Park.
Distance from Chicago: 1 Hour 30 Minutes
LIKE WHAT YOU'VE READ?
Never miss out on a new experience!
Create a Bucket Listers account to access exclusive offers and the latest news in your city