food & drink · arts & culture ·
Published March 7, 2023
The Best Places to Work Remotely in LA
Check off your to-do list while working remotely at these 10 awesome LA locations. 💻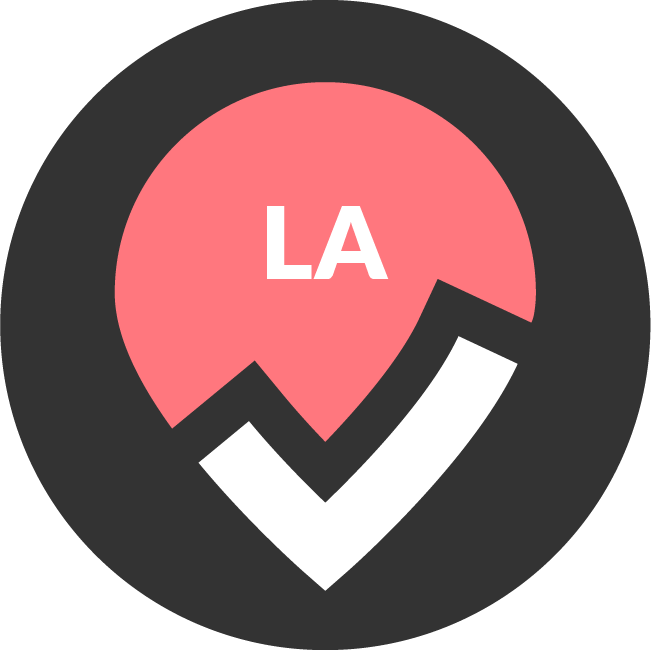 by Los Angeles Bucket List
While working from the comfort of your own home can be pretty awesome (more time with your dog, no need to change out of sweatpants), sometimes it's nice to get a change of scenery. If you're starting to feel a little stir-crazy working from home, it might be time to find a new remote work spot outside the house to mix things up.
Whether you're looking for a quiet place to power through some work or a buzzy coffee shop with great Wi-Fi to catch up on emails, we've got you covered. Here are a few of Bucket Listers' favorite places to get some work done while enjoying a change of scenery.
10 Cool Places in LA to Work Remote
Cafecito Organico
Settle into Cafecito Organico's spacious outdoor patio to enjoy a bit of LA sunshine while you tackle that endless to-do list. The cafe features a range of coffee, tea, and espresso drinks made with their own small-batch roasted coffees sourced from sustainable farmers. Try one of their delicious pastries or a quiche or sandwich made by Bread Lounge if you work up an appetite. On Fridays, opt for a taco or chilaquiles from on-site pop-up D LA Tostada for a treat!
WiFi: yes, free
Where: 534 N Hoover St, Los Angeles, CA 90026
Hours: 7 AM - 5 PM daily
Stories Books & Cafe
This trendy bookstore slash coffee shop slash bar does it all. Work amongst the stacks of books during the day while enjoying coffee from Seattle-based Broadcast roasters, or kick back with a glass of wine once you close up your laptop. They also have a large outdoor patio to enjoy some fresh air, and if you need a brain break, you can peruse the shelves and find your next read!
WiFi: free with a cafe purchase
Where: 1716 Sunset Blvd, Los Angeles, CA 90026
Hours: 9 AM - 9 PM daily
Second Home Hollywood
Second Home aims to be, well… your coworking home away from home, but with their amenity-packed facility, you might decide that you'd rather not ever leave! Their two-acre Hollywood campus promises to be LA's healthiest workspace, and they deliver on that promise. Second Home has outdoor workspaces scattered throughout the property, or if you need privacy, opt for one of their futuristic garden pods. They've also designed the space with over 112 species of biodiverse plants, plus pops of color throughout to give you a mood boost!
WiFi: yes, included with membership
Where: 1370 N St Andrews Pl, Los Angeles, CA 90028
Hours: Monday - Friday 8 AM - 8 PM, Saturday, 8 AM - 3 PM
Freehand Los Angeles
While away the day answering emails in the expansive lobby of the Freehand, a trendy hotel housed in DTLA's historic Commercial Exchange building. In the lobby, you'll find tons of comfy leather seating, plus lattes from Cafe Integral, the Freehand's specialty coffee bar, to keep you energized. Once you've finished up for the day, don't leave without stopping by the Freehand's signature Broken Shaker bar for a cocktail to reward yourself for a day of hard work.
WiFi: yes, free
Where: 416 W 8th St, Los Angeles, CA 90014
Hours: Open daily
Coffee Connection
You'll feel like you've stepped into the jungle when you arrive at Coffee Connection's lush outdoor patio in Culver City. Settle in for the day in this serene space while you enjoy a cup (or three) of their certified organic, fair trade, shade-grown, and carbon-free coffee. Wow! They've even got meeting rooms available on-site if you want to get a group of your remote colleagues together for a day of brainstorming.
WiFi: yes, free
Where: 3838 S Centinela Ave, Los Angeles, CA 90066
Hours: Monday - Saturday, 7 AM - 7 PM
BLANKSPACES
Dreaming of working by the beach? Now you can, at BLANKSPACES' flagship Santa Monica location. Let your creative energy flow at BLANKSPACES, where you'll be surrounded by entrepreneurs, freelancers, and other digital nomads. This beachside spot offers private offices, flexible open seating, meeting rooms, and event spaces. If you feel like a change of scenery, they have multiple SoCal locations to choose from.
WiFi: yes, included with membership
Where: 1450 2nd St, Santa Monica, CA 90401
Hours: Monday - Friday, 9 AM - 5 PM
Coffee Commissary
Coffee AND burritos?! What more could you need for a perfect WFH day. At this sleek coffee shop, remote workers can start their day with one of Coffee Commissary's gourmet coffees and enjoy a delicious burrito or tacos from their on-site food truck for lunch. They've got plenty of seating near their floor-to-ceiling windows, so you can watch the world go by as you conquer that inbox of yours.
WiFi: yes, free
Where: 801 N Fairfax Ave, Los Angeles, CA 90046
Hours: 6:30 AM - 6 PM daily
The Muse Rooms
The Muse Rooms is a coworking space by creatives, for creatives. They've curated thoughtfully designed spaces intended to spark your creativity with bright colors, lots of natural light, and an array of open spaces and private meeting rooms.
WiFi: free with membership
Where: 826 S Victory Blvd, Burbank, CA 91502
Hours: 6 AM - 11:30 PM, Daily
LA Public Library
When was the last time you went to a library? Well, if you're looking for a tranquil place to knock out a few hours of work without spending your entire paycheck on fancy lattes, break out that library card and hit up the LA Public Library for an overlooked hidden gem. Equipped with free WiFi, plenty of outlets, and comfy seating galore, the library is one place where you don't need to spend a dime on fancy coffee & pastries in to make yourself at home for the day.
WiFi: yes, free
Where: Central Library: 630 W 5th St, Los Angeles, CA 90071 (Additional branches are located throughout the city)
Hours: Monday - Thursday 10 AM - 8 PM, Friday: 9:30 AM - 5:30 PM, Saturday 9:30 AM - 5:30 PM, Sunday 1:00 PM - 5:00 PM
Procolo.Co
Amidst a sea of corporate co-working spaces that have popped up in recent years, Procolo.co stands out. This locally-owned, decidedly un-corporate boutique space in the heart of Culver City offers flexible workspaces with a casual community feel without being overcrowded. Their bright, industrial workspace has an abundance of private and shared workspaces for remote workers and teams to collaborate and get things done. They've also got rooftop decks with some of LA's best views for a change of scenery. It's a remote worker's paradise!
WiFi: free with membership
Where: 8611 Washington Blvd, Culver City, CA 90232
Hours: Monday - Friday, 8 AM - 6 PM
LIKE WHAT YOU'VE READ?
Never miss out on a new experience!
Create a Bucket Listers account to access exclusive offers and the latest news in your city