Published Invalid Date
12 Must-Do Experiences for Your Malibu Bucket List
Everything you need to know for the perfect coastal escape.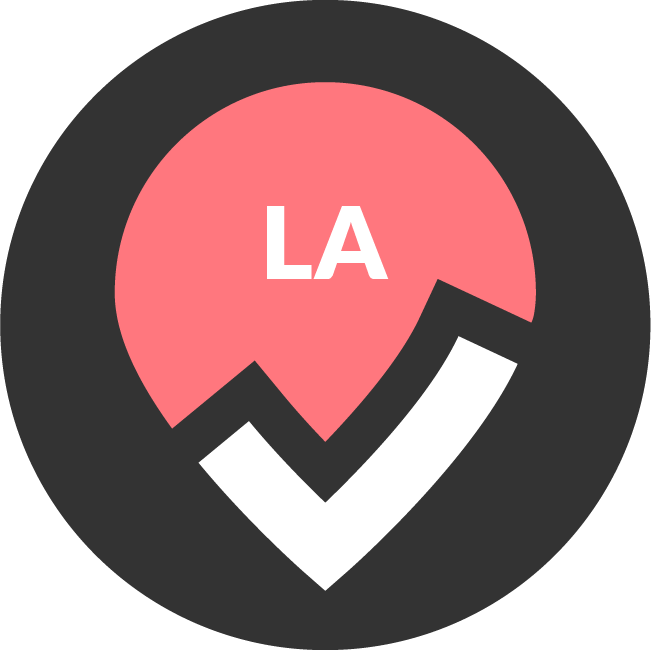 by Los Angeles Bucket List
Discover why Malibu has drawn celebrity residents and inspired top-charting songs with a visit to this seaside dreamland. Based on experience, we would say it's the delicious wine, unbeatable scenery, and plethora of options for fresh food.
This easygoing town is the perfect place for a weekend getaway or a day trip where you're hoping to unplug.
Bucket Listers gathered a ton of Malibu-must-dos, making itinerary planning for a weekend or day away that much easier. Read on for our top recommendations:
Go shopping at Malibu Country Mart
Spend all day shopping, or window shopping, at Malibu Country Mart. The boutique mall is located in the heart of Malibu at the Civic Center of Malibu. There are a ton of eateries at the seaside shopping center, too, so you truly can post up here and not leave. You might not want to, either. Celebs like Lindsay Lohan, Paris Hilton, and Vince Vaughn have been spotted perusing the place.
Where: 3835 Cross Creek Rd, Malibu, CA 90265
Rent surf boards and take lessons at Malibu Surf Shack
What's more quintessentially California than surf lessons? Shred some gnar on Pacific Ocean waves with Malibu Surf Shack. They offer both rentals and lessons, so no matter your level you have what you need for a fun day on the water. Standup paddle boards are also available. If you're feeling a bit shaky on two feet, you can opt to rent kayaks and body boards too.
Where: 22935 Pacific Coast Hwy, Malibu, CA 90265
Visit Cielo Farms winery
Cielo Farms sits on an estate that spans over thirty acres. You can catch gorgeous views of the Malibu Hills while walking through the farm's hundreds of olive trees. The tasting room takes table reservations and showcases Woodstock and Estate wines. Wellness events are also featured, including a yoga and sound healing workshop in the vineyard.
Where: 31424 Mulholland Hwy, Malibu, CA 90265
Relax under a Paradise Cove Beach Cafe palapa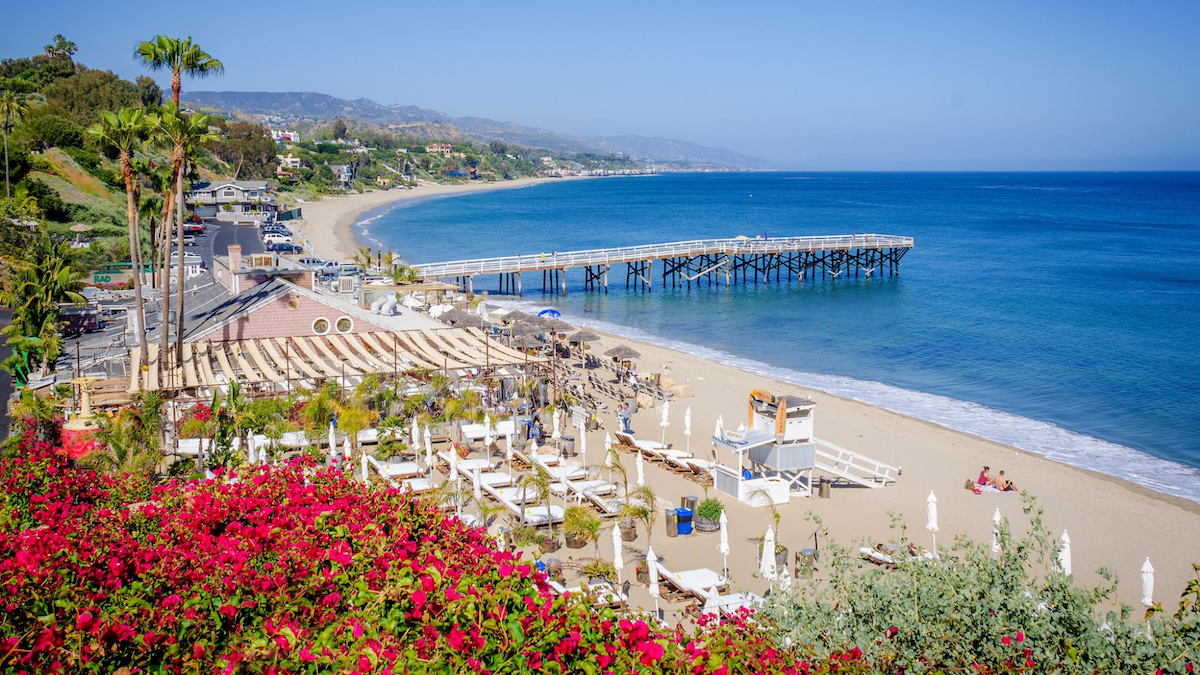 Paradise Cove Beach Cafe has all you need for the perfect Malibu beach day. Not only do they serve delicious food for breakfast, lunch, and dinner, but they also offer palapa and chaise lounge rentals from 10 AM to sunset, daily. Both beach rental options include umbrellas and complimentary beach towels. Palapas can fit up to 12 people and double chaise lounge reservations can fit up to 6. Who will you bring?
Where: 28128 Pacific Coast Hwy, Malibu, CA 90265
Spend all day drinking at and exploring Malibu Cafe at Calamigos Ranch
A day in the Malibu Mountains starts and ends at Calamigos Ranch. There's so much to do and explore, but you've got to start at Malibu Cafe for a bite to eat. The adventures continue at the lake after lunch, where you can rent paddle boats. There are also a ton of lawn games and lounge areas for enjoying the perfect Calfiornai sunshine. The whole place often hosts live music events, so you can sip your cocktails with entertainment to boot. Heated outdoor spaces are also plentiful, but do you really need further convincing?
Where: 327 Latigo Canyon Rd, Malibu, CA 90265
Horseback ride in a beautiful valley
Horseback riding in Malibu is an unforgettable experience, with stunning trails and epic views. High Horse Malibu offers private trail rides and even photoshoot packages. The private horseback ride includes moments for ocean and mountain views in Latigo Canyon. You'll trot through the Santa Monica Mountains and enjoy wildflowers depending on the season.
Where: 2142 Latigo Canyon Rd. Malibu, CA 90265
Take a hike through Malibu's wine region
Enjoy a guided 2.5 mile loop hike around stunning Malibu vineyards. You will get to walk through the vines, take in amazing views, plus view Native American cave paintings and explore an organic garden. The hike is considered easy to moderate with about 300 feet of elevation gain and loss. The same location also offers private vineyards adventure tours in 4x4s. Those tours include a charcuterie board and beverages.
Where: 32111 Mulholland Hwy, Malibu, CA 90265
For more information on Malibu wine hikes and adventure tours.
Take in the views at Point Dume Beach
If you're looking to experience California's coastal beauty then look no further than Point Dume State Beach. The beach is not only great for swimming, surfing, and scuba diving, but it's also an incredible spot to watch gray whales migrate along the coast during December to mid April. With wide beach access, it never feels too crowded. Bonus tip: there are plenty of tidepools to explore at low tide!
Where: Cliffside Dr &, Birdview Ave, Malibu, CA 90265
Make a pit stop at Nicolas Eatery off the PCH
Nicolas Eatery is a great stop for brunch, lunch or dinner in Malibu. They source ingredients from local farmers to create a delicious organic menu with a French twist. From onion soup to "fancy mushroom soup," tuna ceviche to escargot, their appetizer selections are certainly not lacking. For mains, we recommend the Lobster Roll or Steak Frites.
Where: 22333 Pacific Coast Hwy, Malibu, CA 90265
Taste delicious wine flights
Malibu Wines & Beer Garden is a great place to sip on local wine and regional craft beer. They're serving up Semler and Saddlerock label wines in the West Hills. Flights for two range from $49 to $65 and include a tasting note sheet to help guide you through your own wine tasting and branded glassware to take home.
Where: Malibu Wines & Beer Garden, 23130 Sherman Way, Los Angeles, CA, 91307
For more information on Selmer Estate and Saddlerock wine tasting experiences.
Spot celebrities at Geoffrey's
Everyone from Marilyn Monroe to Oprah Winfrey has dined at Geoffrey's. The iconic restaurant first opened and was called Holiday House in 1948. It eventually was sold and turned into Geoffrey's in 1983. It's known and loved by celebs and locals alike, maybe due to its panoramic ocean views or maybe because of its fresh menu selections. We recommend reserving a table and enjoying a brunch or lunch seaside.
Where: 27400 Pacific Coast Hwy, Malibu, CA 90265
Go on a vintage VW bus wine tour
Take a vintage VW bus tour through Malibu! The tour stops at local vineyards, beautiful overlooks, and cruises the canyons, all while sipping on Malibu's best vintages. Tours are guided and wine and snacks are included. While wine is provided during the tour, some tasting room stops do have additional costs for wine tastings and bottle purchases. Grab five of your best buds and get sipping!
Where: 32111 Mulholland Hwy, Malibu, CA 90265
LIKE WHAT YOU'VE READ?
Never miss out on a new experience!
Create a Bucket Listers account to access exclusive offers and the latest news in your city