fitness & wellness · food & drink · arts & culture · music & nightlife · attractions & tours · outdoor activities ·
Published January 21, 2023
The Ultimate Miami Spring Bucket List
All the best things to do in Miami this spring. 🌸🌇
by Miami Bucket List
We're pretty sure nowhere does spring better than South Florida, and we've got plenty of evidence. Whether you're into Formula One, tropical flowers, salsa dancing or speed boats— Miami is the place to be from March through May.
So before the summer steam rolls in, let's get to the absolute must-do's of springtime in Magic City:
Attend 2022's Miami Grand Prix F1 Race | May 6-8
The inaugural Miami Grand Prix will feature the first circuit to be designed by Formula 1! It's also the second US race on the F1 calendar–and the 11th American venue to host a round of the Formula 1 world championship! Is that enough reason to attend this race weekend for you yet? If not, it'll also be a dynamic and free flowing track, offering the latest 2022 cars to be put to the test.
​Where: 347 Don Shula Dr.
For more information on the Miami Grand Prix F1 Race.
Stop and smell the flowers at the Miami Beach Botanical Garden
The tropical oasis in the heart of Miami beach is in bloom. Tour the garden grounds 3 acres of flowering trees, orchids, philodendrons and over 100 palm species during this stunning season.
Where: 2000 Convention Center Dr
For more information to the Miami Beach Botanical Garden
Attend F1 Weekend with Whethan, Walshy Fire, & Goldroom | May 5-7
Spend a full weekend at Miami Freehold from Thursday, May 5 to Saturday May 7, with live DJs! Located in the heart of Wynwood, Miami's trendy arts district, Freehold has 3 bars, a courtyard and stage, a streetside cafe and 1970s NYC inspired pizza shop. On Thursday, see Major Lazer's, Walshy Fire, to celebrate Cinco De Mayo! There will be food and drinks all evening long. On Friday, Goldroom will be playing a feel good house music set to kick off F1 weekend! The fully outdoor event wraps up Friday with Whethan.
Where: Freehold Miami: 2219 NW 2nd Ave, Miami, FL 33127
For tickets to F1 Weekend.
View the Wynwood graffiti
For locals and well-timed tourists alike, you can't go wrong sightseeing through the mural-filled streets of Wynwood on a golf-cart. Bask in the world-renowned street artists like Shepard Fairey, Retna, DFace, Interesni Kaski, and the underground graffiti world by local artists who visit the district during Art Basel. The tour will also point out some of the best out-of-the-way restaurants and microbreweries to hit up after.Along with the gorgeous weather, spring is also the best season for wild manatee viewing! Grab your paddles and cameras to cruise through the tranquil Jimbo's lagoon in search of the beautiful and funny looking animals.
For tickets to the Wynwood Graffiti Golf Cart Tour.
Miami Beach Pride Parade | April 10
The Miami Beach Pride parade is scheduled for Sunday, April 10! There's also a stellar lineup planned for the entire Pride Week, which is April 1 through April 10. Brands, organizations and charities from all over the country assemble to party and march in solidarity along Ocean Drive to celebrate their Pride. Floats, cheerleaders, drag queen performers and more await you.

For more information on the Miami Beach Pride Parade.
Take a Miami-inspired cooking class
Cuban cooking ingredients are simple, yet savory, and influenced by many peoples that passed through the island, including the Spaniards, the Africans, the French and the native peoples. In a beautiful outdoor oasis—you can learn the tricks and tips in this hands-on three course cooking class, with apps and drinks served as you go!
For tickets to Flavors of Miami Cooking Class.
Go on a scenic helicopter tour
See the unmatched beauty of downtown Miami, white sand beaches, star island, and Miami sea life from high above the traffic. This is the perfect experience for a special occasion, or just to knock something off your bucket list.
For more information on the Miami Helicopter Tours.
Attend the world's first bitcoin music festival | April 9
Sound Money Fest is the world's first Bitcoin music festival, featuring multi-genre hits Logic, Steve Aoki, CL, Deadmau5, San Holo and more! The one-of-a-kind event will be hosted between two stages at Pride Park and Miami Beach Convention Center April 9th, as the grand finale of the 2022 Bitcoin Conference.
Where: 1901 Convention Center Drive
For tickets to Sound Money Fest.
Participate in a hypnosis show
For an entirely different type of thrill, indulge in an intimate, interactive evening of live hypnosis, hosted by the most viewed hypnotherapist in the world: Glenn Rottmann. In this mysterious show, audience members will experience a once in a lifetime trance-state of wonder, amazement and relaxation—coupled with hand-crafted cocktails and globally-inspired dishes.
​Where: Palapa at Upper Buena Vista, 184 NE 50th Terrace
For tickets to Whispers of the Mind Miami.


Get an adrenaline rush on a speedboat tour
This high speed cruise along the Miami coastline provides the ultimate sightseeing experience in true "Miami Vice Style". See celebrity mansions on Star Island, Fisher Island, Miami Beach, and see the Art Deco district of South Beach from your boat's (Thriller's) unique perspective in the Atlantic Ocean. Plus, catch panoramic sea life and skyline views of Miami.
​Where: 401 Biscayne Boulevard
For tickets to Hurricane Speedboat Tours.
Dance it off at a salsa dance party
For a tropical nightclub South Beach extravaganza, don't miss this package! Participants can sip mojitos, enjoy delicious appetizer plates, and booming live music, all while learning to dance beginner Salsa and Bachata. Literally shaking off winter blues.
​
Where: Mango's Tropical Cafe, 900 Ocean Drive
For tickets to Sip, Savor & Salsa South Beach Dance Party & Ultralounge
Dine amongst Chotto Matte's cherry blossoms
Chotto Matte is a world-renowned Nikkei (Japanese-Peruvian) restaurant serving food and avant-garde experiences in a vibrant and contemporary environment. And on March 24, 25, and 26—patrons can step into spring surrounded by elegant blossoms while sipping their favorite Chotto cocktails and tasting the sakura-inspired sushi platter. (For a more cosmopolitan twist on cherry blossom season.)
Where: 1666 Lenox Ave
Reserve your table at Chotto Matte.
Travel into a flora future at ARTECHOUSE's new exhibit
Spring is all about rebirth in nature, and fittingly, ARTECHOUSE is presenting its new exhibit: "Renewal 2121." Designed to transport visitors 100 years into the future, where nature's resilience takes center stage. See visions of optimism, climate change inspiration, "solarpunk" meets cherry blossoms all in this one-of-a-kind digital art exhibition.

Where: 736 Collins Avenue
For tickets to ARTECHOUSE Renewal 2121.
View the "Nature Connects" LEGO art exhibit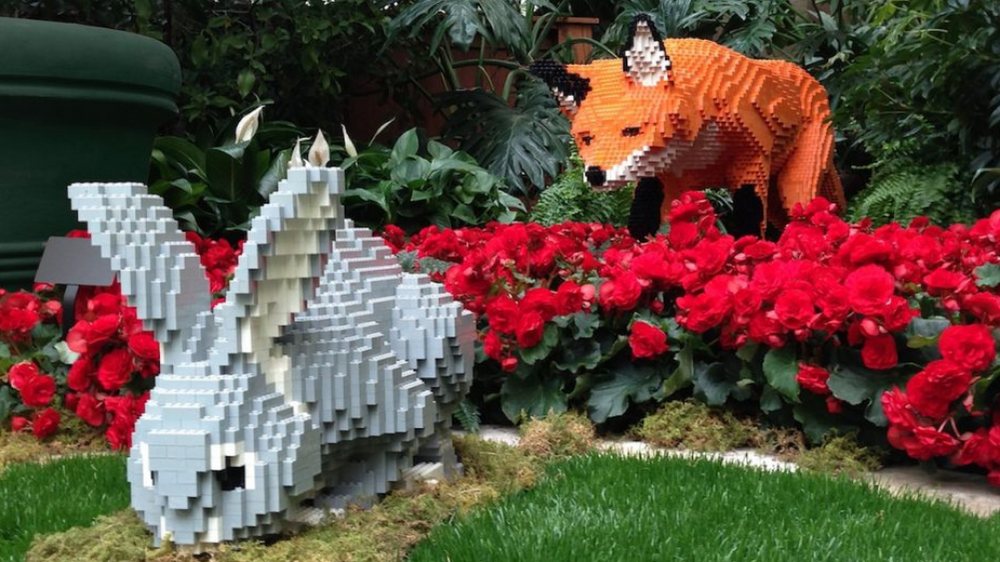 Open for viewing April 30 through August 28 at Fairchild's Tropical Botanic Garden, you're invited to view over 30 gigantic sculptures built with over 700,000 LEGO bricks. Each depicts animals, flowers and nature elements through gravity-defying and precise structures, prompting visitors to explore how our natural world is interconnected.
Where: 10901 Old Cutler Road
For more information on Fairchild's Tropical Botanic Garden.
Take a manatee photo safari on a kayak or paddleboard
Along with the gorgeous weather, spring is also the best season for wild manatee viewing! Grab your paddles and cameras to cruise through the tranquil Jimbo's lagoon in search of the beautiful and funny looking animals.
For tickets to the Manatee Photo Safari and Kayak/Paddleboard Tour
Take a stroll through the Morikami Museum and Japanese Garden
Soak up more of the spring greenery at the elegant Morikami's Gardens. Named Roji-en: Garden of the Drops of Dew, this living exhibit includes six distinct gardens inspired by different eras of Japan. And in February, despite the climate being ill suited for the plant normally, you can see the cherry blossoms flower thanks to the Morikami staff's careful and dedicated work.

Where: 4000 Morikami Park Road
For tickets to the Morikami Museum and Japanese Garden.

LIKE WHAT YOU'VE READ?
Never miss out on a new experience!
Create a Bucket Listers account to access exclusive offers and the latest news in your city