food & drink · arts & culture · music & nightlife · attractions & tours · outdoor activities ·
Published September 1, 2023
The Best Unexpected Date Ideas in LA
21 Date ideas that aren't just dinner and a movie.❤️‍🔥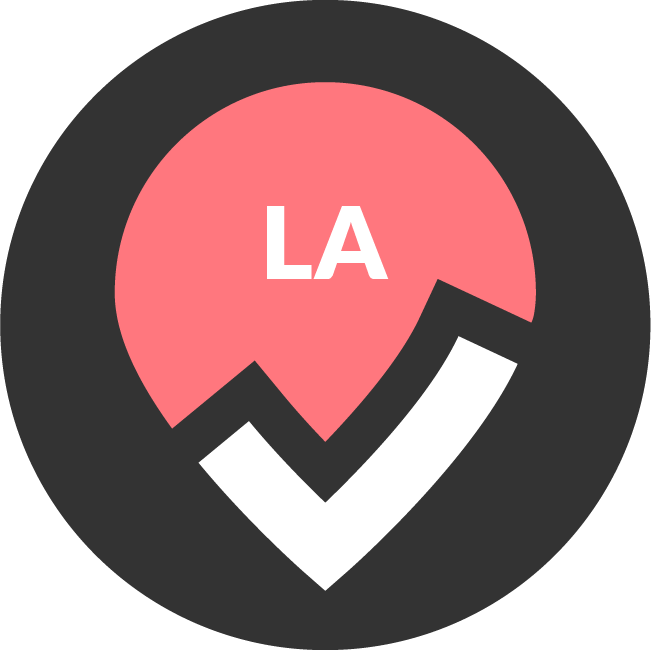 by Los Angeles Bucket List
Looking for the perfect spot for a first date? Stuck in an endless cycle of Netflix and chill? Don't worry, we're here to help rescue you from the same old boring date ideas. Los Angeles is jam-packed with exciting things to do, from horseback rides through the Hollywood Hills to underground comedy shows. Lucky for you, we've compiled all the best ideas into one handy list that will keep your date nights fun all year long.
20 Unique Date Ideas in LA
Watch a Movie Under the Stars
What do you get when you combine wine, skyline views, and great movies? A perfect date night. Cuddle up in a cozy lounge chair and watch movies under the stars with your date at Rooftop Cinema Club. The first glass of wine is included, and additional drinks and popcorn are available for purchase!
Where: 777 S. Alameda St. Los Angeles, CA
More information.
Take a Ride on Santa Monica's Iconic Ferris Wheel
Soar high in the sky together as you take in unbeatable ocean views and the Santa Monica Pier with your date on this iconic Ferris Wheel. Try to time your visit so you can catch the sunset for an extra romantic touch, and then stroll down the boardwalk and try your luck at a few games to end the evening. If it was romantic enough for Paris Hilton's wedding carnival, it should work for your SO too.
Where: 380 Santa Monica Pier, Santa Monica, CA 90401
More information.
Visit The FRIENDS™ Experience
Instead of staying home and bingeing your favorite sitcom reruns on your couch, head to The FRIENDS™ Experience, where you can actually step into your favorite sitcom and cuddle up on one of TV's most iconic couches. With two floors of immersive experiences, it's the ultimate spot for FRIENDS™ fans. You can hang out at Central Perk, sit at Monica and Rachel's kitchen table, kick back and relax in Joey and Chandler's comfy chairs, and so much more. Just make sure you and your date are on the same page about Ross and Rachel's break—that may be a dealbreaker.
Pro-Tip: Book through Bucket Listers for the lowest ticket prices available!
Where: Lakewood Center: 4661 Silva St, Lakewood, CA
More information.
Check Into LA's Scariest Hotel for an Escape Game
Show off how brave you are and see if you and your date have the chemistry to work as a team at the world's largest multi-themed escape room. Located in Hollywood, Escape Hotel features multiple escape game rooms with various themes and difficulty levels to choose from. From the moment you step in, you'll be transported into a 1920s hotel where all the dead souls are still around to haunt you—and it's not just inside the game. From the grand lobby to the eerie hallways, you'll find haunting surprises around every corner.
Where: 6633 Hollywood Boulevard, Los Angeles, CA
More information.
Go Hydrobiking in Long Beach
You know what they say: the couple that Hydrobikes together stays together...or something like that. Regardless, getting active and spending a day on the water makes for a fun time and a memorable date. Choose daytime, sunset, or evening glow rides—where the Hydrobike fleet is lit up with LED lights. Along the way, you'll pedal past stunning sandy beaches, glimpse the occasional wildlife and soak up beautiful views of scenic Alamitos Bay.
Where: Long Beach Waterbikes: 164 N. Marina Dr., Long Beach, CA
More information.
Sample World Cuisine at Grand Central Market
This one-of-a-kind food market has everything you can dream of, from piping hot pupusas to fresh handmade pasta and more. Come hungry and roam the stalls with your date, sampling everything the market has to offer. There's even a vintage photobooth on-site for you to snag some photos of your visit!
Where: 317 South Broadway, Los Angeles, CA
More information.
Go on a Vintage VW Bus Tour Through Malibu
No basic happy hour dates allowed! Instead, channel your inner hippy together while riding in style on a retro-chic VW bus to tour some of Malibu's best vineyards. On this adventure, you'll sample wines and nosh on snacks at several wineries along the way, plus take in the views from Malibu's gorgeous canyons and cliffs. Each tour also comes with two bottles of wine to take home, so you can keep the fun going!
Where: 32111 Mulholland Hwy, Malibu, CA 90265
More information.
Transport Yourselves to France with Dinner at The Little Door
When you step through the doors of this chic spot and onto its Mediterranean-inspired patio, you and your date will wonder if you're still in LA or if you've teleported straight to France! The candlelit tables surrounded by lush greenery create the perfect cozy, intimate ambiance for a romantic night out. Share a few farm-to-table dishes made with fresh, locally sourced ingredients and paired with a glass of vin from their impressive wine list.
Where: 8164 W. 3rd Street, West Hollywood, CA 90048
More information.
Reserve a Private Gondola in Newport Beach
Picture this: You and your special someone, a platter of appetizers, and a romantic gondola ride through Newport Harbor. Choose an Antipasto or Dessert cruise—both include wine or champagne or go more casual with a pizza cruise that includes a slice of gourmet cheesecake for dessert! The tours are hosted by a charming gondolier who will be happy to tell you about the history of gondolas or serenade you with a traditional Venetian tune.
Where: 200 Bayside Drive, Newport Beach
More information.
Wander the Sprawling Los Angeles Flower Market
You and your date can wander the stalls and shops together at this historic flower market as you admire row upon row of fresh, unique flowers. Stop here in the morning before heading out to brunch nearby for a perfect weekend date. As a bonus, you can pick up a romantic bouquet on the spot!
Where: 754 Wall St. (between 7th and 8th), Los Angeles, CA 90014
More information.
Get Lost in the Getty Villa Museum
While you may not be able to hop on a plane with your beau and jet off to Italy, you can head to the Getty Villa Museum for your own Italian adventure right in LA. This museum is located in a recreated Roman country house with stunning gardens to stroll through, plus an impressive collection of classical art to peruse with your date. Entry is free, but reservations are required.
Where: 17985 Pacific Coast Highway, Pacific Palisades, CA 90272
More information.
Hike the Park to Playa Trail
The Park to Playa trail connects a network of trails and open spaces to the Pacific Ocean at Playa del Ray. Starting at Baldwin Hills Parklands, there are multiple trail access points in six segments: Stocker Corridor, Kenneth Hahn State Recreation Area, Blair Hills – Segment C, Baldwin Hills Scenic Overlook, Culver City Park, and Ballona Creek Bike Path. The gorgeous trail opened in 2021 and offers a lower elevation with peaceful views.
Hiked it already? Check out the Bucket Listers LA hiking guide for a list of the most scenic trails in the area.
Trailhead address: 34°00'57.6"N 118°22'55.4"W.
More information.
Experience a Wine Tasting for Two
Have fun sipping your way through a variety of wines during an exclusive tasting experience at Malibu Beer & Wine! Each experience includes a pre-set flight for two with a tasting note sheet so you can remember your favorite sips, plus a cheese and charcuterie board to nibble on and branded glassware to take home. It'll be a day to remember, and you might even find a new favorite wine to share on future date nights!
Where: 23130 Sherman Way, West Hills, CA 91307
More information.
Catch a Comedy Show
Get ready to laugh the night away together at The Stowaway. Bringing you the most talented comedians and rising stars, this comedy spot is a great way to break the ice and share some jokes. Headliners from Los Angeles and comedians from CONAN, America's Got Talent, and HBO will be showcasing their funniest material.
Where: 416 S Spring St, Los Angeles, CA
More information.
Take a Creative Sneaker Customization Workshop
Stylish couples will love this custom sneaker-decorating class, where you can create a unique work of art that you can wear! In this workshop, a pro from Majorwavez Lab will guide you through the process of sewing or painting your sneaks to create a one-of-a-kind design. The best part? Once you're done, you can think of your date every time you rock your new kicks with your favorite outfit!
Where: Nesquik: 1457 Colorado Blvd. unit 102, Los Angeles, CA, 90041
More information.
Take a Ride on the Angels Flight Railway
LA's Angel's Flight puts the "fun" in funicular. The historic landmark is located in Downtown Los Angeles and boasts the title "world's shortest railway." The fare is $1 each way, making it the perfect cheap (but fun) date. If you're a LaLa Land fan, you'll recognize Angels Flight from a romantic scene in the movie!
Where: 350 S Grand Ave, Los Angeles, CA 90071
More information.
Take a Guided Horse Trail Ride
Take a guided horseback ride with your boo through the Hollywood Hills and see some of LA's most iconic landmarks, like the Griffith Observatory and Hollywood Sign. Schedule an evening tour to catch sunset views and romantic vibes, or go on a Saturday or Sunday morning and round out your day date at one of LA's best brunch spots.
Where: Sunset Ranch Hollywood: 3400 N Beachwood Dr, Los Angeles, CA
More information.
Experience the Mosaic Tile House
The Mosaic Tile House is an epic celebration of art and color right in the heart of Venice. Almost every inch of this unique space is covered in vibrant tiles, and the mix-matched shards provide a unique backdrop for photos and exploring the property. With eye-catching pieces of art to investigate everywhere you turn, you can definitely get lost in this labyrinth.
Where: 1116 Palms Blvd Venice CA 90291
More information.
Fly Above LA on a Sunset Flight Tour
Watch your love soar to new heights! Experience the city from a new perspective as the sunset flight tour flies you above Downtown Los Angeles, Dodger Stadium, Griffith Observatory, Hollywood Sign, and much more!. The 45-minute flight can include champagne for a $60 add-on.
Where: Sunset Flights 4015 Santa Anita Ave, El Monte, CA 91731
More information.
Visit The LAB Anti-Mall
The LAB Anti-Mall is the perfect indoor-outdoor hangout spot, packed with a variety of shops, restaurants, and cafes to peruse. "LAB" stands for "Little American Business," as the retail center aims to support artisans and local businesses. With a ton of art around and live music often on the agenda, you wouldn't get bored with your date here.
Where: 2930 Bristol St, Costa Mesa, CA 92626
More information.
Make (and Drink) Cocktails Together
Everyone has gone out for drinks with a date before, but have you ever been your own mixologist and made the drinks yourself? Head to The Victorian in Santa Monica, where an expert mixologist will teach you and your date how to make the perfect espresso martini. You'll bond over shaking and stirring and enjoy your creations alongside snacks and a delicious charcuterie board.
Where: The Victorian: 2640 Main St, Santa Monica, CA
More information.
EXPLORE MORE:
The Best Restaurants for Group Dinners in LA
The Best Getaway Trips from Los Angeles
The Best Places for Happy Hour in Los Angeles
LIKE WHAT YOU'VE READ?
Never miss out on a new experience!
Create a Bucket Listers account to access exclusive offers and the latest news in your city