food & drink ·
Published February 21, 2023
The Best Places for Brunch in Los Angeles
Because the best things in life come with an egg on top and potatoes on the side. 🍳🥞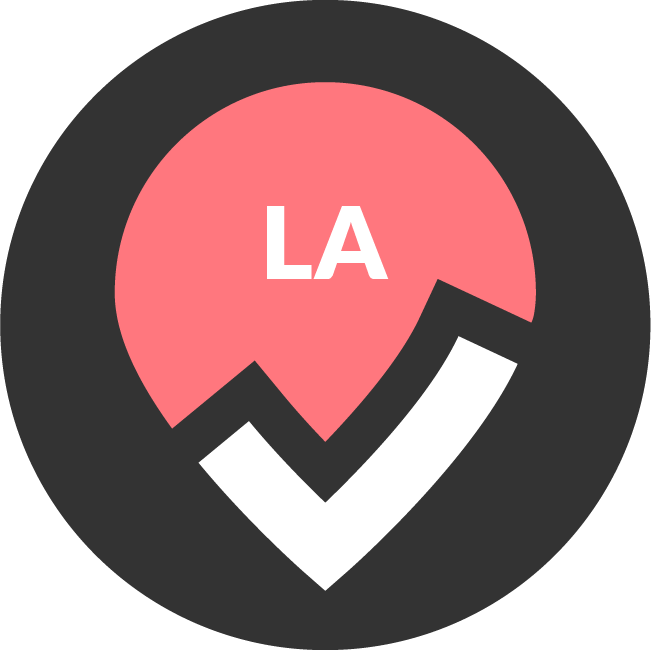 by Los Angeles Bucket List
There's a reason why brunch is basic—it's genuinely delicious. After all, who doesn't love to dish about last night's antics over a dish of syrupy waffles and a glass of mimosa? From freshly baked croissants and specialty coffee to loaded avocado toasts and green eggs and ham, we've rounded up the best places for brunch in Los Angeles.
15 Delicious Brunch Spots in LA
Flake
Neighborhood: Venice
Open between 8 am 3 pm on the weekends, Flake is a brunch spot by design. The grab-and-go spot has outdoor tables available first come first serve. That said, Venice locals know the real move is to head to the beach for an oceanfront picnic. The sandwiches (looking at you, Super Crojo) are excellent but don't sleep on the Acai bowl.
Where: 513 Rose Avenue Los Angeles, CA, 90291
For more information on Flake.
Blu Jam
Neighborhood: Hollywood
Founded in 2006, Blu Jam has been serving all-day breakfast for over a decade. Blu Jam serves of Mexican brunch daily, featuring chilaquiles, omelets, vegan hash, churro french toast and more.
Where: 7371 Melrose Avenue, Los Angeles, CA 90046
For more information on Blu Jam.
Urth Caffé
Neighborhood: DTLA
It's a classic for a reason. Urth Caffe has been a leader in sustainable, natural foods for decades. With a wide-ranging menu of healthy fare that also features a breakfast potato, this spot has something for even the most picky of eaters.
Where: 459 S. Hewitt St. Los Angeles, CA 90013
For more information on Urth Caffé.
Poppy + Rose
Neighborhood: DTLA
Most brunch spots focus on the breakfast and skimp on the lunch. Not Poppy + Rose. While the chicken and waffle sandwich is a can't miss, the standard chicken sandwich and grain bowl also deserve their accolades. Aptly named for its home in the Flower District, Poppy + Rose is a favorite among tourists and DTLA locals for a reason.
Where: 742 Maple St., Los Angeles, CA 90014
For more information on Poppy + Rose.
Toca Madera
Neighborhood: West Hollywood
This West Hollywood spot incorporates locally made ingredients in everything — from their craft cocktails to their Mexican brunch dishes. At Toca Madera, the aesthetic and the cuisine are given unparalleled attention to detail. As an added bonus the easily adaptable menu can be tailored to the varied dietary preferences of your dining companions.
Where: 8450 West 3rd Street, Los Angeles, CA 90048
For more information on Toca Madera.
Pink Taco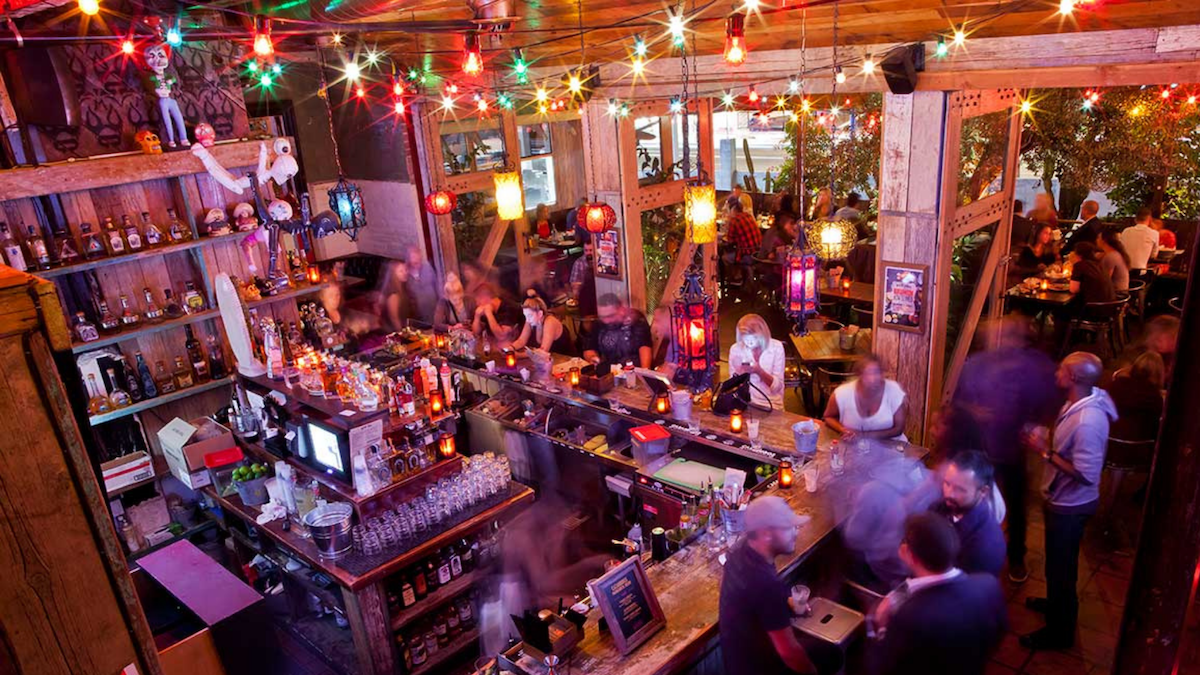 Neighborhood: Los Angeles
If Taco Bell's breakfast menu is calling your name, skip the drive-through and head straight to Pink Taco on Sunset. Don't sleep on their flavorful chilaquiles, inspired pink churro pancakes, or loaded breakfast burrito. If you just can't choose, the "All-American Breakfast Plate" has a little bit of everything. Whatever you choose, wash it down with one of their 12-house margaritas.
Where: 8225 Sunset Blvd, Los Angeles, CA 90046
For more information on Pink Taco.
No Jealousy
Neighborhood: Los Angeles
If a sit-down brunch just doesn't seem exciting, consider the No Jealousy Brunch Party, a decidedly exciting affair. This experience boasts ginormous drinks to share, live music that will get you out of your seat dancing, and world-class food that will you sit you right back down. Afterall, champagne cocktails pair well with croque monsieurs.
Where: 8117 Sunset Blvd, Los Angeles, CA 90046
For more information on No Jealousy.
The Griddle Cafe
Neighborhood: Los Angeles
You better bring your dream and a cardigan to this Sunset Boulevard spot that boasts skyline views of Los Angeles and fluffy pancakes. Breakfast is served all day long here…and so are the bottomless mimosas. Known for their inventive flavor combos, menu highlights include red velvet, Frost Flake, caramelized banana, and raspberry lemon hotcakes.
Where: 7916 Sunset Boulevard currently at Yamashiro Hollywood Los Angeles, CA 90046
For more information on The Griddle Cafe.
Great White
Neighborhood: Venice
This all-day, no-reservations spot in Venice has all the classic brunch fare with a decidedly California flare. That means super-flavorful condiments like a harvest bowl where whipped miso is the star of the show, sourdough as the house bread, a breakfast burrito that has chives, scallions, chipotle aioli, and salsa.
Where: 1604 Pacific Ave, Venice Beach
For more information on Great White.
Lady Byrd Café
Neighborhood: Echo Park
It doesn't get more LA than farm-to-table, all-day brunch. Menu highlights include lemon poppyseed pancakes, pulled pork sandwiches, vegan eggs, and a kid's menu for little ones.
Where: 2100 Echo Park Ave, Los Angeles, CA 90026
For more information on Lady Byrd Café.
Republique
Neighborhood: Mid-city
Going to brunch at Republique is like indulging in a little slice of Los Angeles history. Located in the heart of the city in a building originally commissioned by Charlie Chaplin (yes, really) in 1929, this spot is a match made in heaven for foodies and cinephiles alike. When it comes to the menu can't go wrong…unless, of course, you skip on their house-made bread.
Where: 624 S La Brea Avenue Los Angeles, California 90036
For more information on Republique.
The Breakfast Club
Neighborhood: Hollywood
If you're an East Coast transplant missing the diner breakfasts of your youth, The Breakfast Club should be at the top of your list. They've got something for everyone from diner purists to that one person in your friend group who claims they hate breakfast food. Menu highlights include buttermilk pancakes, croissant french toast, chicken fried steak, carbonara, and a bacon egg and cheese on a brioche.
Where: 1600 Vine St Hollywood, CA 90028
For more information on The Breakfast Club.
Cora's Coffee Shop
Neighborhood: Santa Monica
Cora's Coffee Shop sees the local food movement and does it one better: They grow their own fruit and veggies at a farm about a mile from their Santa Monica restaurant. That's a good thing because they center their menu around fresh produce and Mexican fare. Located just half a block from the beach, you can nosh in their walled garden or take it to go to eat by the water.
Where: 1802 Ocean Avenue, Santa Monica, California 90401
For more information on Cora's Coffee Shop.
Huckleberry Cafe
Neighborhood: Santa Monica
Founded by two Santa Monica natives and restaurant industry vets, you know you're guaranteed a good meal at HuckleBerry Cafe. From classic, fluffy pancakes to an inventive take on green eggs and ham, HuckleBerry infuses whimsy and warmth in every bite.
Where: 1014 Wilshire Blvd, Santa Monica, CA 90401
For more information on Huckleberry Cafe.
The Independence
Neighborhood: Santa Monica
The food at The Independence is great — think classic brunch fare with a So-Cal twist. But the real star of the show at this waterfront tavern is the drinks. Fan favorites are the lime-forward Melrose made with tequila and Aperol and the Vanilla Latte Martini, which is great if you can't choose between coffee or something just a bit stronger.
Where: 205 Broadway, Santa Monica, CA 90401
For more information on The Independence.
LIKE WHAT YOU'VE READ?
Never miss out on a new experience!
Create a Bucket Listers account to access exclusive offers and the latest news in your city