arts & culture · attractions & tours · outdoor activities ·
Published March 20, 2023
37 Fun Activities in San Francisco That Don't Involve Alcohol or Food
Let's go out—minus the calories and hangovers.
by San Francisco Bucket List
Ever feel like city to-do lists are a revolving door of brunch spots and bars? While we love a good cocktail or gelateria as much as the next guy, we're equally happy to provide some sober, active adventures to shake your routine up.
Far from being all espresso martinis, San Francisco is a treasure trove of sights to explore: there are beaches for basking, lakes for paddling, science exhibits to peruse, and even a church to skate through. Let's get into it!
The Ultimate Guide to Sober Activities in SF
Stroll Through Umbrella Alley
Ending with a splash, make sure to check out the interactive mural spectacle that is Umbrella Alley! Located in the famed San Francisco Fisherman's Wharf, this spot is perfect for your next Instagram shoot.
Where: 757 Beach St
For more information on the Umbrella Alley.
Visit the Legion of Honor
Built to honor Californian soldiers who died in World War I, the Legion of Honor displays over 4,000 years of ancient and European art, all in a stunning dripping-in-gold neoclassical building overlooking Lincoln Park and the Golden Gate Bridge.
Where: 100 34th Avenue, Lincoln Park
For more information on Legion of Honor.
Explore the Palace of Fine Arts
The Palace of Fine Arts is an extravagant architectural icon—an open-air palace building surrounded by an idyllic pond often graced by snow-white swans. It's so beautiful that many couples use it as the backdrop for wedding photo sessions.
Where: 3601 Lyon St
For more information on the Palace of Fine Arts.
Swing Dance at Verdi Club
In the same vein, don't sleep on Verdi Club, the historic 100-year-old social club in the heart of the Mission district. Whether you're learning to swing at The Woodchopper's Ball on Tuesday nights, or hosting a fabulous dance party in the 2500-sq ft. ballroom, this swing hotspot sets the perfect mood for dancing the night away.
Where: 2424 Mariposa St
For more information on Verdi Club Swing Dancing.
Visit Baker Beach
Stretching a mile below the rugged cliffs on the Presidio's west shoreline lies a neighborhood beach with panoramic views of the Golden Gate Bridge, Marin Headlands, and Land's End! Feel free to bring your Labradoodles—it's an off-leash dog beach.
(Heads up: North Baker Beach is a clothing-optional area)
Where: 1770 Gibson Rd
For more information on Baker Beach.
Climb All of the City's Iconic Stairs
The city known for its steep hills has definitely decked out many of its inclines in style. Take in some of the iconic steps like the mosaic Hidden Garden Steps on 16th Ave, the gorgeous tree-lined wooden staircase on Macondray Lane, and the iconic (and challengingly steep) Coit Tower steps, to name a few!
Where: Various locations
Skate at the Church of 8 Wheels
There's no one single quintessential San Francisco activity, but if there was, a case could be made for skating at the Church of 8 Wheels. This disco-themed skating rink in an abandoned cathedral is complete with a DJ stage/altar.
Where: 554 Fillmore St
For more information on the Church of 8 Wheels.
Swing Above the City at Billy Goat Hill
Not only is there a pretty view of the city skyline from Billy Goat Hill, there's also a vanishing swing that delights daring visitors (sadly, someone keeps cutting the swing down, but kind people keep putting it back up). The hill is located in a quiet San Francisco neighborhood, above Noe Valley and just down from Diamond Heights.
Where: 2442 Castro St
For more information on Billy Goat Hill.
Hike Around the Sutro Baths
The Sutro Baths are made up of the ruins of a large private saltwater pool that now flows out into the ocean in the gorgeous Land's End beach area. Peek into the cave at the bottom of the baths, walk the pleasant cliffside trail for stunning views of the sea and bridge, and return in time for sunset at the top of the stairs.
Where: 1004 Point Lobos Ave
For more information on the Sutro Baths.
Take a Private Tour of the Blue Painted Lady
Speaking of the famed Painted Ladies, one is now open for private viewings! The Blue Painted Lady is one of the most original and pristinely preserved of the seven on Postcard Row. Tour the interior that reflects almost 173 years of the owner's family history in the city.
Where: 710-720 Steiner Street
For more information on the Blue Painted Lady.
Take a Photo with the Painted Ladies at Alamo Square Park
One of San Francisco's best lesser-known parks, Alamo Square, is a green hill with a playground, tennis courts, and Instagram-worthy views of the iconic "Painted Ladies." Bonus for pet owners: there's a great dog park area at the top.
Where: Hayes St
For more information on Alamo Square Park.
Paddle Around on Stow Lake
Also within the Golden Gate Park greenery lies a large lake dotted with hidden waterfalls, a stone bridge, a Chinese pagoda, and wildlife galore. Head to the boat house to rent a rowboat, electric boat, or pedal boat starting at $26/hour and enjoy a relaxing glide across the scenic waters of Stow Lake.
Where: 50 Stow Lake Dr
For more information on Stow Lake Boathouse.
Tour the Conservatory of Flowers
Don't miss the stunning rare bloom viewings at the Conservatory of Flowers, also included among the iconic Golden Gate Park activities. Our favorite time to visit is the holiday season night bloom tours, but there's always something exotic to see!

Where: 100 John F Kennedy Dr
For more information on SF Conservatory of Flowers.
Visit Golden Gate Park
The iconic 1,000+ acres of greenery contains botanical gardens and a Japanese Tea Garden, a dutch windmill, the SkyStar Wheel, multiple museums, paddle boats at Stow Lake, and even a live Buffalo Paddock to explore!
Where: 75 Hagiwara Tea Garden Dr (starting at Japanese Tea Garden)
For more information on Golden Gate Park.
Visit Crissy Field Beach
​​​​​With a stunning view of the Golden Gate Bridge​, Crissy Field East Beach is where locals come to bask, fog or shine. The windy beach is also a kitesurfing hotspot, for the adrenaline beachgoers and sports fans among us.
Where: 1750 Lincoln Boulevard
For more information on Crissy Field Beach.
Listen to the Wave Organ
Talk about putting your ear to the ocean! The San Francisco Wave Organ is a granite, wave-activated acoustic sculpture located on a jetty in the SF Bay. Through a series of pipes, the Wave Organ interacts with the waves of the bay and conveys their sound to listeners at several different stations. We recommend a visit at high tide.
Where: 83 Marina Green Dr
For more information on the SF Wave Organ.
Take a (Free) Walking Tour with SF City Guides
City Guides is a non-profit organization with over eighty 1.5 to 2-hour historical and architectural walking tours in San Francisco, allowing you to learn about the diverse ways the foggy city became the vibrant place it is today.
Where: 100 Larkin Street
For more information on SF City Guide Tours.
Take In the View from the Battery Spencer
Once a military fort, Battery Spencer is now a 19th-century concrete battery featuring panoramic views of the Golden Gate Bridge and Marin Headlands area. It's an easy drive over the bridge with plenty of parking nearby, making it the perfect spot to enjoy an afternoon!
Where: Conzelman Rd, Sausalito
For more information on the Battery Spencer.
Discover Salesforce Rooftop Park
A tech company creation for all! Everyone is welcome to enjoy this public park/living roof with a curved walking trail lined with benches, surrounding grassy lawns, dancing fountains, a children's play area, and an amphitheater.
Where: 425 Mission Street
For more information on the Salesforce Rooftop Park.
Spend a Day at the San Francisco Zoo
Lions and tigers and bears–literally! The expansive San Francisco Zoo is always a crowd-pleaser with exhibits like the Hurst Grizzly Gulch, nature trails, and playgrounds throughout the park.
Where: Sloat Blvd & Upper Great Hwy
For more information on the San Francisco Zoo.
Experience the Musée Mécanique
Step into a simpler time at this iconic antique arcade! This collection will take you on a journey from hand-cranked music boxes all the way up to modern arcade games.
Where: Pier 45
For more information on the Musée Mécanique.
Take the Ferry to Angel Island
Golden Gate Ferry operates daily to and from the San Francisco Ferry Terminal (SFFT) and Angel Island State Park. Hop on board and travel to the island to experience miles of superb hiking trails, camping sites, beaches, and breathtaking views of the entire Bay Area.
Where: 1 Ferry Bldg San Francisco
For more information on the Ferry to Angel Island.
Play Fetch at Fort Funston Dog Park
Let Fido run free at this off-leash beach complete with surrounding trails and 200-ft high bluffs for hang gliding.
Where: Fort Funston Rd
For more information on the Fort Funston Dog Park.
Wander the SFMOMA
Nestled in the FiDi, the sprawling San Francisco Museum of Modern Art houses over 33,000 works of contemporary art, making the museum one of the largest of its kind in the world. The exhibit themes range widely from Subway Art to large-scale sculptures to pop art to film soundtracks. Bonus: entry is free for locals every first Thursday from 1-8 PM.
Where: 151 3rd St
For more information on the SFMOMA.
Play Pinball at the Emporium Arcade
Enter the massive, LED-lit two-story Emporium for a night of old-school arcade games, complete with pinball, air hockey, and pool tables.
Where: 616 Divisadero St
For more information on the Emporium Arcade.
Attend the Ballet
Returning for the 2023 season with a bang pirouette, the San Francisco Ballet offers world-class performances. This year features nine world premieres from nine international choreographers, as well as three beloved story ballets: Giselle, Romeo and Juliet, and Cinderella.
Where: War Memorial Opera House, 301 Van Ness Avenue
For more information on the SF Ballet.
Tour the California Academy of Sciences
The Cal Academy is the only place on earth to contain a Planetarium, Rainforest, Aquarium, and Natural History Museum all under one roof (which is a "living" roof, to boot). Grab a Planetarium movie ticket, and amble through the iridescent Aquarium to contemplate the beauty of life while searching for elusive Octopi.
Where: 55 Music Concourse Drive
For more information on the California Academy of Sciences.
Bike Around the City
There's no better way to see the city than from the seat of a bike! Take a guided bike tour and explore historic sites, hidden gems, and breathtaking views across the Bay Area. Choose from a variety of bike tours suitable for all ages, levels, and ride types.
Where: Fisherman's Wharf
For more information on San Francisco Bike Tours & Rentals.
Explore the Presidio
For a forested park with miles of trails, a golf course, and plenty of scenic overlooks, head to the Presidio! There are also historic buildings to check out like the Walt Disney Family Museum, with general admission tickets starting at $25.

Where: 104 Montgomery Street in the Presidio
For more information on the Presidio.
People-Watch at Dolores Park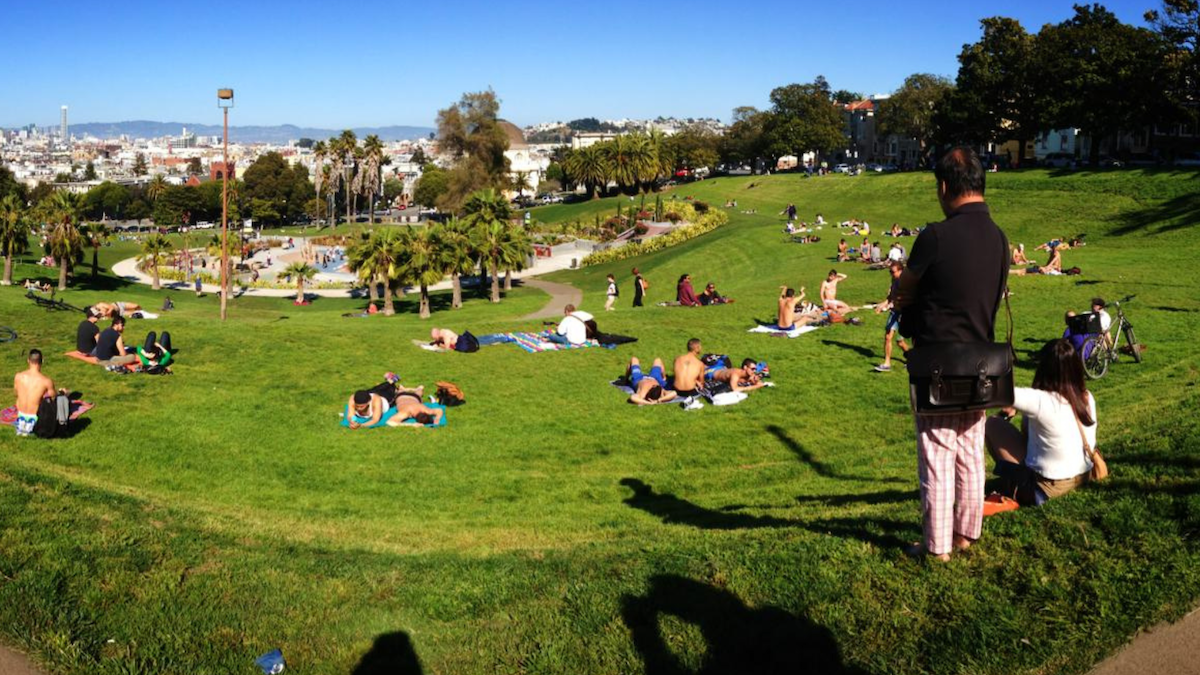 Home to the warmest weather in San Francisco and large enough to handle its huge weekend crowds with ease, Dolores Park is a must-visit spot for locals and tourists alike. Come for the shady palm trees and city skyline views, stay for the truly fantastic people-watching.
Where: Dolores St & 19th St
For more information on Mission Dolores Park.
Go Thrift Shopping on Haight Street
Made famous by the hippie movement in the 1960s, the colorful neighborhood of Haight-Ashbury has retained its creative, sustainable, and eclectic vibe. In other words, it's an absolute hotspot for prime thrift stores and vintage shops.
Where: ​​Starting at Indigo (1649 Haight St)
Hike to the Point Bonita Lighthouse
Hike along the rugged continent's edge for views of Bonita Cove, San Francisco, and the Pacific, and make sure to check out the Point Bonita Lighthouse at what feels like the world's end. The tunnel door stands open when the lighthouse is open for visitors, and sunset tours are available on Saturdays throughout the summer, where you can learn all about the history, geology, and ecology of the surrounding area.
Where: San Francisco Bay entrance in the Marin Headlands, Sausalito
For more information on the Point Bonita Lighthouse.
Grab a Lane at Mission Bowling
Grab a lane at this retro-chic bowling alley in its namesake, the Mission district.
Where: ​​3176 17th St
For more information on Mission Bowling.
Explore Strawberry Hill
Found in the middle of Stow Lake at over 400-ft tall, Strawberry Hill is the highest point in the 1,000+ acre park. The hill offers a waterfall, a Chinese pavilion, birds and butterflies to view, and trails to jog. And don't miss the epic views of the Golden Gate Bridge and city skyline at the top
Where: 50 Stow Lake Dr
For more information on Strawberry Hill.
Check Out Tunnel Tops Park
Check out the brand-new Presidio Tunnel Tops Park! A complete 14-acre oasis at the center of the Presidio featuring views, nature, and play! Whether you're posing with Yoda or walking along the beach just north of the park, there's something for everyone.
Where: 210 Lincoln Blvd.
For more information on Tunnel Tops Park.
Laugh Along at a Live Comedy Show
For a fun, light-hearted evening, head to the famed Palace Theater, where you can catch world-famous comedians featured in The New Yorker, on Comedy Central, SNL, Netflix, and HBO.
Where: The Palace Theater: 644 Broadway
For more information on Live Comedy Shows.
Hike the Marin Headlands
The Marin Headlands is known for its dramatic cliff trails of oceanic rock, offering sweeping views of the Golden Gate Bridge. With various trails to choose from, it's the perfect place to spend a day outdoors!
Where: Marin Headlands trails can be accessed off of Highway 101 from Rodeo Avenue Exit and Trailhead, and Spencer Avenue Exit at Morning Sun Trailhead.
For more information on the Marin Headlands.
LIKE WHAT YOU'VE READ?
Never miss out on a new experience!
Create a Bucket Listers account to access exclusive offers and the latest news in your city