Published February 24, 2023
The Best Restaurants for Group Dinners in NYC
Feed the whole crew at one of these NYC dining spots! 👨‍👨‍👧‍👧🍽️
by New York Bucket List
In a city of nearly 9 million, we can't overstate our appreciation for restaurants that accommodate group dining. Thankfully, there are countless options in the five boroughs—from airy Mediterranean dining rooms to platters of comfort food to hidden speakeasies and Chinese dry pots—the greatest city in the world has it all.
American Bar
If you're tasked with picking a restaurant for coworkers or in-laws and need a ringer, American Bar is always solid. The menu is full of classic American bistro dishes with an old-world European influence, served in a spacious sunshine-yellow dining room. There's also a brass rail cocktail lounge, terrazzo bar, and outdoor seating if you prefer.
Where: 33 Greenwich Ave
For more information on American Bar.
Jajaja
We're not leaving any vegan New Yorkers hanging! Jajaja is a bright and modern Mexican spot sporting an entirely plant-based menu (including brunch options), plus a delicious tequila, lager, and mezcal drink menu. The restaurant's name, "Jajaja" is the sound of laughter in Spanish, so you know a lively social group will vibe here.
Where:
Lower East Side: 162 E Broadway
West Village: 63 Carmine Street
Williamsburg: 119 Kent Avenue, Brooklyn
For more information on Jajaja.
Lindens
Named for the trees that line the NYC streets, Lindens is a contemporary American restaurant situated within the Arlo SoHo hotel. They serve chicken, steak, pizza, impossible burgers, and so much more. There's a raw bar menu in the evenings, a mid-century speakeasy on the ground floor named Foxtail, and guests can rent a woodsy "camptastic" cabin for events.
Where: 2 Renwick Street
For more information on Lindens.
Chote Nawab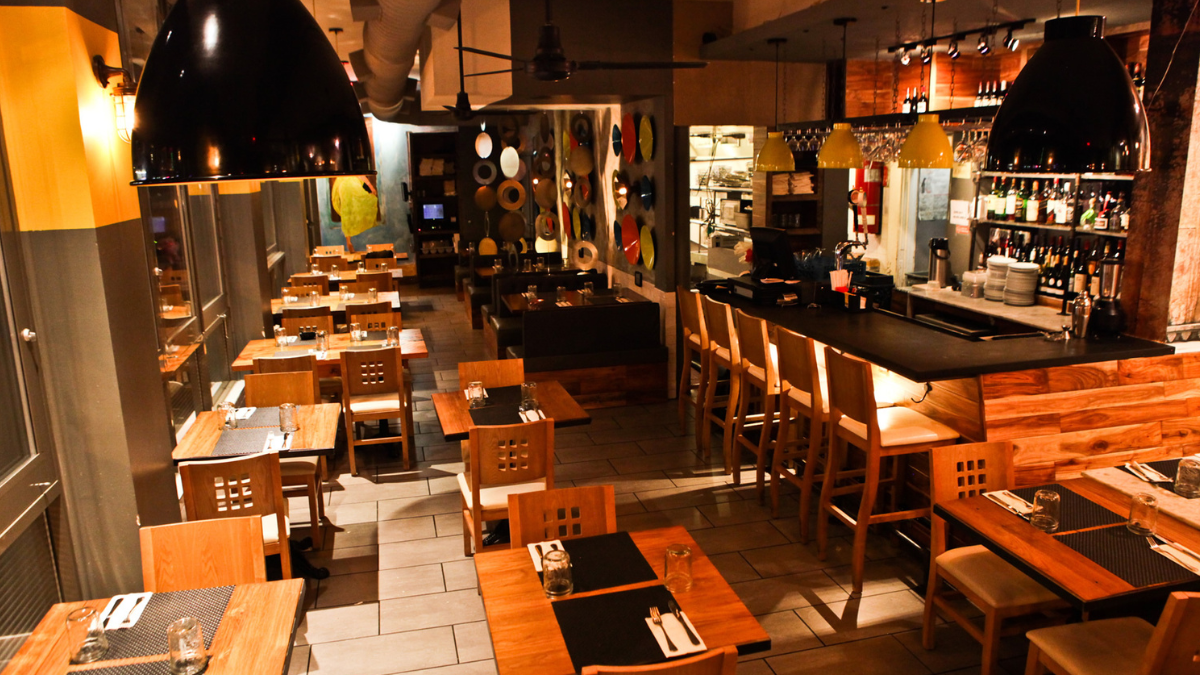 The Nawabs of India were known for their elaborate royal kitchens and hospitality. Chote Nawab features that same ambiance, along with kebabs and "dum" Biryani rice pots, which use a sealed pot technique to maximize flavor. The modern, concrete wall and spacious dining area can host groups of up to 25 with online reservations.
Where: 115 Lexington Ave
For more information on Chote Nawab.
TAO Downtown Restaurant
With room to host and a menu to impress, TAO is an enormous, upscale Pan-Asian eatery known for its Quan Yin centerpiece statue, and a trendy crowd. Guests descend into a multi-level space, and the venue contains a secret nightclub known for attracting VIPs and celebrity guests by remaining off the radar. Reservations require a $10 deposit per person in your party, regardless of size, and TAO can accommodate á la carte parties (meaning no prix fixe menu) of up to 14 guests.
Where: 92 9th Avenue Nyack
For more information on TAO Downtown.
Favela Grill
Feed the entire family with heaping portions of Brazilian steaks, salgadinhos (Brazilian empanadas), and caipirinhas cocktails at Favela. And if you're looking for entertainment, live Latin music plays on Fridays and Saturdays starting at 8:30 PM, and Sundays from 2:30 to 5:30 PM.
Where: 33-18 28th Ave, Astoria
For more information on Favela Grill.
MáLà Project
Switch up the usual group routine with Chinese dry pot, a relatively new meal that uses similar Chinese flavors and ingredients found in hot pot, but is cooked dry with spices instead of broth. The MáLà Project features spice levels and customizations for every group member, plus shareable apps and dim sum. Groups of seven or more can call to reserve, while parties over 11 require a prix fixe menu.
Where:
Midtown East: 245 East 53rd St. New York
Midtown West: 41 West 46th St New York
East Village: 122 1st Ave New York
For more information on MáLà Project.
Al Badawi
Al Badawi opened as a follow-up to its wildly popular Palestinian sister restaurant, Ayat. Large groups and families can comfortably enter their airy, mural-filled dining area and gorge on overflowing plates of meat, rice, and constant warm pita bread to scoop up handmade hummus. Groups of up to 10 can reserve a table online, while larger groups can call ahead.
Where: 151 Atlantic Ave, Brooklyn
For more information on Al Badawi.
La Pecora Bianca
With six locations across the city—each with a nod to their home neighborhood in decor and menu picks—La Pecora Bianca is a crowd pleaser known for its bright and airy dining areas, plentiful sidewalk seating, and large bar areas. At every location, you'll find a relaxed, all-day dining experience with hand-made pasta and spritzes.
Where:
Midtown: 950 2nd Ave
NoMad: 1133 Broadway
Bryant Park: 20 W 40th St
UWS: 359 Columbus Ave
SoHo: 54 Prince St
Meatpacking: 817 Washington St
For more information on La Pecora Bianca.
Emmet's on Grove
In a city filled with small-portioned, fancy, and uniquely palleted meals it can be so satisfying to find a rustic spot serving hearty portions of comfort food. Enter Emmet's on Grove. You can order tavern-style pizza, pasta, and ribs—plus enjoy their full bar—till everyone in your crew is satisfied.
Where: 39 Grove St
For more information on Emmet's on Grove.
Chinese Tuxedo
This two-story fine dining Chinese spot, housed in a former opera house, has the size, social nature, and contemporary banquet dishes to host your rowdiest friends and family. It's a great place to impress out-of-towners, with excellent dim sum and a sleek basement-level cocktail bar called Peachy's (open at 6:00 PM Tuesday through Sunday).
Where: 5 Doyers St
For more information on Chinese Tuxedo.
Kyma
If you're looking for truly authentic Greek fare, Kyma is the place. They use extra virgin olive oil from Peloponnese, and fresh fish is flown in daily from the Mediterranean. The modern white dining room blends Greek Tavern with island chic, making you feel like you're oceanside eating a fresh tzatziki spread.
For the party-loving crew, a DJ plays Thursdays through Saturdays at 8:30 PM. Groups over eight receive a prix fixe menu, making it a fun celebratory event option.
Where: 15 W 18th St.
For more information on Kyma.
12 Chairs
12 Chairs is an airy Mediterranean restaurant with locations in SoHo and Brooklyn. The lively space is great for groups and offers a mix of traditional recipes with modern finishes for the best of both worlds. Between all-day breakfast, sandwiches, pierogies, and schnitzels, 12 Chairs offers something for everyone.
Where:
SoHo: 56 MacDougal St
Brooklyn: 342 Wythe Ave
For more information on 12 Chairs.
La Esquina
This always buzzing taqueria serves tender steak on freshly made tortillas on the corner if your crew is in a hurry. For a sit-down event, call ahead to reserve a table in the low-lit, speakeasy-luxe brasserie downstairs. There, you'll unlock the full breadth of their Mezcal beverage menu.
Where: 114 Kenmare St.
For more information on La Esquina.
LIKE WHAT YOU'VE READ?
Never miss out on a new experience!
Create a Bucket Listers account to access exclusive offers and the latest news in your city