Published February 24, 2023
30 Fun Activities In NYC That Don't Involve Alcohol or Food
You've done a million happy hours—now it's time to try something new!
by New York Bucket List
Maybe we're biased, but it's no secret that New York has some of the country's best restaurants and most fun bars. But sometimes, you need a break even from brunch and happy hour. Thankfully, there's no shortage of fun activities in NYC.
Whether you're participating in dry January, looking to cut back, or just need some fresh inspiration, we've got you covered. Our roundup of non-drinking ideas will get you out on the town in no time and for (mostly) less money than a dinner out.
Fun Things to do in NYC That Aren't Going to a Bar or Restaurant
Create a Custom Piece of Art
Shot of Art is a unique art class experience that uses acrylic paints, silicone, and a gas burner to create abstract paintings that can be proudly hung in your apartment or given to friends. The art room experience is a great chance to use your imagination and use the opportunity to draw on doors, walls, ceilings, chairs, and more in a great atmosphere!
Where: 28 W. 36th Street, 10th floor, New York, NY
More information.
Have a Beach Day
Fun fact: New York City has public beaches. The Rockaways are accessible via public transportation like the subway or the ferry — a New York experience in and of itself. Head out to Queens and enjoy a day of sunning and swimming. Or, if you're feeling adventurous visit one of the two designated surfing beaches.
Where: Various locations.
More information.
Rent an Electric Scooter in Central Park
You can't rent electric scooters in most of New York City just yet. Thankfully, you can scoot on over to Central Park, where hourly rentals are allowed so long as riders stay within the park.
Where: Central Park
More information.
Free Kayaking on the Hudson
Don't miss the boat (or kayak) this season in NYC. From May-October, free kayak rentals are available at the Downtown Boathouse.
Where: Pier 26
More information.
Rent a Rowboat in Central Park
Explore all 20 acres of the Central Park Lake via rowboat. Head to the Loeb Boathouse and hop into a row boat for $20 an hour. Each boat has the capacity for 4 people, making this an affordable, unique experience.
Where: Loeb Boathouse: Park Drive North, E 72nd St
More information.
Spend an Afternoon at Sheep Meadow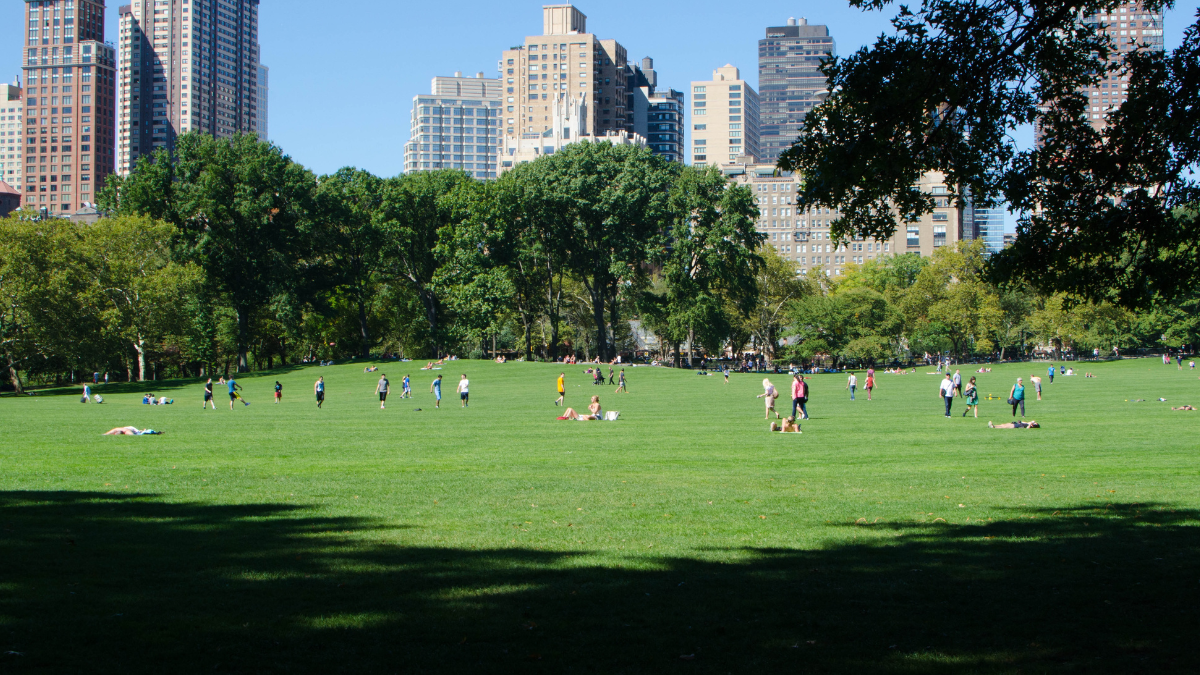 When you think about Central Park, images of Sheep Meadow likely come to mind. Sheep Meadow is a 15-acre expanse of lush grass. Perfect for sun tanning, catching up with friends, playing spike ball, reading a book, or throwing a frisbee, Sheep Meadow is the coolest place to visit on warm days.
Where: 1802 65th Street Transverse
More information.
Ride a Bike Along the Hudson River
No need to worry about car traffic when you hit the Hudson River Greenway Bike Trail. The 11-mile trail spans from the George Washington Bridge to Battery Park City. Bordered by the Hudson River on one side and green space on the other, all that nature might make you forget that you're on an urban trail.
Where: Multiple entrances
More information.
Read in a Park
If New York is a concrete jungle, then the city's parks are an oasis. If you're looking for peace and quiet, there's no better destination than beneath a shady tree. Pack your tote with a book, blanket, and water bottle, and head to your local park. Overwhelmed with options? Consider going off the beaten path and checking out the Shakespeare Garden in Central Park or Brooklyn's only forest in Prospect Park.
Where: Various locations.
More information.
Play a Round of Golf at Chelsea Piers
If the suburbs have country clubs, then Manhattan has…city clubs? Either way, it's all green to us. Get your putt-putt on and live out your PGA fantasies at the Chelsea Piers Golf Club Driving Range.
Where: 59 Chelsea Piers
More information.
Take Classes at Trapeze School of New York
Humans can't fly, but classes at the Trapeze School of New York get you pretty close. Learn aerial skills from pros with courses in flying trapeze, lyra, acrobatics, and silks.
Where:
Hudson River Park: 353 West St (Outdoors April-October)
Brooklyn: 467 Marcy Avenue (Indoors year-round)
More information.
Play Basketball at Brooklyn Bridge Park
Catch some basketball in Brooklyn. No, not at the Barclays Center, but at the five basketball parks at Pier 2 of Brooklyn Bridge Park. Free and open to the public, all you have to do is BYOBB—bring your own basketball.
Where: Brooklyn Bridge Park: Pier 2
More information.
Take a Stroll Through Stone Street
Visit Europe without leaving Manhattan. Stone Street is located in the Financial District, but you'd never guess it. The cobblestone streets feel so much like Dublin that you might forget that you're 3,000 miles away from the Emerald Isle.
Where: Stone, Pearl, and S. William Streets. and Mill Ln.
Take a Ferry Ride
Yes, riding the subway gets you from Point A to Point B. But, let's be honest, there's nothing fun about it. On the other hand, taking the Ferry gets you where you need to go, and it's fun. Take in the city's best sites on the water for the same cost as a swipe of your MetroCard.
Where: Various locations
More information.
Visit a Museum
Did you know that New York City is home to 145 museums? Whether you're a history buff, pop culture aficionado, or dog lover, there's a museum for every niche interest. But the art museums are not to be missed — some of team Bucket Lister's must-sees are the Frick Collection, The Rubin, and the Cloisters.
Where: Various locations.
More information.
Walk The Highline
In 1999, a group of New Yorkers came together to turn a 1.45-mile stretch of unused elevated railroad tracks into a park. Talk about only in New York. Today, that stretch is The Highline. As you stroll through the nature-lined path, you'll be treated to unbeatable views of foliage and city landmarks like the Vessel.
Where: Multiple entrances between 14th St and 30th St
More information.
Catch a Game
While New York has a reputation for being posh, there's a whole lot of sporty going on, too (that's a Spice Girls reference, in case you missed it). Across the five boroughs, Long Island, and New Jersey, there are 11 professional sports teams in the area. You can also head to Coney Island to watch Brooklyn's own Minor League team play ball or catch a New York City Football Club soccer game (a new stadium is in the works!).
Where: Various locations.
Go Bowling
You'll never strike out when you bank on nostalgia. Mixed sports metaphors aside, bowling is always a good idea. Gutter Bar and Bowlero are two of our favorite spots, with locations in Manhattan, Brooklyn, and Queens.
Where: Various locations.
Have a Date Night at The Met
Every Friday and Saturday, from 5:00–9:00 pm, it's date night at The Met. Stroll through halls of statues, ancient relics, and stunning galleries after hours, and enjoy live music, drinks, and an assortment of light fare throughout the museum. For a more intimate setting, head to the Frank Lloyd Wright room or up to the rooftop to watch the sunset.
Where: 1000 Fifth Avenue
More information.
Go Ice Skating
New York is home to some iconic ice skating spots in the winter, from Rockefeller Center to Central park's Wollman Rink. You can skate under the stars at Industry City in Brooklyn, and there are year-round indoor ice rinks open across the Sky Rink at Chelsea Piers or World Ice Arena in Queens.
Pro-Tip: Some places, like Riverbank State Park in Harlem and the LeFrak Center in Brooklyn, offer roller skating in the warmer months.
Where: Various locations.
More information.
Enjoy a Night of Jazz
Jazz up your night out and slip into this speakeasy-esque jazz show where the band is swinging, tappers are tapping, and burlesque performers are transporting you to the 1920s. Enjoy a swing DJ and music from three band sets, plus a swing dance lesson!
Where: Somewhere Nowhere: 112 W 25th St
More information.
Make Your Own Candle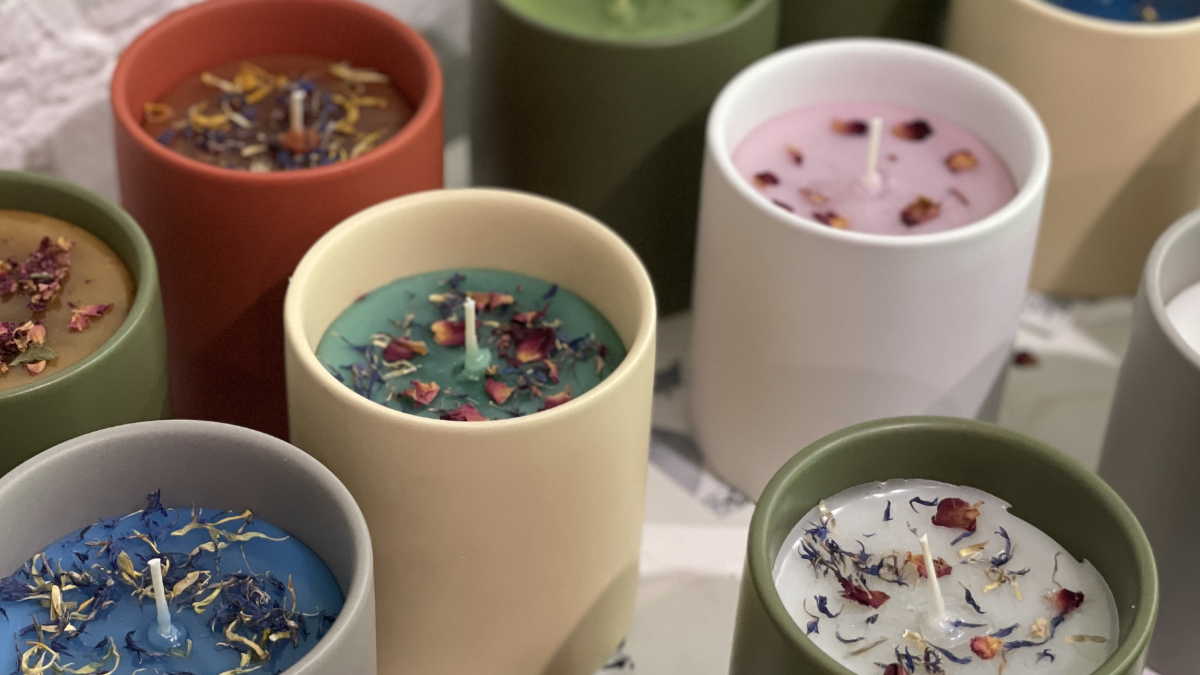 Let your creative juices flow and create your own unique scented candle at a candle-making workshop. Choose from a wide selection of fragrances, colors, and vessels, then measure, mix, and pour your very own candle to take home! The class includes a seat and all the supplies.
Where: 167 Mott St, New York, NY
More information.
Go Shopping in SoHo
New York has some of the best shopping in the world. And some of the best shopping in NYC is in the SoHo neighborhood. Ogle at wearable art at designer shops like MiuMiu, Chanel, Opening Ceremony, KITH, or Supreme. Or, if you don't have the budget to support designer taste, check out flagship locations of brands like Zara, Uniqlo, Aritzia, and SoHo. Fuel up at local favorite Ground Support or Think Coffee to keep your shopping spree going.
Where: Broadway west to Sixth Avenue, and Houston Street south to Canal Street.
Hit the Slopes
Did you know you can wake up in Manhattan and be skiing down the snowy slopes at Mountain Creek by noon? The Mountain Creek Ski Bus picks up at two different locations in Manhattan. With four mountain peaks and 46 trails to explore, you can expect to spend an entire day escaping the city.
Where:
1st Pickup: 41 Union Square West (Corner of 17th & Broadway)
2nd Pickup: W 45th and 11th Avenue (directly across the street from Gotham Market)
More information.
Explore the Oculus
The 800,000 square-foot space at the World Trade Center train station is so much more than a subway platform—although 16 train lines do pass through it every day The Oculus has a distinct white aesthetic, and the venue is more like a mall, as it's home to dozens of retail shops and restaurants.
Where: World Trade Center Oculus: 50 Church Street
More information.


Immerse Yourself in an Interactive Art Experience
Located in Soho at Broadway and Canal, INTER_ is a mind-bending, interactive experience where guests are encouraged to be fully present while undertaking a multi-sensory journey through a sequence of beautiful environments and generative digital art. Split across two levels, the immersive spaces are also interactive, meaning that visitors can help shape the reality around them while participating in the creation of art—in other words, this is not your typical art exhibit.
Where: 415 Broadway, New York, NY
More information.
Go Thrifting
Why buy new when you can head to the thrift store? Not only is it affordable, but shopping secondhand is good for the environment because it reduces textile waste. Who knows, you might even find some amazing pre-loved vintage threads. Shop like a local at L Train Vintage, Buffalo Exchange, and Beacon's Closet, all of which have multiple locations across NYC's boroughs.
Where: Various locations.
Visit Edge at Hudson Yards
Soar 1,100 feet into the sky and take in the city in all its glory with 360° views! Before you summit the highest sky deck in the Western Hemisphere, you'll learn about the making of the Edge.
Where: Edge at Hudson Yards: 30 Hudson Yards
More information.
LIKE WHAT YOU'VE READ?
Never miss out on a new experience!
Create a Bucket Listers account to access exclusive offers and the latest news in your city