attractions & tours · outdoor activities ·
Published September 1, 2023
The Best Places to See Fall Foliage in and Around New York
A list of prime viewing spots to see NYC's most dramatic and colorful leaves this fall. 🍁🌇 🍂
by New York Bucket List
New York City is an urban paradise year-round, but we'd argue its most beautiful natural side arrives in the fall. A canopy of red and yellow foliage blankets the city, and the crisp air and fall breeze are a welcome reprieve after the summer heat waves. There's so much to do and experience in the city during this season that we even created an Ultimate Fall Bucket List to highlight the best of the best.
City staples like Central Park and the Squibb Park Bridge offer spectacular viewing spots to take in the beauty of fall, but there are also botanical gardens, cruises and kayaks, and lesser-known parks to catch colorful foliage views and make the most of the season. Read on to discover the best spots in and around the city to bask in all the fall colors NYC has to offer.

14 Places for Great Views of Autumn Leaves in New York
Central Park
Our crown jewel for fall leaf chasing has to be Central Park. From the Gapstow Bridge to the Ramble, there's an entire world of golds and reds to see amongst the 18,000+ trees. Here are some highlights:
North Woods

is between the West Side to Mid-Park from 101st to 110th street. This 90-acre wood is ideal for nature observation with miles of paths, and a huge variety of color-changing trees including scarlet oaks, sweetgum trees, and the much-loved sugar maple trees.

North Meadow is one of Central Park's most popular open spaces and

includes sports fields and grassy picnic areas to soak up the colorful fall leaves against the city backdrop.

Conservatory Garden

is located on the East Side between 104th and 106th streets and is a public garden consisting of a French-style north garden, the Italianate center garden, and an English-style south garden. During fall you can see the Crabapple trees turn red and orange, and the star magnolia bloom with golden flowers.

The Hallett Nature Sanctuary and the Pond

are located between fifth and sixth avenue in the southeast corner of the park. Make sure to stop by

the Pond

near the Plaza, for a moment of serenity and skyline views. The area is also filled with color-changing trees, including the rare, vibrant ginkgo trees, turning yellow for autumn.
Check out a full map of all the fall foliage in Central Park for more.
Squibb Park Bridge, Brooklyn
Squibb Park Bridge connects Pier 1 with Squibb Park in Brooklyn Heights and is the perfect forestry walk with views of lady liberty, Manhattan Bridge, and the Brooklyn Bridge. The zig-zagging walkway is ideal for a fall stroll with a cinnamon latte in hand.
Where: Squibb Park Bridge, Brooklyn
More information.
Little Island
Little Island is the new public park on a man-made island in the Hudson, and New Yorkers have been flocking to experience its unique nature and art. Its rolling grass hills are also one of the best spots to spread out a fall picnic blanket and take in the browns and golds of the honey locust trees around you.
Where: Pier 55 in Hudson River Park, West 13th Street
More information.
Highbridge Park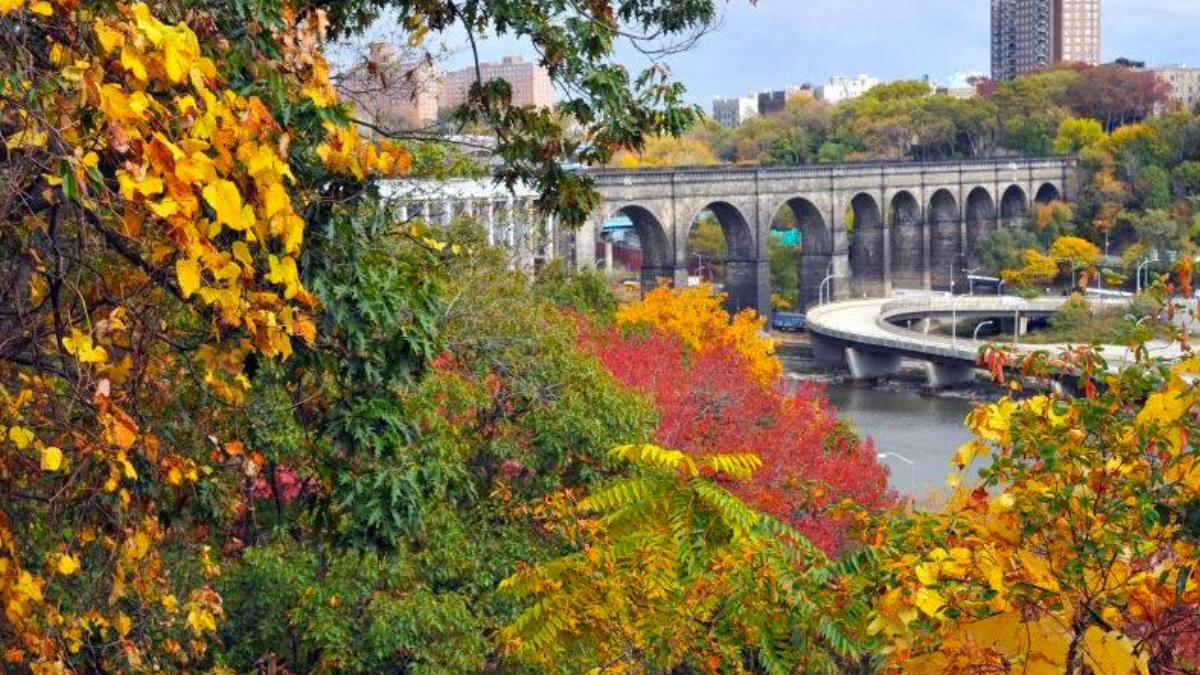 Hike through the tree-lined paths of this park to take in all the native and introduced trees, from northern red oaks to indigenous black cherry trees. Bonus points if you check out the expansive views over the Harlem River along the Old Croton Aqueduct Trail.
Where: W 190th St & Amsterdam Ave
More information.
Fort Tryon Park
Nestled in the Hudson Heights and Inwood neighborhoods, this 67-acre park is perched right on the ridge in Upper Manhattan. For a combined day of natural and artistic beauty, check out the Met Cloisters, located within the park, which specializes in medieval art and architecture.
P.S. Feel free to bring Fido for a romp in the fall leaves—this park is home to Manhattan's largest dog run!
Where: 741 Fort Washington Ave
More information.
Green-Wood
The stunning 478 acres of art, history, and nature at Green-Wood is an oasis in the heart of Brooklyn. Come to see the fall foliage from their century-and-a-half-old trees, set against a backdrop of gothic statues and glassy ponds.
Where: 500 25th St
More information.
Van Cortlandt Park
At over 1,000 acres, Van Cortlandt Park is the third largest park in NYC and houses the Bronx's largest freshwater lake. It also has the oldest golf course in America, if you'd like to see the changing colors while playing a round.
Where: Broadway and Van Cortlandt Park S, The Bronx
More information.
Storm King
Storm King Art Center locally referred to as Storm King, is a massive open-air museum located in New Windsor. It's a stunning 500-acre expanse of sculptures and foliage to marvel at and wander through.
Where: 1 Museum Rd, New Windsor, NY
More information.
Prospect Park
Prospect Park is filled with as many attractions as natural features. There's the 90-acre Long Meadow, the historical picnic house building, a boathouse, Zoo, Brooklyn's only lake, and a Concert Grove and Bandshell, to name a few. Experience all the greatness with the backdrop of golden sunsets and crunchy leaves.
Where: 40 West Dr., Brooklyn
More information.
New York Botanical Garden
For a celebration of all things fauna, the New York Botanical Garden is the way to go. NYBG has 250 acres of blooms and fall colors to explore and hike through. They also have tons of fall-themed programming within their Fall-o-ween lineup, from beer tastings and pumpkin carving to filling the Haupt Conservatory with Japanese chrysanthemums–a staple of the season's floral beauty.
Where: 2900 Southern Boulevard, The Bronx
More information.
Bear Mountain State Park
This one's a bit of a day trip, but seeing the expansive views of the red and gold highlands from the mountains over the west bank of the Hudson River will be worth it. The park also features shaded picnic groves, a lake, and a river—both of which offer fishing—and trails galore to take in nature's beauty. Plus, a gorgeous hand-carved Merry-Go-Round of all the native animals is the cherry on top.
If we've convinced you, we also got the route figured out for you: take the Hudson line to Peekskill station (about a one-hour trip, and then take a 15-minute cab ride to Bear Mountain.
Where: Route 9W North, Bear Mountain, NY
More information.
Palisades Interstate Park
Whether you're looking to hike, picnic, boat, or even crab, Palisades is your park. The gorgeous 2,500 acres of wild shorefront are known for their uplands and cliffs, creating the perfect golden sunset territory for a mild fall evening.
Where: Palisades Interstate Park, Alpine, NJ
More information.
Breakneck Ridge
Breezier weather can also make exercising outdoors a little easier. Located in the Hudson Highlands State Park, Breakneck Ridge is a popular and very difficult hike with plenty of scrambling (making it best for experienced hikers). It's also accessible by public transportation. Simply take the MTA to the Breakneck Ridge train station then make the short walk to the trailhead.
Where: 1.44327, -73.97801 (trailhead coordinates)
More information.
Sunken Meadow State Park
Offering one of the most stunning views of the Long Island Sound, with Connecticut in the distance, Sunken Meadow State Park has a wide range of flora and fauna you can see change with the seasons, plus three miles of beach, a golf course, hiking trails, and a boardwalk to stroll.
Where: Rte. 25A and Sunken Meadow Parkway, Kings Park, NY
More information.
EXPLORE MORE:
NYC's Ultimate 2023 Fall Bucket List
The Best Farms, Pumpkin Patches, and Fall Festivals in and Around New York
LIKE WHAT YOU'VE READ?
Never miss out on a new experience!
Create a Bucket Listers account to access exclusive offers and the latest news in your city