food & drink · music & nightlife · attractions & tours ·
Published August 28, 2023
The Best Farms, Pumpkin Patches, and Fall Festivals in LA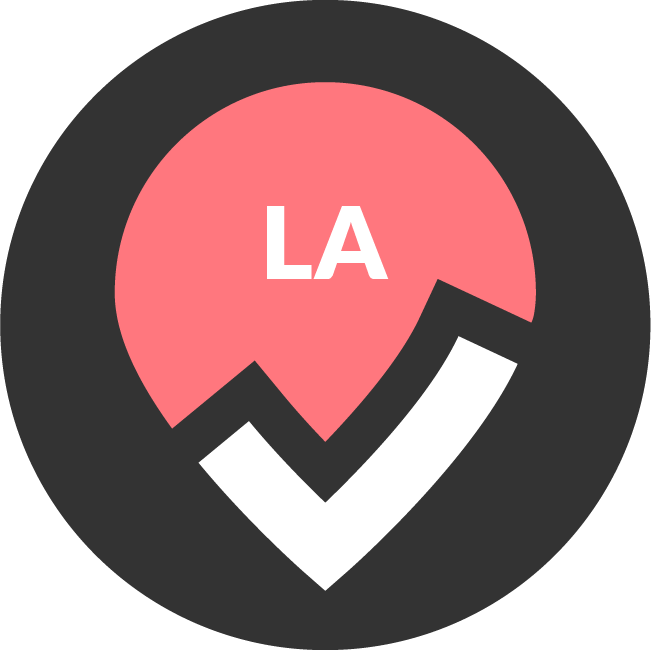 by Los Angeles Bucket List
There's a chill in the air, and you know what that means—sweater weather, pumpkin spice lattes, and fall festivals in LA. In honor of the season, beloved local institutions around the city will be putting on their most festive attire to invite you for some fun for the whole family.
We've rounded up the best farms, pumpkin patches, and fall festivals in LA to celebrate autumn. For a list of our top fall activities, check out our Ultimate Los Angeles Fall Bucket List.

The Best Pumpkin Patches and Festivals to Celebrate Fall in LA
Live Oak Canyon
Live Oak Canyon has over 50 rides, games, attractions, and photo ops. With a train, a pumpkin Ferris wheel, mini ATVs, hay and pony rides, a full pumpkin patch and corn maze, animals, and more, you could spend an entire day here and not run out of things to explore. Plus, catch live entertainment and lots of food options, from giant pretzels and hot donuts to cold beer and fresh apple cider.
Where: 32335 Live Oak Canyon Rd, Redlands, CA
More information.
Oktoberfest at Fairplex
Get transported to Bavaria, Germany in the heart of LA at this rowdy and authentic celebration of the world's largest beer festival. Eat authentic German food, dance to "Oom Pa Pa" music, play games, and guzzle down some German beer. Happening Fridays and Saturdays between October 6 and October 21.
Where: Fairplex: 1101 West McKinley Avenue, Pomona, CA
More information
Los Angeles Fall Fair
LA's anticipated Fall Fair will run from October 20 through November 5 at La Prada Event Plaza. Unlimited ride wristbands are currently available for presale — $25 gives fairgoers access to all 25 of the rides as many times as they want. Plus, there will be plenty of live music, food, and fun.
Where: 1600 Rosemead Blvd, South El Monte, CA
More information.
Underwood Family Farms Fall Harvest Festival
Underwood Family Farms has fall activities every day of October. During the week, stop by to browse its gigantic pumpkin patch or pick your own. On the weekends, get ready for themed days like Wild West Weekend and All About Pumpkins Weekend, filled with live entertainment to get you into the seasonal spirit!
Where: 3370 Sunset Valley Rd, Moorpark, CA
More information.
Tanaka Farms Pumpkin Patch
From September 16 through the end of October, you can stroll through acres of Tanaka Farms' pumpkin patch. During the week, fall-inspired activities like wagon rides and a barnyard educational exhibit will be available for visitors. From Friday through Sunday, extra family fun will include games like Farmer Golf, Big Digger, Duck Race, Scarecrow Basketball, the famous Pumpkin Cannon, and arts and crafts.
Where: 5380 3/4 University Dr, Irvine, CA
More information.
Knott's Spooky Farm
Knott's Berry Farm transforms into a whimsical, spooky park for all ages starting September 28. Visitors can enjoy a variety of not-so-scary attractions, interactive shows, and themed decorations, plus families can trick-or-treat the town' of Calico's shops and buildings!
Where: 8039 Beach Boulevard, 90620, Buena Park, CA
More information.
Mr. Bones Pumpkin Patch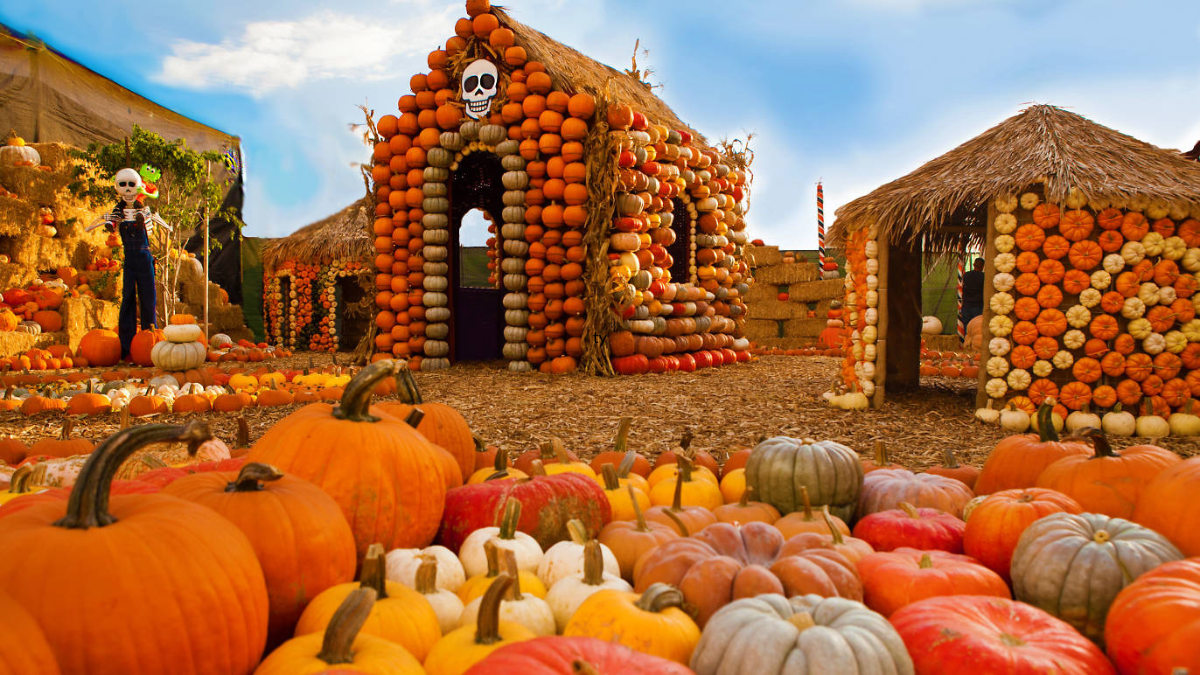 Get spooky at Mr. Bones Pumpkin Patch. Since 1987, this patch has been a fall season staple, and on October 5, the legacy will continue. There will be games, snacks, and a pumpkin patch at this Halloween haunt!
Where: 10000 Jefferson Blvd, Culver City, CA
More information.
Big Bear Lake Oktoberfest
Big Bear Lake has held Oktoberfest for 52 years, and the legacy lives on in 2022. Kicking off September 10 and running for nine weekends through November 5 (plus Fridays in October), they promise a fall party like no other. Expect good eats and brews, and get ready to watch some German-American bands play live.
Where: 42900 Big Bear Blvd, Big Bear Lake, CA
More information.
Big Horse Corn Maze
Get lost in Southern California's biggest corn maze, open throughout October. It takes about two hours to stroll through the maze, which spans over 11 acres and has stalks over seven feet tall. It's a fall experience you can't miss.
Where: 33320 Temecula Pkwy, Temecula, CA
More information.
Bowers Museum Día de los Muertos
Día de los Muertos is a three-day celebration that is based on the Mexican belief that departed loved ones come back to be with us every year. Celebrate this culturally rich event on November 4 at Bowers Museum with pan dulce and Mexican hot chocolate, art projects, and live performances.
Where: 2002 North Main St, Santa Ana, CA
More information.
All Hallows Ghostly Gallop
The historic Glendale Riverside Rancho will put on a unique Halloween Horse Parade along with many other fall-inspired activities, like live entertainment, food, pumpkin decorating, raffles, short pony-trail rides, and more. Come dressed in your best Halloween costume for a chance to win the contest. Following the parade is the Fall Harvest Festival at the historic Bette Davis Park. Check their website for the most updated information on dates and times.
Where: 1608 Garden St, Glendale, CA
More information.
The Anaheim Fall Festival and Halloween Parade
On October 28, take part in a century-old tradition in Anaheim. The annual Anaheim Fall Festival and Halloween Parade is celebrating its 100th year. Come by for a festival featuring street vendors, sweet treats, and games, plus a family-friendly parade celebrating Halloween, Dia de Los Muertos, and the Harvest Season.
Where: Downtown Anaheim, CA
More information.
Pa's Pumpkin Patch
Pa's Pumpkin Patch takes place in the perfect country fair atmosphere to get you feeling the fall vibes. Gather for activities, rides, games, and a wide variety of pumpkins. There will also be haystacks, corn stalks, a petting zoo, and more.
Where: 6701 CA-1, Long Beach, CA
More information.
City of Manhattan Beach Halloween Festival and Pumpkin Race
On October 21, get ready to race—a pumpkin, that is. The Manhattan Beach Pier will be transformed into Pumpkin Race Land. Let your creativity run wild by making your own pumpkin racer. There will also be a costume contest and festival, so get come prepared to show off your costume and bring your Halloween spirit! The festival begins at 12:00 PM and races begin at 2:00 PM. The best part? The event is free!
Where: 1600 Manhattan Beach Blvd, Manhattan Beach, CA (Manhattan Heights Park)
More information.
Farmers Market LA Fall Festival
For one weekend only, check out a fall festival hosted by LA's favorite Farmers Market. From October 21 to 22, the market will be transformed with a pumpkin patch, pig races, fall-themed games, live entertainment, arts and crafts, and photo opportunities for the whole family.
Where: 6333 W. 3rd St, Los Angeles, CA
More information.
City of Calabasas Pumpkin Festival
If you're in Calabasas on October 22, head over to Juan Bautista de Anza Park to celebrate the season. There will be a marketplace, pumpkin dishes, live bands, and, of course, a pumpkin patch for you to pick your own pumpkin.
Where: 3701 Lost Hills Rd, Calabasas, CA
More information.
Cal Poly Pomona Pumpkin Fest
Cal Poly Pomona Pumpkin Fest is back for its 30th year and runs from Fridays through Sundays between September 30 and October 29. A corn maze, pumpkin patches of different sizes, hay rides, and games will be just some of the main attractions. For those 21+, check out the Pumpkin Fest preview night on September 29, where guests can enjoy the setting with local beers and wine, food, live entertainment, and more.
Where: 4102 S. University Dr, Pomona, CA
More information.
Irvine Park Railroad Pumpkin Patch
Irvine Park Railroad's Pumpkin Patch has activities for people of all ages, from haunted houses to hay rides to carnival games, starting September 16 and running to the end of October. On September 23, come on down to see pumpkin farmers show off their biggest pumpkins for a chance to win $6,700 in cash and prizes!
Pro tip: Visit during the week to avoid weekend crowds and closures.
Where: 1 Irvine Park Rd, Orange, CA
More information.
EXPLORE MORE:
LA's Ultimate Fall 2023 Bucket List
The Best Ways to Celebrate Halloween in LA
How to Celebrate Hispanic Heritage Month in LA
LIKE WHAT YOU'VE READ?
Never miss out on a new experience!
Create a Bucket Listers account to access exclusive offers and the latest news in your city