food & drink · music & nightlife · attractions & tours · outdoor activities ·
Published September 15, 2023
The Best Ways to Celebrate Halloween in NYC
Parties, parades, haunted houses, and more! Here's where to get spooky in NYC this season. 🎃👻🕷️
by New York Bucket List
Spooky season is upon us, and no matter your age, scare affinity, or favorite fall festivities, NYC has the perfect Halloween event for you. From costume parties to bar crawls and haunted houses to halloween movies, September and October are packed with spine-tingling events.
We've rounded up some of the most haunted tours, wildest parades, and best places to dance in your costume all Halloweekend long—along with a heart-melting dog parade and some kid-friendly options as well.


The Top Halloween Events in New York This Year
Dreams of Dracula Immersive Theater
Experience the legendary tale of Dracula like never before in a mix of immersive theater, dance, and masquerade. This show is a choose-your-own-adventure journey through history's most famous vampire story. You'll walk through the darkness, meet the Brides Of Dracula, dance in Dracula's ballet as it unfolds around you, and much more.
Note: Gothic or Victorian costumes are very much encouraged, and Friday and Saturday nights are black-tie affairs!
Where: Musica Club NYC, 637 West 50th Street, New York, NY
More information.
Haunted Soiree
For a grown-up take on Spooky Season, dress up and attend Haunted Soiree: A Macabre Cocktail Party. More than just drinks and costumes, this experience pulls you into a story filled with intrigue and mystery. Immerse yourself in the enchanting atmosphere with mini-cocktail tastings, captivating live performances, and wandering entertainers.
You get to decide just how deep into the story you want to get as you engage with unique spectral characters, each holding a piece of the original ghost story inspired by historical hauntings and regional folklore.
Where: Sixty Pine Street: 60 Pine St, New York, NY
More information.
Village Halloween Parade | October 31
The iconic Greenwich Village parade on Halloween night is back, with over 50,000 costumed New Yorkers planning to march, dance, and "float" the night away. Come in your wildest costume, or take in the creative get-ups of everyone else! The parade begins north of King Street, ends at 15th Street, and is free and open to the public. VIP passes can be purchased for anyone wanting a guaranteed viewing spot or participants wishing to skip the line or secure a spot in one of the special areas of the parade.
P.S. There will be an after-party at Webster Hall to keep the spooky merriment going!
Where: Greenwich Village, along Sixth Ave. between King St. and 15th.
More information
Frankenstein's Mad Scientist Cocktail Lab
Frankenstein's might look like an ordinary bar from the outside, but inside, you'll find yourself surrounded by mysterious potions, shimmering elixirs, and spine-tingling concoctions. Mad scientists will guide you through the experience and together, you'll unlock the secrets hidden within the simmering beakers and test tubes!
Along with concocting your own spirits, you can also opt for a game of Duckpin bowling, plus enjoy additional drinks from the bar and spooky photo ops.
Where: Mad Morton: 47 7th Ave S, New York, NY
More information
Cityside Pumpkin Patch
You can experience all the fun of fall on the farm without having to leave the city. Cityside Pumpkin Patch in LIC is a rooftop pumpkin patch that offers locally harvested pumpkins from upstate New York, along with a pumpkin-smashing activity zone, scarecrow archery, an array of scrumptious treats and beverages, a "not haunted" haunted house, and lots of Halloween-inspired decor and photo ops!
P.S. Want more? We rounded up all the best pumpkin patches, farms, and fall festivals in and around New York!
Where: The Summer Club: 8-08 Queens Plaza S, Queens, NY
More information.
BOO-Lesque | October 18 & 25
Burlesque, but make it Halloween. Head to Brooklyn's 74Wythe for an evening with some of New York's finest Burlesque, Aerial, and Nightlife performers dressed in bewitching costumes and showcasing haunting acts. Happening on two nights only, you can enjoy access to the main lounge and treat yourself to spooky cocktails, drinks, and bites while you enjoy the show.
Where: 74Wythe: 74 Wythe Ave, Brooklyn, NY
More information
Nightmare on 36th Street | October 27
This Halloween weekend step into a spookily transformed two-story bar and lounge in Manhattan's centrally-located NoMad neighborhood. Bucket Listers has arranged an extravaganza of Halloween decor, hip-hop and house DJs, and a costume-encouraged dress code across two floors, three bars, and four rooms.
Where: 5th&Mad: 7 E 36th St.
More information
Halloween Movies Under the Stars
One of the best parts of spooky season is the spooky movies, obviously. Swing by Rooftop Cinema Club on Wednesdays and catch bewitching classics like Hocus Pocus and Practical Magic while sipping wine under the stars. Reserve a Lounge Chair designed for cozy movie nights or spring for the luxurious Premium Lounge Chairs. Your first glass of wine is included with the ticket, and more drinks are available for purchase at the bar!
Where: Midtown: 60 West 37th Street, New York, NY
More information.
Morris-Jumel Mansion Haunted Tours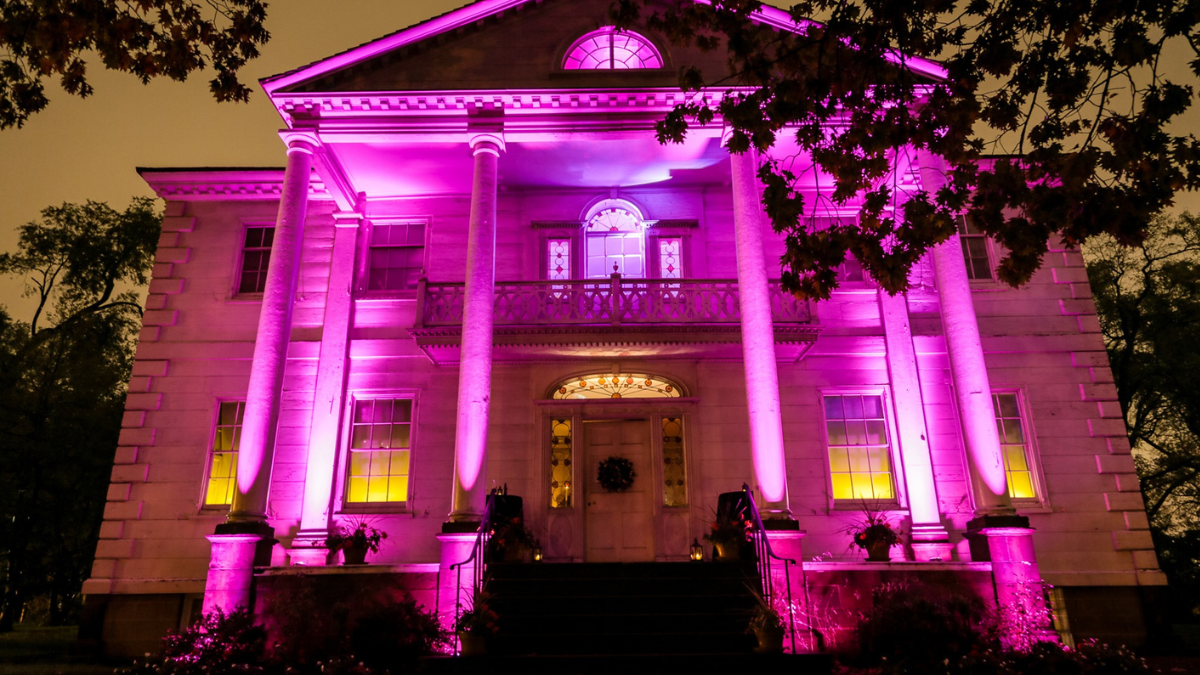 Featured on The Holzer Files, Ghost Adventures, Netflix's Surviving Death, Haunted USA: New York, BuzzFeed, the Today Show (and more!) the Morris-Jumel Mansion is a world-renowned paranormal site
All October, guests can take an after-dark, candlelight ghost tour of Manhattan's oldest surviving house. Guided tours will include learning the history of the Mansion, a ghost hunt in the period rooms of the Mansion (normally closed to the public), and the opportunity to communicate with Morris-Jumel Mansion's former residents using paranormal investigation equipment.
Where: 65 Jumel Terrace
More information
Central Park Pumpkin Flotilla | October 26
See over 100 glimmering jack-o-lanterns set sail in the annual Pumpkin Flotilla at Central Park on October 27. Pumpkin drop-offs are at 4pm, followed by trick-or-treat bag decorating, storytime for little ones, a magician, and a live DJ and dance party. The float itself will take place from 6 to 7pm! Anyone interested in submitting their own gourds can check out the guidelines here.
Where: The Harlem Meer, Central Park (west of Fifth Ave. and south of 110th St.)
More information
Halloween Dog Parade | October 21
The country's biggest costume parade for dogs is back for its 33rd year with the most adorable lineup of dog-testants at Tompkins Square Park! Expect hundreds of dogs in their Halloween best competing in costume contests like best celebrity theme, best food theme, best Chihuahua, etc.
If you have a pup you'd like to enter, registration starts at 12pm, and the judging begins at 1pm. The parade is free for spectators; we just suggest bringing warm layers, snacks, and a phone charger to take photos throughout the event!
Where: Tompkins Square Park, E 10th St
More information
Trick-Or-Streets | October 31
Back for its second year, New York's open streets program will take place on Halloween for Trick-Or-Streets. Kids and families can enjoy maximum trick-or-treating opportunities as safely as possible with nearly 100 open streets and other newly pedestrianized streets going car-free on October 31 between 4pm and 8pm.
Where: Various locations. The city's website shows a full map and a list of participating streets.
More information
Trick or Drink: Halloween Bar Crawls | October 27 – 31
Claim drink specials from all the best bars in town in the Halloweekend pub crawl for the ages. Guests will check in at DROM to receive a wristband, then be on their merry way to enjoy free entries and drink specials at participating bars across NYC. Costumes are highly encouraged.
Where: DROM: 85 Avenue A, New York, NY
More information
Fall-O-Ween at New York Botanical Garden
The New York Botanical Gardens hosts a variety of fall and halloween events all months long in the spacious and foliage-filled space. That means a full month of pumpkin carving face-offs, bale and ale samplings, spooky pumpkin garden nights, and more! During evening events, guests are invited to come in their Halloween costumes and enjoy artisan demos of the flavors of the season.
Where: 2900 Southern Blvd., The Bronx
More information
The Great Gatsby Party
The most decadent party of the season is back in NYC this year! While it's not spooky-themed, it is an opportunity to get in costume and have a good time. Come dressed in your best flapper fit and indulge in a night of glamour and glitz with live music, aerialists, burlesque stars, theatrical acts, dancers, contortionists, showgirls, and more! VIP tickets offer exclusive extras such as early access, caviar sampling, petit fours, and casino and speakeasy experiences.
Where: Capitale: 130 Bowery, New York, NY
More information.
LIKE WHAT YOU'VE READ?
Never miss out on a new experience!
Create a Bucket Listers account to access exclusive offers and the latest news in your city