Published Invalid Date
NYC's Ultimate 2022 Winter Bucket List
Baby, it's cold outside—but there's still plenty to do in NYC this winter! ❄️☃️
by New York Bucket List
It's officially cold outside, and the temptation to hide under the blankets at home for the next few months is intense. We're here to tell you: don't do that! There are so many unique and exciting things to do in the Big Apple this season.
Whether you're into shopping local for handmade gifts, stepping into the setting of a holiday movie for festive cocktails, or looking for incredible live performances, we've got all of the best events and activities New York City has to offer this winter.
Celebrate Chinese New Year
This February, NYC will set off fiery colors and festivities in honor of the Lunar New Year. Manhattan's Chinatown will play host to the Firecracker Ceremony and Chinese New Year Parade. The vibrant affair celebrates Chinese culture and tradition, and is a must-see event if you've never attended before.
Where: Kimlau Square, Park Row in Chinatown, NYC
For more information on Chinatown's Lunar New Year Parade.
SEE ALSO:
🎄 Tinseltown Pop-Up: Where Everyday is Christmas
🥂 NYC's Newest and Most Festive Holiday Cocktail Bar: Holly Jolly Holiday Bar at Mad Morton
⛸ The Bucket Listers Guide to NYC Ice Skating Rinks
Go to an Immersive Santa Day Party
Take a trip to the North Pole, visit Santa's Workshop, and dance amongst a winter snowfall – all while partying with some of NYC's best house DJs at NYC's premier nightclub, Nebula NYC.
The entire room is covered in LED screens so this will literally feel like an immersive winter wonderland journey. Come in your best Santa gear and have a day!
Where: 135 W 41st St, New York, NY 10036
For more information on Immersive Santa Day Party.
Run (Or Just Watch) The NYC Marathon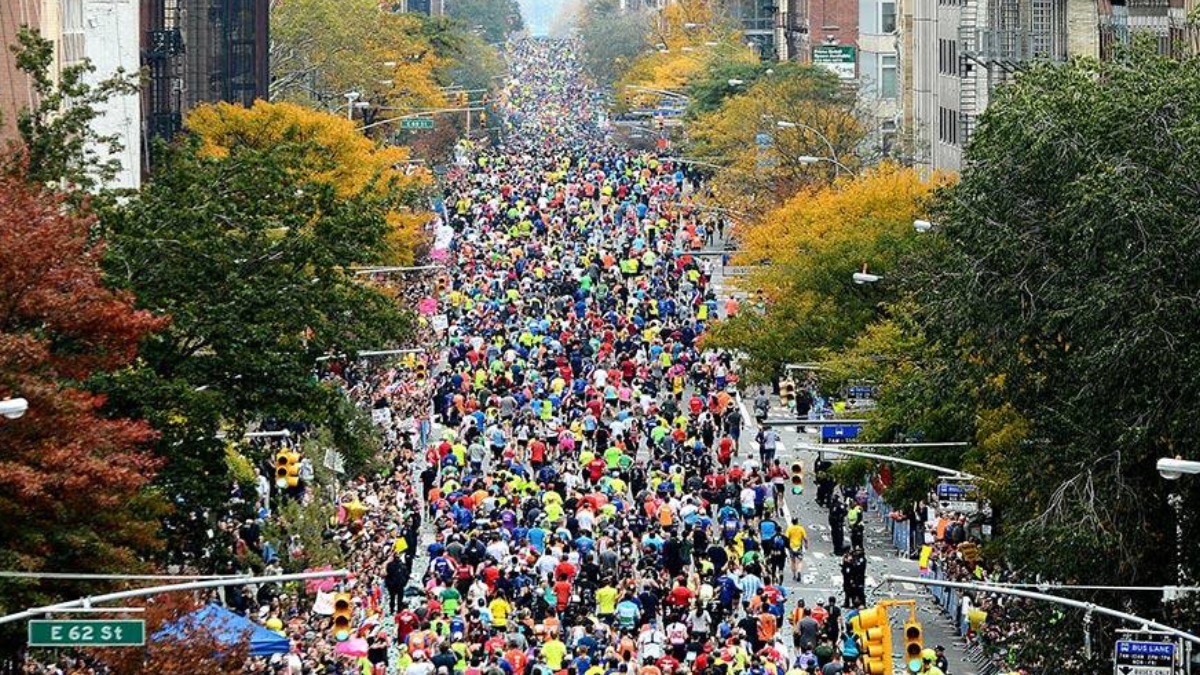 It's probably a little too late to start training for this year if you haven't already signed up, but it's always fun to cheer on the runners when the big day comes on November 6th. Last year more than 25,000 people crossed the finish line, and this year's race is sure to be bigger and better than ever!
Where: Starts in Staten Island and ends in Central Park
For more information on NYC Marathon.
Learn To Cook Something New
When the nights get colder, there's only one thing we want to do: eat! But sometimes, we don't want to brave the cold to go to a swanky restaurant. Learn how to make your own pasta, sushi, dumplings, pesto, and more at some of the best cooking classes NYC has to offer!
Where: Various
For more information on Winter Cooking Classes.
Enjoy Winter Jazzfest
Since its founding in 2005, Winter Jazzfest has only gotten bigger and better with each passing year. This year's event, which runs from January 12 through 18, will feature more than 500 musicians ranging from huge names to up-and-comers. Stop by, enjoy the good vibes, and find your new favorite jazz artist!
Where: Various locations.
For more information on Winter Jazzfest.
Watch Broadway Under The Stars
Wanna catch some of the performers from Broadway's biggest current hits for free? Stop by The Shops at Columbus Circle every Monday night from November 13 to December 11 to hear some killer performances. This year's shows include Charlie and the Chocolate Factory, Miss Saigon, Wicked, Chicago, and more!
Where: 10 Columbus Cir, New York, NY 10019
For more information on Broadway Under The Stars.
Spend a Day on the Slopes
Did you know you can wake up in Manhattan and be skiing down the snowy slopes at Mountain Creek by noon? The Mountain Creek Ski Bus picks up at two different locations in Manhattan.
With four mountain peaks and 46 trails to explore, you can expect to spend an entire day escaping the city. There's also a plethora of food options for when you need to refuel, and we recommend ending the day with a hot chocolate (or beer) in hand, before boarding the bus back to the city.
Where:
1st Pickup: 41 Union Square West (Corner of 17th & Broadway)
2nd Pickup: W 45th and 11th Avenue (directly across the street from Gotham Market)
For more information on the Mountain Creek Ski Bus.
Grab an Instagram-Worthy Hot Cocoa
Nothing beats going for a stroll down the lit-up streets of NYC with a cup of hot cocoa in hand to keep your fingers warm. One of our favorites is the blossoming hot chocolate from Dominique Ansel Bakery, complete with a marshmallow flower that blooms right in your drink!
Other fantastic options include grabbing a cocoa and people watching at The Standard, enjoying a luxurious sipping chocolate with homemade whipped panna from Bar Pisellino, or a unique brew with chili powder from L.A. Burdick's.
Where: Various locations.
Observe The World's Largest Menorah Lighting
There's some debate as to which menorah in NYC is actually the world's largest: Manhattan's or Brooklyn's. Both usually host kick-off events, and in Brooklyn, live music, hot latkes, and gifts are available every night. No matter which location you choose, you're in for quite the show when the "candles" are lit each night of Hanukkah.
Where:
Manhattan: Fifth Avenue between West 58th and West 59th Streets
Brooklyn: Grand Army Plaza: Flatbush Ave., Eastern Pkwy. and Prospect Park
For more information on World's Largest Menorah Lighting.
See Beyond King Tut
Get up close and personal with the pyramids, the sphinx, and Tutankhamun himself at National Geographic's Beyond King Tut exhibit. This immersive experience takes you back 3,000 years and you'll learn a ton while having the time of your life—or afterlife!
Where: Pier 36: 299 South Street, New York NY 10002
For more information on Beyond King Tut.
Donate Your Time Or Money To A Worthy Cause Such As Holy Apostles Soup Kitchen
Lend a helping hand to NYC's largest soup kitchen during the season of giving and goodwill. Consider volunteering to distribute food, or make a donation if possible. Contributing $28 feeds a guest every weekday for a month and they also have Thanksgiving donations available too.
Where: 296 Ninth Avenue, New York, NY 10001
For more information on Holy Apostles Soup Kitchen.
Watch The Rockefeller Plaza Tree Lighting
Tourists and locals alike can see the iconic Christmas totem, the gigantic Rockefeller Tree, return this holiday season! This year's tree lighting will take place on Wednesday, November 30th. Can't make the big event? Come by any night to go ice skating, grab a cocoa, and take in all of the splendor of its 50,000 LED lights.
Where: 30 Rockefeller Plaza New York, New York
For more information on Rockefeller Tree Lighting.
Have A Very Tipsy Winter Brunch
Selene is the perfect cozy restaurant to enjoy an amazing brunch with unlimited cocktails. Get out of the cold and try holiday-themed plates from gingerbread donut waffles with cream cheese glaze to avocado tree toasts, plus a selection of fun drinks!
Where: Selene: 11 Hanover Square, New York, NY 10005
For more information on A Very Tipsy Winter Brunch at Selene.
Check Out Amaze Light Festival
Experience a universe of sparkle, music, food, and celebration, at Amaze Light Festival in Queens. Enter themed worlds, meet charming characters, catch live shows, take a train ride, whiz down an ice slide, shop the markets (and a toy emporium), and more. There's so much to do, from writing letters to Santa with the kiddos to enjoying a festive cocktail. Don't miss it!
Where: 41 Seaver Way, Queens, NY 11368
For more information on Amaze Light Festival.
Recreate The Piano Scene From 'Big' At FAO Schwarz
Explore one of the largest and most iconic toy stores in the world located just around the corner from the Rockefeller tree. Full of games, toys, sweets, and more, FAO Schwarz is a kid's dream, and a great spot to knock out your holiday shopping. While you're there, step into the shoes of Josh Baskin and do a little dance on the keyboard! Make Tom Hanks proud.
Where: 30 Rockefeller Plaza, New York, NY 10111
For more information on visiting FAO Schwarz.
Immerse Yourself In Holiday Cheer At The Tinseltown Pop-Up Bar
It's time to make every day cheery again, and Tinseltown is doing just that. This holiday pop-up bar's halls are more than fully decked with baubles, bows, hanging trees, wreaths, and just about every festive goodie you can imagine!
You can also expect Santa, elves, presents, tinsel, festive tunes, and lots of winter warmer drinks, including a fabulous Christmas cocktail menu! Tickets include entry to the themed bar and a themed drink on arrival. No Grinches allowed!
Where: Pekarna NYC: 594 Amsterdam Ave., New York, NY
For more information on Tinseltown Pop-Up Bar.
Visit Brookfield Place
Brookfield Place has everything you need to get your holiday shopping done, plus restaurants, an outdoor ice rink, and spectacular views of the Hudson River. But it's the glowing luminaries that you don't want to miss. Starting November 25th, visitors can view the mesmerizing display of colorful lanterns in the Winter Garden. A special light show set to popular holiday songs begins at the top of every hour between 8 AM and 10 PM, and you can even catch performances of The Nutcracker on December 2nd–4th.
The luminaries installation is also interactive—guests can make holiday wishes, and act as a maestro by conducting the lanterns above. For every interaction, Brookfield place will donate up to $25,000 to Outreach, a local charity that helps youth and adults struggling with substance and alcohol abuse.
Where: 230 Vesey Street, New York, NY 10281
For more information on Brookfield Place.
Relax at AIRE Ancient Baths
Coordinating out-of-town guests, planning holiday meals, and trying to figure out what on earth to get that one hard-to-shop-for person on your list can be stressful. So, why not take some time to reset and treat yourself? AIRE Ancient Baths are dedicated to the relaxation of body and mind. Inspired by the tradition of baths from ancient civilizations, AIRE is literally an oasis in the middle of the city. Take a candlelit dip in their thermal baths at different temperatures, relax with a full body massage, and forget about your to-do list for a while.
P.S. The AIRE Ancient Bath experience makes a great gift for that hard-to-shop-for person.
Where: 88 Franklin St, New York, NY 10013
For more information on AIRE Ancient Baths.
Stop By The Golden Girls Kitchen
This is an absolute must for Golden Girls fans! Enjoy a slice of cheesecake and a fun, themed cocktail, all while taking advantage of legendary photo ops like Blanche's boudoir! You won't want to miss it.
Where: The Golden Girls Kitchen NYC: 19 Fulton St., New York, NY 10038
For more information on Golden Girls Kitchen.
Check Out The Dyker Heights Holiday Lights
More is more when it comes to over-the-top holiday light decorations in Dyker Heights. Marvel at the abundance of life-sized Santas, snowmen, and sleighs throughout this Brooklyn neighborhood and discover hundreds of homes decorated with the best lights and sounds in all of New York.
Where: Dyker Heights, Brooklyn, NY
For more information on the Dyker Heights Holiday Lights.
Attend a Holiday Strings Concert (with seasonal cocktails)
Get into the holiday spirit at a beautiful, candlelit concert featuring classical guitar and accompanying strings with the Manhattan skyline as the glittering backdrop. A trio of world-class musicians created this one-of-a-kind holiday program featuring beloved Christmas carols, Hanukkah folk tunes, and a selection of classic favorites from around the world. Plus, sip festive cocktails while you listen!
Where: The Penthouse: 8-08 Queens Plaza S, Queens, NY 11101
For more information on Seasonal Strings: Holiday Classical Concert & Cocktails.
Enjoy The LuminoCity Holiday Lights Festival
Historic Eisenhower Park in Long Island will transform into a magical world of lights through January 8. Walk through incredible, illuminated art installations with themes of Wildlife Safari, Dinosaur Adventures, Magic Kingdom, Alice's Enchantment, Winter Wonderland, HolidayLAND, and more. With more than 17 acres to explore, you won't want to miss this unique event.
Where: 1899 Park Blvd, East Meadow, NY 11554
For more information on the LuminoCity Holiday Lights Festival.
Gather the Group and go Snow Tubing
Looking to beat the winter blues? Bundle up and hop on the NYC Snow Tubing & Brewery Bus! Enjoy a 2-hour snow tubing session at Mountain Creek where you can warm up by the bonfire in between runs, and grab hot cocoa and s'mores from the snack shack.
After the snow tubing session, you'll head to Pennings Farm for dinner and drinks while enjoying the cozy ambiance of their greenhouse-turned Winter Beer Garden before heading back to the city. All round-trip transportation is included!
Where:
1st pickup: 85 Delancey St, Lower East Side (Delancey & Orchard St.)
2nd pickup: West 45th & 11th Ave (Across from Gotham Market)
For more information on NYC Snow Tubing & Brewery Day Trip.
Set Sail On A Holiday Cruise Around Manhattan
Enjoy the grand salon of the Manhattan yachts in their rich full holiday decor while taking in the NYC skyline during the most magical time of year. Choose from options like the Holiday Brunch Cruise, Holiday Jazz Cruise, Cocoa and Carols Cruise, and more!
Where: Chelsea Piers (Pier 62)
For more information on Holiday Cruises.
Visit The Holly Jolly Bar
Get into the holiday spirit with some festive spirits (the alcoholic kind) at the Holly Jolly Bar. The halls of Mad Morton will be decked from top to bottom, and you'll feel like you just stepped into a Hallmark movie. $30 gets you 90 minutes of good vibes, entertainment, and a welcome cocktail, and the event runs from November through January.
Where: Mad Morton: 47 7th Ave S, New York, NY 10014
For more information on The Holly Jolly Bar at Mad Morton.
Go Ice Skating at Industry City Other NYC Ice RInks
Figure eight your way into the holiday season at one of NYC's many ice rinks. Skate under the stars and warm up by the fire pits at Industry City's ice rink in Brooklyn. Or, head to Wollman Rink in Central Park where you can skate and take in views of the park's scenery and the city's architecture (and recreate scenes from famous movies like Home Alone 2 and Serendipity).
Where: 830 5th Ave, New York, NY 10065
For more information on NYC Ice Skating Rinks.
Step Into The Santa Clauses' Winter Wonderland
The Watermark at Pier 15 is transforming into the North Pole from November 15th through January 15th! Inspired by Disney's The Santa Clauses, the waterfront will be decked out in candy canes and gingerbread houses, and it's the perfect place to grab a drink, a sweet treat, and some iconic photos for your holiday card!
Where: Watermark: 78 South St Pier 15, New York, NY 10038
For more information on The Santa Clauses' Winter Wonderland.
Stroll The Holiday Shops In Bryant Park, Union Square, And More To Find The Perfect Gift
Lining the allées and terraces of Bryant Park, the incredible open-air market featuring artisans from around the world is back. This is the perfect spot to search custom-designed kiosks for crafts, gifts, and delicacies, or spend the day people-watching and taking in the festive decor. Other shopping options include the Union Square Holiday Market, Grand Central Terminal's Holiday Fair, and a brand new holiday market in Brooklyn—they're all worth checking out!
Where: Various locations.
For more information on NYC's best holiday markets.