Published Invalid Date
The Best Ways to Spend Thanksgiving in NYC
12 of the best ways to spend Thanksgiving in the Big Apple. 🦃
by New York Bucket List
New York City is a magical place in the winter. The streets are lit with twinkling lights, the shop windows have larger-than-life displays, and the restaurants pull out all the stops for their festive feasts. Thanksgiving is the kickoff to the holiday season, and there's no shortage of ways to spend Turkey Day in New York.
Of course, the Macy's Thanksgiving Day Parade is the first thing that comes to mind — it's a New York institution, and you need to do it at least once if you're living in the Big Apple. If the crowds and craziness aren't your thing, there's always ice skating, sightseeing, shows, shopping, and much more! From traditional to unorthodox, there's a lot going on.
No matter what you're looking for, New York City is chock full of things to do on Thanksgiving, and we've rounded up the best activities below. And if you're looking for things to do all season long, make sure to check out our Ultimate Winter Bucket List.
Watch the Thanksgiving Day Parade
If you live in New York, there's a pretty good chance you're at least considering watching the biggest Thanksgiving parade in the country! From performances to floats to massive balloons, the iconic event has something for everyone. You should get there early to snag a spot along the parade route — or stay home and watch it from the couch!
For more information on Macy's Thanksgiving Day Parade.
Go Ice Skating
From rooftops to stadiums to Rockefeller Plaza in front of the giant tree, there are plenty of places to go ice skating in the city. What better way to get your blood pumping before going into a turkey coma?
For more information on NYC ice skating.
See Some Holiday Lights
If you see Thanksgiving as a test run for Christmas, why not get the festivities started early and go see some of the best light displays in NYC? From Dyker Heights to The Shops at Hudson Yards to the Bryant Park Winter Village, there are lots of festive spots to walk around and take in the jolly scenery.
For more information on the best holiday lights in NYC.
Check Out the Holiday Window Displays
Nothing beats a magical stroll after Thanksgiving dinner! Head to Manhattan to see some of the most over-the-top extravagant holiday window displays in the country — Macy's, Bergdorf's, and Bloomingdale's will all blow you away.
Browse Black Friday Deals
Whether you're lining up outside Target on Thursday night or just doing a little shopping from your phone while watching TV, getting a jump on Black Friday shopping will make sure you get the very best deals. And after seeing family, we're willing to bet you'll have some new gift ideas top of mind — electronics, clothing, or activities, there's no shortage of deals to be found.
For more information on Bucket Listers deals.
Visit the Central Park Zoo
There aren't many attractions open on Thanksgiving Day, but the Central Park Zoo remains available for guests to walk around, see some animals, and learn a thing or two. Spend the morning strolling through the attractions, and have a unique Thanksgiving experience you'll remember forever.
For more information on the Central Park Zoo.
See a Show
Kick off the holiday season by eating your dinner early and going to see a show in the evening! The Radio City Rockettes will be performing their Christmas Spectacular at 2pm, 5pm, and 8pm on Thanksgiving Day.
For more information on the Radio City Music Hall.
Visit the National Museum of the American Indian
If you want to get out of the house and learn something, stop by the National Museum of the American Indian in Lower Manhattan. Not only is it one of the only museums open on Thanksgiving, but it's also free to visit.
For more information on the National Museum of the American Indian.
Watch the Giants Play
So many people associate Thanksgiving with football, but the New York Giants have only played on the holiday four times! Luckily, this year they'll be taking on the Dallas Cowboys for the big game, which starts at 4:30pm EST.
For more information on the Giants.
Enjoy Thanksgiving Without Having to Cook It
You can still have an incredible feast without all the cooking (and cleaning). Many restaurants in NYC offer awesome holiday meals. Check out Frenchette, Loring Place, Tavern on the Green, Porter House Bar and Grill, Bar Boulud, or The Elgrin for some of the best Thanksgiving dinners around.
For more information on Tavern on the Green's Thanksgiving dinner.
Volunteer and Give Back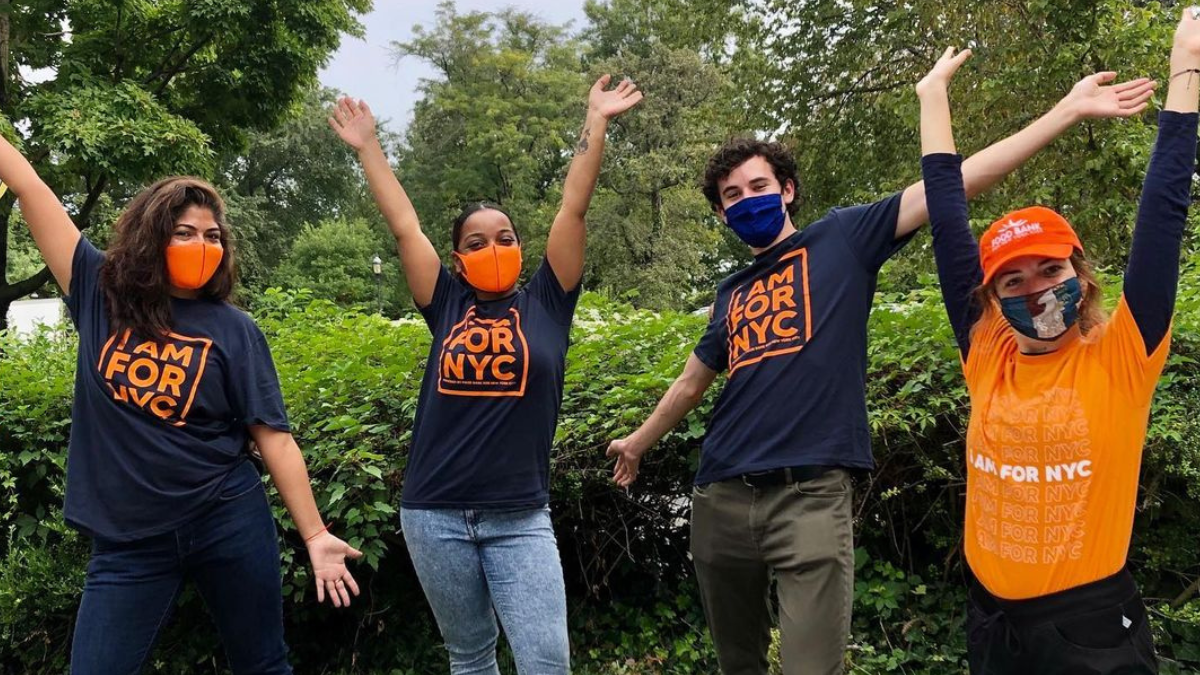 What better way to show your thankfulness than to give back on Thanksgiving? Citymeals, The Coalition for the Homeless, The Bowery Mission, and New York Cares all have food prep and delivery events to help those in need. Some places, like Food Bank for NYC, even have unique virtual opportunities you can do from home, like being a social media ambassador or a volunteer tax preparer.
For more information on Food Bank for NYC volunteer opportunities.
SEE ALSO:
🎄 Tinseltown Pop-Up: Where Everyday is Christmas
🥂 NYC's Newest and Most Festive Holiday Cocktail Bar: Holly Jolly Holiday Bar at Mad Morton
❄️ NYC's Ultimate 2022 Winter Bucket List
Shop the Holiday Markets
Stroll through some of New York's best holiday markets — maybe you'll find the perfect thank you gift for your Thanksgiving dinner host! Luckily, the Grand Central Terminal Holiday Fair and Bryant Park Winter Village will both be open on Turkey Day.