Published Invalid Date
The Best Places for Holiday Brunch in NYC
The holidays are here and gingerbread waffles are calling. 🎄🥂🧇
by New York Bucket List
Winter is upon us in NYC, and love it or hate it, it's here to stay for a while. Thankfully, there are lots of ways to stay busy this winter, from spending an afternoon shopping the holiday markets to taking a spin at one of the city's ice rinks.
If you're looking for a festive and indulgent way to start your winter day though (and don't feel like spending any more time outside than you have to), we've got you covered. We've rounded up six of the top spots in the city to sit down for a hot meal filled with festive dishes. Whether you're looking for bottomless mimosas or want to spend a leisurely morning with the family, you can find it all below!
Tinseltown
Tinseltown is all about celebrating Christmas so you can expect Santa, elves, presents, tinsel, festive tunes, and lots of winter warmer drinks, including a fabulous Christmas cocktail menu! The halls are more than fully decked with baubles, bows, hanging trees, wreaths, and just about every festive goodie you can imagine.
Tickets include entry to the themed bar and a themed drink on arrival. No grinches allowed. There will also be family-friendly sessions that will offer mocktails/non-alcoholic drinks only and no alcohol will be served.
Where: Pekarna NYC: 594 Amsterdam Ave., New York
For more information on Tinseltown.
Santa's boozy Brunch at the Holly Jolly Bar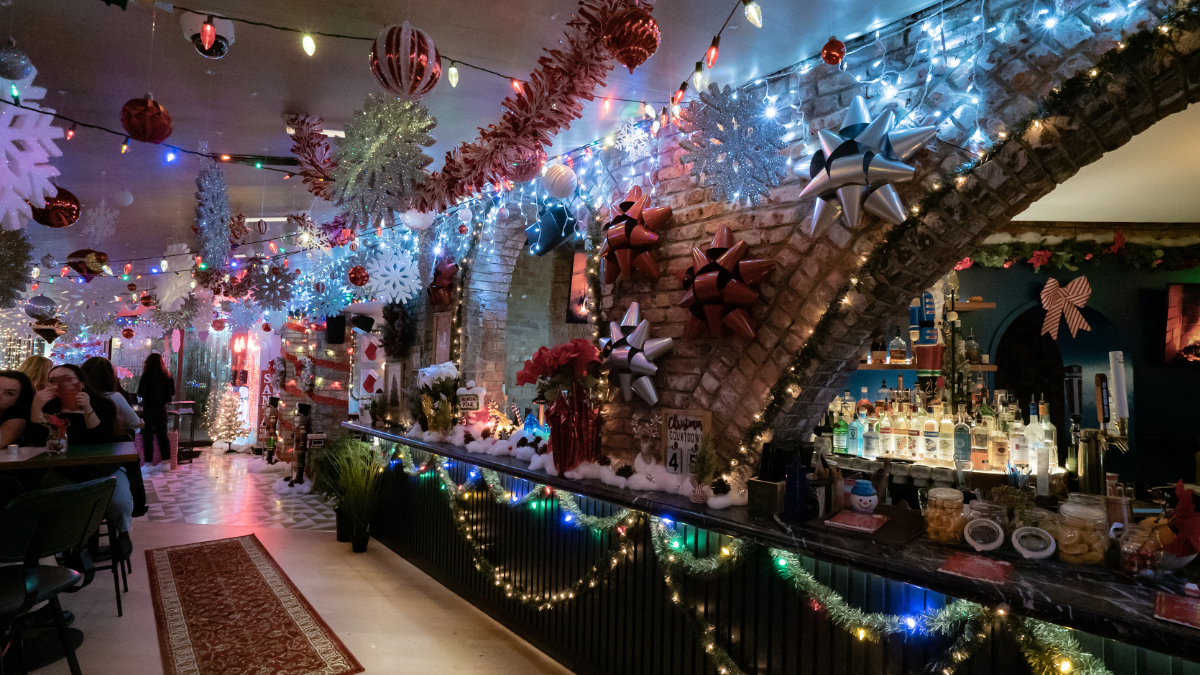 The Holly Jolly Pop-Up Bar at Mad Morton comes with all the bells and whistles of festive fun you expect: glowing string lights, holiday decor, tinsel, and even classic holiday movies playing on the TV behind the bar. It's a great spot to hit anytime during the season, but Santa's boozy Brunch is not to be missed.
Saturday and Sunday mornings, they offer a brunch option (with bottomless cocktails) that includes menu items like Naughty + Nice Chicken & Waffles, and North Pole French Toast, served with fresh berries and maple syrup.
Where: Mad Morton: 47 7th Ave S, New York, NY 10014
For more information on The Holly Jolly Bar at Mad Morton.
The Santa Clauses' Winter Wonderland at Watermark
The Watermark at Pier 15 is transforming into the North Pole from November 15th through January 15th! Inspired by Disney's The Santa Clauses, the waterfront will be decked out in candy canes, lights, Santa's sleigh, and more.
What's more, every Saturday and Sunday from 12pm–4pm, you can grab brunch in a private glass house overlooking the East River and the Brooklyn Bridge. Menu options include creative plates like the Let It Snow Cakes (hot chocolate pancakes with marshmallow fluff and chocolate drizzle), Blitzen Toast (eggnog-soaked pretzel bread with sugar glaze and rum-soaked raisins), and more. You can also order festive cocktails or hot drinks like cider and hot cocoa.
Where: Watermark: 78 South St Pier 15, New York, NY 10038
For more information on The Santa Clauses' Winter Wonderland.
A Very Tipsy Winter Brunch at Selene
Selene is the perfect cozy restaurant to enjoy an amazing winter brunch and cocktails. Get out of the cold and try holiday-themed plates from gingerbread donut waffles with cream cheese glaze to avocado tree toast, plus a selection of fun drinks!
Each ticket includes an entree from the brunch menu and unlimited cocktails.
Where: Selene: 11 Hanover Square, New York, NY 10005
For more information on A Very Tipsy Winter Brunch at Selene.
Bubby's 12 Days of Christmas
Bubby's in Tribeca is known for simple and fresh comfort food. An NYC staple since 1990, the restaurant also puts on a 12 Days of Christmas Holiday Brunch. From December 21st through January 1st, the restaurant will serve up a full brunch menu along with signature holiday specials including Roasted Duck Cranberry Hash, Swedish Pancakes with Lingonberries, Eggnog Pie, and more.
Stop by anytime between 8am and 4pm—no reservations, walk-ins only.
Where: 120 Hudson St.
For more information on Bubby's 12 Days of Christmas.