food & drink · music & nightlife ·
Published January 19, 2023
The Most Romantic Date Ideas For Valentine's Day in San Francisco
Enjoy Valentine's festivities all February long at these 19 romantic spots in San Francisco. 💘
by San Francisco Bucket List
Valentine's Day is around the corner, and thankfully San Francisco has all the ingredients you need to get the sparks flying. We've rounded up the most date-worthy spots in the city, from the sexy cocktail lounges to dreamy waterfront views. Whether you're looking to go all out with chocolate, flowers, and the perfect romantic restaurant or want something a little more lowkey, our list of romantic date ideas has something for everyone.
Not feeling Valentine's Day this year? Check out this Bad Blood Break-Up Bar, where you can drink, sing, and dance along to Taylor classics. Valentine's Day is also a good excuse to gather the crew and treat yourselves to an epic group dinner. Or, celebrate Galentine's Day (officially February 13), and round up your besties for mimosas and bloody marys at one of San Francisco's best brunch spots!
22 Romantic Ways to Spend Valentine's Day in San Francisco
Pacific Cocktail Haven
The name says it all. This is the place to be if you want to have an intimate conversation with your date over delicious drinks. Try some favorites like Japanese-whiskey-infused Kung Fu Pandan or the Bobby Burns. Some of these drinks are even chilled with a PCH-inscribed ice cube — talk about cool.
Where: 550 Sutter St
For more information on Pacific Cocktail Haven.
Take A Sushi Making Class
Instead of eating out or ordering in, try something new together and sign up for a hands-on sushi-making class. Learn how to make perfect sushi rice, choose fresh ingredients, and master the art of the roll. You can also choose from a variety of beverages, so you'll get to enjoy your handmade Tuna, Salmon, and California Rolls while sipping wine, sake, or beer.
Where: Hotel Majestic 1500 Sutter St, San Francisco, CA
For more information on Sushi Making Classes.


The Fillmore
The Fillmore's beauty will romanticize any band or performance you and your sweetie want to see. Step into the main stage area to enjoy the show under a mystic purple aura adorned with colorful crystal chandeliers across the ceiling. Need a break? The upstairs auditorium hosts a quieter bar area and walls filled floor-to-ceiling with album posters to marvel at.
Where: 1805 Geary Blvd
For more information on The Fillmore.
Alchemist Bar & Lounge
Top-notch craft, steampunk decor, and whimsey all converge in SoMa to bless us with the Alchemist. You can lead your date by the hand to this secretive second-floor location and enjoy hand-crafted cocktails utilizing "medicinal" tinctures and house-made infusions. If you tire of lounging in the richly dark leather couches (doubtful), you can try your hand at shuffle-puck or watch the projected silent films on the back wall.
Where: 679 3rd St
For more information on Alchemist Bar & Lounge.
Nopa
Nopa is go-to restaurant material for pretty much everything, but especially a great date. The earthy California fare is a crowd-pleaser, but the outstanding cocktails are its secret weapon. A delicious, accessible menu with superb drinks served in a comfortable, airy spot? The only difficult part is the wait.
Where: 560 Divisadero St.
For more information on Nopa.
Scopo Divino
Wine bars are the romantic, dignified, and relaxed members of the bar family—aka, first date gold. Tucked into a side street in the Presidio Heights neighborhood, Scopo Divino's cushioned chairs and maroon walls are the perfect spot for you and your date to enjoy a cozy evening. The small bar even hosts a live band most nights—the perfect background sound for your partner's small talk.
Where: 2800 California St
For more information on Scopo Divino.
Flores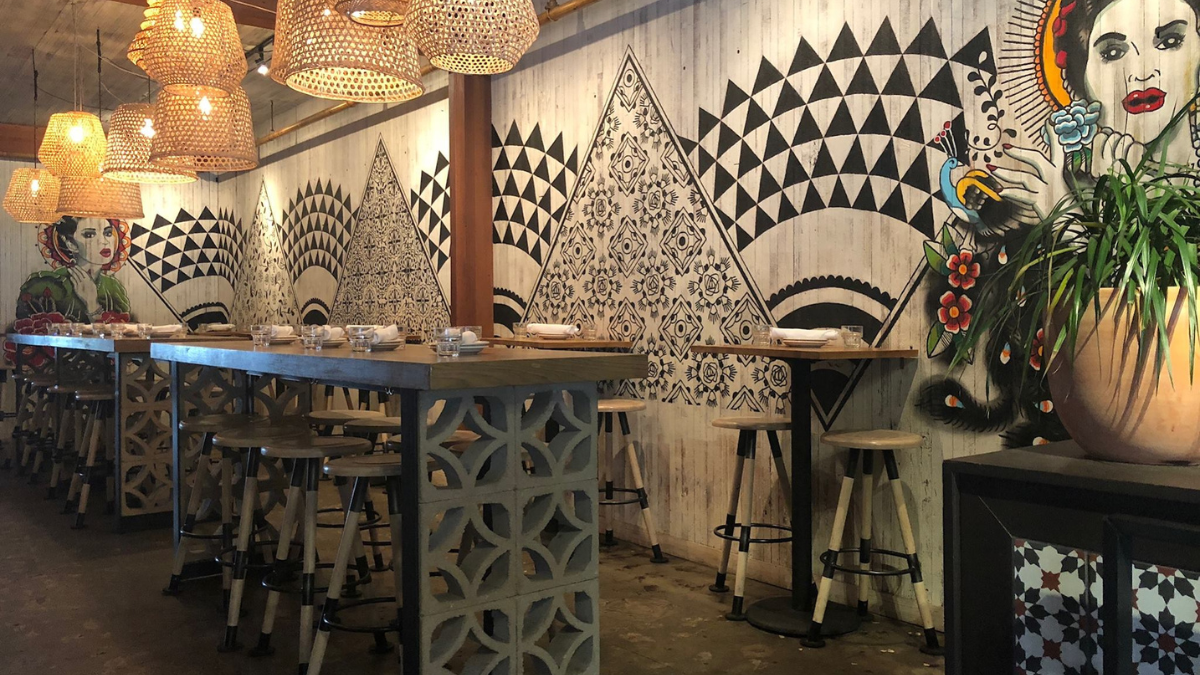 Not sure if you want to do drinks or dinner? Flores meets you in the middle. The lively and bright Mexican spot sticks to traditional dishes and flavors (think sopes, plantains, and crab tostadas), but doesn't leave anyone out, providing plenty of options in case your match only eats quesadillas. Start with some margaritas for the table, and see where the night takes you. Spoiler: everything's delicious.
Where: 2030 Union St
For more information on Flores.
Pagan Idol
What if you could feel like you were under the stars on a tropical getaway without leaving the city? Step inside the ultimate romantic setting at Pagan Idol, a massive tiki bar (complete with a steamy, erupting volcano) that delivers just that. The ceiling is designed as a twinkling night sky, and guests pass through a ship-themed entrance to reach a spacious tropical foliage and koi pond area that will put you and your date in paradise.
Where: 375 Bush St
For more information on Pagan Idol.
Stroll Along Lovers' Lane
Are we being too obvious here? Going for a walk with your significant other is a perfect lowkey Valentine's Day activity no matter where you decide to go, but this picturesque trail is literally named for lovers, so it seems pretty fitting. Established in the 18th century as a shortcut used by Spanish soldiers and missionaries to get from the Main Post to Mission Dolores, Lovers' Lane is the oldest footpath in the presidio.
Pro tip: End your journey at the Presidio Officers' Club, where you can grab a bite to eat at Arguello Restaurant and enjoy the historical exhibits.
Where: 528-542 Presidio Blvd, San Francisco, CA 94129
For more information on Lovers' Lane.
The View
Could it really be so simple to find the SF bar with the most breathtaking view as choosing the one named "The View"? It can. Located on the 39th floor of the SoMa district's Marriott Marquis, you'll find a posh lounge surrounded by giant, arching windows that showcase the entire downtown. The stunning view lives up to the hype regardless of weather or time (even Karl the Fog looks gorgeous rolling in through the glass).
P.S. It's a great spot to take a date new to the SF area.
Where: 780 Mission St. (inside San Francisco Marriott Marquis)
For more information on The View Lounge.
Dahlia Lounge
This sexy cocktail lounge is a newer addition to The Mission, opening its doors in the summer of 2022. The intimate spot is located across the street from the San Francisco Armory and boasts original craft cocktails, live music, and late-night fun…in other words, all the components needed for a spicy date night. Enjoy a sultry jazz show every Wednesday night, or head in for a drink on Saturday and enjoy music from live DJs.
Where: 1799 Mission St.
For more information on Dahlia Lounge.
Flour + Water
Create your very own Lady and the tramp moment over a delicious plate of pasta at Flour + Water. Are we overhyping a pasta-focused restaurant? Absolutely not. A decadent treat to share with a loved one (if you can snag a coveted reservation), Flour + Water provides a warm, if not straightforward, atmosphere to serve creative flavor combinations of absolutely heavenly pasta dishes. Guaranteed to awaken the Lady and the Tramp in us all.
Where: 2401 Harrison St.
For more information on Flour + Water.
Watch the Sunset Together
Watching the sunset may be a cliche, but it's a cliche for a reason. Spending an evening admiring the golden hour in San Francisco is never time wasted, and it makes for a very romantic evening. Some of our favorite spots include Ina Coolbrith Park, the Sutro Baths, and along Lincoln Boulevard. If you want to kick it up a notch, pack up a picnic or a bottle of wine, and make it a night to remember.
Where:
Ina Coolbirth Park: Vallejo & Taylor, San Francisco, CA 94133
Sutro Baths: 1004 Point Lobos Ave, San Francisco, CA 94121
Lakehouse Jazz
Listen to some mood music at a jazz show right on Stow Lake. Lakehouse Jazz is a unique and intimate concert experience in iconic Golden Gate Park at a hidden boathouse. Listen and learn jazz from some of the best musicians in the Bay Area and enjoy everything from 1920s Swing to Latin Jazz, Funk, Fusion, Hip Hop, and original compositions.
Where: Stow Lake Boathouse: 50 Stow Lake Drive East San Francisco, CA 94118
For more information on Lakehouse Jazz.
Villon
It may only be pronounced "villain," but there really is something about the bad ones, isn't there? Residing in the Proper Hotel, The Villon gets our blood pumping with gorgeous black marble and walls of aquatic blue, creating a richly decadent feel for its patrons. Come for the ambiance, stay for the extensive original and classic cocktails (and mocktails) on the menu.
Where: 1100 Market St
For more information on The Villon.
Live Comedy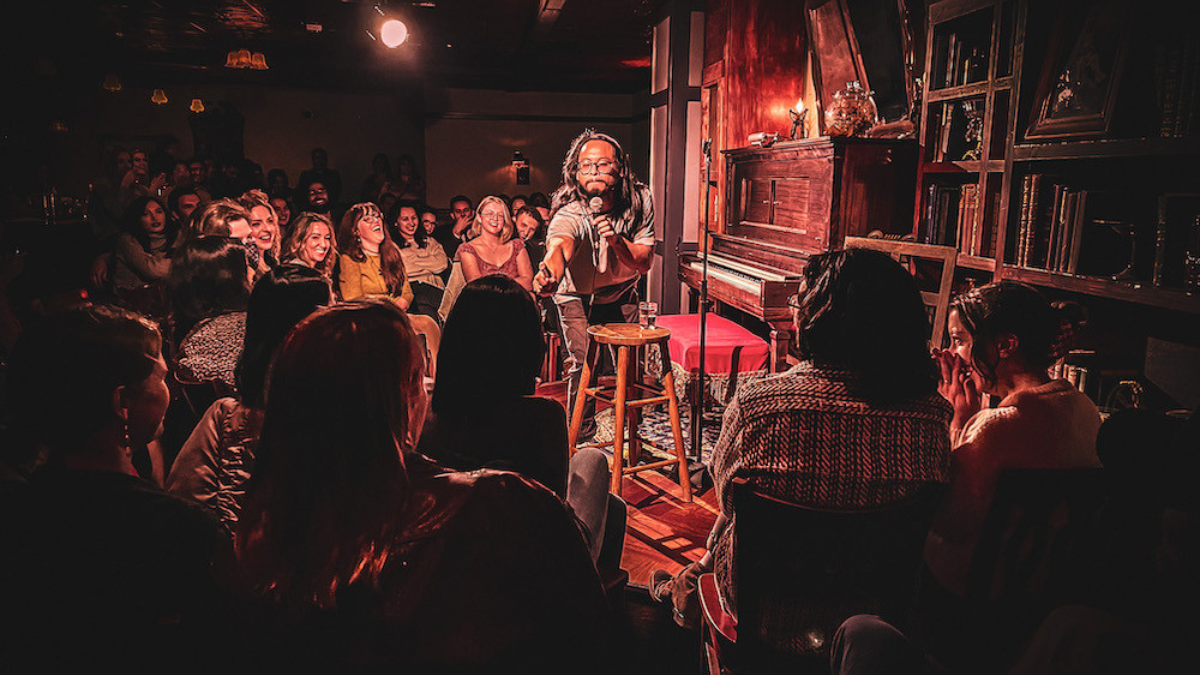 Nothing encourages connection like laughter. Shake things up and get ready to laugh the night away together at an Underground Comedy show. Intimate and underground, the show is hosted at the world-famous Palace Theater (home of the renowned immersive show, The Speakeasy) and showcases comedians featured in The New Yorker, on Comedy Central, SNL, Netflix, and HBO.
Where: The Palace Theater: 644 Broadway
For more information on Live Comedy Shows.
Enjoy a Romantic Dinner at Bella Trattoria
Treat yourself and your date to a special Valentine's dinner at Bella Trattoria. The romantic Italian restaurant is offering up a four-course menu in its intimate dining space. Choose from an indulgent menu with items like Roasted Veal Bone Marrow, Fresh Lobster Ravioli Pasta, Squid Ink Polenta, and decadent desserts like Tiramisu or Bombolone di Nutella.
Where: 3854 Geary Blvd, San Francisco, CA
For more information on Bella Trattoria.
Dandelion Chocolate
Did you know there is a science-backed link between eating chocolate and feeling love? So if you're hoping to strengthen that connection, head to a chocolate oasis like Dandelion Chocolate. Modeled after the tea rooms of Paris, the 16th Street small-batch chocolate factory turns cocoa eating into a romantic outing. Watch the organic bean-to-bar process while savoring a hot chocolate or other decadent treats. On your way out, pick up a curated gift box for at-home snacking. Can't get enough? You and your SO can try your hand at truffle making with one of Dandelion Chocolate's online experiences.
Where: 2600 16th St
For more information on Dandelion Chocolate.
Play a Round of Ping-Pong at SPIN
By combining an unusual mixture of sport, design, and entertainment, SPIN is the original ping pong social club. Grab your boo and go out for a night of friendly competition at their Valentine's-themed event featuring DJs, specialty cocktails, surprise performances, and more! Tickets include a 2-hour open bar, access to ping-pong tables, paddles, unlimited balls, DJs, dancing, and more.
Where: 690 Folsom St. San Francisco, CA
For more information on Love Pong at SPIN.


Brunch at the Palm House
Perfect for the morning after or a daytime date alike. Brunch at the Palm House offers a robust menu of tropical flavors like the mouth-watering fried rice stuffed pineapple or banana bread french toast. Sipping on their signature refreshing and fruity Palm House Slushy set against the open-air, vibrant atmosphere, you and your date will feel like you took a bae-cation to an island resort without actually leaving the city.
Where: 2032 Union St.
For more information on Brunch at the Palm House.
Trestle
For couples looking to treat themselves to a romantic dinner without breaking the bank, look no further than loveable and urban-chic Trestle. The prix fixe $39 three-course tasting menu is perfect for date night with a semi-serious beau and has a fantastic wine list to match. Shoutout to whoever made the alluring decision to paint the exposed brick wall a mood-setting charcoal black.
Where: 531 Jackson St
For more information on Trestle.
Set Sail on the SF Bay
Sail away with your lover on this one-of-a-kind, romantic outing. Experience San Francisco by water, with unmatched views of the iconic skyline, Alcatraz Island, and a ride under the Golden Gate Bridge. Finger's crossed, you'll even get a glimpse at some marine life like sea lions and dolphins. For an extra romantic evening, book a sail at sunset, or go after dinner for glittering views of the city skyline.
Where: Pier 39
For more information on Sailing Adventures.


LIKE WHAT YOU'VE READ?
Never miss out on a new experience!
Create a Bucket Listers account to access exclusive offers and the latest news in your city