food & drink · arts & culture · music & nightlife · attractions & tours · outdoor activities ·
Published September 1, 2023
NYC's Ultimate 2023 Fall Bucket List
Everything you need to do in New York this fall to make the most of spooky season. 🍂🎃
by New York Bucket List
Whether you're sad to see summer go, or relieved that cooler temperatures are ahead, fall in New York is here. And honestly who doesn't love seeing New York in the fall with its changing leaves, crisp mornings, and fewer crowds? After a long, hot summer, a cool walk in Central Park followed by a warm pumpkin spice latte sounds pretty good.
Plus, there are a slew of fall activities all season long. From pumpkin patches to Oktoberfest celebrations, and Halloween parties to spooky movies, NYC packs a lot of fall into a few short months. To make it easy, we gathered a list of the city's best autumn activities. Here's everything to see and do in New York this fall!
The Ultimate Guide to Fall in New York
Welcome Fall at Cityside Pumpkin Patch
You can experience all the fun of fall on the farm without having to leave the city. Cityside Pumpkin Patch in LIC is a rooftop pumpkin patch that offers locally harvested pumpkins from upstate New York, along with a pumpkin-smashing activity zone, scarecrow archery, an array of scrumptious treats and beverages, a "not haunted" haunted house, and lots of Halloween-inspired decor and photo ops!
P.S. Want more? We rounded up all the best pumpkin patches, farms, and fall festivals in and around New York!
Where: The Summer Club: 8-08 Queens Plaza S, Queens, NY
More information.
Stroll Through Central Park During Foliage Season
(Not so) bold take: Fall is Central Park's most beautiful season. You'll need frequent walks to see all the majesty: from the photo-favorite Gapstow Bridge to the enchanted-forest-esque Ramble and North Woods areas, there's an entire world of golds, browns, and reds to see. Track it all via the Central Park Fall Foliage Map. Can't get enough? We rounded up 15 places to see fall colors in New York.
Where: Central Park, NY
More information.
Celebrate Italian Heritage at The Feast of San Gennaro
Move over, Thanksgiving! New Yorkers know that the Feast of San Gennaro is the real banquet event of the autumn season. Visit Little Italy from Thursday, September 14, through Sunday, September 24, to sample some of the best Italian cuisine New York has to offer and to have a blast at the street fair.
Where: Mulberry Street, Little Italy, between Canal St. and Houston St.
More information.
Party at Brooklyn Mirage's First-Ever Oktoberfest
Brooklyn Mirage is hosting its first-ever Oktoberfest, and its going to be epic. Sip authentic German (and non-German) beer, brats, giant pretzels, and other food while enjoying a rotating lineup of DJs throughout the day and amazing views. The event will have a giant dance floor, Oktoberfest-style seating with picnic tables, live music, yard games, and an Oktoberfest-themed setup. Oktoberfest attire is encouraged but not required!
Where: The Brooklyn Mirage: 140 Stewart Ave, Brooklyn, NY
More information.
Marvel At The Great Jack O' Lantern Blaze
Nothing gets you in the spooky spirit quite like thousands of jack-o-lanterns. The Great Jack-O-Lantern Blaze returns to New York this year with over 7,000 illuminated pumpkins—designed and hand-carved on-site—that form an 18th-century landscape. Wander through dozens of incredible pumpkin installations (including a twirling Ferris wheel), complete with synchronized lighting and an original soundtrack.
Where: Van Cortlandt Manor at 525 S Riverside, Croton-on-Hudson, NY
More information.
Immerse Yourself in Dreams of Dracula
Experience the legendary tale of Dracula like never before in a mix of immersive theater, dance, and masquerade. This show is a choose-your-own-adventure journey through history's most famous vampire story. You'll walk through the darkness, meet the Brides Of Dracula, dance in Dracula's ballet as it unfolds around you, and much more.
Note: Gothic or Victorian costumes are very much encouraged, and Friday and Saturday nights are black-tie affairs!
Where: Musica Club NYC, 637 West 50th Street, New York, NY
More information.
Try a Pumpkin Spice Espresso Martini
It's not fall until you've had your first sip of a PSL (Pumpkin Spice Latte), but have you ever tried a Pumpkin Spice Espresso Martini? This year marks the 20th anniversary of the iconic fall flavor at Starbucks and to celebrate, Starbucks Reserve® locations in NYC are introducing Pumpkin Spice to their fall food and beverage menus for the first time.
Swing by Starbucks Reserve® Roastery New York, the Empire State Building® store or the Greenwich Lane location to treat yourself to a Starbucks Reserve® PSL or other delicious new items like the Pumpkin Spice Whiskey Barrel-Aged Iced Latte, Espresso Martini and more.
Where: Starbucks Reserve® Roastery New York: 61 9th Ave. | Empire State Building® Store: 350 5th Ave. | Greenwich Lane Store: 1 7th Ave.
See the menu
Attend a Haunted Soiree
For a grown-up take on Spooky Season, dress up and attend Haunted Soiree: A Macabre Cocktail Party. More than just drinks and costumes, this experience pulls you into a story filled with intrigue and mystery. Immerse yourself in the enchanting atmosphere with mini-cocktail tastings, captivating live performances, and wandering entertainers. You get to decide just how deep into the story you want to get as you engage with unique spectral characters, each holding a piece of the original ghost story inspired by historical hauntings and regional folklore.
Where: Sixty Pine Street: 60 Pine St, New York, NY
More information.
Go on an Apple Picking Day Trip
For a day out in the crisp autumn air, head to Pennings Orchard to gather some Granny Smiths—or Honecrisps, or Pink Ladies, or McIntosh Reds—whatever fits your fancy. Find your favorite apple or grab a medley; each guest is welcome to pick 10 pounds of apples to take home. These trips include round trip transportation from NYC, plus a pour a cidery, beer garden, food, and farmers market on-site!
Where: Pick Up From Lower East Side or Hell's Kitchen
More information.
Prost to Oktoberfest on Stone Street
Celebrate Oktoberfest in the heart of New York City at historic Stone Street, the very first paved street in NYC, known for its vibrant nightlife dating all the way back to the 1600s. Experience the tapping of the first keg of Spaten, just like they do it in Munich, then join in the festivities with Stein holding contests, carnival games, t-shirt giveaways, 360 photo booths, and activities for all ages.
Don't miss the live band from Munich performing on September 23 and September 30 weekends, and be sure to arrive early on opening day, September 23, for a chance to snag a custom Spaten stein to kick off the festivities!
Where: The pedestrian-only section of Stone Street, between 85 Broad Street and Hanover Square
More information.
Dress Up Your Pup for the Halloween Dog Parade on October 21
Hot diggity dog! The largest pooch costume parade returns to Tompkins Square Park on October 21! What's more exciting than a wiener dog dressed as a hot dog? Answer: An entire showcase of pups in costumes. The Annual Halloween Dog Parade is a fall staple and we're pretty *pawsitive* you're not going to want to miss it. The competition kicks off at 1:00 PM and the event is free and open to the public.
Where: Tompkins Square Park, E 10th St, New York, NY
More information.
Visit a Rooftop Vineyard
Winter is coming...but it's not here yet! Make the most of rooftop season while you still can and book a reservation at NYC's only rooftop vineyard. You can sip wine, take in the views, and cozy up while watching the sunset. Pro-tip: it makes for a great date night!
Where: 299 Sand Street, Brooklyn, NY
More information.
Carve Jack-O-Lanterns for The Pumpkin Flotilla In Central Park
Enjoy pumpkin carving, spooky stories, a costume parade, and the signature Pumpkin Flotilla at the Harlem Meer at twilight! The pumpkin flotilla is fun for all ages and has been around for about 30 years. Bring your own carved pumpkin to the free flotilla and watch as a 100-pumpkin-strong fleet sets sail.
Note: 2023 Dates TBA; no tickets or reservations required.
Where: Central Park, Harlem Meer Beach near Fifth Avenue and East 108th Street
More information.
Take a Seasonal Ferry Cruise
Take in sunset views of the city or see the fall colors from the water. Seastreak is a ferry line offering high-speed luxury vessels with seasonal routes that include autumn cruises on the Hudson River, whale watching cruises, and a sunset cocktail cruise around New York. You can even take a daytrip to the Sandbox at Seastreak Beach, featuring live music every night, signature cocktails, and food trucks.
Where: Various locations. Check the website for details.
More information.
Cozy Up at Central Perk
On chilly fall days, grabbing a cup of coffee and settling into the squishy orange couch from FRIENDS™ is just what we need. And thanks to The FRIENDS™ Experience, you can do just that! Round up your own friends and hang out at Central Perk, sit at Monica and Rachel's kitchen table, kick back and relax in Joey and Chandler's comfy chairs, and explore two floors of immersive experiences.
Pro-Tip: Book through Bucket Listers for the lowest ticket prices available!
Where: 130 E 23rd St, New York, NY
More information.
Take a Day Trip to the Catskills
Fall is the perfect time of year to take a scenic drive through New York's mountains and valleys. For a truly unique experience, try a pedal rail tour along the historic Ulster & Delaware Railroad as you travel alongside the Esopus Creek through the beautiful woods of the Catskill Mountains. Pack a snack and drinks to enjoy by the creek while you take in the changing colors and crisp fall air. Evening lantern tours and golden hour tours are also available!
P.S. Find more of the best day trips and weekend getaways from New York here.
Where: 70 Lower High St, Phoenicia, NY
More information.



Watch Halloween Movies Under the Stars
One of the best parts of spooky season is the spooky movies, obviously. Swing by Rooftop Cinema Club on Wednesdays and catch bewitching classics like Hocus Pocus and Practical Magic while sipping wine under the stars. Reserve a Lounge Chair designed for cozy movie nights or spring for the luxurious Premium Lounge Chairs. Your first glass of wine is included with the ticket, and more drinks are available for purchase at the bar!
Where: Midtown: 60 West 37th Street, New York, NY
More information.
Dress Up for The Great Gatsby Party
The most decadent party of the season is back in NYC this year! Inspired by the roaring parties of the 1920s, The Great Gatsby Party is the event to attend this year. Come dressed to the nines and indulge in a night of glamour and glitz with live music, aerialists, burlesque stars, theatrical acts, dancers, contortionists, showgirls, and more! VIP tickets offer exclusive extras such as early access, caviar sampling, petit fours, and casino and speakeasy experiences.
Where: Capitale: 130 Bowery, New York, NY
More information.
See the Costumes at the Village Halloween Parade
Grab your closest witches and ghouls for NYC's annual Village Halloween Parade! This beloved Halloween tradition will light up Greenwich Village with a parade of costumes, cars, and fantastic giant puppets. The parade takes place rain or shine, and anyone who wants to can join in—just make sure your costume game is strong enough to keep up with the other wildly creative participants!
Where: Beginning on Spring Street, New York, NY
More information.
Grab a Pumpkin Croissant at Lafayette
Lafayette is known for its French cooking and delicious pastries, and during the fall, you can treat yourself to one of their seasonal goodies. Stop in for a Pumpkin Chai Latte Suprême, a flaky croissant made with Sleepy Hollow custard and autumn spice. Don't forget to grab a hot coffee or chocolate while you're there.
Where: 380 Lafayette St., New York, NY
More information.
Attend the New York Coffee Festival
Taste your way through New York's coffee scene at the city's flagship coffee event. Tickets include unlimited samples of hundreds of coffees from Vietnam, Switzerland, Italy, India, Japan, and more, along with dozens of tea and chocolate samplings. You can also attend workshops, be a part of interactive demos, and enjoy delicious street food, coffee cocktails, live music, competitions, and coffee-inspired art.
Where: 125 West 18th Street, New York, NY
More information
Run (Or Watch) the NYC Marathon on November 5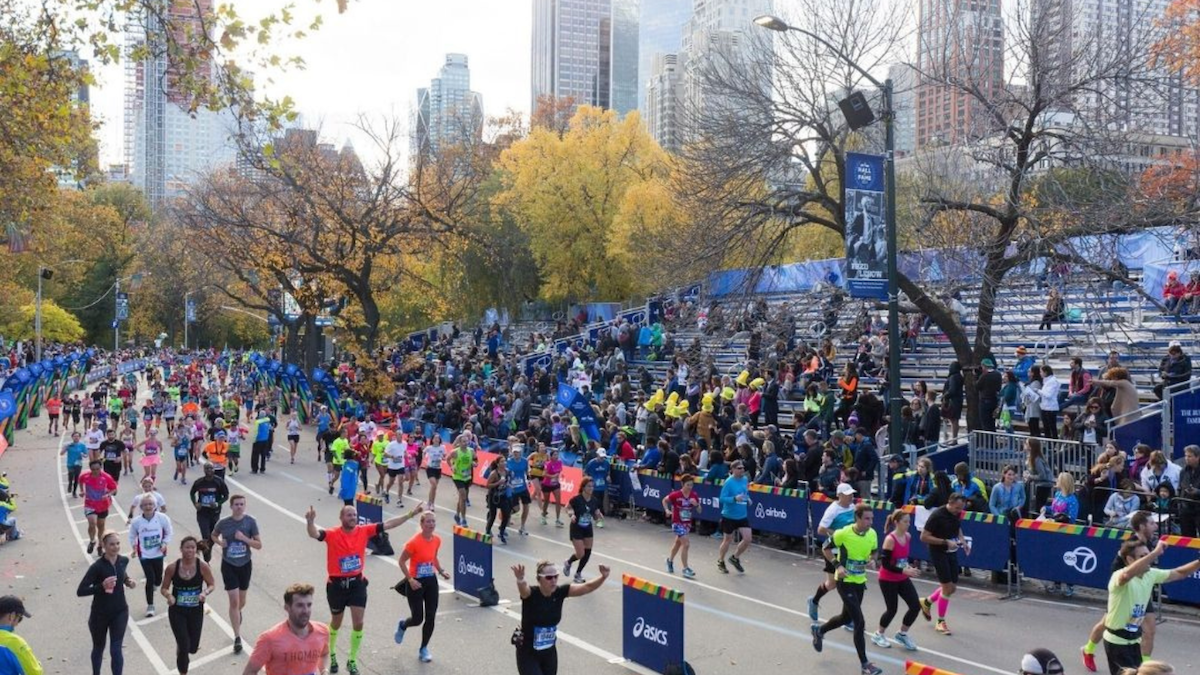 Runners of New York: Your time has come. NYC's marathon is not only the premier event of New York Road Runners, it's the world's greatest road race—later year, runners from 131 countries participated. The course starts in Staten Island and runs 26.2 miles through all five boroughs of NYC, with the final miles taking runners through Central Park and to the famous finish at 67th Street on West Drive. Check the course map for the best viewing spots and other noteworthy spots along the way.
Where: 320 West 57th Street, New York, NY
More information.
Take In The Changing Seasons On A Fall Foliage Cruise
Step aboard the luxury yacht the Manhattan or Manhattan II—two cozy, elegant, 1920s-style boats—and travel northbound on the Hudson River in style. Admire the Palisades through the skylights of the ship's heated observatory or while catching the breeze on her bow. Observe New York's most dramatic natural wonders and foliage in a whole new way!
Where: Departs from Chelsea Piers
More information.
Sample Vino at NYC Wine Fest
Sample dozens of wines and find your new favorite wine so you're prepared to bring the perfect bottle to Thanksgiving dinner! At NYC Wine Fest, admission gets you access to hundreds of new wines from around the world. So whether you're all about the bubbles, crazy about cab, or wild for white, you can find something you're sure to love.
Where: Chelsea Industrial: 535 W 28th St, New York, NY
More information.
Catch Concerts Under the Stars
Enjoy a stunning view of Manhattan from the rooftop of 74Wythe in downtown Williamsburg at this unique tribute concert series. Concerts Under the Stars feature songs from artists like Amy Winehouse, Frank Sinatra, and Bossa Nova. Doors open one hour before showtime, so you can grab a drink and enjoy the view before the show starts!
Where: 74 Wythe Ave, Brooklyn, NY
More information.
Practice Spells at Harry Potter™: The Exhibition
Celebrate spooky season with a trip to Harry Potter™: The Exhibition. Adventure through iconic Wizarding World moments, come face-to-face with a Hungarian Horntail, and brew your own Skele-Gro in Potions class. You'll find dozens of photo ops, and behind-the-scenes information on the movies, plus choose your fave Hogwarts™ House, wand, and Patronus to begin a personalized journey through the experience!
Where: Herald Square, 50th W 34th St., New York, NY
More information.
LIKE WHAT YOU'VE READ?
Never miss out on a new experience!
Create a Bucket Listers account to access exclusive offers and the latest news in your city