food & drink · arts & culture · music & nightlife ·
Published February 3, 2023
50+ Black-Owned Businesses and Restaurants in LA
A comprehensive list of Black-owned businesses to eat, shop, and support across LA.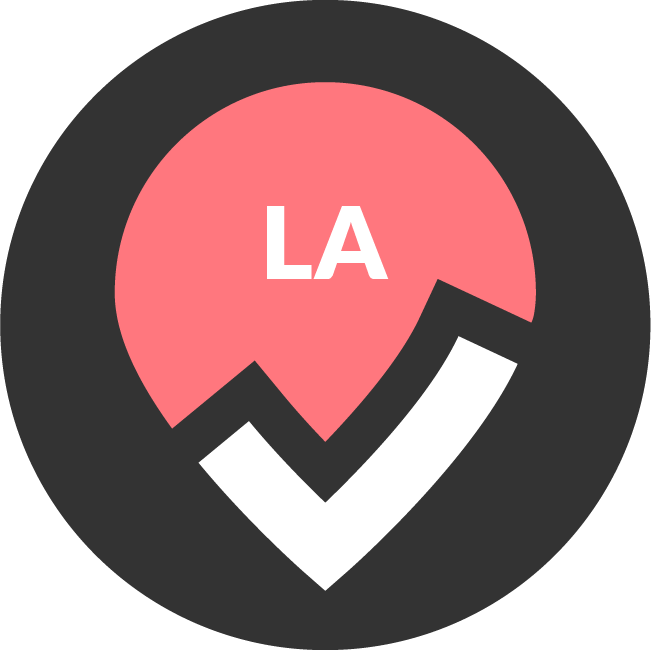 by Los Angeles Bucket List
LA is a melting pot of different people, ideas, music, and art, and Black-owned businesses play no small part in adding to the rich cultural diversity of the city's landscape. Through art, cuisine, museums, shops, and more, Black businesses represent the unique cultures and heritages of Caribbean countries, nations in Africa, the American South, and more.
From longstanding institutions to new pop-ups, Black-owned businesses are an integral part of the fabric of the city. We've rounded up the ultimate list of Black-owned restaurants, bars, boutiques, and shops organized by neighborhood to support throughout the greater Chicagoland area today, tomorrow, next month, and beyond.
54 Black-Owned Businesses in Los Angeles
DTLA
Soul Food spot that uses locally sourced, fresh, and organic ingredients with healthier cooking methods to create top-notch southern cuisine.
Where: 1110 E 7th St, Los Angeles, CA 90021; 902 N La Brea Ave, Inglewood, CA 90302
A wizard, witches, and magical creatures-themed cafe. Coffee first, mischief later.
Where: 1115 S Hope St, Los Angeles, CA 90015
A trendy brunch spot with a hearty menu located in the heart of DTLA.
Where: 765 Wall St, Los Angeles, CA 90014
Vegan Burgers with a health-focused menu founded by four former NCAA athletes.
Where: 788 S. Grand Ave, Los Angeles, CA
Jamaican eats with an Asian and Indian twist, enhanced by the sounds of Reggae, Hip Hop, and R&B.
Where: 243 San Pedro St, Los Angeles, CA
Cold brew teas and coffees made with fresh premium ingredients and available for delivery.
Where: 743 S Broadway, Los Angeles, CA 90014
Epic pasta bar located inside Corporation Food Hall.
Where: 724 S Spring St, Los Angeles, CA 90014
Stylish but simple Brazilian spot known for yuca fries and chicken pot pies paired with sangria.
Where: 107 W 9th St, Los Angeles, CA 90015
A flavorful Caribbean pop-up featuring traditional roti, fish pies, patties, and more.
Where: 672 S Sante Fe Ave
CENTRAL
A sit-down Texas BBQ & sports bar offering classic meats and creative cocktails.
Where: 609 N La Brea Ave, Los Angeles, CA 90036
California comfort food and casual fine dining with an awesome patio.
Where: 3767 Santa Rosalia Dr, Los Angeles, CA 90008
Celebrating over 50 years of serving the best of New Orleans Creole and Cajun cuisine in LA.
Where: 2920 W Jefferson Blvd, Los Angeles, CA 90018
Specialty bookstore with a mission to promote justice and peace.
Where: 4327 Degnan Blvd, Los Angeles, CA 90008
Online and physical bookstore based in LA hosting book signings, discussions, and more.
Where: 3650 W Martin Luther King Jr Blvd Ste 245, Los Angeles, CA 90008
A creative space serving excellent coffee and high vibe community-focused aesthetics.
Where: 1638 W. Temple Street
Fashion boutique founded by Heather Sanders & Brittney Turner featuring one-of-a-kind styles..
Where: 7829 Melrose Ave, Los Angeles, CA 90046
Offering the best in plant-based Mexican food while remaining true to authentic Mexican flavors.
Where: 7257 Melrose Ave, Los Angeles, CA 90046
Hyper popular take-out option (there's no seating) serving BBQ ribs, brisket, and other Southern goodness.
Where: 2619 Crenshaw Blvd
WEST
A bright and airy spot for homemade Southern comfort fare, including fried chicken and fresh biscuits.
Where: 9537 Culver Blvd, Culver City, CA 90232
A flower shop that doubles as a home goods and coffee shop.
Where: 824 Lincoln Blvd, Venice, CA 90291
A conscious lifestyle destination for people who live with awareness and care for themselves and their surroundings.
Where: 1617 Abbot Kinney Blvd, Venice, CA 90291
You can find their delicious, flaky croissants and pastries at farmers markets across LA.
Where: LA Window - 9626 Venice Blvd, Los Angeles, California 90232
Eritrean, Ethiopian, and soul food eats in a simple setting, plus live jazz and spoken-word poetry.
Where: 6039 Washington Blvd, Culver City, CA 90232
Founded in 1998 by a mother and son duo in Culver City, boasting the best Memphis-style BBQ on the west coast.
Where: 3055 S La Cienega Blvd #7314, Culver City, CA 90232
A marketplace dishing out famous counter-serve tacos—Mexican with a splash of soul.
Where: 4333 Admiralty Way #001, Marina Del Rey, CA 90292
A cozy and casual cafe to eat delicious gumbo, seafood pasta, po'boys, and more.
Where: 5545 W Pico Blvd
SOUTH
Health food store and restaurant known for its vegetarian and vegan Caribbean cuisine and smoothies.
Where: 4508 W Slauson Ave, Los Angeles, CA 90043
American cafe with a southern twist, located in the heart of Inglewood and serving freshly made organic food.
Where: 324 S Market St, Inglewood, CA 90301
Hip coffee shop with a fun environment for people to connect with each other and the community.
Where: 170 N La Brea Ave, Inglewood, CA 90301; 4427 W Slauson Ave, Los Angeles, CA 90043
Casual cafe with an industrial-chic vibe, building community through coffee, culture, and connection.
Where: 1700 Browning Blvd, Los Angeles, CA 90062
A BBQ and cajun cuisine joint found at Shoreline Village in Long Beach.
Where: 429H Shoreline Village Dr., Long Beach, CA 90802
A celebration of American Soul Food with a focus on the roots of African American cooking.
Where: 3939 S Figueroa St, Los Angeles, CA 90037
A dessert shop famous for—you guessed it—funnel cakes.
Where: 222 E 120th St, Los Angeles, CA 90061
A local coffee shop and cafe serving up strong bevs and delicious pastries.
Where: 108 Alameda St, Compton, CA 90221
Southern-style seafood restaurant in the heart of Gardena.
Where: 1758 W El Segundo Blvd, Gardena, CA 90249
A culinary fusion concept with Caribbean blends operated as a quick service restaurant.
Where: 853 E Manchester Ave
NORTH
Bringing a French touch to the block, one pastry, one coffee, one sandwich at a time.
Where: 4007 W Riverside Dr, Burbank, CA 91505
New York-style sandwich shop with a Los Angeles twist. The best of both coasts.
Where: 109 N Pass Ave, Burbank, CA 91505
A family-owned shop featuring handcrafted, gourmet-style sandwiches piled high with primo toppings.
Where: 2051 Lincoln Ave, Pasadena, CA 91103
Ribs, mac 'n' cheese, fried chicken, and other down-home Southern BBQ eats fill the menu here.
Where: 11715 Moorpark St, Studio City, CA 91604
A fried chicken food truck serving up Nashville-style sandos, cajun fries, peach cobbler, and more.
Where: 5301 Tujunga Ave, North Hollywood
A tasty chicken joint that fuses home-cooked childhood favorites with bold new flavors.
Where: 252 S Brand Blvd, Glendale, CA 91204
Southern comfort food served in an airy restaurant with vibrant cocktails.
Where: 11671 Victory Blvd, Los Angeles, CA
MULTIPLE LOCATIONS / OTHER
Authentic Philly ice-water and cold treats boasting a rainbow of flavors.
Where: 7324 Melrose Ave, Los Angeles, CA 90046; food truck locations throughout the city
A famous LA-based soul food restaurant chain best known for its famed chicken and waffles.
Where: Multiple Locations
A cannabis shop with a mission to expand worldwide and become a California household name.
Where: 654 N Manhattan PlLos Angeles, California US 90004; 1601 S Soto St, Los Angeles, CA 90023; 7415 Crenshaw Blvd, Los Angeles, CA 90043
Professional cakes and desserts perfect for weddings, birthdays, and more.
An LA-based sweets shop featuring chocolate caramel dipped pretzels, Oreo truffles, cake batter cookies and more.
A craft beer brand and brewery that can be found throughout California. Brewpub coming soon to Inglewood.
ANAHEIM & MORE
Authentic Soul Food that delivers a home-cooked experience and full-service catering.
Where: 440 S Anaheim Blvd #209a, Anaheim, CA 92805
A family-owned and operated vegan diner serving burgers, fries, burritos, and more.
Where: 313 N Bush St, Santa Ana, CA 92701
BBQ spot with food smoked to perfection in a wood-fired barbecue pit with a secret blend of woods and spices.
Where: 10056 Adams Ave Huntington Beach, 92648
Great vibes and beauty supplies can be found at the expansive Girl Cave, whether you're looking for hair braiding services, wigs, or styling gels.
A casual luxury interior design service for executives and professionals.
Where: Online, serving the Orange County area.
LIKE WHAT YOU'VE READ?
Never miss out on a new experience!
Create a Bucket Listers account to access exclusive offers and the latest news in your city