Published February 2, 2023
Over 80 Black-Owned Businesses and Restaurants In NYC
A comprehensive list of Black-owned businesses to eat, shop, and support across NYC.
by New York Bucket List
As one of the biggest cultural capitals in America, New York City is home to a diverse array of shopping, cuisine, museums, and experiences influenced by cultures and heritages from across the globe. Black residents have a longstanding history in the city, representing about 22% of the city's population. From longstanding institutions to new pop-ups, Black-owned businesses are an integral part of the fabric of NYC. We've rounded up the ultimate list of Black-owned restaurants, bars, boutiques, and shops to support across every borough and neighborhood in NYC.
Black-Owned Restaurants and Bars
MANHATTAN
Washington Heights
Flavorful vegan eats with a Dominican flair in Washington Heights.
Where: 1818 Archer St, The Bronx, NY 10460
Harlem
Slyvia's is a Harlem landmark serving classic takes on Southern comfort food since 1962.
Where: 328 Malcolm X Blvd, New York, NY 10027
By Charles Gabriel a James Beard nominated chef and Harlem icon serving New York since 1990.
Where: 146 west 72nd street, New York, NY 10027 (multiple locations)
A small shop offering Caribbean-inspired dishes, including seafood steam pots.
Where: 303 W. 116th St. 10026
Seasoned vegan offers—you guessed it—vegan dishes with organic ingredients and global flavors.
Where: 55 Saint Nicholas, New York, NY 10026
The first Italian bakery and restaurant in Central Harlem.
Where: 196 Malcolm X Blvd, New York, NY 10026
French and West African cuisine is served at Ponty Bistro, along with house cocktails.
Where: 2375 Adam Clayton Powell Jr Blvd, New York, NY 10030
The name says it all—Lloyd's serves up the best carrot cake, along with other delicious desserts.
Where: 1553 Lexington Avenue, New York, NY 10029
A premier restaurant in Manhattan with an upscale atmosphere and elevated homestyle cuisine.
Where: 2374 Adam Clayton Powell Jr. Blvd New York, NY 10030
A casual-chic spot offering modernized soul food classics with cocktails and wine.
Where: 2149 Frederick Douglass Blvd, New York, NY 10026
Harlem Hookah is a premium hookah lounge with hookah-tinged food and spirits.
Where: 381 Lenox Ave, New York, NY 10027
This popular and stylish spot is a staple in Harlem and serves comfort food that celebrates the roots of American cuisine and the neighborhood's diverse culinary traditions.
Where: 310 Malcolm X Blvd, New York, NY 10027
Fresh-baked nut and peanut-free cupcakes, cakes, brownies, and more. Bonus: they ship anywhere in the US.
Where: 1673 Lexington Ave, New York NY 10029
Get the best of southern comfort food classics at Melba's, from fried chicken and waffles to catfish and short ribs.
Where: 300 W. 114th St., New York, NY 10026
Midtown
A divey sports bar in Times Square with boxing memorabilia lining the walls.
Where: 140 W 44th St, New York, New York 10036
Lower East Side / East Village
This pop culture-inspired ice cream shop has created custom ice cream flavors for icons like Hillary Clinton and Jay-Z.
Where: 199 Avenue A, New York, NY 10009 (LES) | 2500 Frederick Douglass Blvd, NY, NY 10030 (Harlem)
Quite possibly the best ooey gooey cookies in Manhattan—crispy on the outside, gooey on the inside.
Where: 163 Chrystie St, New York, NY 10002
Chicken and waffles steal the show at this hip Southern comfort food haven with cocktails.
Where: 178 Ludlow St, New York, NY 10002
A breakfast, lunch, and brunch spot serving flavorful menu items and libations.
Where: 134 Ludlow St, New York, NY 10002
Greenwich / West Village
An upscale Jamaican and Caribbean eatery with a dedication to history and heritage.
Where: 70 W 3rd St, New York, NY 10012
Organic vegan ingredients meet comfort food classics at this colorful, art-filled space in the Village.
Where: 41 Carmine St, New York, NY 10014
A colorful cafe in the West Village with a menu full of unique Afro-fusion cuisine.
Where: 35 Carmine St, New York, NY 10014
Lower Manhattan
Brooklyn Chop House is a chic restaurant and bar offering American steakhouse fare, Chinese dumplings, Peking duck, and more.
Where: 150 Nassau St, New York, NY 10038
Located in the Seaport district, this waterside venue boasts a fruit and veggie-forward menu inspired by California eats.
Where: 89 South St, New York, NY 10038
A comfortable and stylish eatery in TriBeCa featuring Cajun and Creole favorites, with Gumbo as its signature dish.
Where: 275 Church St, New York, NY 10013
BROOKLYN
Bed-Stuy
Noted as "Brooklyn's Best Fried Kitchen," a title we wouldn't dare dispute. Bonus points for their mason jar cocktails.
Where: 415 Tompkins Ave, Brooklyn, NY 11216
Taste the flavorful Latin and Caribbean cuisine in their romantic, brick-lined interior or their colorful heated garden!
Where: 370 Lewis Ave, Brooklyn, New York
Mexican food with a Panama twist.
Where: 1483 Fulton Street, Brooklyn 11216
A French and American cafe with a menu full of comfort food providing flavorful dishes like the herbaceous-rubbed rotisserie chicken and rich shrimp and cheddar grits with sauteed mushrooms.
Where: 426 Marcus Garvey Blvd, Brooklyn 11216
Come for the pizza, stay for the extraordinary inventive toppings—jerk shrimp, chicken and waffles, and much more.
Where: 93 Howard Ave, Brooklyn, NY 11233
Fresh juice, smoothies, and gourmet sandwiches (each made with freshly baked, whole-grain turmeric bread) line the menu in this chill, rustic space. Free wifi as well.
Where: 194 Tompkins Ave, Brooklyn, NY 11206
An upbeat, intimate resto and bar with Cajun-style seafood, brick-oven pizza, and cocktails.
Where: 1102 Bedford Ave, Brooklyn, NY 11226
Combines Danish hygge, Colombian hospitality, and Bed-Stuy energy. Their brunch concept is based on smaller dishes to pick and choose from, aiming to help reduce food waste.
Where: 373 Lewis Ave, Brooklyn 11233 Brooklyn
An elevated cafe specializing in craft, specialty drinks, and pastries baked in-house, like the signature house-made brown butter biscuits.
Where: 413 Tompkins Ave, Brooklyn, NY 11216
Crown Heights
Live jazz and blues, R&B, and rock complement the lively supper club's menu of Creole and Caribbean cuisine.
Where: 706 Nostrand Ave
Seafood dishes and soul food, with signature Black Nile seasoning and Halal meat and poultry, served in a laid-back space. And since their chef is one of their owners, you can trust each dish is made exceptionally.

Where: 592 Nostrand Ave, Brooklyn, 11216
A vegetarian and vegan-friendly café offering signature grain bowls with an endlessly customizable variety of toppings.
Where: 637 Washington Ave, Brooklyn, 11238
The menu has no meats, additives, or processed ingredients and focuses on serving only natural foods. It's also BYOB!
Where: 1032 Union Street, Brooklyn, NY 11225
A relaxed spot offering vegan comfort meals like sandwiches, tacos, and bowls, plus a weekend brunch.
Where: 326 Tompkins Ave, Brooklyn, NY 11216
The uber-homey Crabby Shack is the spot for all things crab. Enjoy fresh crab and lobster rolls, spicy steamed shrimp, crab mac and cheese, and even beer-steamed crustaceans in their famed seasoned garlic butter.
Where: 613 Franklin Ave, Brooklyn, NY 11238
Flatbush
Part vegan restaurant, part concept shop: total vibes.
Where: 1407 Nostrand Avenue, Brooklyn, NY 11226
Local coffee spot with everything from frappes to tea lattes.
Where: 605 Flatbush Avenue, Brooklyn, Ny 11225
Elite drinks and homemade vegan, vegetarian, and pescatarian foods.
Where: 2281 Nostrand Ave, Brooklyn, NY 11210
A Caribbean restaurant and rum bar, with hand-tossed woodfired pizzas and daily double happy hour—need we say more?
Where: 755 Flatbush Ave, Brooklyn, NY 11226
Park Slope

​​
BK9 offers modern Haitian, Trinidadian, and Jamaican cuisine in a lively, inviting, and eclectic atmosphere.
Where: 62 5th Ave, Brooklyn, 11217
Prospect Heights
With a bright and lively bar with daily drink specials, a 24k Midas food menu section, karaoke/open mic nights, and a monthly jazz brunch, you'll never be bored at Eve's.
Where: 769 Washington Ave, Brooklyn, NY 11238
THE BRONX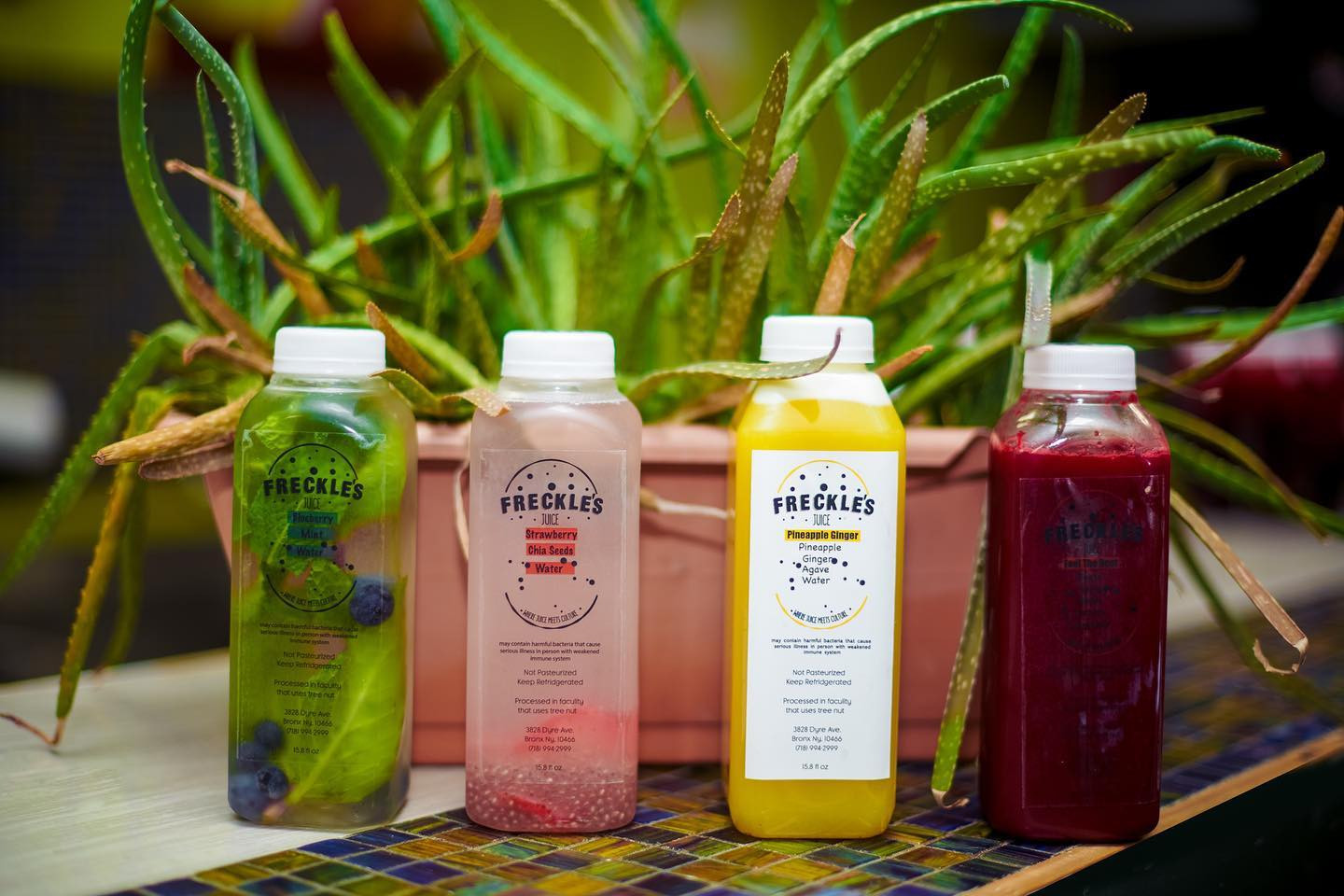 South Bronx
A vibey speakeasy celebrating the Bronx and its rich Puerto Rican and African-American presence, offering soul food, brunch specials, and live music.
Where: 135 Alexander Ave, The Bronx, NY 10454
A casual joint offering a mix of Jamaican fare and soul food, along with smoothies, juice, and espresso beverages.
Where: 854 Gerard Ave, The Bronx, NY 10451
A spacious beer garden with a long menu of bar bites, draft beer, and craft cocktails.
Where: 65 Bruckner Boulevard, Bronx, NY
Enjoy southern comfort food at this relaxed, low-lit tavern with DJ events.
Where: 598 Grand Concourse, Bronx, NY 10451
A West African restaurant serving up natural and unique fare.
Where: 2041 Davidson Ave, The Bronx, NY 10453
East Bronx
Freckles serves up natural juices, smoothies, and healthy bites with vegan and gluten-free options in Eastchester.
Where: 3828 Dyre Ave, The Bronx, NY 10466
A casual spot in Allerton offering seafood dishes and classic comfort fare.
Where: 2525 Boston Road Bronx, NY 10466
Get your soul food and seafood fix with a menu offering comfort classics like chicken and waffles, fried catfish, and collared greens. Located in Soundview.
Where: 1003 Soundview Ave, The Bronx, NY 10472
A small shop in Castle Hill offering fresh squeezed fruit and vegetable juices.
Where: 1026 Castle Hill Ave, The Bronx, NY 10472
Fun bar and grill highlighting Guyanese and West Indian cuisine in Castle Hill.

Where: 1248 Castle Hill Ave, The Bronx, NY 10462
A soul food spot featuring seafood platters and Southern fare in Wakefield.
Where: 746 E 233rd St, The Bronx, NY 10466
QUEENS
Central Queens
A spacious hang offering American BBQ dishes with global seasoning and cocktails.
Where: 113-30 Queens Blvd Forest Hills, NY 11375
A hip, vibey coffee joint specializing in artisanal pastries.
Where: 778 Seneca Ave, Ridgewood, NY 11385
South Queens
A gourmet deli selection, with a hot buffet of soul food and Caribbean cuisine.
Where: 115-43 Sutphin Blvd, Queens, NY 11434
A classic counter-serve offering a range of vegetarian and vegan dishes along with refreshing smoothies and juices.
Where: 132-09 Liberty Avenue, South Richmond Hill, NY
A relaxed joint highlighting traditional Jamaican fare and Chinese fusion.
Where: 138-89 Francis Lewis Blvd, Queens, NY
An Upscale restaurant featuring jerk chicken, oxtail, escovitch, and other Jamaican specialties.
Where: 163-07 Baisley Blvd. Jamaica, NY 11434
A cozy eatery known for lively reggae nights and a Caribbean menu.
Where: 93 N Park Ave, Rockville Centre, NY 11570
A chic restaurant and lounge with a menu full of Mediterranean and Caribbean comfort foods.

Where: 144-14 243rd St. Queens, NY 11422
With food "as southern as it gets," this restaurant serves hearty portions with a side of southern hospitality.
Where: 218-28 Merrick Blvd, Springfield Gardens, NY 11413
North Queens
A cozy Welsh-inspired gastropub serving upscale bar food as well as brunch.
Where: 34-55 32nd St, Astoria, NY 11106
A bakery and cafe aptly located in Jamaica, Queens. Their menu boasts an assortment of dessert options, cafe-inspired drinks, and pastries.
Where: 125-11 Merrick Blvd, Queens, NY 11434
Black-Owned Retail Shops and Boutiques
Brooklyn
A bed & breakfast blending historic Italianate architecture with Afrocentric design.
Where: 347 MacDonough Street 11233
Featuring a distinctive and high-quality selection of wine – including an entire wall dedicated to Black wine and spirit makers.
Where: 51 Buffalo Ave, Brooklyn, NY 11233
Make Manifest sells clothes, accessories and home furnishings, among other items, by independent Black designers.
Where: 382 Tompkins Ave, Brooklyn, NY 11216
A social and wellness club designed for and by African Americans.
Where: 315 Meserole Street, Brooklyn, NY 11206
A boutique selling African-inspired clothing, shoes, and accessories.
Where: 1401 Nostrand Ave Brooklyn, NY 11226
A cozy bookstore cafe offering espresso beverages and baked goods.
Where: 724 Prospect Pl, Brooklyn, NY 11216
Manhattan
An indie bookshop and community hub spotlighting a range of tiles and events surrounding African Americans.
Where: 1942 Amsterdam Ave, New York, NY 10032
A hair and beauty bar specializing in everything from styling to nails.
Where: 2157 1st Avenue, New York, NY 10029
A bookstore offering a curated selection of items from the Shop at the Schomburg Center for Research in Black Culture.
Where: 515 Malcolm X Blvd, New York, NY 10037
The Bronx
This Part bookshop, part wine bar stocks popular titles and hosts events and readings.
Where: 131 Alexander Ave, The Bronx, NY 10454
Online
Perry Boyce (Sold at various locations)
High-quality home goods and textiles ranging from scented candles, room sprays and funky kits.
A Brooklyn-based cosmetic line that encourages inclusivity.
Well-crafted, beautiful jewelry to celebrate the goddess in you.
Luxury shop specializing in handcrafted hats.
LIKE WHAT YOU'VE READ?
Never miss out on a new experience!
Create a Bucket Listers account to access exclusive offers and the latest news in your city