food & drink ·
Published January 19, 2023
27 Cafés In New York You Need To Try
In the city that never sleeps, it's no wonder everyone is constantly running on caffeine. ☕
by New York Bucket List
With the most coffee shops per capita, it's easy for New Yorkers to get their java fix at any hour of the day – and for various purposes.
Whether you're looking for a quick cup along your morning commute, a place to alleviate the 3pm work slump, or an excuse to mix coffee and cocktails at happy hour, we've rounded up 21 of our favorite coffee shops throughout NYC.
Birch Coffee | Various Locations
With 14 locations across the greater-Manhattan area, the common thread among all Birch Coffee shops are shelves of books, games, conversation starters and *gasp* no Wi-Fi. Focusing on human connection over internet connection, these cozy cafés scattered across NYC will transport you to a literary haven, with wooden nooks surrounded by dogeared classics.
WiFi: No
Where: Various Locations
Sip & Play | Park Slope
Sip & Play is a cozy board game cafe in Park Slope serving coffee, boba tea, beer, wine and more. If you can gather some friends in advance, reservations are open for any party size but aren't required. It's just $8 a person for 3 hours of gameplay, plus they have indoor and outdoor seating!
Wifi: Yes
Where: 471 5th Ave, Brooklyn, NY 11215

For more information.
Rosecrans | West Village
Does anything beat coffee shops and flower shops? Answer: A coffee shop that doubles as a flower shop. At Rosecrans you can have your cake flowers and eat them too – literally. In addition to coffee staples, their menu includes floral delicacies like matcha made with rose water and lemon elderflower vegan yogurt.
WiFi: No, but Rosecrans' sister-shop around the corner, Ad Hoc, does.
Where: 7 Greenwich Ave, New York, NY 10014

For more information.
The Monkey Cup | Harlem
We're going totally bananas over the monkey-inspired Monkey Cup. Serving up pastries and lattes – the latter of which may come garnished with monkey latte art – this Harlem haven transports you to the treehouse of your childhood dreams. The ceiling is carpeted with a blanket of greenery and adorned with scattered Edison bulbs while their tree-turned-bookshelf invites you to put away your phone and pick up a book.
WiFi: No
Where: 1965 Adam Clayton Powell Blvd, New York, NY

Ralph's | Various Locations
At the intersection of fashion and function, we have Ralph's. Oh, and by function, we mean functioning – thanks to Ralph's Special Blend, brewed exclusively from La Colombe. Whether you pop by their converted truck in Rockefeller Plaza (and trust us, Rockefeller is an extremely caffeine-inducing place) or you grab a seat at one of their two emerald-accented locales, you'll be welcomed by smiling waitstaff in striped Ralph Lauren shirts, signature green knit ties and butchers' aprons, as well as by an array of fresh baked goods.
Wifi: Yes
Where: 888 Madison Avenue, 10021 (UES); 160 Fifth Avenue, 10010 (Flatiron)
Butler | Various Locations
No ifs, ands, or buts about it – Butler is a local neighborhood favorite. Serving up Michelin-starred pastries, all-day breakfast, lunch after 11 AM, and some of the finest espressos on this side of the East River, this bakery-café is an ideal spot to rest, relax and repeat.
WiFi: Yes
Where: 95 S 5th St, 11249 (Williamsburg); 101 N 8th St, 11249 (Williamsburg), 40 Water St, 11201 (DUMBO), 1149 Broadway, 10001 (Nomad)
Cafe-Flor | Chelsea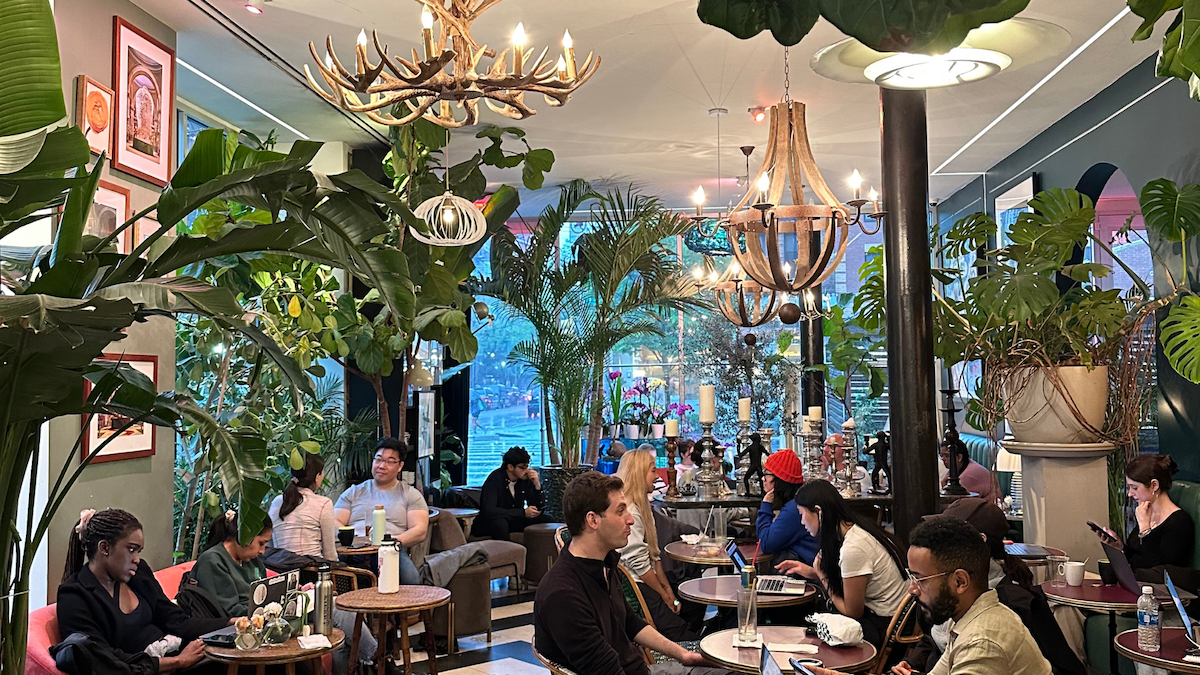 This refined, eclectic cafe in Chelsea is filled with greenery, chandeliers, and mix-and-match seating. During the day, you'll find people working, reading, and sipping coffee. By night, however, the space is transformed into a moody wine bar.
WiFi: Yes
Where: 218 8th Avenue, New York, NY
Maman | Various Locations
It's not a regular maman, it's a cool maman. Inspired by savory and sweet flavors from the south of France, the ever-changing menu offers twists on childhood favorites and a wide selection of baked goods, coffee, breakfast, lunch et bien sûr, brunch. Select locations include a full bar while all seven locations offer their famous nutty chocolate chip cookie, named one of Oprah's 'favorite things' in 2017. If it's good enough for Oprah, it's good enough for us.
Pro Tip: In 2019, the SoHo locale opened up the adjacent French Concept Store, featuring Parisian imports, cooking classes and enough delectable jam samples to extend your early morning brunch into a late afternoon snack.
WiFi: Varies per location
Where: 239 Centre St, 10013 (SoHo); 211 W Broadway, 10013 (Tribeca); 22 W 25th St, 10010 (Nomad); 205 Hudson St, 10013 (West SoHo); 837 Washington St, 10014 (Meatpacking); 50 Broad St, 10004 (FiDi); 80 Kent St, 11222 (Greenpoint)
Gertrude | Upper West Side
Gertrude is a small but mighty cafe with a lot to love. This Upper West Side spot is understated, but the food and drink are anything but. They serve Australian coffee and offer excellent bites like a citrus almond cake and spinach egg cheddar croissants.
WiFi: No
Where: 204 W 96th St New York, NY 10025
Split Eights | Financial District
With one step into this sleek Financial District coffee shop, it's easy to see why it's one of the city's best. It's a dimly lit, split-level space where they expertly pour espresso shots by day, and by night, it converts into a cocktail bar. Truly the best of both worlds.
Wifi: No
Where: 40 Exchange Place New York, NY 10005
Kobrick Coffee | Meatpacking
Take your look at coffee from day to night with one easy step: Kobrick. Transforming the way we look at "all-day café," Kobrick occupies two adjacent shops – a bright and airy, palm-printed coffeehouse juxtaposed with the intimately dim bar next door. The baristas here double as bartenders, offering a smooth transition from work to play and blurring the line between brews and booze, with libations such as The Goblet of Fire, blending absinthe with espresso, and the Mexican Jumping Bean, uniting tequila with ristretto.
WiFi: Yes
Where: 24 9th Ave, New York, NY 10014
Drip Coffee | Bushwick
They've been a hit since their doors opened. Drip in Bushwick serves up quality drinks and quality service. Their espresso and cold brew are both steeped for 48 hours, creating an undeniable rich taste.
Wifi: Yes
Where: 12 Belvidere St Brooklyn, NY 11206
Blank Street Coffee | Various Locations
If you've been in NYC for longer than a New York minute, you've probably noticed Blank Street Coffee shops popping up across the boroughs. The small-format coffee shop is founded on the idea that great coffee should be as accessible as possible, from the price tag to the distance from your apartment. Grab a pastry and coffee on the go, or beat the afternoon slump and stop by a quick pick-me-up to
Wifi: No
Where: Various locations

For more information.
Flat Iron Plate Café
You'll get a totally unique New York experience at Flat Iron Plate Café. Grab a cup of Joe and a bagel at this outpost right next to Madison Square Park. Plus enjoy epic views of the Empire State Building from your seat.
Wifi: Yes
Where: Broadway & W, E 23rd St

Felix Roasting Co. | Midtown East
Felix Roasting Co. is a masterclass in finery and aesthetics with a bespoke patterned terrazzo floor and takeaway cups to match. This eclectically grandiose café is a designer's dream, believe it or not, more than just a pretty face. You'll find patrons sipping coffee classic while others divulge in the more ostentatious, say, the Hickory-Smoked S'mores Latte with steamed graham-cracker infused milk, 70% dark chocolate and cinnamon – garnished with a torched salted caramel marshmallow and served in a gold-rimmed coupe cocktail glass, no less.
WiFi: Yes
Where: 450 Park Ave South, New York, NY 10016
Sey Coffee | Bushwick
Sey brings an airy, West Coast vibe to Bushwick, but there's more than meets the eye. While the space is stunning, their coffee is up to par, too–they're often considered one of the best micro-roasters in NYC and well-loved for the light and clean taste of their coffee.
Wifi: Yes
Where: 18 Grattan St Brooklyn, NY 11206
Remi Flower & Coffee
Remi is your one stop shop for all things flora and caffeine. The gorgeous shop is full of lush plants, blooming flowers, and colorful cappuccinos. There are tables so you can literally stop and smell the flowers, or you can opt for a hand-tied bouquet and latte to go.
WiFi: Yes
Where: 906 2nd Ave, New York, NY 10017

For more information.
Devoción | Various Locations
For true devotees of coffee, we present Devoción. Though Devoción's farm-fresh Colombian coffee can be found in cafés across NYC, there's nothing quite as calming as stepping into one of their caffeine oases – each engulfed in lush greenery and natural sunlight. Sink into their signature plush leather couch and sink your teeth into a fresh croissant.
WiFi: Yes
Where: 276 Livingston St, 11201 (Downtown Brooklyn); 69 Grand St, 11249 (Williamsburg); 25 E 20th St, 10003 (Flatiron); 121 E 27th St, 10003 (Nomad)
Chanson Le Salon | Tribeca
While you can enjoy a sit down dinner at Chanson Le Salon, during the day their outdoor seating provides a good resting place for your cappuccino or latte fix. With a delicate floral-themed interior (and exterior) it's also the best background for your next Instagram photo dump. French cafe menu items, including fresh baked goods, are plentiful.
Wifi: No
Where: 355 Greenwich St, New York, NY 10013
Ludlow Coffee Supply | LES
Delve beyond double wooden doors and enter Ludlow Coffee Supply's cozy parlor. The snug shop is divided into two distinct areas, balancing labor and lounge. As you enter, you'll approach a procession of laptops and the melody of computer key taps – thanks in part to an extensive coffee menu including everything from Bourbon Vanilla Lattes to Vietnamese Iced Coffee (read: legal speed). Grab your cup and step beyond the foyer and into the mid-century living room of your hipster dreams, complete with rich leather loveseats and soft stereo sounds.
Wi-Fi: Yes
Where: 176 Ludlow St, New York, NY 10002
Guevara's | Brooklyn
Step out of the concrete jungle and into the oasis that is Guevara's. This Cuban-owned vegan café is bursting with lush greenery, blooming flowers, and of course, delicious sips and bites inspired by the owner's native country. Pop in for a mid-morning pick-me-up (think hibiscus donuts and guava cinnamon lattes), or decompress after work with a specialty cocktail and an order of coconut ceviche. Or, simply grab an aqua fresca and peruse this plant palace for a quick reprieve from the city.
Wifi: Yes
Where: 39 Clinton Place 11238 (Clinton Hill); 319 Kent Avenue 11249 (Domino Park)
Mud | East Village
For the days you need an IV of caffeine injected straight into your veins, look no further than Mud (no actual IVs provided). With two locations conveniently scattered throughout the East Village, you'll have a different experience at each one – but consistently strong and delightful coffee throughout. Need to pick up a pick me up on your morning commute? Mudpark. Looking for an all-day brunch and beer combo in an enclosed garden – for $21.50? Mudspot is the spot.
WiFi: No
Where: 75 E 1st St, 10003 (Mudpark); 307 E 9th St, 10003 (Mudspot)
Supermoon Bakehouse | LES
We're over the moon about Supermoon Bakehouse. Their unique display concept lines up every available menu item with a distinctive Insta-worthy aesthetic (think holographic boxes and a neon sign reading 'Bite Me'). They're making it particularly hard to just look with our eyes, not our taste buds. While their coffee flows smoothly, it's the Bakehouse's baked goods that truly take the cake. With staples like their seasonal cruffins, sweet-filled croissants (read: raspberry cheesecake croissant filled with a cream cheese creme patisserie and house-made raspberry mint jam), and signature Lemon Cream Pie Doughnut. Need we go on? No, but we will. Visit in during the warmer summer months for their croissant butter soft serve.
WiFi: No
Where: 120 Rivington St, New York, NY 10002
Shop | Williamsburg
Small but mighty, much like a cortado, is Brooklyn's bodega-turned-stylish café, Shop. Part café, part design studio, Shop appeals to the Williamsburg masses with their Australian-inspired refreshments and bites. Though the small space (with retractable windows perfect for those sunny summer mornings) is WiFi-friendly, there are very minimal power outlets; just charge up with some espresso instead.
WiFi: Yes
Where: 232 Metropolitan Ave, Brooklyn, New York
Ten Thousand Coffee | Various Locations
This high-end coffee shop deliberately put in 10,000 hours of practice to come up with the best cup of specialty coffee possible. They even have a pairing menu so you can experience the best combination of flavors. See for yourself if their work paid off at any of their three Manhattan locations.
Wifi: No
Where:
1410 Broadway
14 Wall Street
750 3rd Avenue
Hibiscus Brew | Brooklyn
Just steps from Prospect Park in Prospect Lefferts Gardens is Hibiscus Brew, a lively cafe that promises to nourish mind, body, and spirit. Inspired by the vibes and flavors of the owner's home country of Jamaica, Hibiscus brew offers refreshing smoothies and a delicious coffee menu in a casual neighborhood setting.
Wifi: Yes
Where: 546 Flatbush Ave, Brooklyn
Sugar Miss Tea & Coffee | Brooklyn
Located in Brooklyn, Sugar Miss Tea boasts a wide variety of tea and coffee options as well as an incredible dessert menu (matcha crepe cake anyone?). Their tea selection includes fresh fruit, milk, and bubble teas, with flavors like brown sugar bubble milk and fresh orange tea with passion fruit. You can also grab an assortment of coffee from a latte to an americano, and they offer a lunch menu so feel free to stay and sit a while.
Wifi: No
Where: 5309 7th Ave, Brooklyn, NY 11220
For more information on Sugar Miss Tea & Coffee.
LIKE WHAT YOU'VE READ?
Never miss out on a new experience!
Create a Bucket Listers account to access exclusive offers and the latest news in your city