food & drink · music & nightlife ·
Published January 19, 2023
LA's Best Hidden Speakeasies
See and be seen at these secret LA hotspots. 🍸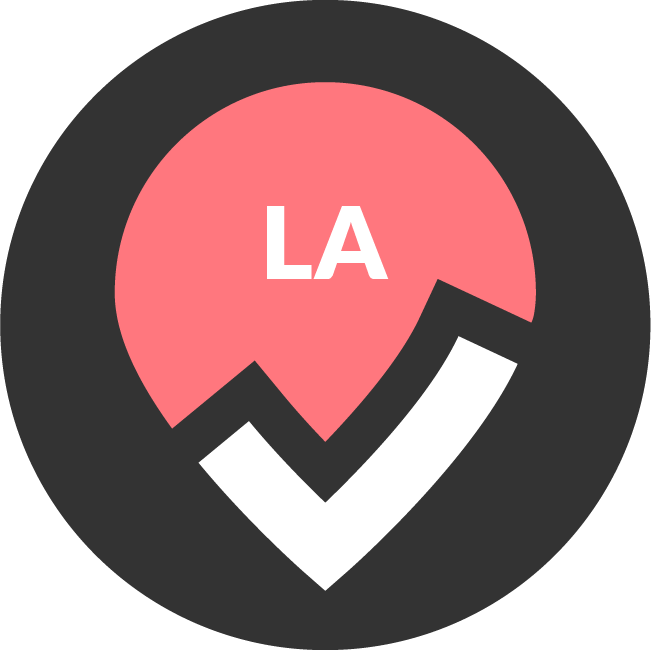 by Los Angeles Bucket List
In Los Angeles, you never know what you're going to find – or who you'll bump into – around the next corner, and that's especially true when it comes to speakeasies. These clandestine bars are some of the coolest places in the city, and if you want to check them out, you'll need to know where to look.
LA is a city of performers, so it should be no surprise that these hotspots feature some of the most creative secret entrances we've ever seen, not to mention killer cocktails from the city's best and brightest bartenders.
So pull up a stool, order a stiff drink, and prepare to enter another world. Here are some of our favorite hidden speakeasies for LA insiders in the know.
Blind Barber
Culver City / Highland Park
This barbershop slash speakeasy kills two birds with one stone, offering barber services in their shop up front, plus a secret backroom bar. The original Culver City location has been open for business since 2012, and in 2018 they expanded with a second, larger location in Highland Park.
Both locations offer seasonal cocktails and a killer menu featuring unbrielievable grilled cheeses and other creative small plates, but each has its own unique vibe. The OG spot keeps it cozy with wood paneling and leather booths, while Highland Park serves up a retro ambiance with palm-print wallpaper, mod furniture, and even a starlit dome perfect for Instagrammable moments.
Don't have time to head to the club? Fear not - every haircut also comes with a free cocktail.
How to get in: Enter through the door at the back of the barbershop.
Where: 5715 North Figueroa, Los Angeles CA 90042 (Highland Park) or 10797 Washington Blvd, Culver City, CA 90232 (Culver City)
The Varnish
Downtown
Though LA is booming with speakeasies these days, The Varnish was a trailblazer on the scene as one of the first of the new wave of craft cocktails. Tucked behind the iconic Cole's Sandwiches, this cozy spot features intimate booths, flickering candles, and live jazz performances that set the ambiance for a sophisticated evening.
There's no gimmicks at The Varnish - just good ol' fashioned hospitality, with the small details done right. Enjoy a classic cocktail with a Cole's french dip sandwich delivered straight to the bar; or for the more adventurous, opt for the Bartender's Choice for an off-menu surprise.
How to get in: Head to the back of Cole's and past the pool table, where you'll find an oak door marked with a framed picture of a cocktail.
Where: 118 E 6th St, Los Angeles, CA 90014
Good Times at Davey Wayne's
Hollywood
If you're looking for groovy vibes and creative cocktails, Davey Wayne's is the place to be. Step through the refrigerator to enter an old-school, 70's-style speakeasy complete with retro sofas, shag carpeting, and a jukebox pumping out tunes.
Head outside to find a funky outdoor space with hammocks, astroturf, and giant Jenga. It's a great place to spend an afternoon. For the ultimate throwback, you can even get a boozy SnoCone – perfect for those LA summer nights.
How to get in: When you find the retro garage sale, head through the refrigerator to step back in time.
Where: 1611 N El Centro Ave, Los Angeles, CA 90028
Break Room 86
Koreatown
Sing your heart out or dance the night away at Break Room 86, a speakeasy slash karaoke bar hidden within The Line Hotel.
This hip, retro spot is decked out with 80's memorabilia galore, from boomboxes and cassette tapes lining the walls to a throwback locker wall just like Saved By the Bell.
We love a good theme, and the drink menu here doesn't disappoint, with names like Pretty in Pink Grapefruit or the Mr. Miyagi. For another surprise, push open the retro phone booth to get to the secret karaoke room!
How to get in: Enter through the loading dock of the Line Hotel and down the employee hallway. Give the vintage vending machine a closer look to find your way in.
Where: The Line Hotel at 630 S Ardmore Ave, Los Angeles, CA 90010
Lock & Key
Koreatown
They say to never judge a book by its cover, and that's definitely true at Lock & Key. Don't let the nondescript exterior fool you. Inside you'll find a swanky cocktail lounge and a spacious outdoor patio with plenty of room to keep the party going.
Once inside, enjoy a speciality cocktail or share a lush tropical punch bowl with your whole squad. Save room for one of their pizzas – they've got New York-style, Chicago Deep Dish, and Sicilian. If you're feeling really decadent, opt for a fried PB&J.
How to get in: The only sign on the door is a glowing red lock - find that and you'll know you're in the right place but to get inside, you'll need to choose the right doorknob!
Where: 239 S Vermont Ave, Los Angeles, CA 90004
No Vacancy
Hollywood
In a city known for its glitz and glam, there's no better place to channel your inner Golden Age starlet than at No Vacancy. With its red leather banquettes, vintage decor, and 1920's style, this hidden bar transports guests back in time to the glamorous days of Old Hollywood.
This swanky spot features an all-star cast of bartenders trained at some of the city's top venues. Bartenders create their own cocktail concoctions for the rotating 12-drink seasonal menu, so don't miss a chance to try one of their masterpieces.
At No Vacancy, there are surprises around every corner – you might even catch a circus performance on the high wire spanning the back courtyard!
How to get in: Once you arrive, you'll be presented with three doors. Choose the right one and prepare for a secret surprise entrance.
Where: 1727 N Hudson Ave, Los Angeles, CA 90028
The Roger Room
West Hollywood
In a city where it's hard to keep a secret thanks to paparazzi and social media, The Roger Room places a premium on discretion. This secretive spot has a no-photography policy and an embargo on press coverage – making it all the more appealing to adventurous revelers seeking an exclusive night out.
Though discretion is the name of the game, you won't find some of the strict door policies or popularity contest lines of other LA hotspots. They've intentionally cultivated a laid-back, intimate space without pretension. Inside, the decor is fanciful, with old-timey circus murals adorning the walls and cozy, dimly lit booths that create an intimate ambiance.
At the bar, you'll find stylish mixologists decked in suspenders mixing up cocktails with fresh ingredients and whimsical toppings like little circus monkeys or foam art, barista-style. There's even an absinthe section on the menu, if you feel like starting your night with a visit from the green fairy.
How to get in: Pray for good *fortune* to help you find the entrance to this secret spot.
Where: 370 N. La Cienega Boulevard West Hollywood, CA 90048
Black Rabbit Rose
Hollywood
Expect the unexpected at Black Rabbit Rose, a magical speakeasy and theater. With table-side magic and nightly performances, a visit to this spot is more than just a night out – it's an experience to remember.
In addition to the performances, BRR bartenders concoct unique drinks that are a performance all their own. Order the Smoke N Mirrors mixed with vermouth, Campari, and hickory for a smokey surprise, or enjoy a sumptuous Thai-Chinese fusion feast from the Crying Tiger next door, brought straight to your table.
How to get in: Follow the golden rabbit to find the magic within…
Where: 1719 N Hudson Ave, Los Angeles, CA 90028
La Descarga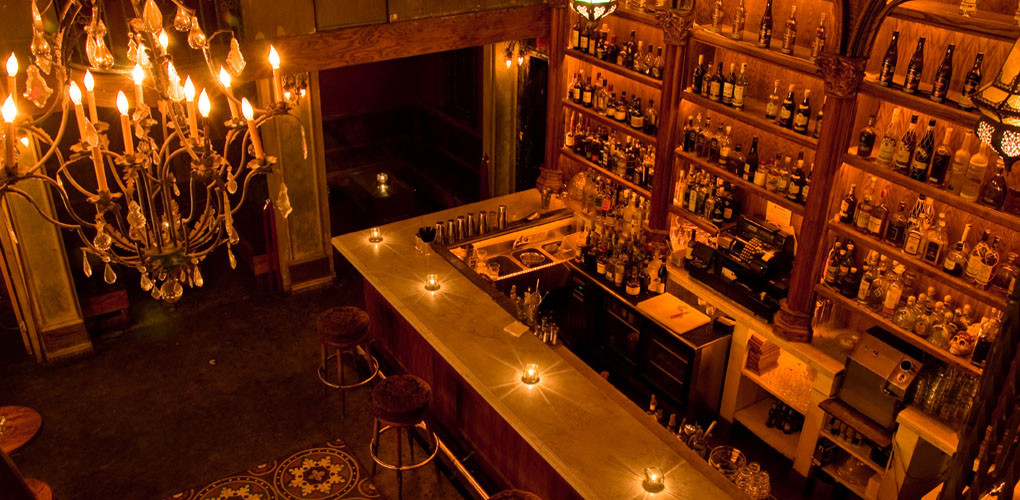 Hollywood
Once you step through the doors of this Hollywood hotspot, we wouldn't blame you for wondering whether you'd been teleported straight to Havana.
In classic Cuban style, rum is the star of the menu, and for a perfect pairing, you can enjoy cigars here too. Drinks are made with small-batch ingredients, and hand-carved ice for that bespoke touch.
This club gets caliente, with burlesque shows and live salsa or jazz music setting the dance floor on fire. Come here if you're ready to dance the night away, Latin-style.
Reservations are required here, and revelers should dress to impress.
How to get in: Think Narnia – that's all we'll say! You'll just have to experience it for yourself.
Where: 1159 North Western Avenue Los Angeles, CA 90029
Adults Only
Hollywood
Tucked into a strip mall on Sunset Boulevard might be the last place you'd expect to find a trendy speakeasy, but set your expectations (and inhibitions) aside and enter Adults Only.
To get in, enter through a seedy-looking adult video store, complete with red neon lights and a "shop owner" slash bouncer guarding the entrance. But don't let the Blockbuster meets Playboy vibe up front throw you off. Walk through the velvet curtains at the back of the store and you'll find yourself inside the sultry Boogie Nights-themed space.
Once inside, grab a craft cocktail (with cheeky names from cult classics like Cruel Intentions and Clueless) and settle into one of their plush velvet couches as you catch live music or rack up a game of pool. If you're feeling lucky, you can even try your hand at their retro crane machine.
How to get in: Find the old-school VHS store in the strip mall and follow the glow from the neon 'Adults Only' sign.
Where: 7065 1/2 Sunset Blvd, Los Angeles, CA 90028
LIKE WHAT YOU'VE READ?
Never miss out on a new experience!
Create a Bucket Listers account to access exclusive offers and the latest news in your city