food & drink · music & nightlife ·
Published March 30, 2023
LA's Best Outdoor Patios by Neighborhood
Discover paradise on a patio with 19 of our favorite outdoor dining spots in LA.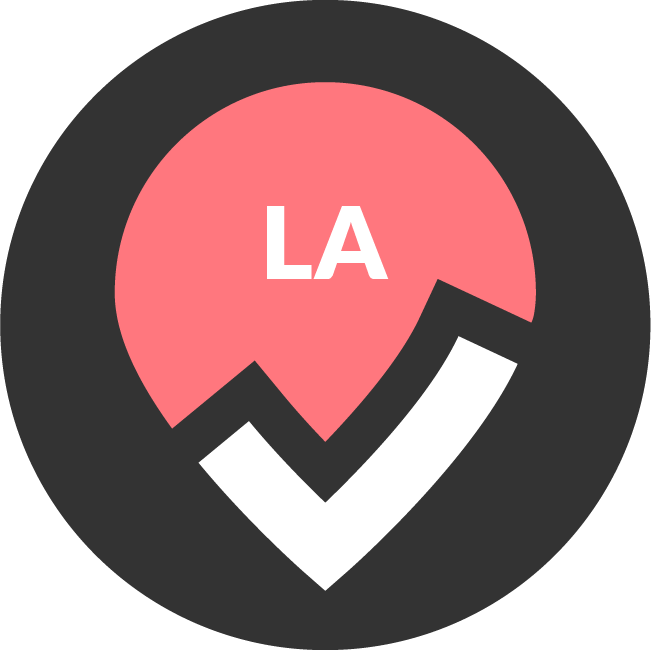 by Los Angeles Bucket List
Who's ready to enjoy the great outdoors? In Los Angeles, that sometimes means booking your brunch reservation outside. Some come with heated options for cooler nights, while others offer stunning views. Whether it's sharing a beer with friends outside the barrel-shaped Idle Wild, dinner under Alta Ama's vine canopy, or trying out the swanky new patio of Beverly Hills Spago, there's an outdoor dining spot for everyone.
We rounded up 19 of the top patios and outdoor bars for your next al fresco dining experience, and we organized it all by neighborhood. Keep reading for our guide on outdoor dining in LA's neighborhoods.


19 Places to Dine Outside in Los Angeles
NoBu Malibu
Malibu
Dinner with a view feels like a massive understatement when it comes to NoBu. The high-end seafood spot located right on the ocean is a Malibu gem for world-renowned sushi, celebrity clientele, and living your best Los Angeles lifestyle.
Where: 22706 Pacific Coast Highway
More information.
Terra Rooftop Bar at Eataly
Century City
Head up to the third floor of Eataly to instantly transport yourself to the flavors and feel of Florence, Rome, and Tuscany—with views of the Hollywood Hills. Terra is open seven days a week, and the star of the show is the weekend brunch, which puts an Italian spin on brunch essentials.
Where: Eataly Westfield 10250 Santa Monica Boulevard
More information.
Dama
Fashion District DTLA
Let Dama's palm-printed decor will transport you to the tropics. This Latin-inspired restaurant and bar pairs firey fare with deco-tropical vibes. Menu highlights include a seafood tostada and a "Linguisa" sandwich.
Where: 612 E 11th Street
More information.
Castaway
Burbank
Castaway is not only one of the best outdoor patios in the city, but it's also one of the most romantic! Whether you're with a date, friends, or family, everyone will enjoy sinking into a plush cushion by the fireplace, enjoying refreshing cocktails and California fare, with an unmatched view of the San Fernando Valley and DTLA from every seat.
Where: 1250 East Harvard Road
More information.
Saddle Peak Lodge
Santa Monica Mountains
This fine dining spot nestled in the foothills of the Santa Monica Mountains offers a warm, rustic setting to appreciate some upmarket New American fare. Their brunch menu offers a crab cake benedict, brioche French toast, and caramelized breakfast potatoes.
Where: 419 Cold Canyon Road
More information.
Ballast Point
Long Beach
Grab the crew and hit this two-story harborside spot with outdoor patios, fire pits, and over 60 beers on tap to enjoy while watching passing boats and gorgeous sunsets. You could truly spend all day here.
Where: 110 N Marina Dr.
More information.
FIA
Santa Monica
Sit back and relax at one of the prettiest patios in LA. The spacious patio is adorned with string lighting, pine trees, an airy bar, and a menu full of delicious coastal-inspired Italian cuisine. We suggest starting with the sourdough garlic bread and a cocktail and filling up on handmade pasta like the Cavatelli with brown butter and black truffles.
Where: 2454 Wilshire Blvd.
More information.
Alta Adams
West Adams
Get back to basics with Alta Adams' earthy patio. Serving up comforting Cali soul food from Wednesday through Sunday, this spot is a staple for weekend brunch with standout items like brisket grilled cheese and fresh-baked cornbread.
Where: 5359 West Adams Blvd
More Information.
The Front Yard
Studio City
Situated inside the Garland Hotel, The Front Yard offers modern California eats and is especially known for its popular weekend brunch. Pull up a seat among the sycamores and enjoy the homey vibe.
Where: 4222 Vineland Ave.
More information.
Conservatory West Hollywood
West Hollywood
While this epic patio spot tends to draw in the crowds, Conservatory also has a more casual cafe attached, which is perfect for all your outdoor dining needs. Its varied menu makes it great for any day, any time.
Where: 8289 Santa Monica Blvd.
More information.
The Violet LA
Westwood Village
Violet Los Angeles is a vibrant Cali-French bistro with a full bar, shop, and even a cooking school in the heart of Westwood Village. We love spending a day on the patio sharing award-winning Mezcal flights.
Where: 1121 Glendon Ave.
More information.
Bacari Silverlake
Silver Lake
Bacari has multiple locations throughout LA, but the Silverlake spot features an enchanting "hidden forest" patio and the best of Mediterranean and Italian fare inspired by Venetian and Tuscany farm life. You'll find a tasty selection of shareable brunch and lunch bites, along with a roster full of vegan options.
Where: 3626 Sunset Blvd.
More information.
Simonette
Culver City
Simonette is an all-day cafe and bar that will transport you to a traditional French bistro without leaving LA. Grab an early morning espresso and croissants on your way to work…and maybe an ice-cold Rosé or two.
Where: 3626 Sunset Blvd.
More information.
Home Restaurant LA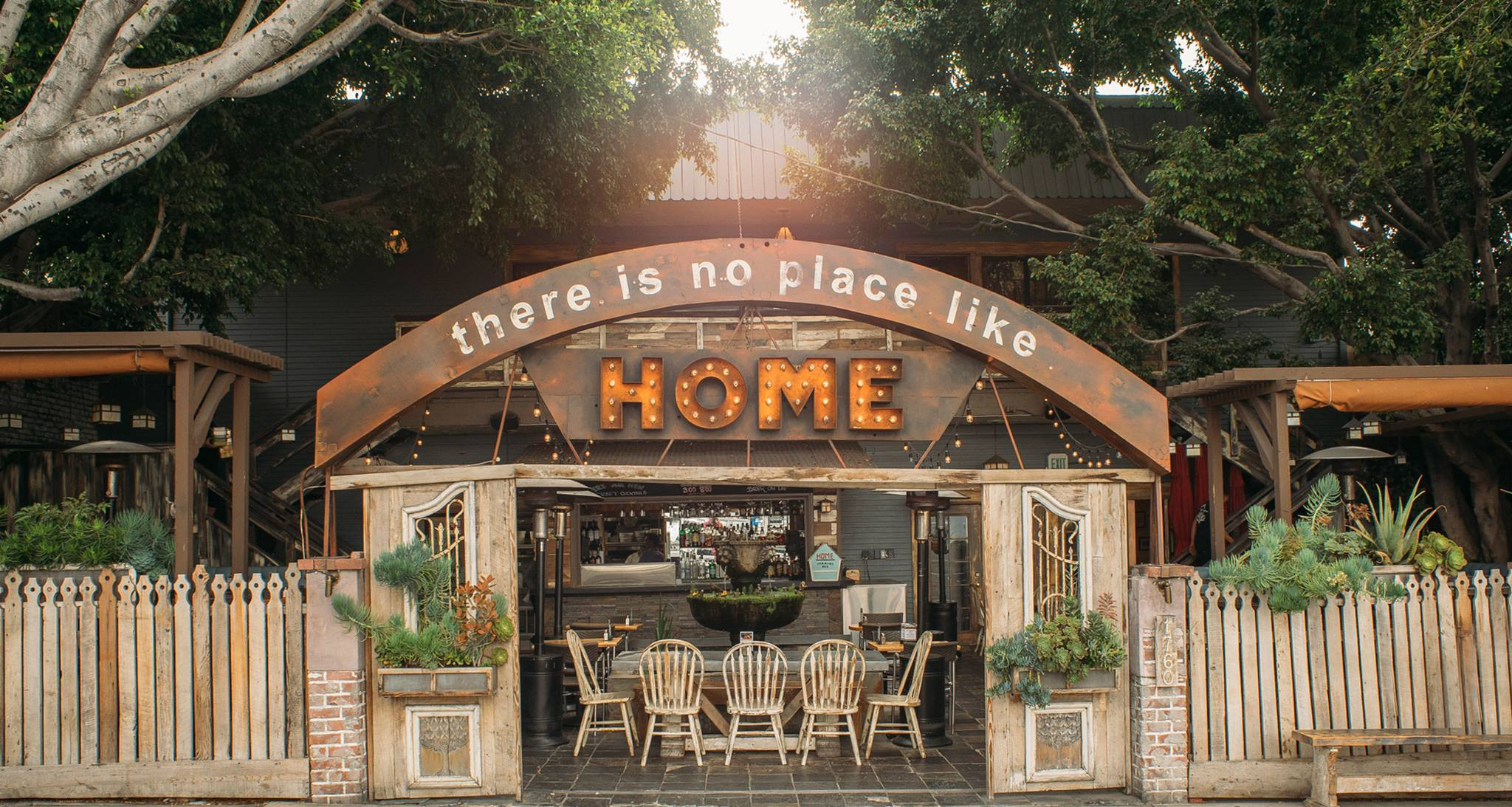 Los Feliz
This ~homey~ spot boasts a cozy atmosphere and large plates of comfort food, including homestyle fries, steak and fish options for dinner, mac 'n' cheese, and plenty of margaritas and palomas along with a full bar. It's also known for its great bottomless mix-and-match brunch every Saturday and Sunday, with options ranging from pancakes and french toast to "egg" turmeric tofu scrambles. All of this stomach-warming goodness is served on a spacious, twinkly, heated patio.
Where: 1760 Hillhurst Ave.
More information.
Idle Hour
North Hollywood
This landmark building is hard to miss, and why would you want to? Idle Wild's patio is the perfect casual spot for grabbing bar-friendly bites with your pals. Stop by to learn more about the building's seemingly goofy architecture. But don't forget to order a pint with your 1940s history lesson!
Where: 4824 Vineland Ave.
More information.
Spago L'exterieur
Beverly Hills
Spago was founded by renowned chef Wolfgang Puck, and this outdoor dining concept in Beverly Hills has an ambiance that matches its menu. The stunning and uber-modern 6,500 sq-foot patio is a great spot to enjoy cocktails or a special dinner out.
Where: 176 N Canon Dr.
More information.
L'Antica Pizzeria Da Michele
Hollywood
Lucky for us Angelenos, this famous Neapolitan pizzeria chose LA to set up its first US outpost. With traditional pies served in a breezy, tile-lined outdoor space, L'Antica Pizzeria da Michele creates the perfect ambiance for a dinner out.
Where: 1534 N McCadden Place
More information.
Formosa Cafe
Hollywood
Originally built in 1939, this Hollywood landmark spot serves Asian eats with a side of nostalgia. This dates back to Formosa's rich history of frequent star regulars, like Frank Sinatra and Elvis Presley (rumor has it that John Wayne was caught making scrambled eggs in the kitchen after passing out in a booth the night before)!
The history of starhood is matched well by Formosa's menu today—voted best in West Hollywood by LA Eater—filled with delicious dim sum, tropical cocktails, and fan-favorite chile wontons.
Where: 7156 Santa Monica Blvd.
More information.
Chulita
Venice
Let the bartenders shake up mezcal and tequila-tinged drinks as you soak in the sunny outdoor space at Chulita, an Alta California-style Mexican restaurant in the heart of Venice. Two can't-miss cocktail options include the hibiscus margarita and the mezcal negroni.
Where: 533 Rose Ave.
More information.
EXPLORE MORE:
The Guide to LA Rooftops
The Best Places for Happy Hour in Los Angeles
The Best Restaurants for Group Dinners in LA
LIKE WHAT YOU'VE READ?
Never miss out on a new experience!
Create a Bucket Listers account to access exclusive offers and the latest news in your city